Last updated on June 2nd, 2022 at 10:18 pm
For this Italian party theme think old world Italy. Picture a narrow cobblestone road in Rome, the walls awash in warm yellows, ochres and oranges, café tables with damask cloths, delicious aromas wafting on the breeze. Now that we're all over in Italy, relaxed and hungry, let's get this party started!
La Dolce Vita!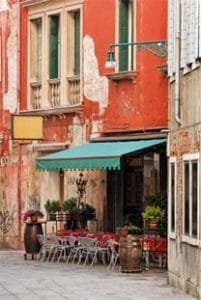 Make it all about the good life when you're planning your Italian theme party. Set a casual but festive mood with some sights and smells reminiscent of Old World Italy and your guests will be enchanted!
An Italian party theme is a great choice if the weather's warm. Being out on a patio, a deck, under a canopy or simply in your backyard lends a wonderfully outdoor café atmosphere —perfect for an Italian theme party.
If you don't want to eat outside, have drinks and appetizers
al fresco and come in for the meal/birthday dessert.
If you're having your party inside, and you can manage it, empty a room (living room,family room,dining room, etc). This might seem drastic, but trust us.
Okay, we'll be reasonable. Take out as much furniture as you can to make room for a few card tables. Rent bistro chairs (the more expensive option) or use folding chairs for seating.
Cover the tables in large squares of damask in colors that coordinate with your party palette. Besides warm oranges and ochres, an Italian party theme color palette could include eggplant, Tuscan gold and terra cotta too.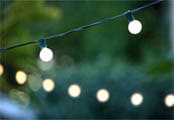 Drape strands of white lights, the kind that look like little round light bulbs, across the ceiling or around your outdoor space. Tiny lights look great wound around the undersides of patio umbrellas. For texture add some artificial vines too.
Buy some fake columns from a craft store and place them around.
Move all your terra cotta planters inside or group them around your tables outside. Get as many flower pots and hanging planters as you can find (don't be shy, borrow your neighbor's best specimens for the day). Make your party space as lush and colorful as you can.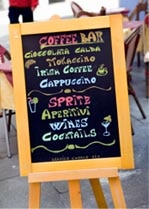 Prop up a chalkboard by the entrance or by the food table with the party's menu, itinerary or a "Happy Birthday" message.
Now, get some spotlights and add yellow, ochre or orange gels (colored plastic sheets) in front of them and point at your walls for instant warm washed walls.
Play "learn to speak Italian" cds in the background or go the traditional route with Italian music (opera perhaps?) instead.
The ultimate Italian party theme soundtrack?
A real live strolling violinist. If hiring one is out of the budget, maybe you can dig up a relative who plays (heck, even a child would do).
Ideas for Italian Party Theme Invitations
Make your own if you're the crafty sort. Some design ideas:
passports
a pretty Italian stamp
the Italian flag

a photo of Italy made into postcards
a copy of a famous work of art (a painting by da Vinci, Botticelli, Michelangelo or Modigliani)
a copy of a beautiful Italian wine label (have you noticed how artistic wine labels have gotten?)
If you're not a DIY type or you're running out of time, Tiny Prints has lots of pretty invitations. The best part is that you can completely customize the wording to fit any party theme you can dream up.
Centerpiece Ideas
pretty cruets of flavored olive oil
a bowl of grapes (real or not)
a colorful plate of olives
a rose in a bud vase
an upscale pizza cutter in a pretty color
several sunflowers in a vase (a nod to Tuscany)
a bouquet of fresh herbs (basil, sage and flat-leaved parsley are good choices)
a glass bowl or hurricane vase filled with water and floating candles
a fat white pillar candle wrapped with raffia
a wine bottle with a tapered candle (drip some wax onto the mouth of the bottle to keep the candle in place)
Looking for Activities?
How about including some of these activities into your Italian party theme:
Make your own pizza
Give each table a wooden pizza server with a Boboli pizza crust on it, along with two small bowls, one with shredded mozzerella and one with pizza sauce. Have a bunch of bowls ready with all the toppings you can imagine.
Here's our list:
pepperoni
onions
green peppers
sausage
pineapple
ham
chicken
sliced meatballs
olives
anchovies

bacon
jalepenos
baby shrimp
prosciutto
fresh spinach
fresh mushrooms
feta cheese
garlic
ricotta cheese
sliced tomatoes

Pass the toppings around and have each table create a pizza. Cook them on the grill or in the oven (or both if you have more than a few pizzas).
Olive tasting
If you want to keep it authentic, only offer Italian olives. Some interesting varieties to sample are castelvetrano, liguria, cerignola (green, black, red and yellow), ponentine, gaeta, taggiasca and lugano.
Prosecco tasting
Prosecco is a dry sparkling wine made from Prosecco grapes from the Veneto (Venice) region of Italy.
Gelato Tasting
Gelato is very similar to ice cream but not as solidly frozen. Offer your guests a variety of gelati and see which turn up as favorites. We have a super gelato store in our city with flavors like strawberry spiked with tequila, macadamia nut, coffee with Kahlua, lemon basil, Madagascar bourbon vanilla, the list just goes on and on. I just found out they ship orders! If you're interested (and you should be!) here's the link.
An Italian Drink Menu
If we must be honest, putting together the drink menu is one of the things we love most about an Italian party theme. There are so many great choices!
In addition to Prosecco, Limoncello is one of the more well-known Italian beverages. It's a very sweet, very yellow and very filling lemon flavored liqueur from the Amalfi Coast/Capri area. Serve it chilled and keep it in the freezer when you're not using it.
Some other Italian alcoholic drinks you might want to have on hand:
Amaretto
Frangelico
Sambuca
Campari
Grappa
Other drinks to consider:
cappuccino
latte
espresso
their decaf counterparts
The liqueurs (Amaretto, Frangelico, Sambuca and Limoncello) are wonderful poured over a scoop of gelato. What a great way to end the party!
An Italian cocktail that's become popular here in the U.S. is the Bellini. It originated in Venice and is a combination of Prosecco and fresh peach juice or peach puree (2 parts Prosecco and 1 part juice or puree). Simple and delicious!
Sending Your Guests Home
We love these ideas for Italian party theme favors:
an espresso cup with a sample sized package of ground espresso
a pretty bag of "specialty" dried pasta
a small cruet of flavored olive oil
a homemade keychain with murano beads attached
a brightly colored mini colander
a mini terra cotta pot planted with a sprig of oregano, thyme, basil pr flat-leaved parsley and wrapped with a pretty fabric or raffia bow
a mini bottle of an Italian liqueur (include a pretty cordial glass if you like)
one perfect cannoli in a mini pastry box
Do you have Italian party theme ideas you'd like to share with us? We'd love to hear them and we'll even share them with our readers!