Last updated on June 2nd, 2022 at 10:26 pm
When it comes to smart ideas for decorating cupcakes (birthday, wedding or any other kind of celebration) you're limited by only two things: your imagination and the small amount of decorating surface you have to work with —the top of a cupcake is about 2-3/4 inches in diameter.
Just because you don't have a lot of room doesn't mean you don't have a ton of decorating options. You do!
Our cupcake design philosophy?
If it's small, pretty and tastes good, you can decorate a cupcake with it.
It's a good idea to choose your decorations based on:
the flavor of your cupcakes
the flavor of your frosting
your party's theme
the formality of your party
the taste preferences of the guest of honor
Frosting Doesn't Just Taste Good…
It's a decoration too.
There are lots of ways to frost a cupcake.
Buttercream is the thick frosting you spread or pipe on. My favorite buttercream is vanilla, but chocolate buttercream is pretty darned good too.
Poured fondant is a thin icing you pour on or dip the top of the cupcake into.
You can use rolled fondant to cover cupcakes, too, but the taste just can't compare to a good buttercream or poured fondant. But, hey, that's just my opinion.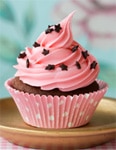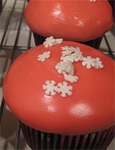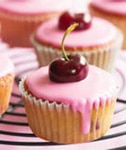 Beyond the Frosting: Ideas for Decorating Cupcakes ~ Birthday Sprinkles, Glitter, and…Bacon?
How Creative Can You Get?
Not that we think many parties would benefit from bacon-topped cupcakes, mind you, but you have to admit they'd be a great conversation starter!
Here's a list of decorations we use when we're serving cupcakes. Add them before the frosting sets so the decorations stick.
a thin border of edible gold or silver flakes or sprinkles
dragees (the silver and the gold aren't edible, but the other colors are)
crushed peppermint candies
sugar pearls (they come in a variety of colors)
a drizzle of chocolate ganache
M and M's
a Hershey kiss
grated chocolate or chocolate shavings (could be dark, white, or milk chocolate)
gumdrops
mini marshmallows
candied rind of oranges, lemons or limes (depending on the flavor of
your cupcake and/or icing)
sugar-coated champagne grapes
a chocolate covered coffee bean
a beautiful raspberry or slice of fresh fruit
a sprinkle of cocoa powder
grated coconut
chocolate chips (regular, mini, white chocolate, mint or striped)
a candied (sugared) violet
edible flower petals (check our list of edible flowers first) or a sprig of lavender
an inedible flower bloom (a small rose for example)




Some of these decorations are best added shortly before serving time, such as fresh fruit,
candies, and flowers. If you decorate your cupcakes a day or more before your party you may find that the candy coloring has run off onto the icing, that the fruit doesn't look so fresh anymore, and that your flowers have wilted.
Decorating With Fondant Cut-Outs
Mix up a batch of marshmallow fondant (this is our favorite recipe and it's super easy) and use it to make cut-outs in any shapes and colors you want. You can decorate each cupcake in exactly the same way or you can vary it up and decorate them in several different ways all related to the same theme. It gives a more formal look when the cupcakes are all decorated alike.






You can make anything from simple circle shapes to complicated flower designs. Small cookie cutters come in handy for cutting out shapes, some are now made specifically for use with fondant. You can also make your own template and cut around it with a sharp knife.
You can also sculpt almost any kind of object you can think of, just keep them on the small side.
Using a pastry bag and special tips to make buttercream flowers takes a bit of practice.
The easiest kinds of flowers to make are the ones that lay flat.
You can pipe out two different flower shapes using tip #2D: the star flower and the swirled flower.
Use tip #3 to pipe a little dot of a contrasting icing color right in the center. This is very easy to do (don't be a perfectionist!). Pipe a bunch on each cupcake or just one in the center.
Check out Baking 911 for great instructions and photos.
You can also use a round tip to pipe swirly abstract designs or a star tip to pipe stars onto the cupcakes. These are two very quick ways to add designs that look professionally done