Last updated on June 3rd, 2022 at 02:36 am
Grandmas are truly a blessing to every child. They not only have the same level of affection and attachment to a child as their mother but they also have an inherent bias that makes them be on the child's side no matter what the actual situation demands. This gives the child a great friend and a shoulder to rely on without ever having to worry about being lonely. This is why having grandparents is said to be just as important as having good parents.
While it comes naturally for grandma to show her love and affection towards her children and grand-children, reciprocating it is often taken for granted or even ignored by the children. This is never a good sign and one should always give back as much, if not even more love to what is given. And one of the best ways to show your grandma some love is to greet her on a special occasion with a special gift.
This gift cannot just be a standard necklace or ring but something more personal and at the same time something that could add both sentimental and practical value to her life. Such gifts are hard to come by but we have made a list of some very unique and great grandma gifts that fulfill that criteria.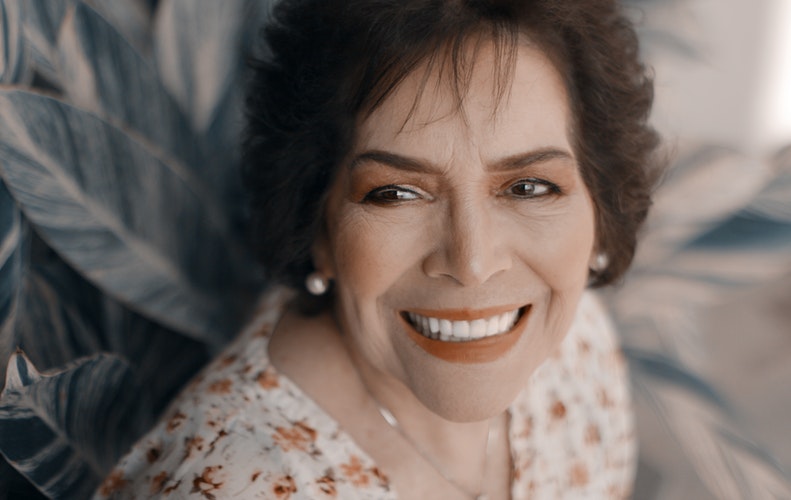 Best Great Grandma Gifts
1.
Electric Air Fryer
If there's one thing almost every grandma in the world is famous for, it's her mouthwatering snacks that she makes for her beloved grandchildren. While she does this out of love and is very much satisfied just seeing the smile on the children's faces, this is by no means an easy task. It puts a lot of physical strain on her body especially at older ages and it's not something she could do as effortlessly as she once did.
This Air Fryer comes with an extremely easy to operate automatic cooker that will greatly reduce the amount of work she has to do while making snacks without actually compromising on the amazing taste that comes with her handiwork. The Fryer is also a very healthy option as it doesn't use any oil to cook and still manages to output a crunchy and yummy result.
2. Premium Knitting Tool
Probably the most iconic representation of grandma is through knitting. Women especially in the past are famous for being notoriously addicted to knitting as it could not only turn out to be a decent source of extra income but also a surprisingly fun way to pass some time. And as they get older, it tends to become a regular hobby that they are actually passionate about.
If you're grandma is into knitting, which she is likely to be, this premium set of knitting tools will be a great gift to her at any occasion. Not only do they have everything she would ever need to make a great design or stitch but they come in extraordinary quality and a small adorable purse to carry them around anywhere she would like. This is a great grandma gift.
3. Set of two glowing lamps
Sometimes all you need to make a person smile is let them know that they're on your mind. Such a simple thought could completely change someone's day for the good and it's never a bad idea to let them know your thoughts if they happen to be so good. These glowing lamps function perfectly on their own as normal lamps with great design and lighting.
But what makes them truly special in this case is that they're connected and whenever you touch your lamp, the one with your grandma will light up in the same color as yours letting her know that you're thinking about her in that moment. Since these are connected wirelessly over the internet, it doesn't matter how far apart you both are. This is something that would prove to be more valuable as the time passes by and will surely put a lot of smiles on your grandma's face.
4. Wind Spinner
Relaxation can be done in many number of ways and there are quite a few techniques out there that are surprisingly good at calming our moods down. But what they all have in common is that they get our mind to focus on something small, relatively insignificant but still pleasant to think, hear or look at thereby eliminating all the unnecessary thoughts.
This wind spinner is one of the best creative tools designed for that purpose. The blades of this spinner are designed with a stunning combination of color and design choices making it not only soothing but also extremely attractive to look at. In addition to providing a good relaxation spot it will also work as a great decorative item that is sure to turn some heads.
5. Electric Blanket
One of the toughest challenges people face as they get older is resisting to colder temperatures. It becomes increasingly harder to stay comfortable in temperatures that are otherwise completely fine for everyone else around them. This is why a good blanket is always necessary for your grandma so that she could find a comfort even in some unfavorable climates.
This electric blanket serves that need to near perfection as it's heating mechanism allows it to regulate the temperature of the blanket to 10 different levels depending on the user's comfort and convenience. That combines with the materials natural insulation means that your grandma would never be feeling uncomfortably cold again.
6. Metal Tree Picture Frame
One of the most creative ways used to represent all the members of a family since a very long time ago are the family trees. A visual representation of a family's history, it's members and sometimes even some important events. This practice has mostly faded away in the 21st century but that's mostly due to people starting to take families for granted rather than the design itself being out of favor.
This tree frame will give you a chance to let your grandma bring back that age-old tradition in her own home by having this hanging in her room with all her family marked and represented on the tree with their favorite photos and moments. It's one of the best ways to save memories and it also acts as a major attraction to anyone who happens to visit her. This is yet another great grandma gift.
7. Drawing and Sketching pencil set
As your grandma grows older, she is going to have a lot of troubles and inconveniences but one of those she isn't likely to tell you is how hard it becomes to spend so much time alone. Everyone else are either going to work have fun with their friends while she doesn't always have that luxury in her situation. So, it's very important to have some hobby or a way to pass time and the tools necessary to enable her to do those.
This set of drawing and sketching tools are not only a great way to pass time for her but also work great as the more she uses them the better she gets and it gives her a sense of improvement. The good thing about this set as compared to most similar options is that while this is designed to be beginner friendly, it will be adequate even for professionals which means your grandma isn't likely to get tired or bored of this any time soon.
8. Personalized Gardening Tools
Everyone needs some level of physical activity in their daily life and this applies even more to your grandma. An easy and fun way for her to get her daily dose of physical work out is through gardening and it is quite popular among grandparents to build and maintain their own gardens for this very purpose.
Weather your grandma is into gardening already or you plan on introducing and encouraging her to adopt it into her daily life, these set of tools would be a great addition to her arsenal of gardening equipment. What makes them even better is the fact that they can be personalized with your own text engravings placed on the handle. Make them feel extra personal by adding her name or her favorite saying and you just got yourself one of the best gifts your grandma has ever received.
9. Custom Cooking Apron
When it comes to cooking it's almost impossible to beat grandma as she tends to usually not only have a lot more practice but also some extra tricks that are lost to us over time. This makes cooking a very passionate ordeal for grandmas and you can make it even more special with this custom apron.
The apron is extremely high quality and is made of polyester that is resistant to heat and most basic stains. It can also be customized with a logo or picture of your own choosing. This could be anything that you think would represent your grandma the best. It's definitely makes for a great grandma gift that is not easy to top by anyone else.
10. Tree of Enchantment
This extremely attractive and creative piece of art is made by using recycled glass and looks amazing no matter where it's placed in or outside the house. It's very pleasant to look at and has a great design inside it that is supported by matching accents all around the glass ball.
This is a gift that your grandma will certainly appreciate as it not only gives her something that she could subconsciously admire everyday but also show her that you have a great sense of art that in this happens to be used exclusively to make her feel special. This could be one of the best birthday gifts for grandma.
11. Double Heart Pendant
The reason art has become such a huge part of human culture is because of how easily it conveys a lot of information, emotions and feelings with very little material. This double heart pendant falls right in that category as it is not only attractive to look at but also perfectly represents your relationship with your grandma as two individuals bound by something that is greater than life itself.
The necklace is relatively small, does not standout too much but still give a subtle feeling of exclusivity. Your grandma will certainly be feelings special every time she wears this to any occasion.
The small engraving on the top that says grandma will also put a smile on her face every time she sees it because it goes to show just how special she is to you.
12. Family photo hand and foot prints set
This is yet another gift that will be something she is going to cherish forever. It comes with all the ingredients and tools you need to create a portrait containing both your family photo and all your hand/foot prints. You can then gift it to your grandma framed and ready to be admired as it can go anywhere and fit perfectly well on a wall or a table.
The number of times your grandma is going to look at this and reminisce about your time together as a family will be countless and she is certain to enjoy every single one of those memories she recollects. It's not only a representation of all your memories together but also the bond you share.
Everyone remembers how amazing it is to have grandmas as they are often a lot more considerate than their regular guardians and simply have a lot of interesting stories to tell from their own life. This makes every child develop a secret admiration for their grandma which doesn't usually come out to be expressed as often as it should.
If you're looking to express that admiration along with all the sense of gratefulness and love you feel towards your grandma, you're definitely not in the minority and it's a nice thing to do no matter the occasion. You don't need a reason to show your love and the list of great grandma gifts above will be suitable for any occasion. Hopefully, they will help you find a great way to express your own affection towards your grandma and rekindle the fire that might be slowly fading away with time and distance.