Last updated on June 3rd, 2022 at 10:47 pm
Grandparents are the most special people in the life of a child and making their special days like the birthday or the anniversary would always be so precious for the kids.
At that age, these experienced men and women have their own choices and tastes but anything gifted by their grandchildren would be an asset for eternity which they would always cherish within their hearts.
If you are planning on gifting your grandparents with some gifts then do keep in mind that their smile would be doubled with the warmth and affection as these small token of love would always remind them of your presence in their life. So a gift for grandparents from grandkids should be chosen with durability and usage in mind.
From the wide range of gifts products available online go for the ones which have good review, and surely it would not be a tough task to find the perfect gift for your elders who have showered their love and affection on your from the time of your birth, and they are the ones who other than your parents would always be supporting and encouraging you in all the spheres of your life. So down below I have mentioned some of the best grandparent gift ideas from grandkids.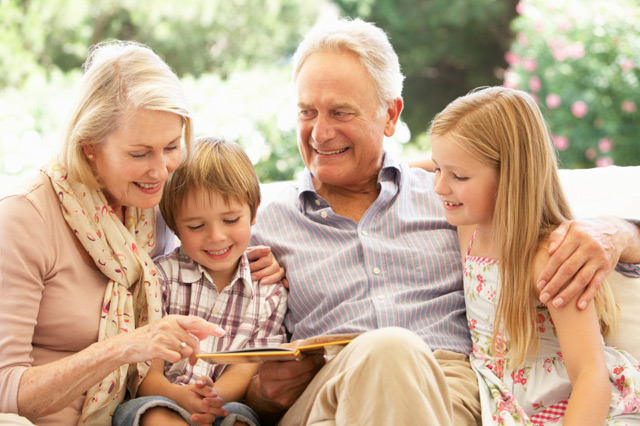 Grandparent gift ideas from grandkids

1. Wind and sea magnetic picture collage frame
Photographs can rebuild beautiful memories of the past and make them eternal, so why not gift them with a beautiful and hi-tech Wind and sea magnetic picture collage frame.
These magnetic frames are the best for refrigerators or metal cabinets, where they would always be in front of your grandparents eyes.
The set has two frames in white, with 5 photograph cells on each of them. So now you can assemble those memorable pictures you have with your grandparents and gift them for eternity.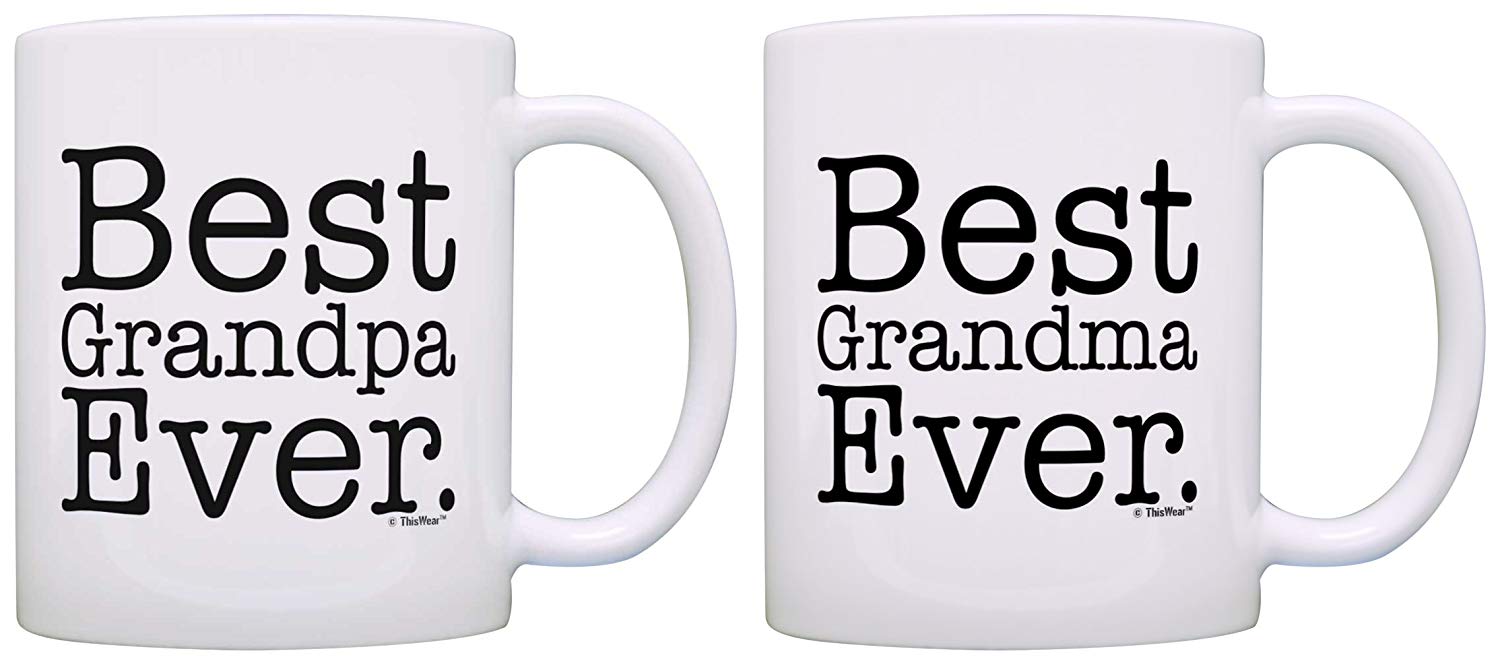 2. Best grandma and grandpa anniversary coffee mugs
Coffee and tea are always a part of daily life. So on their anniversary day gift your grandparents the lovely and chic best grandma and grandpa anniversary coffee mugs.
It comes in a pack of a pair, and the white finish with the artistic writing pattern makes these mugs more authentic and ethnic.
No their coffee and tea drinking session would be more amazing and fun with these mugs reminding them always of their loving grandchildren.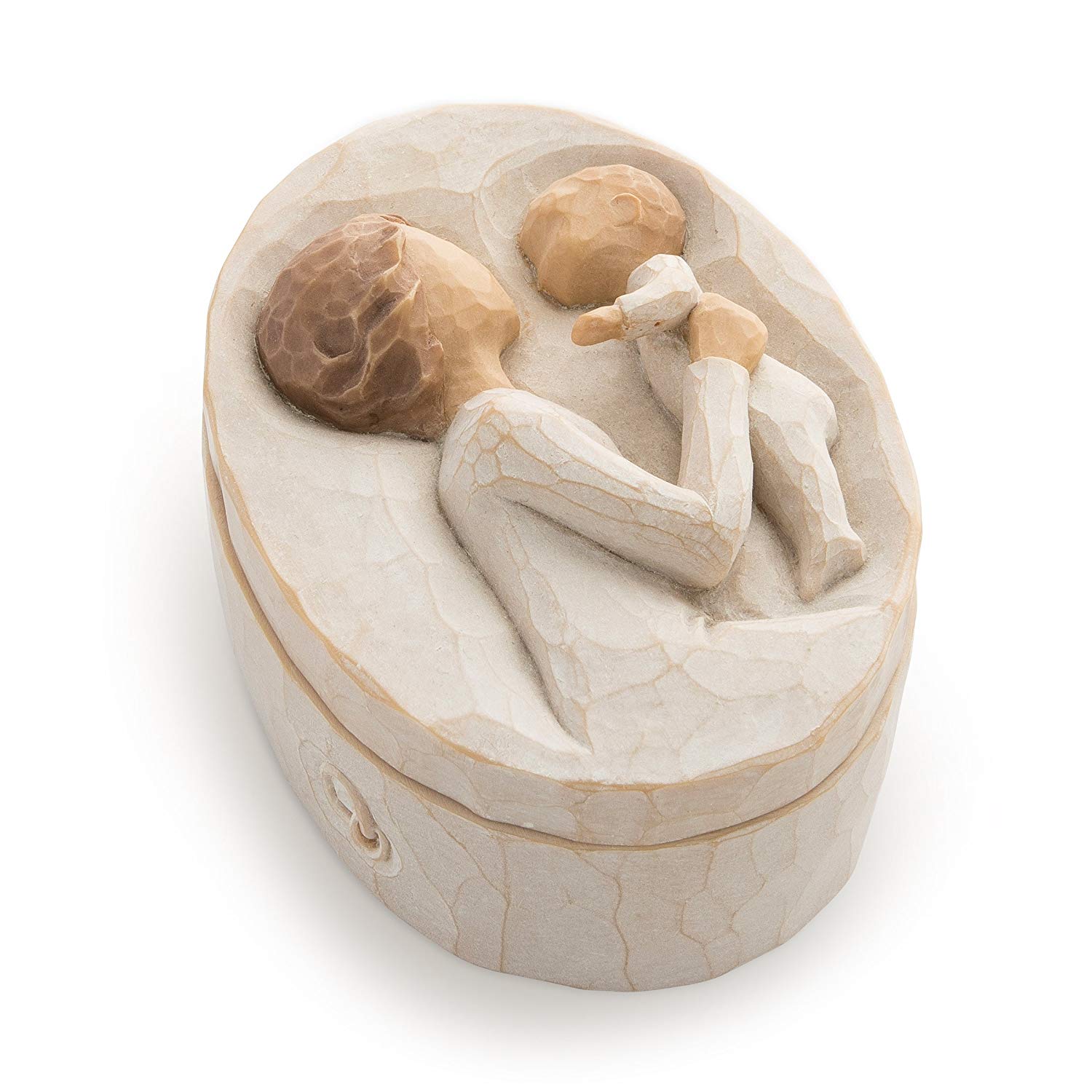 3. Willow tree hand painted and sculpted keepsake box
Grandmothers are the ones who will always keep the memories safe. So on her special day gift her the Willow tree hand painted and sculpted keepsake box.
In this beautiful hand sculpted box she would be able to treasure all her memories of life in papers and also her wishes she has with her grandkids. Not just a box it would be a memory box to keep pictures and even small letters safely.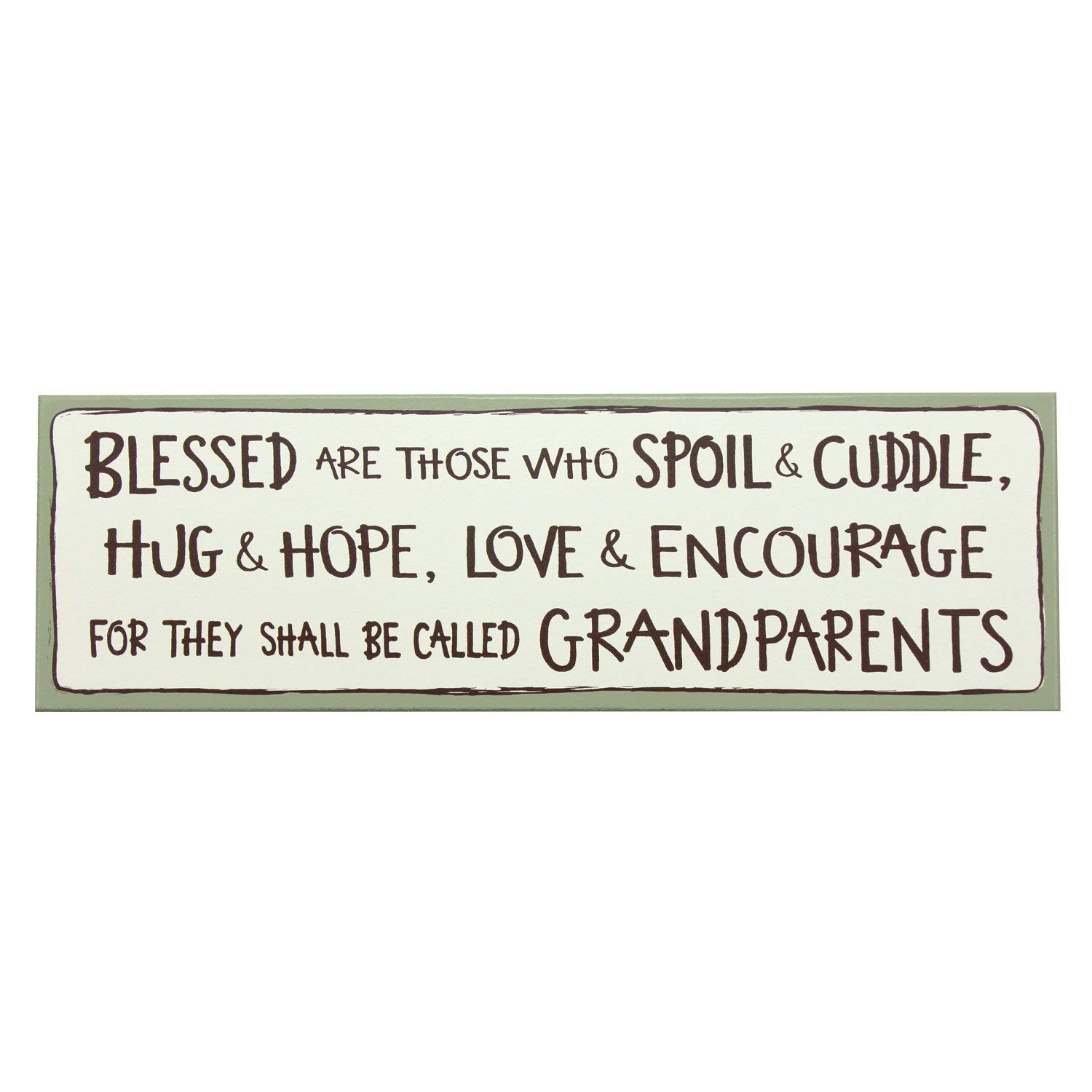 4. Wooden sign board
Love should always be expressed not only through verbal affection but also with a stylish yet classic way. So here's a gift which would express your feelings through words with visual effect, with the wooden sign board.
This sign board can also be hanged with the small key holes made on them and also has a stand attachment to keep it straight on a table by your grandparents bedside.
The sign board with the affectionate expressions of love mentioned on them comes in four different shades which are subtle and soothing for the eyes.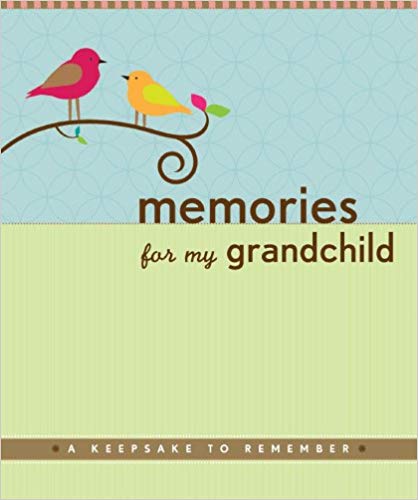 5. A keepsake to remember the grandparents memory book
Grandparents always have the best experience to share with their grandkids, which are full of encouragement and also fun stories. So gift them a keepsake to remember- the grandparents memory book for writing and recording those moments.
This memory book has nicely framed questionnaire through which your grandparents can share their life and experiences, your birth, your parents wedding, their wedding, and other memories with you people.
This is a perfect book of memories for the future to be saved and cherished by you all after they would leave for their heavenly abode.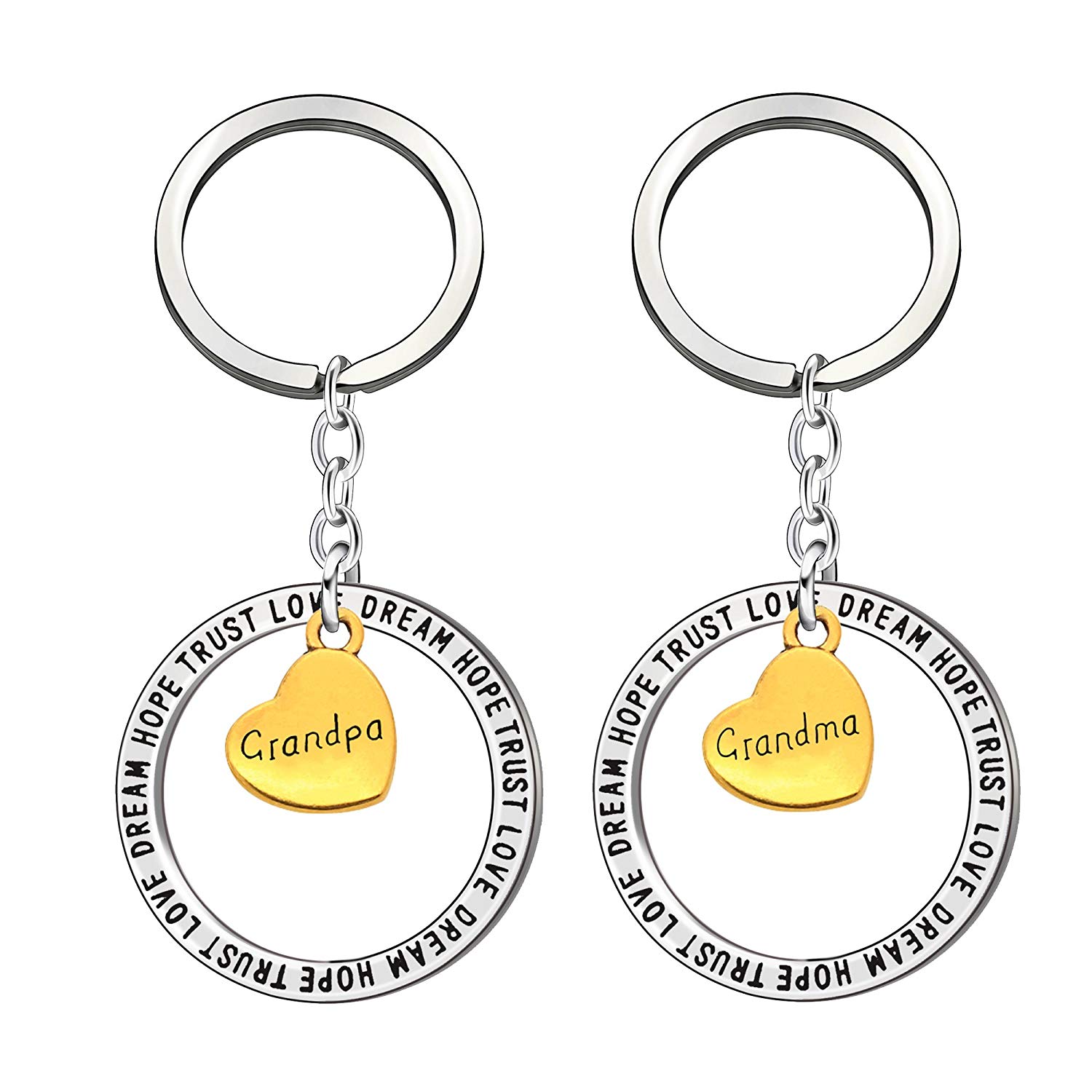 6. Keychain ring set for grandparents
Keys are always important, so now make their forgetfulness to remembrance, by gifting your grandparents the new keychain ring set for grandparents.
It comes in a pair and has the name pendant dangling in the middle, with a small quotation which describes many feelings.
So now your grandparents would have their own personal keys for their room and would always cherish them with your love and affection marked on it.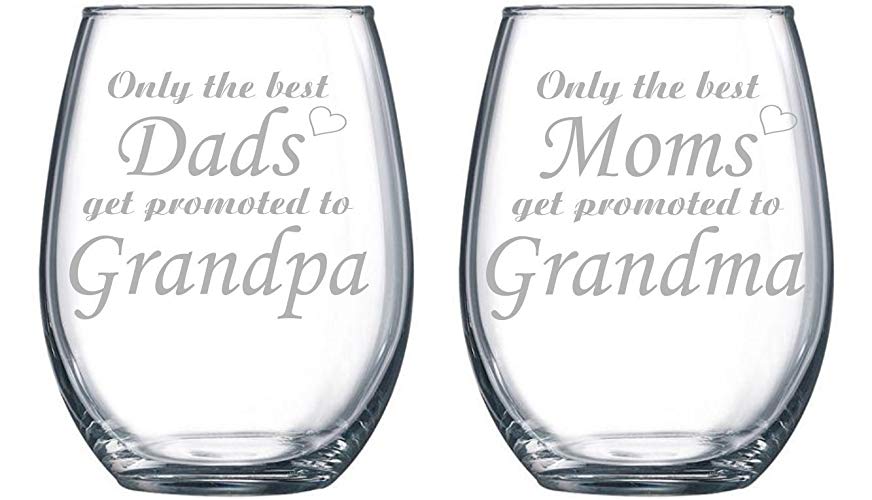 7. Stemless wine glasses for grandparents
This pair of two wine glasses specially crafted for grandparents would always bring a smile on their face whenever they would be enjoying their wine.
The writings which says the best parents become the best grandparents specifically for the grandfather and grandmother speaks a thousand words in one go and would bring many memories back to them. The crystal clear glass cut is best to enjoy the expensive wine.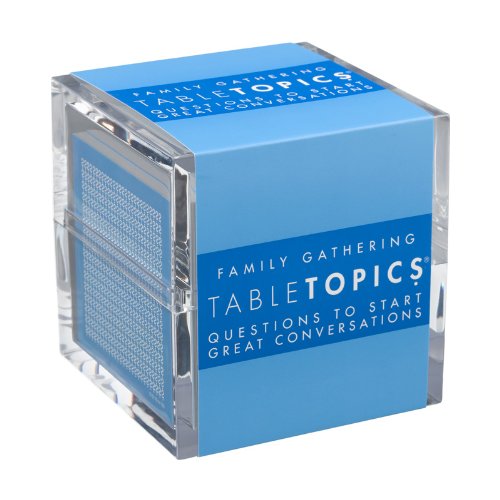 8. Tabletopics family gatherings
With the fast pacing lifestyle is an issue to be saved for family, so on your grandparents anniversary or birthday give something which would bring the family again together.
The tabletopics family gatherings are one such gift which would surely help in rebonding of the whole family, the kids and the elders again on tea or a lunch chat.
The ice breaker questions which are formed in a fun way within this chat game would again unite the family and bond them well with their elders in a better way.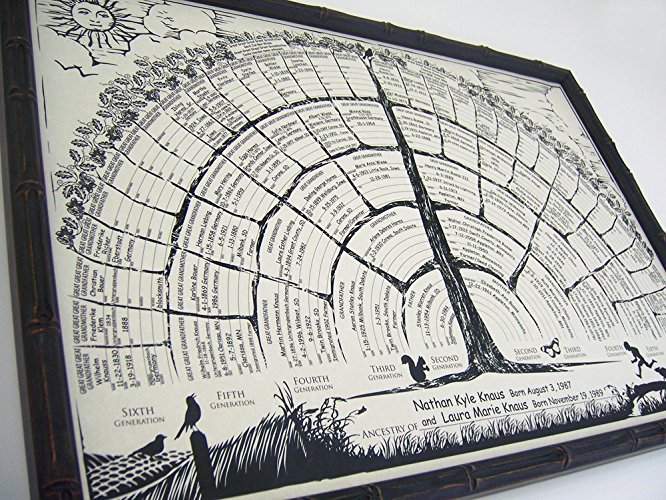 9. Family tree chart blank hart posters
The grandkids should always know well about their family lineage. So why not give your grandparents a the family tree chart blank posters. Here they can fill in the whole family lineage and keep it framed or hang them.
This way it would be a beautiful family tree lineage showpiece telling family lineage story and can be used to set as the backdrop of other family photos on the sitting room.
Grandparents would love this gift as they would be able to tell about their family in details to their grandkids and even the world.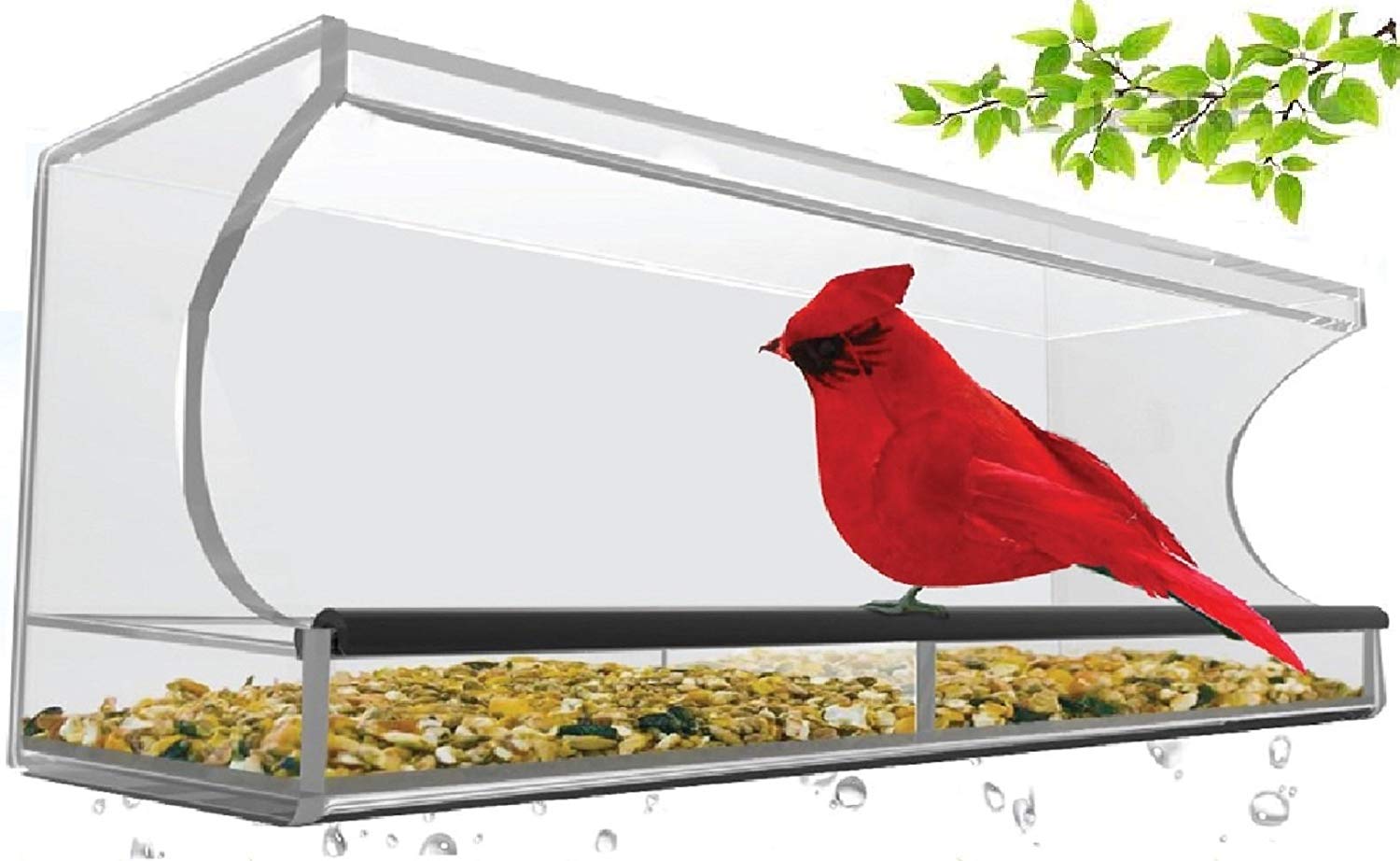 10. Superior large acrylic window bird feeder
Generally, grandparents do have a love and affection feeling towards pets like birds, cats or dogs. Sometimes they even feed birds who are not pets. So why not give them a beautiful Superior large acrylic window bird feeder.
This bird feeder would set perfectly on the window and has four suction cups fit on them which would not fall as well balanced.
Bird seeds can be easily filled in the cups and water for the birds to come and have their share every morning. This would surely keep your grandparents busy and happy seeing those beautiful and colorful birds enjoying their food.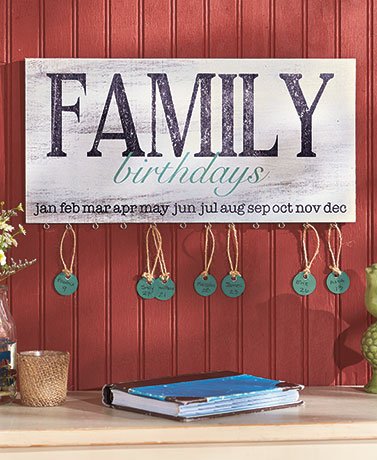 Relevant Articles
Sublime Gift Ideas For Grandparents
11. Wooden family birthday plaque
With age grandparents may forget important dates, which they may make them feel sad. So gift your grandparents the wooden family birthday plaque.
This is a unique way for them to remember the birthdays of all the family member's names and their birthdates, having in front of their eyes.
There are 24 blank plaques to write the names and dates. And it is designed in a way to put some decor to the walls, with the personalized plaque.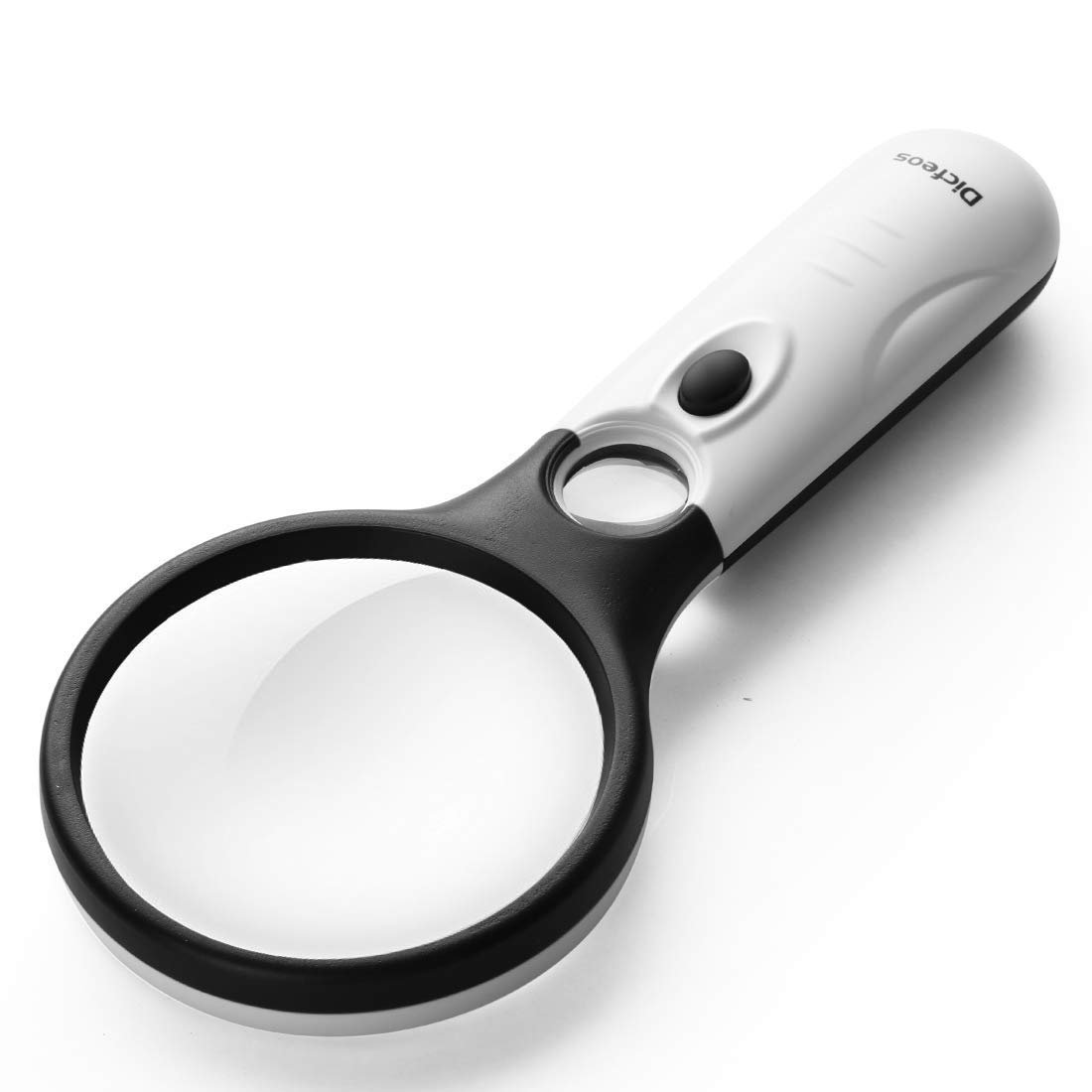 12. Dicfeos lighted magnifier glass
With age eyesight becomes a bit weak, so give your grandad or grandmom the Dicfeos lighted magnifier glass, which would enable them to see things of their interest much clearer bring the explorer within them.
This is a great tool for the seniors for reading and the LED lights in the magnifier would make all the small letters visible in any light, with clear perception and bigger size. The small handle with light weight modification helps in the grip making it user friendly.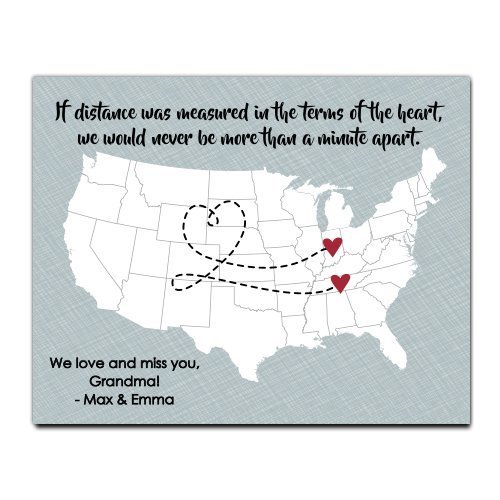 13. Going away paper art print
Sometimes you have to part away from your grandparents for job or education purpose, the going away paper art print is one momento gift which would always keep you close to them or specially for your grandmama.
It is in form of a poster so you can frame it for your grandparents and gift them, like a memory of both you and them together for eternity. This art print is made with soft yet durable paper which can last for long time.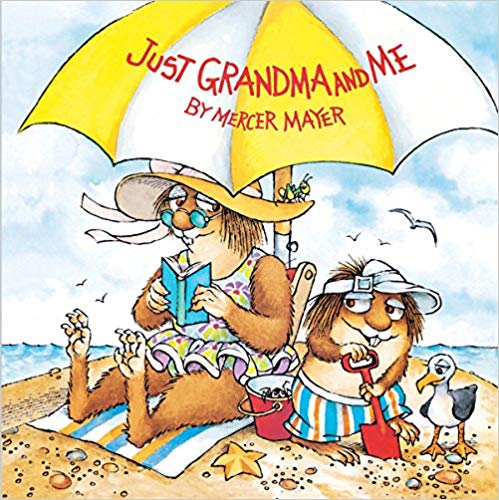 14. Just grandma and me little critter picture book
The special bond of grandparents and their love for the grandchildren. The just grandma and me the little critter picture book is one such book which expresses the strong bond between a grandparent and the grandchild.
It comes as a soft cover picture book portraying a story and would be one of the amazing gift ideas for grandparents to make them feel needed and loved by their grandchildren, as sometimes it becomes hard to express feelings through words.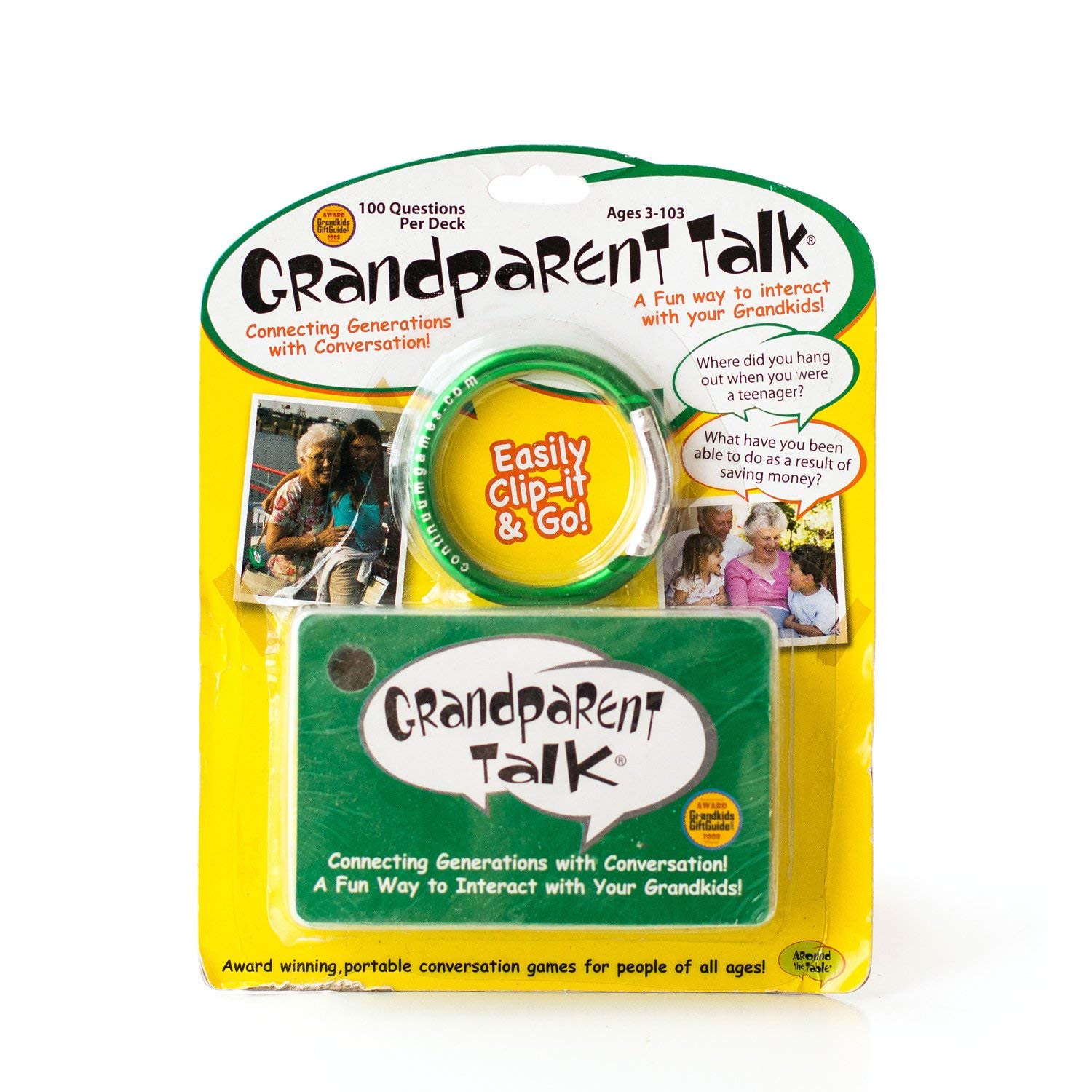 15. Grandparent talk conversations fun cards
Why not make the conversations of the family fun filled, the grandparent talk conversation fun cards is one such game which will make the different generations sit together and enjoy the fun chat.
A perfect gift you can think for your grandparents as this will bring them more close to the family. There are in total 10 different types of cards games in the kit and each game is unique and distinct as a char game.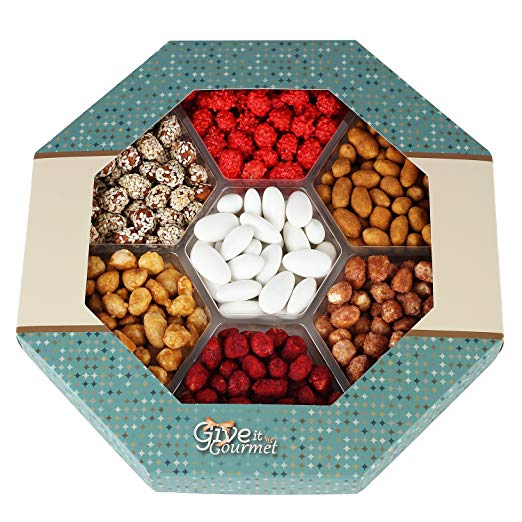 16. Give it gourmet
Food is one universal product which would never go wrong for choosing it as a gift. Make your grandparents memory strong with some assorted nuts in the give it gourmet kit.
This contains 7 different types of assorted peanuts and they include the honey roasted nuts, the sugar coated, butter toffee flavor, french burnt flavor, the crunchy coated barbeque, the sesame flavored nuts and added is also the jordan almonds.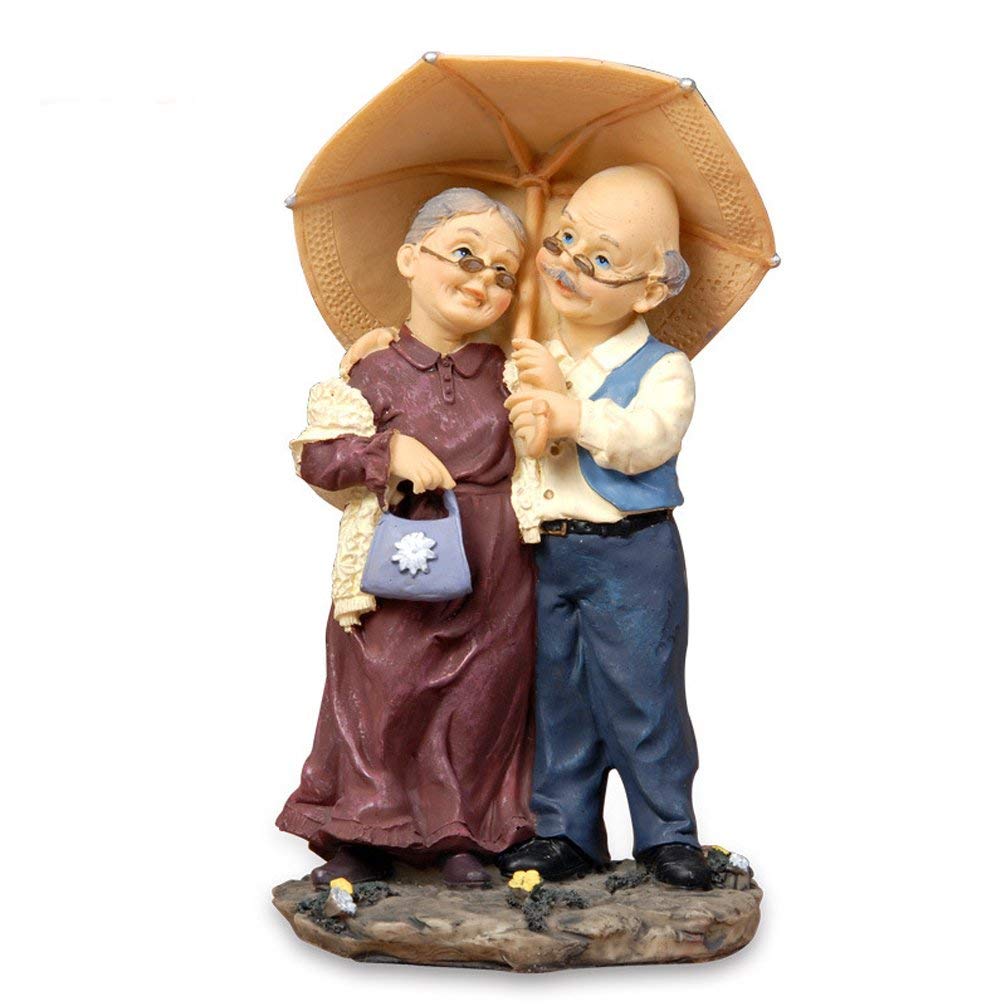 17. Dreams eden loving elderly couples figures
So your grandparents wedding anniversary is on the corner and you could only save a little dollars from your pocket money to gift them. Nothing to worry you can gift them the dreams eden loving elderly couple figure.
The small little statue would define their togetherness for so many years and a nice way to honor their love.
They are basically hand painted with a lot of love and care, so the artistic hard work of the artist would be helpful in expressing your love too. This will be an awesome present for grandparents.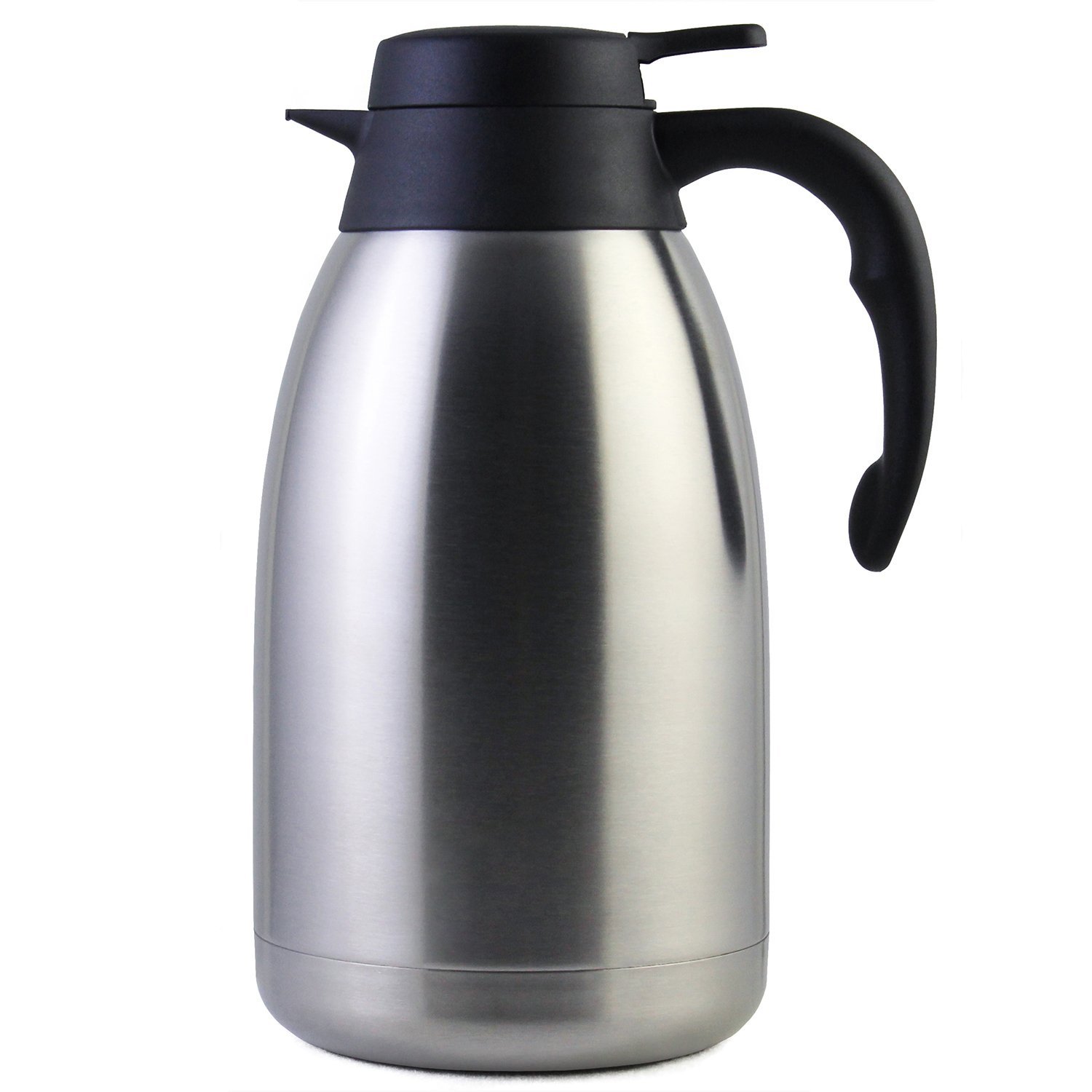 18. Coffee-carafe stainless steel vacuum thermos
The elderly people when staying on their own they need to have all the amenities near their hand for faster response. So now make your grandparents tea and coffee session much pleasurable.
The 68 OZ thermal coffee-carafe double walled vacuum thermos would be the one for them helping in keeping their coffee and tea warm for a longer period. Also it keeps any form of cold drink colder for longer hours. The double walled stainless steel makes all the magic.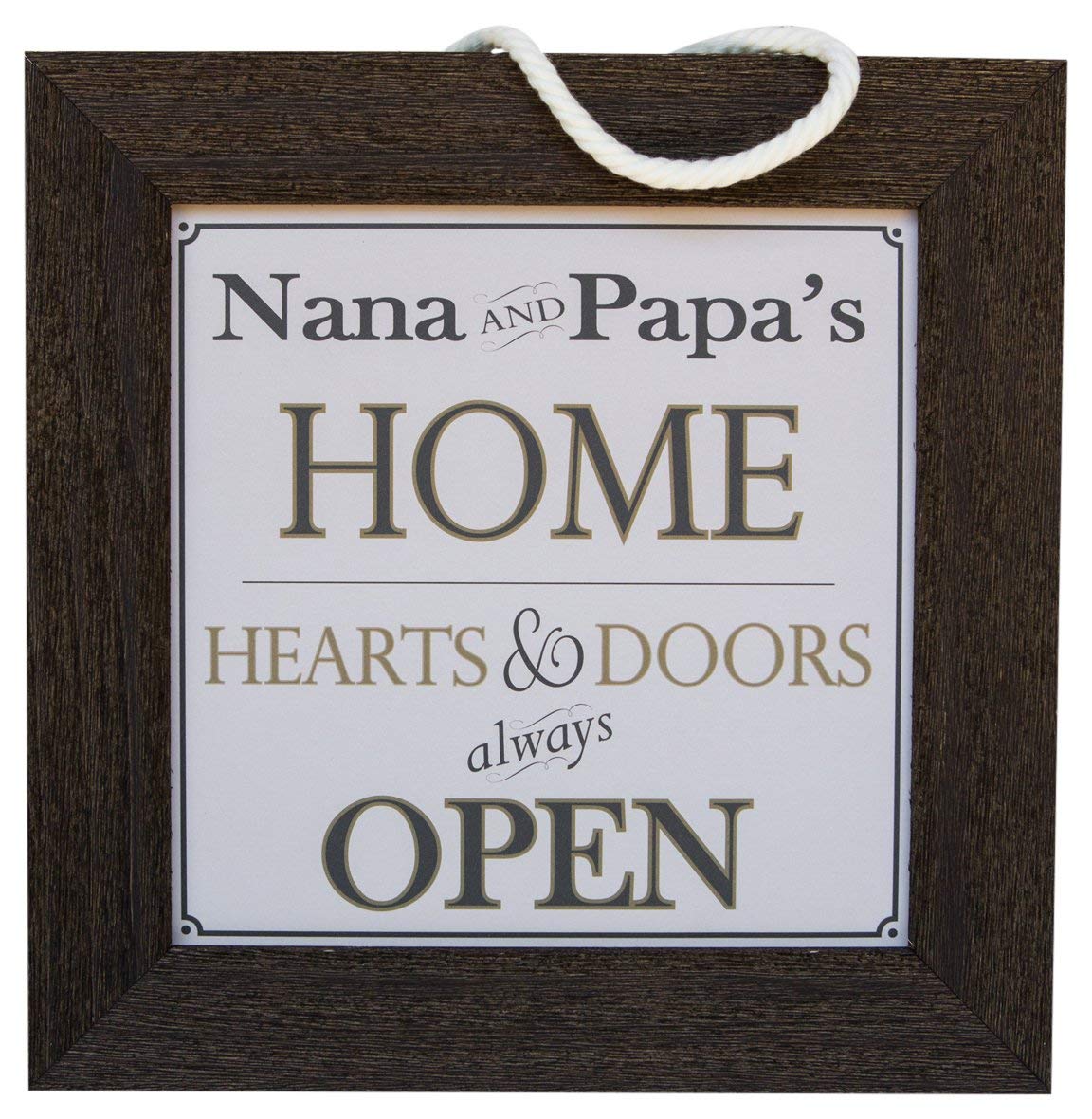 19. The grandparent gift co.
Add some meaning to the doors of your grandma and papa's home with the grandparent gift co. name plate. This is made of pure wood and the artistic writing speaks it all.
So now their entrance would have a new meaning with this home sign board which says heart and door are always open, so whenever you also visit the feeling would be expressed to you too, without fail. So quickly order the best piece for them without any further delay.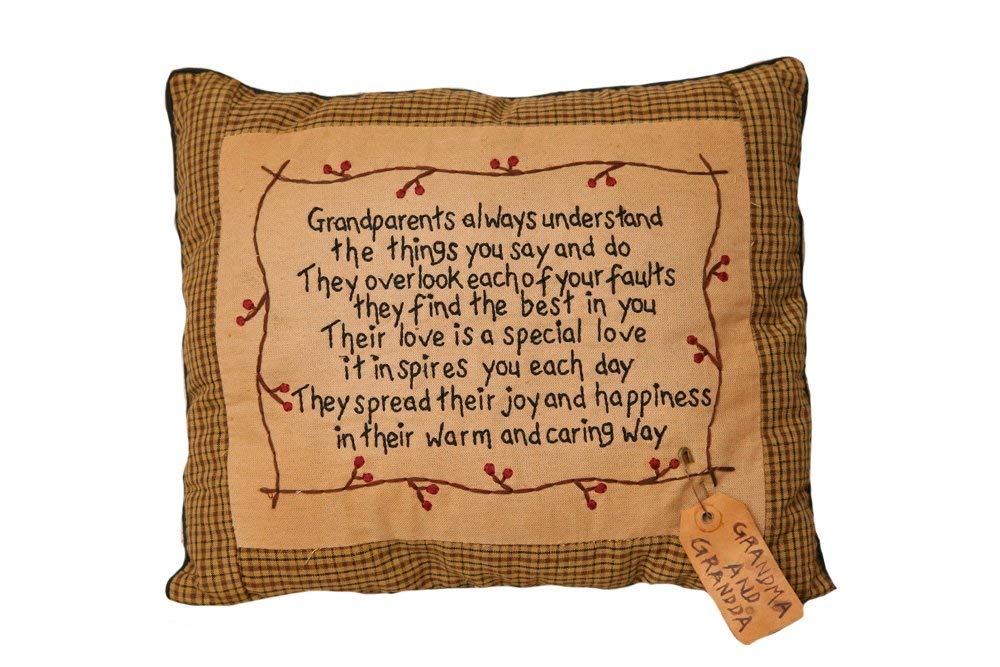 20. Your heart's delight stitchery pillow
Have you seen your grandparents being very emotional with their pillows, yes elderly people do have a love towards such pillows. So the You heart's delight stitchery pillow would bring that smile on their face.
This personalized pillow would have a message from you for them making it more warm and loving for them to use, and they can even show it off to their friends by adding the pillow in their sitting room, so make your love verbal through this pillow.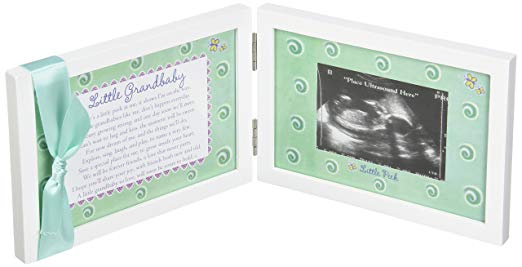 21. Sweet something frame
So now another little brother or sister would be added in your family, so why not give your grandparents a little glimpse of the little one with the sweet something frame.
You cat set the sonography picture of the little one and add to this beautiful ribbon adorned frame to them and they would surely cherish the momento as getting the news of the new arrival and such a picture would always be fresh in their minds even after the child grows up.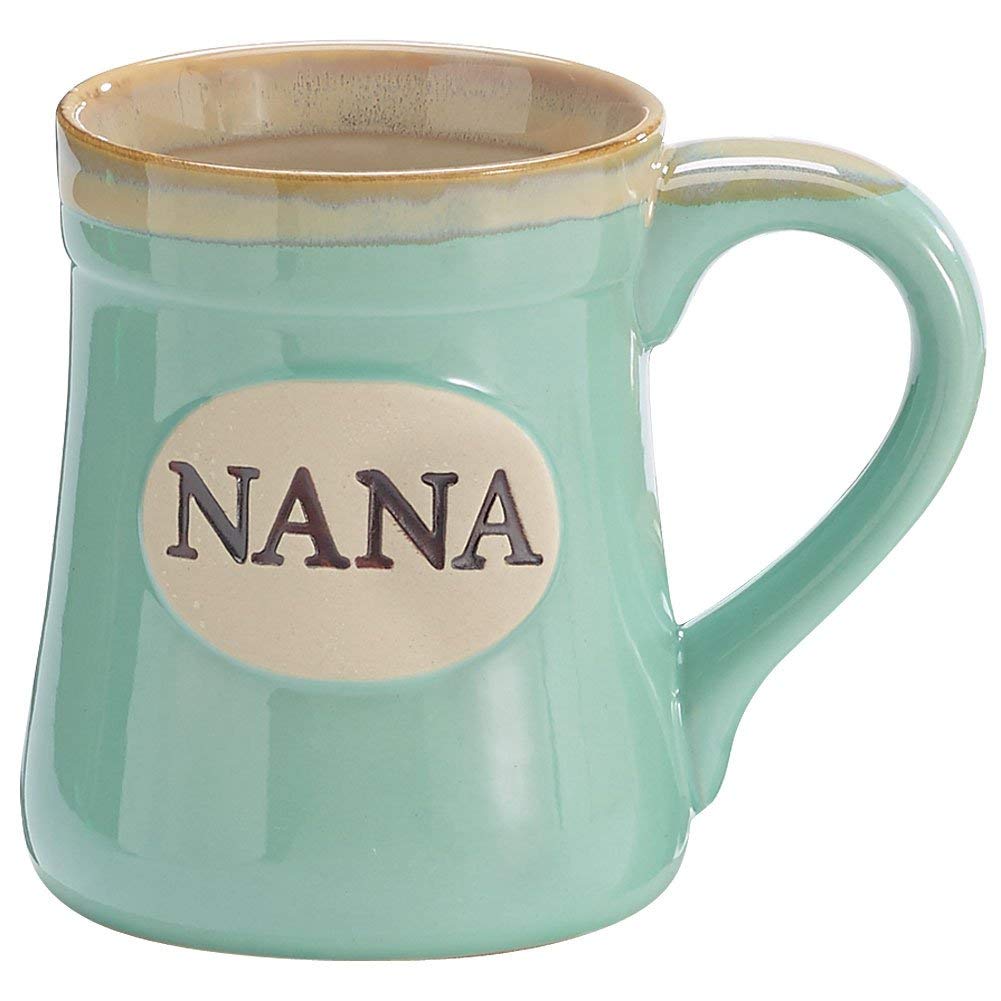 22. The Nana porcelain aqua coffee and tea mug
So you are close to your grandmother and always wondering how to make it more special for her. So now you have the blue aqua spell in your hand with the Nana porcelain aqua coffee and tea mug.
Made out of pure porcelain and the unique shape would make this mug more distinct and favorite of your nana. This mug can also be directly put in the microwave to warm her tea or coffee as it is made with such technology which makes it microwave proof.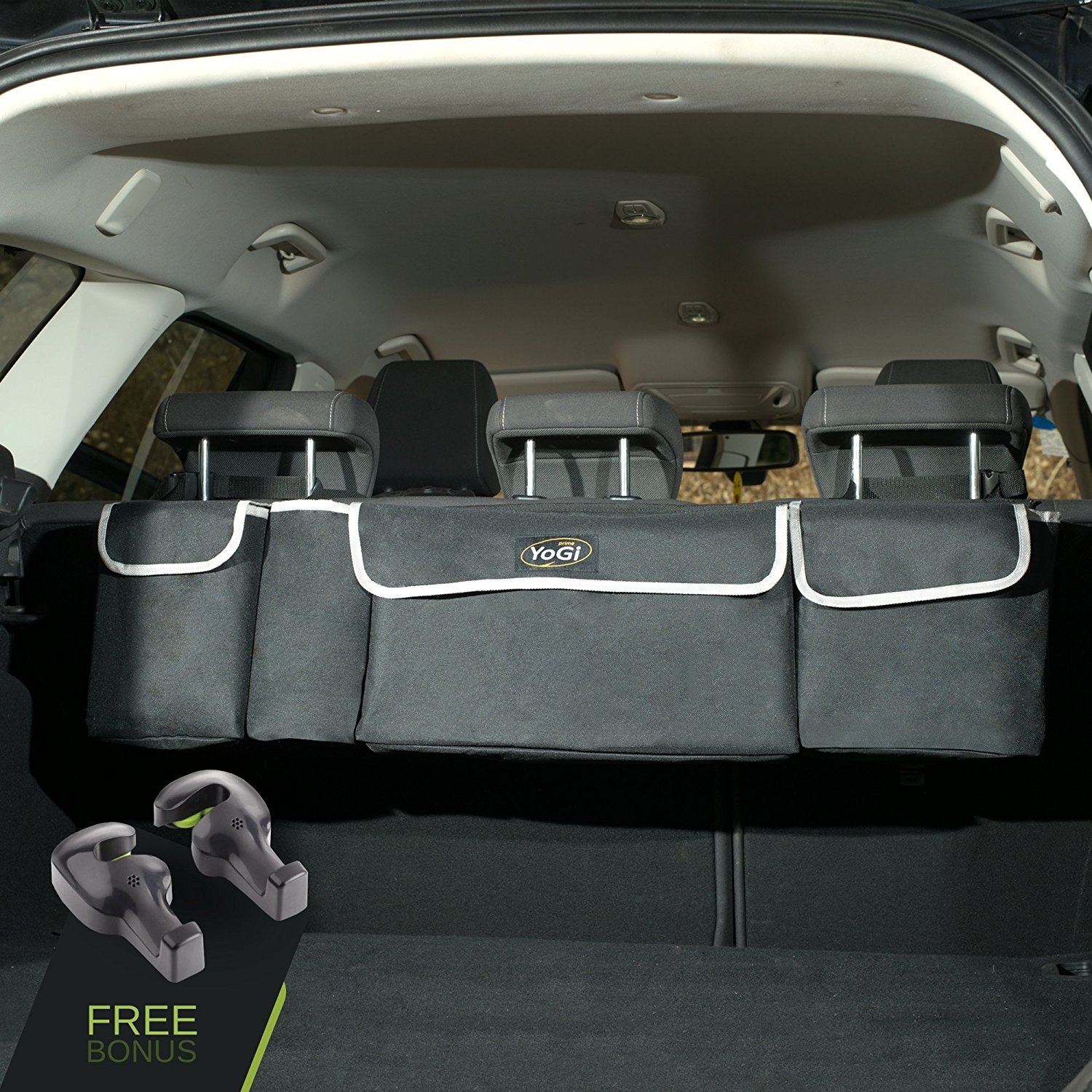 23. YoGi prime trunk and backseat car organizer
You have got your own car but yet your grandparents are not able to go on any road trip with you as they have a lot of luggage to carry and it does not fit your car. So now the YoGi prime trunk and backseat car organizer will help you with that.
Although you would not gift them with this directly but it would be for them, so that next time you all can go for a family trip in your car with all their belongings. The 600D pure polyester would make it durable and help organize all the luggage behind the car.


24. Happily ever after wall plaque
So you are sharing your room with your nana and you want something on the wall to make her feel more at peace and belonged. Get the happily ever after nana wall plaque.
The personalized message and the clear jeweled letters would surely have an impact on her heart and soul. This would make her feel more needed and the room would have a new dimension in all with the new loving warmth too.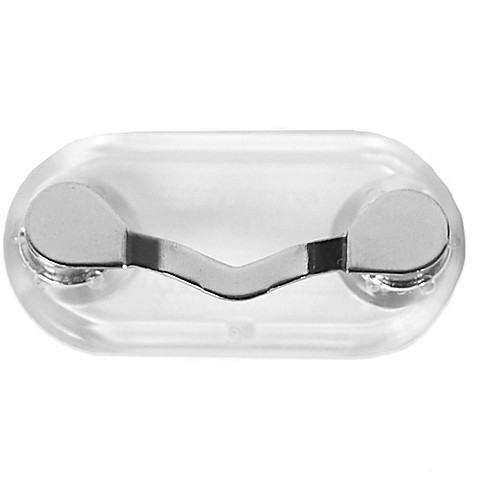 25. Readerest magnetic eyeglass holder
He is always forgetting his reading glasses and you have to run all through the house to find them. So now give your grandfather the Readerest magnetic eyeglass holder.
This white magnetic eyeglass holder would keep his glasses safe in one place and he would find them without making you run through all over the house. The patented backplate and front clip will be holding the glasses strongly and securely for the purpose.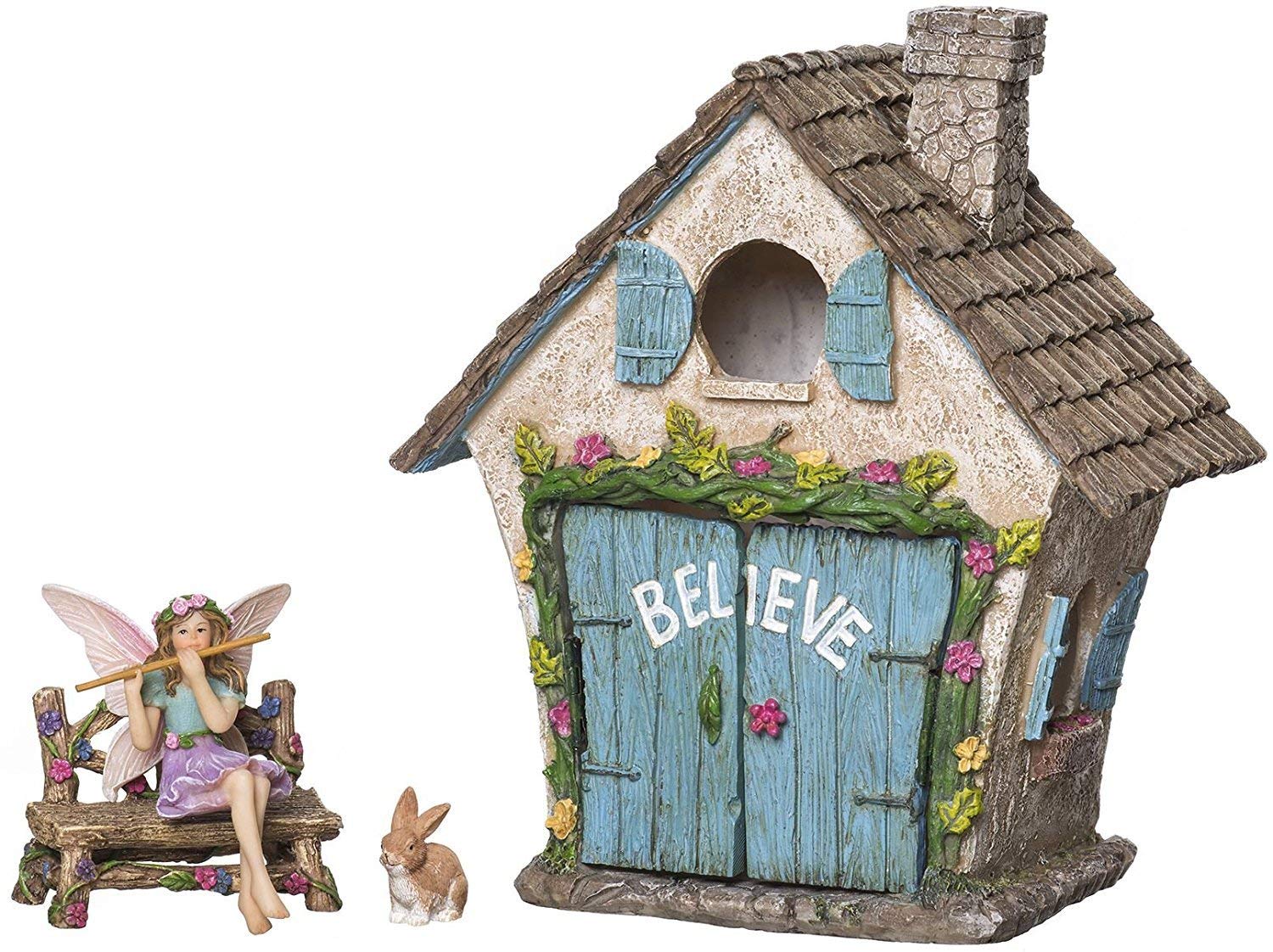 26. Joykick fairy garden house kit
Add some of your rouch in the garden of your grandparents house with the Joykick fairy garden house kit. The handmade piece would add some sparkle and youth to their garden bringing many fond memories of the past.
Also, the soft color and the fairy figure would be soothing for their old eyes making them happy each day whenever they would be gardening or visiting their garden always reminding them of you.

27. Grandpa keychain
This beautiful personalized grandpa keychain will surely make your grandfather feel like a hero he never felt before. It is a multipurpose keychain made out of pure stainless steel.
It has a small hammer, a screw driver and a wrench fixed to it so that your grandad can fix anything he wants without any help of others. Also, a round plate is there with the quotation specially for him, which would surely bring a smile on his face.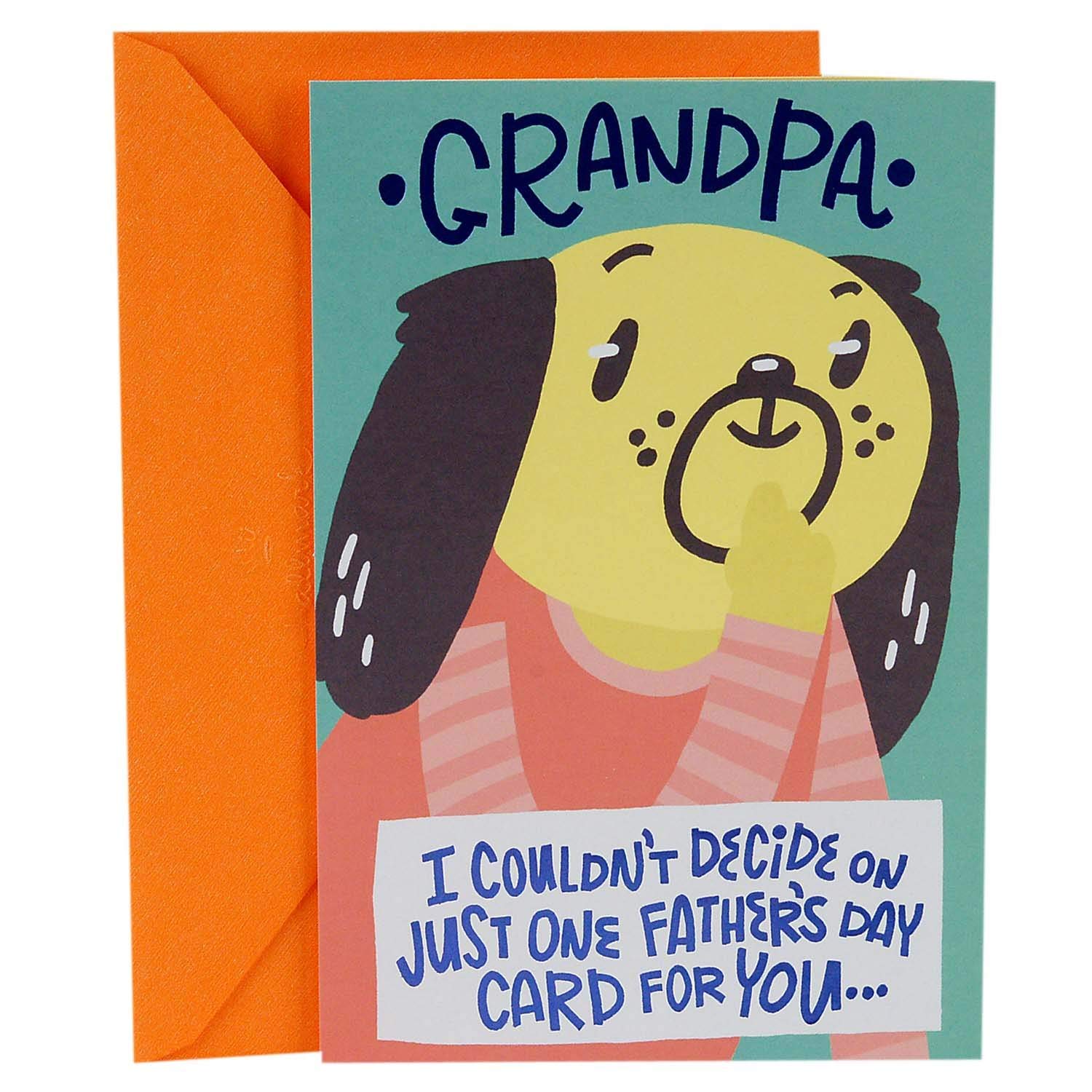 28. Greeting card for grandpa
Do not be ashamed at this time on your grandad's birthday you have just a little money to buy something for him. Just get the Greeting card for grandpa just made for him specially.
The painting on the top would speak all the feelings without you saying to him, and surely this would be his most precious gift of all. You can even add some personalized line inside the card to give it a bit more of your touch.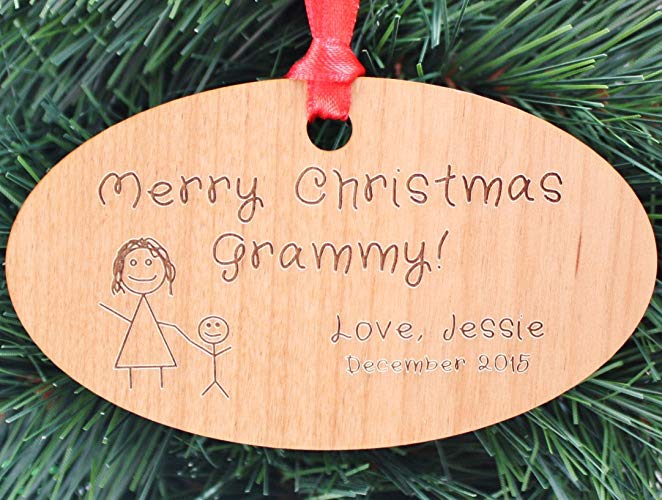 29. Custom christmas ornament for grandparent
Make your christmas tree more beautiful with the Custom christmas ornament for grandparent. These small handmade ornamental frame plaque would have your grandparents name on each of them and personalize the tree more.
The christmas tree would have the touch of them and with these hanging from the green leaves would surely bring happy tears in their eyes. Do make sure that you put them on the front side of the tree where everyone can see them clearly.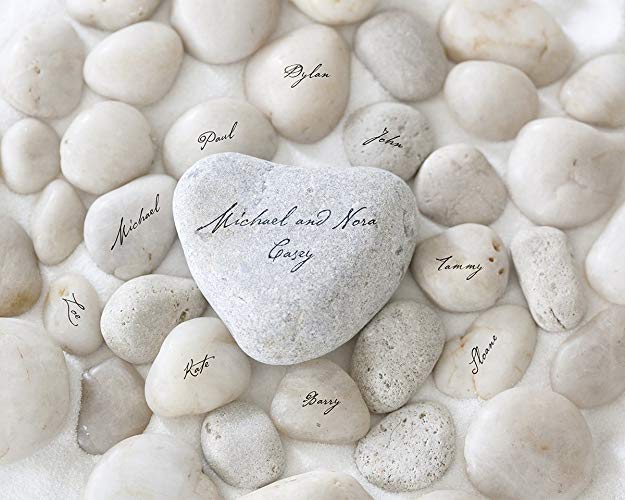 30. Personalised art print family name stones
Having the whole family in your hand is quite a tough job but now with the Personalised art print family name stones it would be best this season.
Gift your grandparents with these personalized art stone with the names of each of the family member so that they can put them all together in a bowl and decorate them in the living room reminding them of each of the people they love and care. This is one of the best gifts for grandparents.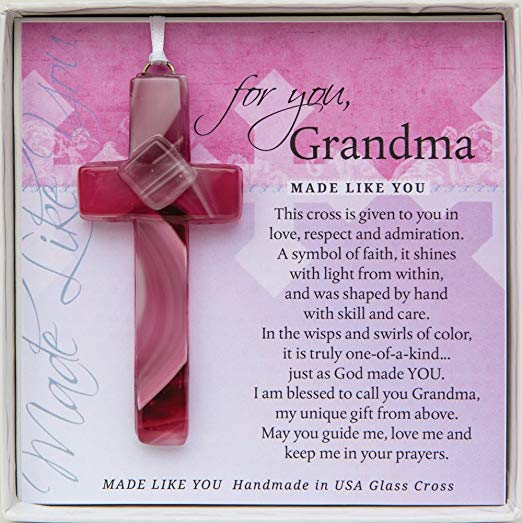 31. Handmade glass cross with grandma poem
Add some spirituality in your grandma's life as she is now more keen to understand lord more with age. The handmade glass cross with grandma poem on it is one of the perfect gifts for grandma.
The pink color would bring out the spiritual love for lord more within her and the personalized poem would be having your touch so a masterpiece for her till she lives. Now make her future life full of serenity and love together comopled in this lovely gift.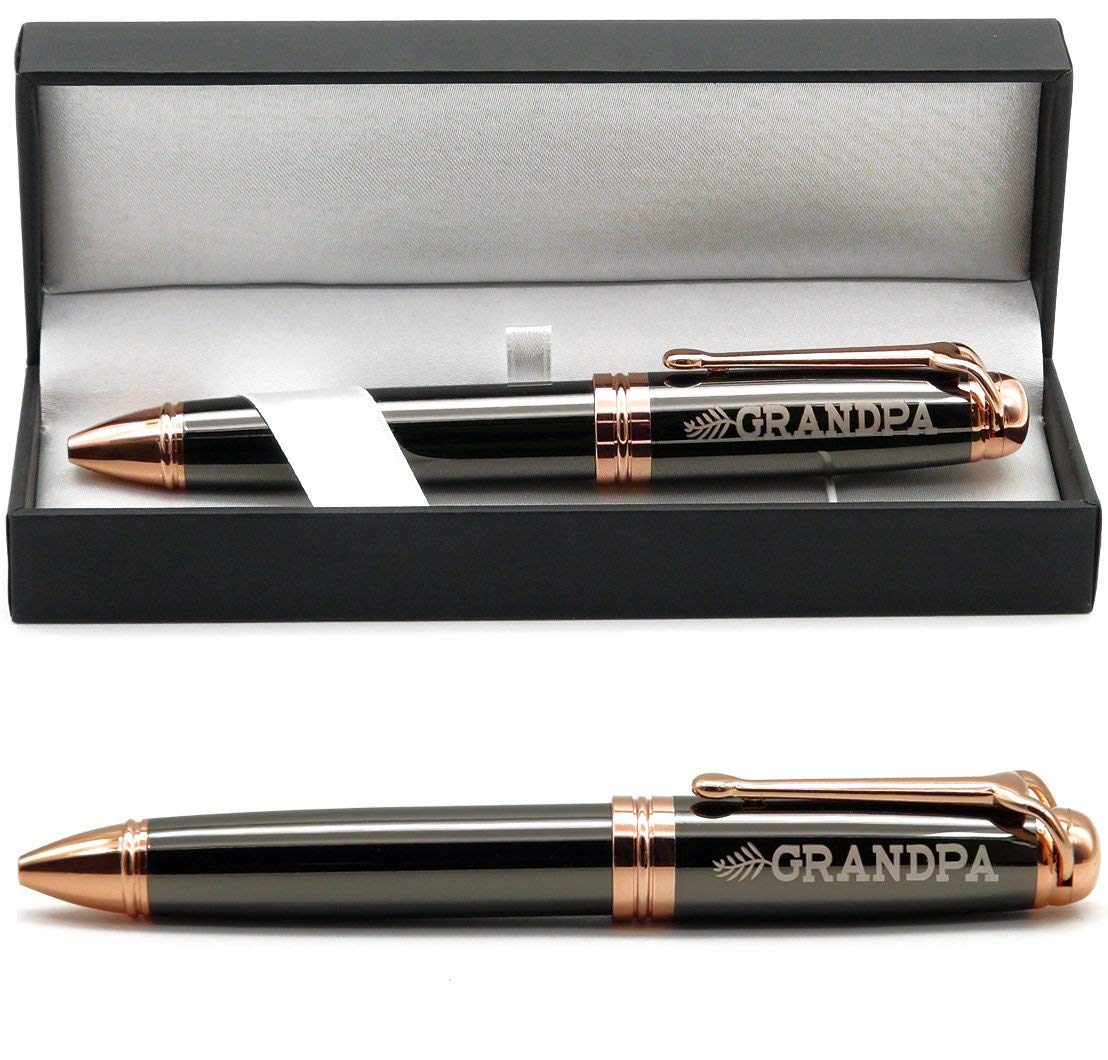 32. Grandpa engraved gift pen
Make the writing session for your grandad more personal and loving with the Grandpa engraved gift pen. This unique pen would have the personalized grandpa sign on it.
The gunmetal color of the pen with the gold metal accent this is the perfect writer's pen and would always remind him of you whenever he is writing with it. The twist action mechanism of this ballpoint pen is another masterpiece in itself. This could be one of the best gifts for grandpa.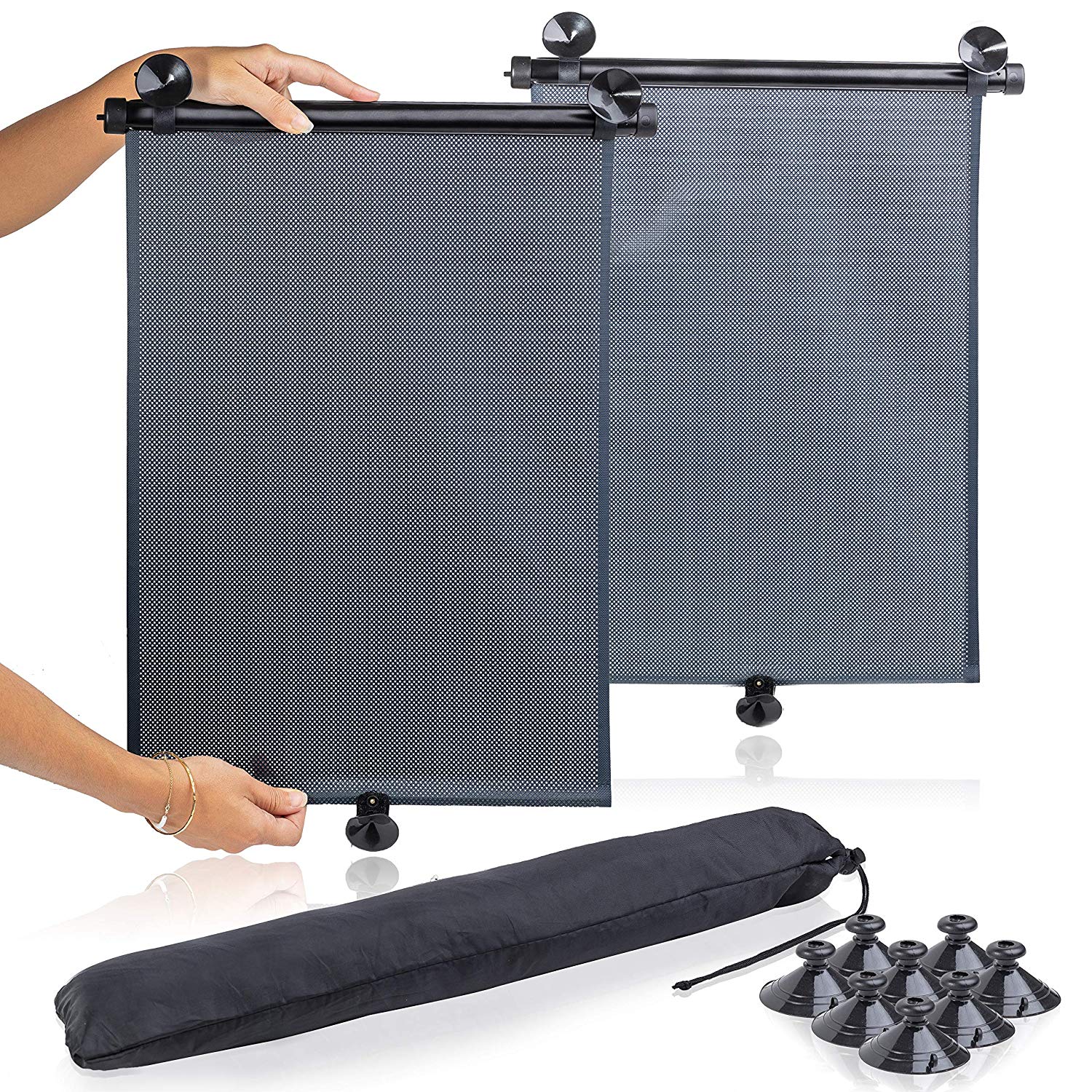 33. Car side window sunshade
This comes in a set of two and would keep the car cool and comfortable. This summer's gift your grandparents with this unusual gift making their car rides easy.
The retractable sunshade can be adjusted on any car window you want to install, and not necessary that it has to be in the front side, best would be to install it in the two back side windows as generally your grandparents would be sitting in the back seat.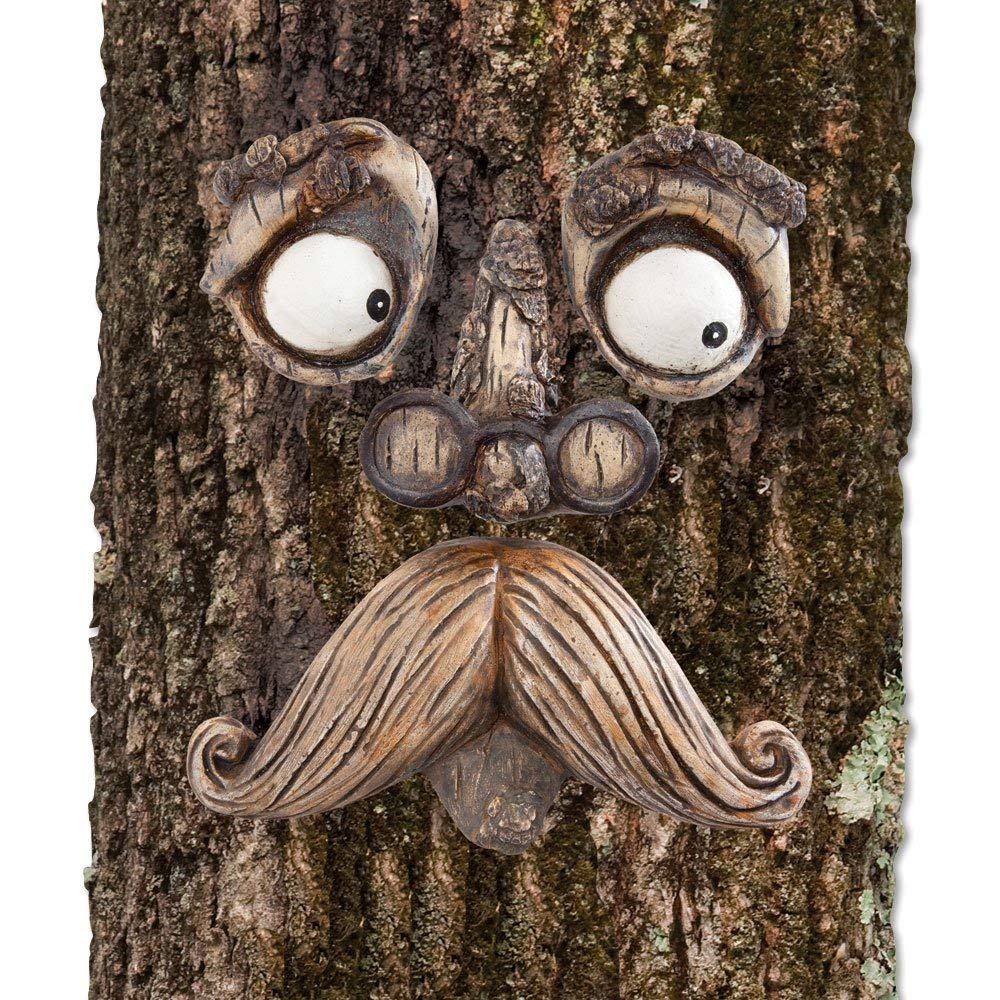 34. Bits and piece old man tree hugger
This surpriseful funny old man piece is best for fences or trees and even you can put it up on the side walls of the outer wall of your grandparents house.
The eyes would give a feel of a watch guard and even there are keyholes where keys can be hanged while they are out and you need to enter the house, so finding the key becomes a tough job. Now the tree hugger will keep the keys safe when they are not there.

35. Extra wide stadium seat chair
Now you can take your grandad for any game you want to watch with him in the stadium keeping his comfort in mind with the Extra wide stadium seat chair.
It can be fixed in any form of the seat and even if you are in the beaches it would fit the beach chairs. The soft double coating of cushions would make it much comfortable for your grandpa in sitting outside the home.

We have shared all the grandparent gift ideas from grandkids. These ideas will help you to get the best gift for your grandparents.