Last updated on June 3rd, 2022 at 10:13 pm
Writers are gifted with the articulation of emotions and feelings with words. Words maketh the life of a writer. They are so good with how they have to express or explain, you would marvel at the lucidity of their thought and the clarity with which they express and articulate. Pick from these elusive and exclusive gifts for writers for any occasion and bring that smile on their face similar to what they feel when they drink a cup of Joe.
Head to this digital shelf and pick from the selection of the choicest gifts for the writer friend or colleague of yours. Don't gift them the boring wall piece or crockery. Gadgets are passe for a writer who loves to lost in the world of creative imagination, away from the mundane and get a slice of life with their writing pursuits. Want to pick a gift for someone who loves to write? Here goes.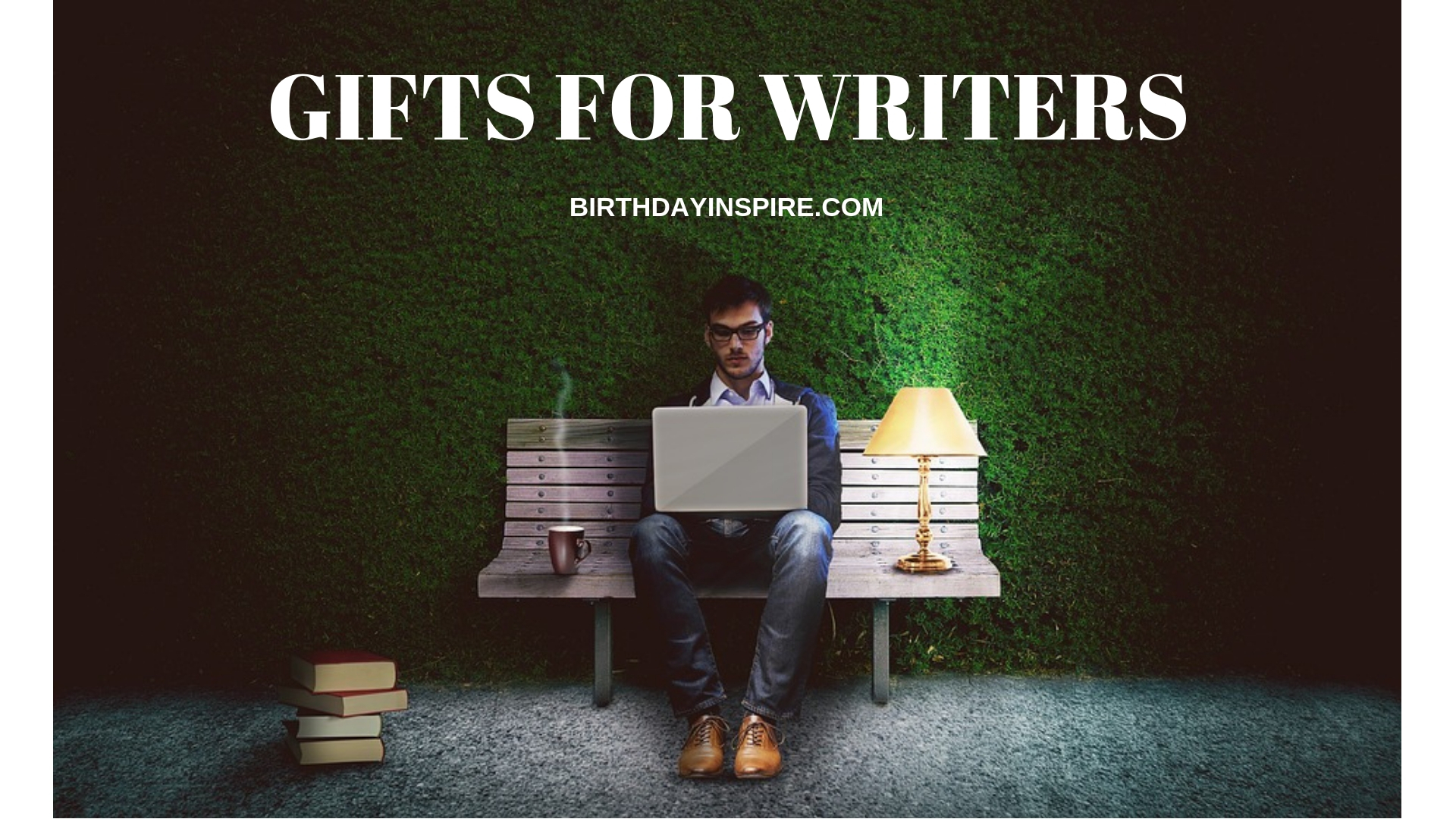 Offbeat Gifts For Writers
1.
Typewriter Pencil Holder
Gift this typewriter shaped pencil holder to the writer you are acquainted with and make their day. They will absolutely adore this unique gift on their birthday or any other occasion. A nice accessory on their table that could help them do away with the writer's block. It holds pens, pencils,and other stationery items. A great gift that brings the writer to the desk and lets them have some creative inspiration. One of the quirkiest gift ideas for writers is this typewriter shaped pencil holder.
2. Colorful Sticky Notes And Bookmarks
This is a colorful and vibrant gift for aspiring writers that boosts their productivity and creativity. It keeps them keep their ideas organized from being cluttered in the mind. You can organize your ideas, daily tasks with these vibrant and sticky notes. You can keep a track of the project, brainstorm ideas, and keep all of your work organized using these sticky notes. Keep your new ideas coming and pen them down on these sticky notes.
3. Coffee Mug Printed With Literary Lines
Writers and literature enthusiasts are going to love this mug as a gift. They have lines from popular authors of literature. They will enjoy their cup of joe every morning feeling enthusiastic drinking from a coffee mug that has lines from books of literature. This mug is dishwasher safe and microwave friendly. Those who love Jane Austen books are going to love this gift.
4. Bracelet With Writing Tools As Charms
This is a stainless steel bracelet that comes with charms that have writer's tools like a typewriter, notepad, etc as charms on this bracelet. This is an everyday jewelry that comes with these charms and is adjustable for anyone to wear it. People who love writing and are voracious readers will love this bracelet. Gift this bracelet on any occasion to a writer and let them have fun wearing this everyday.
5. The Storymatic Classic Game Of Cards
This is a game of cards that comes with umpteen combinations. It also comes with wild cards that let you go in offbeat directions. It also comes with a booklet that has many games, cards, and prompts for many activities. A nice gift that comes in vintage design for the writers. Something that they can carry with them during travel. Writers no more have to experience the writers block. Just pull a card from the deck and let your imagination run wild.
6. Classic Ink Pen Quoted With Ernest Hemingway
An ink pen is a classic gift that you can gift a writer on their birthday or any other occasion. This ink pen is printed with an inspirational quote. This is an elegant pens and one of the classiest gifts that you can give your writer friend or colleague. Ink pens are classic gift that can be placed as souvenirs on the shelf. The classic use of ink pens never gets old. People who are old school and love to write will love this gift when you give them on their birthday or any occasion. A nice gift for aspiring writers.
7. Handmade Leather Journal
One of the classic gifts that you can give your writer or poet friend is this handmade journal. They will love penning down their thoughts, emotions, write ups in this journal. This is a classic and an old school gift for the person who loves everything old school and retains the same values. This is a handmade journal made with eco-friendly paper. A gift that smells good and something that your creative friend who is good with words will absolutely love.
8. Dictionary of Unusual Words
Your writer friend or coworker will love this dictionary as a gift as it is an unusual choice. They will absolutely love this choice from the unique gifts for writers. It has unusual words from the English language. A good gift to give college students, family members, lovers of vocabulary and word games. People who love words and writing will adore this gift and cherish it for a lifetime. You can add to the treasure of your vocabulary with this gift.
9. More than 700 Idea To Beat The Writer's Block
Writer's block is something that most of the writers have to deal with. Gift this wonderful gift that gives them numerous ways to deal with writer's block and gets their creative juices flowing. Writers are gifted with the skills of the words to express beautiful and complex emotions and situations. This is one of the useful and awesome presents for writers that you can give on any occasion. Gift them to someone who loves to write and they will never be stuck up with words or ideas.
10. Writers Emergency Pack Of Cards
This is a pack of 26 illustrated card that gives a creative exercise to the mind of the writers and lets them complete their work. Gift this wonderful pack of cards to someone who loves to write and let them push their creative imagination and boundaries to create beautiful work with words. It comes with different concepts and situations with details that brings a flow to the writer's imagination. Every card comes with a situation and explanation that will boost the creativity and productivity of the writer whom you gift it.
11. Waterproof Notepad
Writers will have no work to lose if they accidentally spill over coffee or liquids on their notepads as this is waterproof notebook that does not let liquids soak into the pages. If you are someone who gets their ideas in the showers, this is the best gift you can have. You can pen down ideas in the showers and not let your thoughts slip away. A meaningful gift to give a writer whose mind is busy working with ideas.
12. Writer Themed Do Not Disturb Door Knob
This is a door knob that is made in plastic and can be worn on anh type of a door knob. Your writer friend can work peacefully on their ideas when they get this gift from you. You will not have sales people or anyone random knocking on your door looking at this door knob sign. A useful gift to be given to a writer who is busy in their world of imagination and writing. You can work on your write ups peacefully without having to get up to answer the door.
13. Shakespearean Insult Bandages For the Sarcastic Writer
You can show your victorian class by using insults in Shakespearean language that comes in a set of 15 cards. Bring joy even when you feel the emotion of annoyance and create wit and class in the atmosphere by using insults from this deck. These are actual bandages that are printed with Shakespearean insults in thy classic and literary style. Something that the writers and those who love literature enjoy. If you have cuts or injuries, these bandages with heal and add to the wit.
14. Tequila Mockingbird Cocktail Recipe Book
For those who have been obsessed with Jane Austen and the victorian era of literature, this is a gift that you will be loved and remembered forever. A book of cocktail recipes,bar games, and more with literary themes. You, a lover of literature, words, and beautiful thoughts are going to love this. Find drink recipes with names from the book of literature that you can rustle up and throw some fine parties, will ya!
15. Jane Austen Books Themed Coasters
For those who cannot get enough of everything Jane Austen, this is the gift that you will treasure. Let your Jane Austen fan add to the collection of Jane Austen things when you gift them these coasters on any occasion. Let them celebrate their literary genius with these coasters and enjoy their morning cup of Joe with some good reading. Forget staining your coffee table cloth, and enjoy reading and writing sipping some coffee with these Jane Austen themed coasters as gifts.
16. 100 Books Bucket List Poster
Those who love to read and be lost in their world of imagination, this is the best poster gift that lets you check off the books that you have read. Writers are avid readers too. You can gift this poster that is unique and comes with a list of a 100 books that your friend or colleague can read and has a list of some of the amazing books that someone who loves to read can add on their reading list. Once you are done with reading a book on the list of this poster, you can scratch it off.
17. Book Theme Printed Unisex Socks
A nice pair of socks to go by nice pair of shoes for the literature and book lover. For those who love reading, writing, books, words, beautiful thoughts, expressions, and all things creative filled with imagination, this is a thematic gift that your writer friend can wear everyday. A nice gift that fills the shelf of their accessories and something that they will wear with joy. It boosts your happiness and joy of the writer and will absolutely love this gift.
18. Personal Library Kit
For a writer, a bibliophile, this is a perfect gift to give. For the writer, book lover who loves sharing and circulating books, this is a perfect kit that comes with a stamp with a date and a pack of cards to keep a track of books given and returned. You can maintain your own personalized library with this gift kit. Borrowing and sharing books will no more be a hassle when you have this gift kit. It helps keep everything organised and you do not have to lose a book with the information written on this kit.
19. Funny T-Shirt For Writers
Funny t-shirt for writers and book lovers. It comes with a charming quote that expresses how much you love reading even over the weekend. That is the thought that exactly is expressed by book lovers and avid readers. Once you start reading and lose yourself in the imaginary world of fiction, there is hardly time for shots of tequila and blasting music over the weekend. A nice and a meaningful gift that goes well with the personality of the book lover.
20. Book Themed Magnets For Refrigerator
Writers love to write. These are creative and awesome gifts to give writers who can have fun rearranging words that come as a part of this refrigerator magnet kit. Boost your creative writing skills with the poetry and meaningful phrases that you can create with the word list given with this kit. Mix and match words and create beautiful lines and phrases. Open the door of your fridge reading and creating good lines before you relish all the goodies inside your fridge. Make endless number of phrases and poetic lines with these magnets and have fun literary fun in your dining and kitchen.
21. Dictionary of Character Expression
This is one of the most resourceful gifts that you can give a writer. A dictionary that helps them pen down the expressions of the characters in their story. It contains a long list of expressions for mental responses, internal emotions, actions, physical gestures, and all kinds of emotions and sensations. This a perfect gift for a writer who is completing a story or a novel. It helps them get right words to express any emotion and visualize the situation, character, and action in the story that they are writing.
22. A Dictionary of Character Flaws
A writer writes about different kinds of characters. This is one of the best gifts to give a writer who has many characters to write about. They will be thankful to you for giving this gift to them. It contains words and phrases that describe negative flaws of a character. It helps the writer or the author articulate the personality of characters depicting any negative emotion. For the heroes as well as the villians of the character inside the story, this is useful dictionary for a writer.
23. Book Themed Zipper Pouch
This is a nice gift for the writer who has a cool, collected, and a casual personality. A zipper pouch in the theme of a book made in canvas is lasting as well as offbeat. A creative gift for the writers who can carry them to any of the outdoor events. Goes well with casual as well as party outfits. It comes with many options with the themes from literatures and famous literary characters. These are hand washable pouches that remain unspoiled all the time.
24. LCD Writing Tablet And Scratchpad
Go digital with this LCD scratchpad and tablet and forget the sticky notes on the walls. Jot down your ideas, doodle on it when you are bored, draw anything, and erase easily. This is a nice gift to give writer who can use it like a digital pen and paper. It is portable and can be carried anywhere. Jot down your train of thoughts when you are traveling, or spend time outdoors. Carry them with you during work or leisure and jot down anything that comes to your mind. A good gift for anyone who has something to write everyday.
25. Shot Glasses With Literary Theme
This is a shot glass set that sets in some nostalgia. Celebrate the cowboy and western style with these shot glasses and have fun throwing some parties at home. Play party games and the guests will love drinking from these glasses. They are themed in philosophy, this is the gift that your writer friend or family member will like who loves writing action packed stories that include western themes of cowboys. If you know someone who loves Clint Eastwood movies or loves western literature, this is the gift that they will love. It is offbeat and quirky and brings out their cowboy personality and boosts their writing skills in this genre of fiction.
26. Crossword Puzzle Coffee Mug
There are clues to the crossword puzzle printed on the box. It also comes with a pencil. A lovely gift to give a writer who loves their dose of crossword puzzles in the morning reading the newspaper. A gift that a writer would love to drink their cup of coffee in. A nice mug that has the print of a crossword puzzle and is dishwasher and microwave safe. Find many more puzzles and fill it on the print of this mug while you enjoy sipping your coffee.
27. Pride And Prejudice Printed Scarf
A unique and offbeat gift to the Jane Austen book fan. This is an elegant scarf that is printed in the lines from Pride and Prejudice, a Jane Austen novel. A stylish scarf that goes well with solid colored clothing. On a casual reading day, or a day in the library, this is the perfect scarf that can add to your style and taste. Show off your literary and fashionable taste to the world with this scarf. A nice gift for your daughter, sister, or female friend.
28. Stephen King's Guide To Aspiring Writers
Illuminate your writing skills reading this book, which is like a bible for aspiring writers. A wonderful gift for the writers that helps them fine tune their craft. It depicts the celebrated writer's habits and experiences that can help any writer improve their skills and become a professional writer. This is the story of Stephen King that has helped shaped the lives of many writers. This is a unique book that is part autobiography and part how-to guide to be a good writer.
29. Writing Themed Throw Pillows
Gift these interesting pair of pillow covers to writers and they will enjoy using it like a decor in their living rooms as well as office. A monochromatic themed throw pillows that suits as a decor in your room is what a writer would love as a gift. They come with zipper closures and are are very soft. They go well as your decor items on your couch or the chair. They are non shrinkable. Book lovers and writers will absolutely love this gift.
30. Jigsaw Puzzle For Writers
This is an awesome gift for someone who writes or loves to write and read. A 1000 piece jigsaw puzzle that has pieces from travel,book shops, history, literary items like poetry, and many detailed pieces that can keep you engaged for hours together to get the puzzle right. For the writer who is also an artist and a dreamer, this is a unique and an intriguing game that keeps their imagination and mind busy for hours together. Identify which piece goes with what image and solve the puzzle. A nice game that comes with images that are colorful and clear in every puzzle that you attach and play with.
31. Printed Pen And Pencil Holder
This is one of the awesome gifts for writers. This is a printed pouch that comes with many layers for holding more than 200 pens and pencils. Carry your favourite stationery in this pouch and stay organized wherever you go. Use this pouch for holding pens, markers, color pencils, gel pens, ink pens,and different types of pens and pencils. A unique and creative gift that is utility based for writers of any age.