Last updated on June 3rd, 2022 at 10:13 pm
Over the past few decades Star Wars has grown to be among the most famous fiction both in books and movies to a point where it's almost become a mini-culture among many groups across the globe. With so much popularity and such a rich and old history the franchise has obviously amassed quite a few loyal followers who show no quarter in expressing their love for the stories and characters.
If you know one such person and you're looking to get them a present on some special occasion to show your appreciation for them, you would be much better off getting something that is themed after Star Wars. Not only will it give them an extra layer of excitement but it also tells them just how much you know and care about not just them but also their interests.
Of course, you don't have to be a Star Wars buff to get to the good stuff because we have done all the hard work for you and came up with some very unique ideas that we think you would love. Here's a list of some of the coolest gifts for Star Wars fans.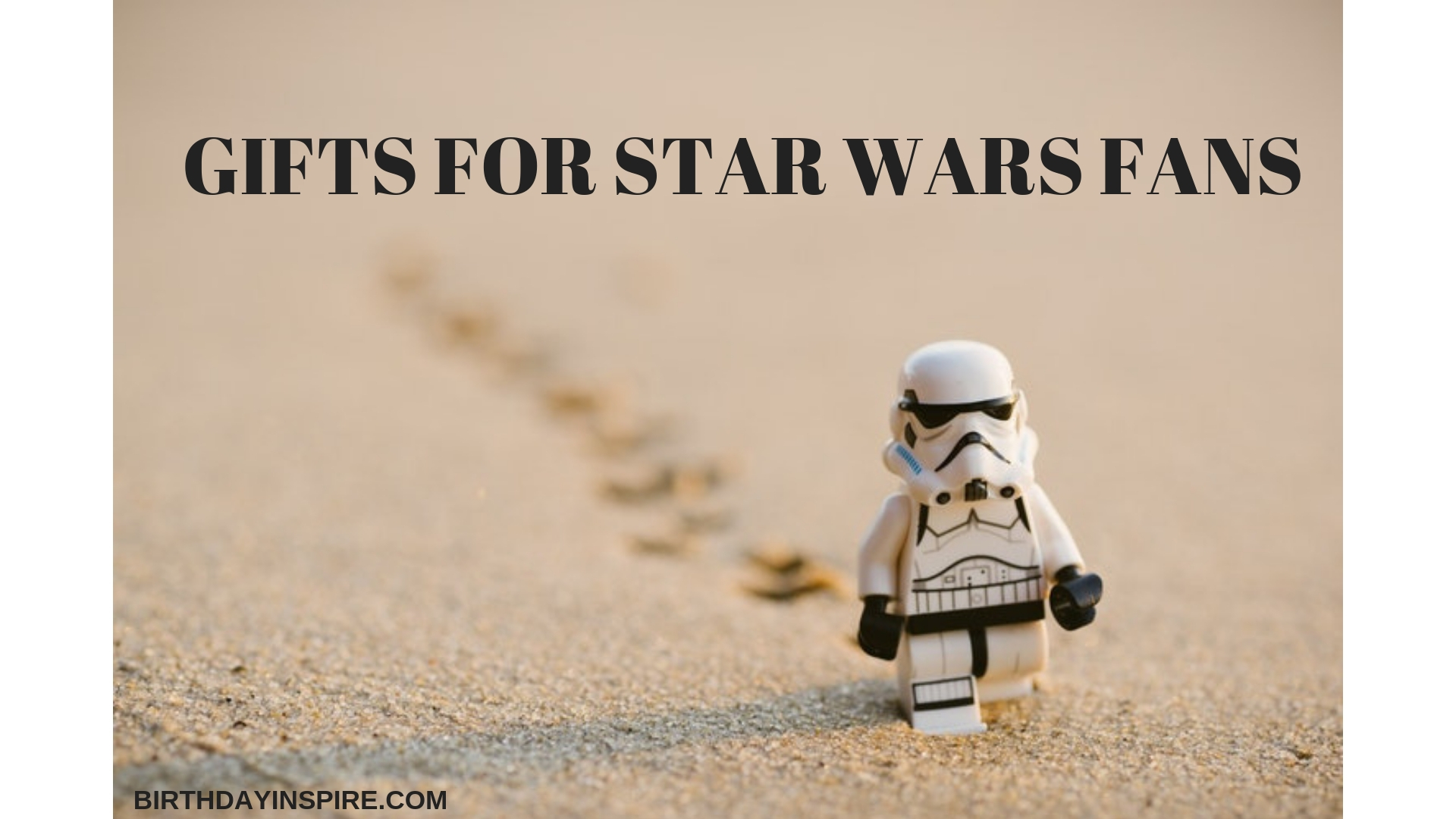 Best Gifts For Star Wars Fans
1. Millennium Falcon Bottle Opener

Millennium Falcon is one of the most iconic space crafts in the Star Wars series and for a good reason. It's huge size and futuristic design bought it plenty of fans and it's easily recognizable even by those who don't closely follow the series.
This key chain bottle opener is themed after the iconic ship and does a great job of representing it going down to the very minute details. It would make for a fantastic Star Wars gift.
2. Star Wars 3-D Illusion Lamp

This is something that would look straight out of the Star Wars universe, especially for the kids. The lamp produces a 3-D hologram using a normal 2-D disk. The set comes with 4 different patterns of illusions and multiple color choices all selectable through a simple remote.
This is great for kids bed rooms and is guaranteed to make them a little more excited to get them to bed on time. A very cool Star Wars gift for kids.
3. Star Wars Magic Mug

This is a very creative mug made of ceramic for the most part but is coated with a Star Wars themed print consisting of light sabers that belong to various characters in the series. What makes this cup truly special is that the lightsabers actually light up when hot water is poured in.
It's an amazing concept that's beautifully complemented by equally good design and color choices. It's one of the best Star Wars themed gifts you could get out there.
4. The Star Wars Archives
The core reason for such a resounding success of the Star Wars movies are its extraordinary books that paved a very strong foundation for everything to come. These archives cover the volumes written between 1997 and 1983 and are dear to every Star Wars fan.
If you're going to give this as a gift, you can be rest assured the person would be thrilled and happier than ever to get the original hard copy of the first books of his favorite series.
5. Star ships Set
These figurines are well-made, high-quality set of space ship replicas of various famous Star Wars ships. Each of the space ships can be mounted onto an adjustable stand making them not only great toys for children but also some really good decorative items.
This set serves as a great gift for children and adults alike and the aesthetics of the replicas are very easy to appreciate for anyone. It's a nice gift that can go into both home and office settings.
6. Falcon and Death Star Ice Mold
This is one of the most innovative uses of the Star Wars theme in an actually practical product. This set of ice molds are capable of creating some very clear ice crystals in the shape of the Millennium Falcon and the Death Star, two of the most iconic spacecrafts/weapons in the Star Wars franchise.
The ice cubes at the next party for them are going to catch the attention of a lot of people and that's all it takes to see how awesome of a gift this truly is.
7. Thermoelectric cooler with Han Solo

Han Solo, ever since his introduction has been a fan favorite and his popularity even to this day has not depleted by much. This Thermoelectric regulator while doing a great job in keeping a beverage either hot or cold depending on the user's preference, it also beautifully captures one of the best incidents in Star Wars.
Han Solos face could very well cause some eyes to turn towards you but there's nothing bad about that as this piece of equipment looks absolutely stunning and would make for a great Star Wars gift for men.
8. Darth Knight Blanket
This blanket is made of 100% polyester cotton and is very comfortable to sleep under. The quality of the material and the Star Wars print is top quality and it fits an average sized adult perfectly. It's also very easy to wash even in the machine.
This is a gift that the person is going to potentially use every day and it will certainly satisfy them to the highest level possible.
9. R2-D2 Droid

Star Wars had quite a few artificial beings that comprised of surprisingly good personalities. R2-D2 is one of, if not the most popular among them and it's definitely something a Star Wars fan is going to absolutely love. This Droid can be controlled through a separate app and can even be programmed to learn new activities and moves.
This combines a lot of fun with the potential to learn some very impressive coding skills from a very young age. It's hard to find a replacement for this if you're trying to get a Star Wars gift for kids.
10. Light Sabre Utensil Set

The best way to make rather bland or routine surroundings interesting is to fill them with things that are creative or ones you're passionate about. Here's something that fulfills both the roles and does it's intended job with absolute perfection.
This utensil set consists of a fork, a knife and a spoon all basic high-quality utilities but the subtle light sabre tough to them make them extra special for every Star Wars fan.
11. Star Wars Wall Painting
This is truly a stunning piece of art even if you disregard its connection the Star Wars. It's very well designed and the choice of colors suite frame perfectly. It also goes well with most walls and does not stand out in a bad way. It's large enough to be noticeable but not big enough to not fit even in your kid's rooms.
Overall a fantastic gift that brings about an artistic feel combined with the showcase of their love for the Star Wars series.
12. Chewbacca Wookie Sound Mask
Chewbacca is another fan favorite character that is loved and adored greatly across the world. This mask will let your kids experience what it's like to be in the skin of that majestic creature as it not only accurately depicts its face but can also make similar roaring sounds.
It's extremely fun, not just for the kid but for everyone involved as the mask could lead to some pretty funny clicks or sounds. One of the best Star Wars themed kids' gifts.
13. Lego Death Star

Death Star is the biggest and the most powerful weapon in the Star Wars series and that's exactly what it's known for throughout the fandom. This LEGO set lets you construct your own miniature but accurate version of the death star which can in turn be used by kids to just play with or even as a decorative accessory.
It's also a great recreational activity for kids while also improving their cognitive skills. It's a gift that stands out too much for anyone to not notice and you will be applauded for your amazing choice.
14. Star Wars Jakku Rey Throw Blanket with Sleeves

Star Wars is also known for some of its strong female casts and Rey is perhaps the most popular among them, especially around the younger generation. This is a very high-quality throw blanket along with full sleeves, pretty much representing the actual outfit of the character.
While it might not win any fashion awards it's still a very comfortable and stylish thing to wear on casual occasions at home. If you're looking for Star Wars gifts for her, this is it.
15. Star Wars Special Edition Monopoly game
This version of the popular game is released as part of the 40th anniversary for the Star Wars series. While sticking as close as possible to the basic game play of monopoly the set is replaced with units from the Star Wars universe so that the players can drown in nostalgia and some very good memories as they play the game.
If your friend doesn't already own this, it would be one of the best gifts you could give them that is not only a great game on its own but is also connected to the entire history of Star Wars.
16. Darth Vader and Storm Trooper Socks
These socks are almost completely made of polyester and are extremely comfortable to wear and use. While socks might not be the top most in the hierarchy of things that a person cares about, they are without doubt an essential for almost everyone and this is your chance to make one more part of their life special.
These socks would be a fantastic gift for anyone who has the habit of using socks at home or just as a gift for some casual occasion. It's a gift that not only serves an essential purpose but also sends a good message.
17. Storm trooper Decanter
A good drink is always a great experience to have regardless of how it's associated with anything else. But for a Star Wars lover, every time they see this decanter, they just see two very exquisite experiences sitting ripe to be taken whenever they desire.
If your friend has a habit of drinking then this would obviously be a great choice for a gift that would add some value and comfort to his hobby and also represent his favorite franchise through it.
18. R2-D9 Figurine Phone Charger
Charging your phone daily has become pretty much a necessity in the modern world. Even worse, sometimes you might have to charge the phone on the go which could not only be uncomfortable but also not really feasible at all times. This car charger comes in the form of a Star Wars robot figurine and does the job of charging your phone on the go pretty well.
It would be a very nice addition to their daily accessories. It's going to be incredibly useful while also giving out those Star Wars vibes while around it, making it an amazing gift for Star Wars fans.
19. Star Wars Rebel Wallet
The Rebels are one of the two major factions in the Star Wars series and usually the favored side by the fans. This wallet is made completely with leather and is imprinted with the Rebel's flag. This might not make one a part of the rebel's organization but it certainly gets close to the feel every time this wallet is opened.
Whichever faction they might support any Star Wars fan would certainly appreciate something like this as it allows them to boast a unique identity from the series in their daily life.
20. Darth Vader Nylon Backpack

This nylon backpack is built with great quality and a comfortable design. It's not by any means a heavy-duty backpack that can carry everything in the world. This is more of a compact sized backpack ideal for smaller travels.
If you have a friend who needs a backpack like that and they happen to be a Star Wars fan, then you don't really have to go much further than this as this backpack has the darth vader theme going for it. Overall an amazing gift for any Star Wars level.
21. A Death Star Popcorn Maker
Just like Star Wars slowly became the face of modern cinema, popcorn has also become the most preferred and popular stack. This little gadget lets you combine the best of both worlds as you can make your own popcorn while also getting it in the death star theme.
This shape and design have no apparent advantage other than the fact that it is incredibly cool to look at and their kids would absolutely love it.
22. R2-D2 Metal Can Cooler

Keeping drinks cold is always a pain especially while traveling when you can't always have a freezer handy. This extremely compact metal can cooler can only fit one tin of drink inside it but does an excellent job of cooling it down to desired temperatures.
It's also designed as the R2-D2 robot from Star Wars which scores extra in this case. It can sit perfectly fine on any desk including office and looks great as a decorative item while also being extremely easy to use for cooling.
23. Darth Vader Cuff-links

These are some high-quality metallic cuff-links themed after the most iconic villain in Star Wars history, 'Darth Vader'. It's almost impossible to find a Star Wars fan who doesn't know darth vader and this is the perfect opportunity for you to surprise them with these cute little things.
While not the flashiest gift, these cuff-links come in quite handy when going to a geek party or any Star Wars themed event. It's a great way to show your appreciation for that person and them for the franchise.
24. Stormtrooper 3-D Coffee Mug
This ceramic mug comes with an adjustable lid at the top which can be opened or closed depending on the user's requirement. The Coffee mug is 3-D printed and is of great quality. It gives the highest amount of geeky or futuristic feel when you're using it as it doesn't really belong anywhere in particular except in the grasp of a true Star Wars lover.
This is one of the coolest ways to consume a beverage not just for kids but anyone who deeply admires the Star Wars universe.
25. Darth Vader Coin Bank

Despite whatever things Darth vader did in the movies, he still seems to be heavily favored among the fans. This small coin bank made of ceramic functions just like a normal coin bank except for the fact that it's designed like one of the characters from the show.
It will be a great addition to any desktop, adults or kids as a decorative piece and at the same time helps with its basic function of holding coins just fine.
26. Star Wars Vinyl Wall Clock

This is a fantastic way to utilize the Star Wars universe and integrate it directly into the person's life through their own personal home clock. This wall clock is made from an old audio record so it's eco-friendly and the Star Wars themed design on it is classy and attractive especially to a fan.
This clock is certain to be well received by everyone who come across it and it acts as a very subtle attraction while also doing its primary job. A great gift for anyone or family who are into Star Wars.
27. Chewbacca Messenger Bag

Chewbacca is a very popular character in the Star Wars series and many fans constantly show their awe and admiration towards it and if your friend has seen Chewbacca, he's likely one of them. This messenger bag is a very close real-life replica of Chewbacca sometimes uses on him.
This would be a very unique gift even for a dedicated Star Wars fan and it is guaranteed to surprise them. It's great for both costumes and regular use.
28. Princess Leia Hair Buns Knit Beanie
As mentioned before Star Wars has some very strong female characters and another one of them is Princess Leia. One of the most popular character traits she is known for is her unique hair style in the form of side buns. This Beanie would give her an opportunity to mimic that hairstyle with its side knits without having to actually learn the whole process of doing it.
This is a very creative way to design a beanie and definitely scores some extra points in the style department even for a Star Wars product. Certainly, a worthy Star Wars gift for her.
29. Darth Vader Outfit
This a perfect set to gift a Star Wars fan as it comes with the complete list of essentials to make someone look just like darth vader. This is mostly aimed at kids but there are bigger sizes available that fit perfectly well on adults as well.
This is a perfect Star Wars gift idea if you're closing in on Halloween or another costume party and you know that your friend or family member is a big fan of Star Wars.
30. Light Saber Umbrella
This one stands out particularly well even among Star Wars gifts because of the nature of its use. An umbrella, unlike most items on this list is an essential that will be in full public view while in use. Its handle is capable of glowing brightly just like a light saber and you can choose from multiple colors.
This is guaranteed to attract the awe of many people who pass by and would make the wielder feel almost like a celebrity, or perhaps in this case a Jedi knight.
There are a lot of elements and depth in the Star Wars universe and trying to break it all down in order to come up with some cool gifts is no easy task especially when doing it for a die-hard fan of the series. Which is why we have compiled a list of some of the best possible gifts for Star Wars fans so that you can impress and surprise your friends or family without having to go through the tedious process of looking through so much information and products.