Last updated on June 3rd, 2022 at 10:33 pm
We all had some uncles and aunts who were always partial to us. Their gifts for their niece were not only full of surprises but also love. They always bring more to any festive occasion and you look forward to their visit more than anything else. The role of an aunt or uncle is just as important as a parent and not everyone can fulfill it.
It's only natural for all of us to want our niece to love and adore us just as much as we do with them. What better way to earn that than to surprise them with an amazing and creative gift for their birthday!
A gift is just a way of physically representing your love and affection towards someone. Choosing proper gifts for niece makes you a lot more likely to earn their adoration and closeness. It would be a big step in building a proper and strong bond with your niece.
Technically anyone can go to a store, choose a random toy and pack it as a gift. While this is quite okay for someone not so close, you as their aunt/uncle should get them something a lot more personal. Something, that would reverberate the connection you share with them.
Obviously, you wouldn't want to think about all the memories you have and try to come up with a gift that you think they might like. It's very time consuming and frankly, it would just lead to overthinking and indecision.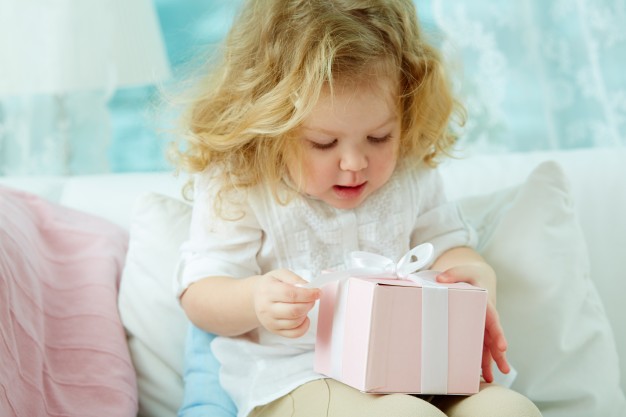 Amazing Gifts For Niece
here are a few amazing and very creative gift ideas for niece!
1. Panda Bear Wearable Blanket
Do you know what's universally loved? Pandas! Their cuteness has no conceivable limits and these little creatures score bonus points with kids. This blanket very closely resembles a panda bear costume and pretty much turns your niece into one. Now, who wouldn't want that?
Also, if you constantly find your niece complaining about going to bed, get her one of these and they will never say a word against sleep again. It's super cozy, let's your kid experience the joy of turning into their favorite animal and most importantly they're going to love you forever for a gift like that.

2. Doodle Book Jr.
Kids are said to be full of creativity that is often suppressed by society. This refreshing iteration of doodle coloring book will help your niece freely let their creative breath flow all over it.
This allows them to have complete freedom and give them a chance to express themselves in their own unique way. It will not only help with creativity but also help the child connect with their own emotions better.

3. Pop Snap Beads
Now you could buy them an attractive bracelet or a necklace, but here's a better idea. How about, give them the tools to make their own? These pop snap beads are specially made for kids to make their own jewelry.
Your niece could be making anything like necklaces, rings, bracelets etc. The process itself is quite simple but is strongly supplemented by the kid's own creativity and imagination. This would make for a very interesting gift that they will not be getting bored of any time soon.

4. Ceramic Unicorn Mug
A mug is pretty much essential in daily life. As adults, we use it regularly and this would be as good a time for your niece to start getting used to it in a rather pleasant way with this rather stunning unicorn shaped mug.
Unicorns are every kid's dream pets and while you can't quite get the unicorn itself, this mug will keep them excited for quite some time. It will hold their attention with relative ease and you don't have to work hours trying to convince them to drink something.

5. Kids Telescope
We probably get a million questions from kids when they look up at the night sky. Unfortunately, whatever's out in the space is an equal mystery to all of us. So, give your niece a chance to find this for themselves with this small telescope designed for kids.
It comes with star and moon maps that will be a great help for beginners and relatively very compact so they can carry it when they're traveling. It would be a great way to give your kids a way to fulfill their own curiosity and encourage them into learning newer and bigger things about modern science. This could be one of the best presents for niece.

6. Cardboard Construction Toolkit
Another amazing gift for your niece that will bolster their creativity and helps bring their ideas to life. This cardboard toolkit will let kids put together various forms of structures or even costumes. It is a great tool to have during breaks not only to have an entertaining way of passing time but also a great way to learn.
Even if the kids fail a few times at making something good, they could always break it down and try again. Success will eventually come and give them much needed encouragement.

7. Kano Computer Kit
With the world moving more and more towards integrating technology into our daily lives, computers have become essential for many important tasks. While teaching a kid how to use a computer could be quite useful, this small kit will not only let them use one but also build one themselves.
By providing them with very fascinating information about how computers work on the inside, it is sure to pique their interest in the field and very soon your niece will be the one teaching you about technology.

8. Merge Cube
This works on one of the most modern technologies, augmented reality. You can store a lot of information visually on this cube and experience and fiddle with it anytime using a very well-designed mobile application.
The merge cube will not only make learning fun but also a lot more efficient compared to the standard methods. It can turn the most boring of concepts into a very captivating experience with knowledge being just one of the many good side effects.

9. Interactive Baby Monkey Fingerling
Fingerlings are some of the most fun little toys to have around. This one, in particular, has some interactive features that make it react to certain actions. If you're looking to give your niece something like a pet but they're too young for it, this would be a great way for them to start and get used before they own a real pet in the future.
It's extremely cute and will always keep the kids entertained just by the virtue of being able to stay by their side all the time. It's compact, high quality and will be a great company both during day and night. This is one of the best gifts for niece.

10. Beginners Microscope
Sometimes the biggest secrets lie in the smallest of things. And naturally, every kid will start growing curiosity about how the little things and creatures around them work. This beginner's microscope will be a great way to augment their curiosity and help them learn a lot of interesting things.
It is very easy to use and has upto 450X magnification which means it is capable of making out and displaying extremely fine and tiny details in the object that are otherwise impossible to even notice with our naked eyes. It would be a great educational gift that will serve your niece well for a very long time.

11. Tenker mini RC Drone
Drones have started popping up everywhere and they have become a very efficient way of carrying out a lot of tasks. It wouldn't be an exaggeration to say that they would be the preferred way of future transportation. This is a very cool toy that will introduce your niece to just that.
It is quite easy to learn even for beginners and it shouldn't take long to get used to it. In addition, it is also pre-programmed to do some very cool moves in the air which should keep your niece and their friends very entertained.

12. Relay Screenless Smartphone
Not everyone might agree with the idea of gifting a kid a full-fledged smartphone considering all the negative feedback it gets but there's no reason to hesitate about getting this screenless smartphone. It has a single button that can be used by the kids to communicate with home or even their friends.
The best thing about this is that it uses LTE or wifi to communicate so there's no worry of going out of range. Your niece can reach out to you anytime they feel like and you can reply with just the push of a button on your smartphone through a special app.

13. Keyboard Playmat
A very attractive gift especially for children. This mat is touch sensitive and can act as multiple musical instruments that can be played by the child. They can use their hands or feet, can press or jump around it to create their own music and record it.
It will be a great addition to their list of toys which they can not only use to have fun on their own but also have to create something they are proud of and perform in front of their whole family.

14. Wood Art Set
Art has always been the mysterious backbone to human civilization. It never fails to bring out amazing concepts and new ways of looking at things around us. Introduce your niece to art through this art set that has all the essentials like crayons, color pencils, oil pastels, markers, watercolors and others.
Any idea or concept they come up with, this will enable them to give it a visual representation for not just themselves but the whole world to see. It's a great way to encourage kids to be creative and give them the freedom to actually explore art on their own.

15. 3-D Printer Pen Kit
Pens have conventionally always been used for drawing on paper. While they have grown to be some of the most useful tools ever invented, most of their uses are restricted to the paper. This 3-D pen melts plastic filaments and oozes them out instead of tips so that it solidifies as soon as it comes in contact with the atmosphere.
This essentially means that you will be able to build actual structures with this ink instead of just a 2-dimensional print on paper. It is not only a lot more eye-catching but can be used to convey a lot more information with much less effort.

16. Instant Film Camera
Cameras have to be one of the best inventions of mankind, at least in terms of quality of life. You are able to capture and save your favorite moments forever and that is an amazing gift any kid would love to have.
Your niece will have a great time being able to not only take the picture of anything that strikes her eye but also instantly has a print out of it to add to their collection. These pictures are very high definition and will definitely give a much better look than what you'd get on a standard mobile phone. This would be one of the best birthday gift ideas for niece.

17. Kinetic Play Sand
Building sand castles at the beach has to be part of every child's favorite pastime at some point. But unless you're one of those people who get to live close to a beach, it's not always possible to have that same kind of fun. This special sand has kinetic sensors so that it will only attach to itself and not to your kids.
This ensures a clean and safe experience while also making it just as fun as building something at the beach. It could even be more fun considering you could get this in multiple colors and is extremely easy to re-use and carry around.

18. Kick Scooter for Kids
An amazing way to help your kid travel around with their friends. This scooter is extremely easy to turn and stop, can be folded and carried anywhere in their backpack and is overall just a handy and cool tool to have at their disposal.
This would be a great way to introduce them to the volatile world of mechanical driving as this is quite simple to control, ensuring the kid's safety but also letting them get a feel of what it's like to traverse with an actual vehicle.

19. Fire-HD Tablet
A gift for niece from their uncle is usually expected to be extra cool and there's no way to beat this basic tablet from Amazon. It is great for both education and entertainment as your niece will be able to not only read and watch educational content but also most of their favorite shows through the internet.
This gives your niece an opportunity to get used to the modern way of learning and at the same time know the responsibility that comes with such amazing technology. It is entertaining, educating, incredibly efficient and very easy to carry around.

20. Boogie Board
One of the best utilities to have handy at all times. This electronic notebook will let your niece scribble or sketch anything and remove it instantly so that they can reuse it again. It is a great tool for noting down ideas or just draw for the fun of it.
It's easy for kids to get bored and this will essentially allow them to find their own entertainment pretty much all the time without bothering the adults. It could even be used to play some fun little games with their friends that they usually play with a pen and paper. Except for this time you don't need to carry any of that around and you can do it without using up any extra space.

21. Haite Mini Robot
This is a very compact robot that acts as sort of a pseudo pet for kids. Except it's a lot more portable and can stay with them pretty much anywhere. It could fit in the palm of their hands. This would be a great present for your niece and they would absolutely fall in love with it.
The robot is also interactive and can hold a decent conversation by a combination of voice recognition and AI technology integrated into it. It can also sing, dance and tell stories making it one hell of a companion especially when the child is feeling lonely.

22. Chalktail for Bikes
One of the most fun activities for children is riding their bikes. How about you give them an option to make it even better? This amazing birthday gift for niece can be attached to their bikes and it leaves a trail of chalk as they ride. This will turn into a very fun session as they could ride and draw at the same time and on a huge scale.
It will improve their creativity as they come up with new things to make and their physical health as it makes them ride their bike. If you're having trouble convincing your niece to go outside before, this will make the task a lot easier for you.

23. Magnetic Wooden Building Blocks
Lego might be every kids' favorite way of building their way through many creative ideas but this magnetic set of wooden blocks will give your niece's construction a realistic feel. These blocks can be used to make a variety of structures or sometimes even machines and the number of ways they can be rearranged or used is mostly limited only by the user's own imagination.
If you want something that is a great pass time but also an amazing tool for getting the feel of actual construction, this would make for an excellent birthday present for niece.

24. Gravity Maze
This is a puzzle that is completely material that your niece can touch and feel, giving it a more of a realistic vibe than a boring studious one. It has plenty of puzzles with varying levels of difficulty that will not only keep your niece occupied for a very long time but also greatly improve their logic and critical thinking abilities.
It is very interactive, requiring the child to both build and solve problems all on their own while slowly increasing the difficulty as they go up. When it comes to gifts for your niece, this one is hard to beat.

25. Kids Smartwatch
If you want to give your niece a watch, might as well do it in proper style and coolness. This smartwatch has a real touch screen and does way more than just display time. It has the ability to make/receive calls, SMS, has a GPS tracker so you always know where your niece is and it even has a small camera so they can capture all the moments that catch their eye.
Being a watch, it's extremely compact and therefore can stay with them all the time. It's a really good way to stay in touch with your niece and give them an option to communicate with you any time they feel like.

It's never easy to decide a proper gift for anyone and if it comes down to choosing a gift for your niece, you could very easily be lost in the endless considerations as to what might actually attract them. Most gifts these days are simple toys or dolls which although could be quite enjoyable for kids, could get really boring after a while.
This list consists of gifts that are either very fun to have as an accessory or heavily aid in the proper growth of your niece. You're not only giving them something they're going to love having with them but also directly impact their quality of life and their future. And that is something every uncle or aunt would want for their lovely niece!