Last updated on June 4th, 2022 at 01:28 am
Over the many centuries of human history, neighbors have always been seen in both good and bad light. They were a significant factor in determining comfort and enjoyment during your stay at home. A good neighbor will make for an overall much better experience while a somewhat annoying one would make you want to just leave the place.
If you're one of the lucky ones who happen to have excellent neighbors, then you should certainly show your appreciation for them. A nice meaningful gift on something like a Christmas eve is all you would need but finding that one good gift might not be as easy as it sounds.
However, this is not an unusual situation and with some research, we have come up with some very exciting gifts for neighbors that are guaranteed to convey your appreciation and improve your relation even further.
Gift Ideas For Neighbors
1. Personalized Neighbor Christmas Ornament
This is a very cool and personal gift that in a way visually represents the connection between you and your neighbor through these house figurines that are connected to each other. It might not have much of a practical purpose but it still serves as a pleasant reminder of the type of relationship that you have.
It would of course be appreciated just as much by your neighbor and it would also be incredibly pleasing to them that you went the extra mile to show your appreciation for them. It's a nice way to add another layer to cement the already strong bond that you have.
2. Garden Tool Set
Gardening and its maintenance is almost never a bad thing when it comes to improving your house or just spending your time in a peaceful way. If your neighbor has a garden that they're looking to expand or just start fresh with a new one, these tools would come in incredibly handy.
The set comes with all the basic tools but also includes some gloves and a bag to carry and store all of them. It's a one for all set that anyone is going to absolutely love and your neighbor is not going to be an exception to that either.
3. Wind Spinner
Everyone would certainly like to make their home look better, more elegant and even a bit interesting to look at. This creative craft helps bring all of that into one package. With its color choice and design, it not lonely looks incredibly cool but it's also a perfectly functioning rotating decoration that is sure to attract some attention.
It would be a really nice gesture of friendship and neighborly care by giving them that improves their house not just visually but also on an emotional level.
4. Scrubba Wash Bag
Scrubba wash bag is an innovative design that is made with the purpose of having an ultra-portable device that can effectively wash clothes. It's a very nice mix of portability and utility and tends to work surprisingly well.
The bag itself is not very heavy and can be easily folded into a much more compact size which makes It invaluable during tours and it is certainly something your neighbors are going to appreciate.
5. Organic Bamboo Cutting Board
Chopping boards are perhaps one of, if not the most underrated aspects of the kitchen and the whole cooking process in general. People tend to usually ignore or not know how impact full a good chopping board would be to the whole cooking process and the kitchen experience.
This cutting board excels even more in that department with its bamboo body and a compartmentalized structure that helps with versatility in its functions.
6. 4 Port USB Hub
In the modern day, a lot of things, especially data has moved into the electronic form. This makes data transfer extremely easy but this USB hub makes it even easier by letting you connect 4 devices at the same time. This hub can also be used to charge up smaller devices like mobile phones saving the extra work of carrying additional charges when going out.
It would be a nice surprise and would be something that would quickly rise from the status of a decent addition to almost a necessity.
7. Multi-function Mini Kit
During human history, various tools have been invented and made popular so that a lot of problems can be solved with relative ease. This set of tools contains a miniature version of almost every tool that would come in handy in the modern day.
Despite its high level of versatility and number of tools, all of them can be retracted and made into a compact and a design that can easily be carried in your pocket. That makes this a very amusing gift that anyone would simply love to have.
8. Double Wall Ice Bucket
One of the subtle but still extremely important parts of any successful party is having enough ice to go around with the drinks. This bucket comes with a lid and a double wall design so that the insulation is much stronger. It also comes with its own scoop making it much easier to take out the ice when required.
It's a gift that is given with the right spirit since you're doing so with parties in mind and this would not only be a nice way to bolster those in a physical way but also serves as a mental encouragement.
9. Biolite Camp Stove
This is the epitome of a product that is a great mix between modern man-made technology and nature itself. The stove uses wood to burn fire but it also converts that heat into electricity which it outputs through a USB port thereby functioning as a charger for almost any compatible device.
This can prove to be very useful during camping where there is plenty of wood around or even during power cuts. It's a tool that can feel like it's from the past or the future making it a very compelling option as a family gift.
10. Backpacking Sleeping Bag
This is yet another extremely versatile and fun design of an everyday object. The sleeping bag is very comfortable and warm throughout the seasons and can be used indoors or outdoors depending on the particular need at that time.
This bag can be used during camping trips and getting a few of these might just be enough of an encouragement to the whole family to go on a trip together. Regardless of that, it's still a nice gift and could be very useful when there are guests around the house.
11. Floating Bluetooth Speaker
The music is nice. But it gets better when you get to share it with others, especially your family. This Bluetooth speaker not only makes that extremely easy but also does so while being a floating ball of attraction in the room. This speaker uses magnetic levitation to constantly float over the base and it even emits green lights for the added effects.
This is an almost perfect gift that would be loved by everyone in the family simply because of how amazing it is as a decorative item, let alone its ability to play music at very high quality.
12. Tabletop Water Fountain
Fountains have been used as attractions for centuries and they continue to be popular to this day. While there is a very good reason for that, this mini fountain takes it to the next level by bringing all the glory of a fountain right down onto a table top.
It looks stunning when it runs and the crystal-like LED light on top is just icing on the cake as this would easily add a lot more vibrant and liveliness to any room it is placed in.
13. Magnetic Ball Desk Decor
This is a decorative item that looks as good as the owner wants it to. This is by virtue of the magnetic balls being able to be shaped into a lot of interesting designs limited only by the user's creativity. It has over 170 metallic balls which makes the door for creativity open quite wide.
This can be used by the adults as a stress buster as they work or by the children as a challenging puzzle because there is no real limit to what can be done with these balls. Once done, it will be an excellent decorative item that can be put up for show anywhere in the house.
14. A Firefighter's Christmas Gift
This book by Vivian Arend depicts a nice family story of a firefighter. It's emotional, encourages empathy and makes us remember just how important the family truly is.
This book without a doubt will make for an excellent gift for neighbors as the parents and children alike will just love reading it.
15. Cotton Rope Indoor Planter
While this would be especially appealing to nature lovers, it's still a really nice gift for any family as a whole as it would let them place some of their plants in a more attractive hand-woven cotton pot instead of a normal plastic pot.
While being mainly designed for the purpose of holding plants, it could also be used for pretty much anything else a normal basket can do including carrying around clothes.
16. Amazon Gift Card
Probably the simplest yet one of the most effective gifts that you could possibly bestow someone with. These gift cards come in an attractive holiday pop-up box and have options ranging from 50$ to an amount of your specification.
It would make for a great surprise, especially if you can combine it with some homemade dish and present it to the children. It's a nice manner of showing your care towards your neighbors and their happiness.
17. Pink Crystal Salt Lamp
This lamp looks exactly like its name suggests; a pink crystalline salt that glows. It's handcrafted and extremely well designed along with a nice placement of the light inside making its glow quite radiant and soothing.
A few of these lamps would light up the house to a much more natural looking and feeling atmosphere. Overall, a fantastic lamp that will be a great replacement for any bed light.
18. Breakfast Sandwich Maker
Making breakfast is not the hardest skill to master in the world but when running low on time, it could be quite the pain to make breakfast for the family. This sandwich maker is a very nice and easy way to solve that problem as it makes breakfast a matter of minutes and it can be used to make different combinations of dishes.
It would be a time saver or even serve as a way for anyone not experienced with the kitchen to make their own breakfast quickly and easily. A gift that your entire neighbor family would love.
19. Vintage Winter Knit Wool Socks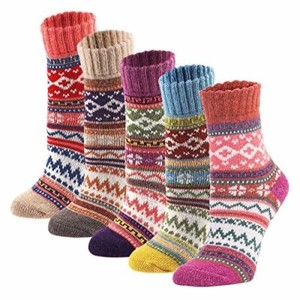 Winters are usually pretty harsh and having some good socks to protect your feet from the cold is very important. These socks are hand knit and done so with a vintage design and color choice that makes them look very old school and classy. Not to mention they are extremely comfortable to be in due to the high-quality wool.
If your neighbors are fond of classical things, then these would be a perfect choice of gift for them, especially during winter.
20. 5 Tier Wall Mount
This wall mount comes with a very unique and graceful design consisting of 5 tiers that can each be used to mount personal belongings or decorative items.
This is a gift that will add beauty and more value to your neighbor's home while still being simple. They would certainly cherish this and happily make it a part of their home.
21. Tactical Opening Pocket Knife
In the 21st century, long-distance deliveries have become very common and it's not unusual for a family to receive multiple packages every week. This pocket knife is a nice handy tool that can be used to safely and effortlessly open those packages and do so while looking stunning.
There's also an option to have your own choice of text engraved on it to make it just that extra bit personal. Your neighbors are sure to love the gift and will be thanking you once they realize how useful it actually can be.
22. Throw Pillow Set
Pillows make for some pretty nice decorative items. This set comes with 4 cotton linen pillows with different designs that are perfect for almost any room and would go on either a bed or a sofa. These pillows are also very comfortable to use and would be very pleasing to use for guests. They also come in 2 different sizes to choose from.
They would be a very nice addition to any home regardless of how many pillows they already own. The comfort and looks of the pillows on this set make them a very attractive option for a gift.
23. Neck Massager
If you ever felt sorry for your neighbor seeing how stressful and tiring their life could get, this could be your way of contributing to make it better. This massager provides a kneading massage that instantly puts the person in a relaxed state. It can also be used for the back or shoulders, putting a stop to body pains in a very short amount of time.
This is something that would work perfectly as a gift simply because of how much it actually contributes to their life. It provides a lot of comfort and relaxation and you are going to be thanked a lot for this one.
24. Magnetic Wristband
If your neighbor is a known and passionate tinkerer, you couldn't possibly come up with a better gift for them than this magnetic wristband. It fits nicely onto pretty much any size of hand and has a magnetic plating inside that can be used to stick the screws or any metallic objects to it until you need them again.
It's not just for tinkerers either, this would come in handy many times to someone in the family as fixing things is something that is quite common around the household. A really nice and creative gift.
25. Tile Mate
Forgetting where you placed the keys should be a classic and one of the most annoying problems in any family. But these little tiles offer a great solution to that by letting you attach them to your keys and then using your phone to make them ring. The same can be reversed if you lose your phone. Any of the tile mates, once connected can be used to make your phone ring.
It's a nice gesture towards your neighbors and it kind of establishes an unspoken understanding that you know what families go through. A Wonderful way to strengthen your bond.
26. The Useful Book
This book is something that is almost an invaluable resource to the entire family as it boasts an extensive list of some very practical and extremely useful life skills. These skills are described with clear instructions and as a step by step processes so that anyone can learn them.
This book will be one of the best gifts they would've ever received as a family since it doesn't just serve one purpose but instead sets them on a path to make their life easier forever.
27. Christmas Cookie Cutters Set
This is something the children in particular would love as the set has 11 pieces that can make cookies in different attractive shapes. Cookies are just as important as any meal on a festive occasion and given them unique shapes and sizes with these cutters will just add more liveliness to the entire celebration.
A very nice gift that will be used by the parents but it's the children who will actually be reaping the rewards and thanking you for it.
28. Personalized Scarf
Scarves have always been considered great gifts simply because of how close they are to the person at all times. But this is an opportunity for you to make it even more personal by engraving your own text on the scarf before gifting it to your neighbor.
This would make them happy and appreciate the fact that you actually care enough to go the extra mile and personalize this as a gift for them.
29. Singing Snowman
This snowman is made of soft polyester and is not only good to look at in the living room but it can actually sing and dance acting as an amusement for the children. It is operated with AAA batteries that are easy to replace.
Finding a gift that is both artistic enough to be decor and entertaining enough to keep the children hooked is quite hard but this snowman fills both the roles to near perfection making it one of the best gifts on this list.
30. Snow Flakes Machine
This machine is capable of producing artificial snowflakes that can quickly turn the entire atmosphere of the room into something completely different. The machine is controlled by a remote and has a level indicator that denotes the amount of fluid left inside to create the snowflakes.
This is going to be a very attractive gift as it is capable of creating some insane and otherwise impossible party themes especially during summer when people crave for the snow to come back.
31. String Lights
These lights are small, simple and very elegant when it comes to looks and are also power efficient. They also have different options, each with different attractive shapes and colors to choose from. The lights also operate from a battery box so they function independent of your house's electricity condition.
These are a great gift for outdoor parties and indoor decorations alike. These lights are very easy to love making them a prime and easy choice as a gift for your neighbors.
Maintaining a cordial relationship with your neighbors is extremely important and a show of little gratitude and appreciation can go a long way in such relationships. This list of gifts for neighbors will provide you with a unique opportunity to show just that.