Last updated on June 3rd, 2022 at 02:36 am
Have you ever got thoughts about leaving your busy life and run away? Getting short breaks in life is so important. Never thoughts about it? Then think about it. Why not go under the sky and just breathe for a while. Everyone should remove some time from their daily life and live some life. People have different ways to express their feeling towards their life, some just hang out with friends, while some like to listen to music, some step out of their house in search of fresh air.
Yes, nature can also help people coming out of their routine. Some of them are nature lovers. Sitting under the sky and watching stars has a whole different story. There are people who study nature. Nature includes the infinite sky, the stars, the trees, etc. Some just randomly think of camping around the city or even outside the city.
Nowadays there are places where one can also stay overnight with the family, friends, etc. Nature has a different way to treat others. It helps in healing people a lot. Some just love gifting their dear ones their favorite things. And if you are also planning to gift something to your dear one, I can help you out with some ideas. There is a list of things you can gift them.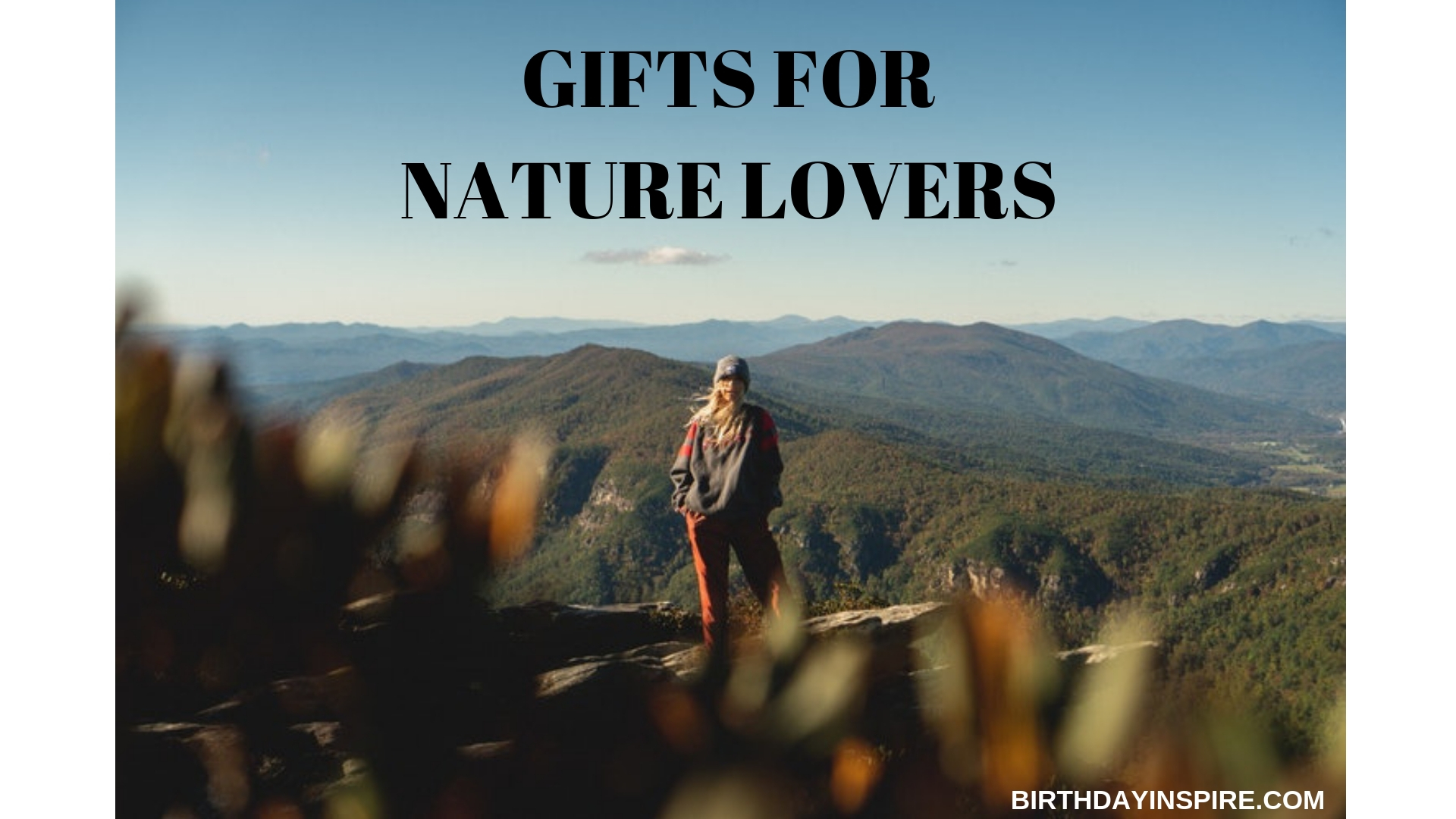 Recommended gift ideas for Nature Lovers
1.Eco-Stove

Pollutions destroy nature. Burning of wood, destroying nature will only lead to humans in a bad way. Eco-Stoves are very useful in many ways. They generate very less pollution in nature. They are very easy to carry from one place to another and they are handy too. One goes to nature in search of pure air, no pollution, to get rid of their daily routine.
People are already polluting more of nature by cooking food in a fire during campaigning and hiking as compared to this stove which is quite handy and convenient at the same time. Which saves time and polluting nature. So one should consume their time by getting this eco-stove along to cook food faster. So you can freely enjoy nature rather get engaged in preparing food.
2.Starlight Hammocks

When you go for an outing, do you like to carry many kinds of stuff with you or just the important ones? There are a lot of people who love to carry a lot of things which include big bags which takes a lot of space in the vehicle that you are traveling in. One should only carry their essential things. One of the essential things is single or double hammocks.
The single can only be useful to any one of the member whereas the double hammocks can help you two person in that hammock. They are easy to carry, the foldable thing just to put in the bag and ready to go. And the plus point is that it can hold up to a lot of height. Both parent and children can use it one by one while hiking or camping. It can be tired of the trees or poles and one can swing. Easy to carry and won't take a lot of space in the bag.
3. Theodore Roosevelt for Nature Lovers

Books for some people are just heaven. If you give them some sort of particular books are just the happiest person on the planet. There are books according to the type one wants to read. Some of them carry to outings. Everyone needs their own space to feel natural.
Some like to dance, while some just listen to music, some hang out with friends, and some just read a book. The book which I suggested THEODORE ROOSEVELT NATURE LOVERS by MARK DAWIDZIAK one of the most read book across the world for nature lovers.
4. Nature Journal For Little Explorers
Do you have the habit of writing down on a daily basis? Some have the habit of writing down not on a daily basis but also while outing. As of where did we go? What did they do on the hiking, which places did they see while traveling?
Some people don't carry a lot of thing with them but they carry this journal of theirs with them to note down the experience they faced at that time, about how happy they were while doing the traveling. Traveling is always so fun. On the other hand, it makes people happy after many years also while they are seeing it n reliving the experience again.
5. Go Necklace, Wilderness Jewelry, Wanderlust Pendant.
Some people live in the moment. And to capture that moment of theirs they try to link it with their best memory or could recreate one of it. Some just like to gift to themselves in that travel memory. Like pendant, chain, keychain, etc everything you carry during that travel to that hiking.
Some of them like the idea of buying themselves a pendant for that traveling, so deep down the lanes, if you see that thing after some time, you can relive that moment again.
6. Small Cross Body Bag
Women, especially like to carry bags or cross bag while traveling around the city too. For outings, they like to carry a big bag but along with that bag of theirs, they also carry small bag just to keep their essentials thing like Mobiles, Handkerchiefs, some of the mints, their skin care products such as body lotion and sun cream. So even this can be as a good option. So one does not have to carry big bags with themselves while hiking.
7. Compact Binocular
Nature lovers love having binoculars handy. This can be very useful to watch out the bird, long distanced animals, etc. Some cannot see clearly, so them this can be the most useful thing. Not only for them but also helpful for others too.
Small children can watch out the birds, animals, flowers, mountains across very clearly. Not only children but even the adults can use them. They are very useful and can be kept in the bag easily and can be easily removed when required.
8. Paint by Number Sets with Brushes & Paints
Some people just love painting. They can draw and paint wherever they find beautiful scenery. Nature travelers who love painting a lot will always carry their sets of paint brushes and paints along with the canvas wherever they go to travel.
This can be easily available everywhere. And is handy in terms to carry it. They can express their feelings through their paintings. These sets of paint brushes and paint don't take a lot to space in the bag, easy to carry it without taking much space occupied.
9. Mesh Tea Infuser with Drip Tray
Who does not like having tea? How easy this product can be available in one's bag so that you can make it whenever you require to drink it. The bottles are super cute to carry while traveling or reached the destination. The infuser can be used as many times one wants to. Such easy to carry and also kept in a bag when not required.
It only requires hot water around and the tea is ready in some time. One of the useful products to carry while traveling. And easy to wash off back and handy to use it. So the next time again one uses it, the tea is as fresh as you are drinking it for the first time in that day.
10. Fruit Infuser Water Bottles
Water plays an important role in everyone's life. It can be animals, plants or humans everyone requires water to live. Nowadays people buy water bottles just to carry it with them to all the places. Now Water bottles have different varieties like fruit infuser.
This bottle does not only have water inside but also fruits. Some water can be drunk with fruits just to stay hydrated n healthy all day long. It stays the same all day long to drink. People traveling like to be hydrated so this bottle can be useful to them in many ways. Without adding fruits in the infuser it can still be very useful.
11. Grey and Unscented Candles
Candles can also be an important product while traveling. If you reached your destination and you find no lights around you, you can lit the candle. These candles are handmade for nature lovers especially. They are small n compact that they can fit into the bag or cross bag easily. One can remove it when required. Easy to carry around and handy in usage.
12. Unique Succulent
Nature lovers love the more. Rather it is plants or animals or trees. Gifting someone plant can be the best thing ever if the person loves it. Every succulent has different variety according to the need. They are easy to pack and gift to people. It can also be used to decorate the house by hanging them around.
13. Seedling Starter Trays
Seedling starter trays can be useful to the people who like gardening a lot. This product can bring a smile on their face. Everyone can use this product and can be helpful in making one's own garden in their balcony or their garden space. This is provided with the gardening tools n types of equipment.
14. Window Bird Feeder
One of the best gifts you can gift to the person who has birds with them in their house and also want other birds to come and eat. This can also bring peace and smile to the person who loves watching it all over again. A bird feeder can be useful to watch birds more comfortably. One can also clean the feeder easily and can try to teach their children to love everyone equally.
15. Pruning Shears
People who have a garden at home will be requiring these tools often. One can gift them. Even for cutting stems or adding some mud to it the tools play an important role in it. It can be also used in heavy planting. One can also gift this to small children to teach them how they are used on a daily basis.
16. LED Flashlight
A flashlight helps in one's daily routine. Mostly while traveling there are many times where you can get lights often. One of the reason can be you are deep in between nature where you can not reach out to light. Gifting this to the person who can really use it will be a great help. These flashlights can also play an important role in our house too if in case the place is out of electricity.
17. Rechargeable Batteries
With a led flashlight, batteries also play an important part in campaigning. Even at home if you are out of electricity you can use these batteries in your daily routine. Gifting someone along with the flashlight this can be a good gift indeed.
18. Wood Tiered Succulent Planter Stand

Along with the succulent plant, people also love to gift plant stand for the same. There can be many more varieties for planter stand in various shapes and sizes according to your succulent plant. To gift someone who already has these types of the plant at home can all be very useful to them.
One can also use this as decoration at home at the balcony just to make the house look more beautiful and colorful. One can personally paint the stand with their own point making it look more creative. So even others can also think of gifting it or can also keep it at one house to look more beautiful.
19. Tree Man Pens Holder or Flower Pot
Pens can be found in many colors and many shapes now. People like to decorate their houses with such different pieces. This little thing can be used in many ways at home or office in order to look creative.
This is one kind of succulent which can be used as planter's stand in the balcony or as a flower pot to look more beautiful. People who love nature can relate to this small thing in life so easily. You can gift this to children as well as adults.
20. Window Sill Décor
Nowadays everything is modern. Some like to make creative things on their own. This glass holder can be used in many ways. As to grow plants or just to decorate it with adding many plants into this glass sill. It can also be used in many other ways.
One would like to gift such good things to others so they can remember them. Just adding some mud and even one big plant is good to go. It looks creative and is modern at the same time and more fashionable.
21. Artificial Plants with Hanging Terrarium
House decoration has become the most important part of today's life. In this busy life, people don't have much time to decorate the house. Artificial plants are good to go with. And this terrarium also looks beautiful. Just hanging around the roofs of the balcony.
One can add some rocks to it and decorate it. People don't have time to clean plants and flowers every day. These bottles don't break easily if tightly fixed with the rope. One can also paint the ropes and they may look modern with the house.
22. Marbling Ceramic Flower Pot
Succulent plant is available in many varieties and also in many shapes and sizes. It can be used in many different ways. A perfect gift for the person who likes to decorate the house with these plants.
It is made of marbles and cannot be easily broken. One can also hand paint. One can also use this as a flower pot and make it more effective according to the lighting of the room. Some can also gift to their children as marble/stone keeper.
23. Buddha's Temple Terrarium Plant Necklace
Some people love wearing a necklace. One can wear a living cactus. Cactus don't harm humans. In fact, they are high in fiber and can be super healthy to eat. Gifting someone who can appreciate it can be a good thing. One can transplant them also. Children love these unique ideas as gifts. One can also gift this to adults.
24. Led Grow Light Bulb for Indoor Plants
Plants require ample sunlight to grow. Who thought one can make artificial light for indoor plants. It is useful in many ways. It is as effective as the natural sun rays. It has all the benefits that the natural sun rays can have. It does not harm the plants in any way. In fact, the lights work perfectly for them. So gifting someone who has the same types of plants can be very useful of them.
25. Raised Bed Revolution
According to many studies, these garden beds are just emerging around the world. Succulent plays an important role in decorating the house in small scale, whereas garden beds pay attention to the large scale where one can handle many plants at a time and also can pay attention to each. It doesn't require much manpower in this gardening.
One who has a big giant garden can pay a lot more attention to it. Water conservation is done on a large scale. Sunlight can't be an issue for it. They can be built according to any height and any shape. One can also color it on their own and then gift it to someone. Children can too learn a lot if they also help.
26. Commercial Instant Tents

Tents are one of the biggest reason why people go for campaigning and hiking nowadays. People want to feel nature by its self. By breathing in the fresh air. Most of the cities don't have fresh air due to pollution. Cities can be counted in that too. Hence people go out for hiking or tenting.
There are many backpackers who live in tents for many days. They can highly be comfortable with this kind of tents where they can get all the comfort and can experience nature by its beauty. This tent can be gifted to one who can easily go hiking any day.
They provide you with all the tools that you might require with it and also a bag is been provided with it so you don't have to carry an extra bag for it which has wheels at the end of the bag. Many of the tents are also available in many colors. So this can also be very helpful for a nature lover.
27. Solar Powered LED Mason Jars
Is solar energy important? How one can use it. This mason jar plays an important part in this role. Even at the day time if one can't get much light, you can use this. This works with the help of solar energy. ie the sun. In the universe, the sun has an important part to play.
This jar can help you light up the place with the help of fairy lights. The panels in the jar can help in restoring the energy and can help in lighting up when required. It can save up to 5-6 hours of light at one go.
This is a rainbow bird. This product has five birds in a row. And also has welcome sign on it. One can place this rainbow hanging bird on the entry of the door. One can also use this as the decorative thing in the house, balcony, or even at offices. It looks super attractive and also nature lovers will love this as their gift. One can gift this on their birthdays, anniversaries, or any other occasions too. This can be one option to your gifts for nature lovers.
One can gift anything which is recommended on the list. Nature is at its best and has a unique way of expressing itself through the climate, the season's Winters, Summers, Rainy have their own beauty. The chirping of birds or the air passing all have their own beauty.
When you gift someone a gift they have a different smile on their face and when you see that smile is because of you, you also like to smile. And also gifting them what they like is a big plus to it. Above are some of the list that a nature lover can like.
There are some ideas for people who want to gift to the nature lovers.