Last updated on June 2nd, 2022 at 10:41 pm
Exercise keeps the body fit and young. You can explore and achieve all you want and live the life you desire when your body is fit and health is sound. Those who are passionate about having a fitness regime have a great life and age without any ailments. These are the gifts for fitness lovers that appreciate their love for exercise and fitness and inspire them to do better. These gifts are suitable for people of all age groups and gender.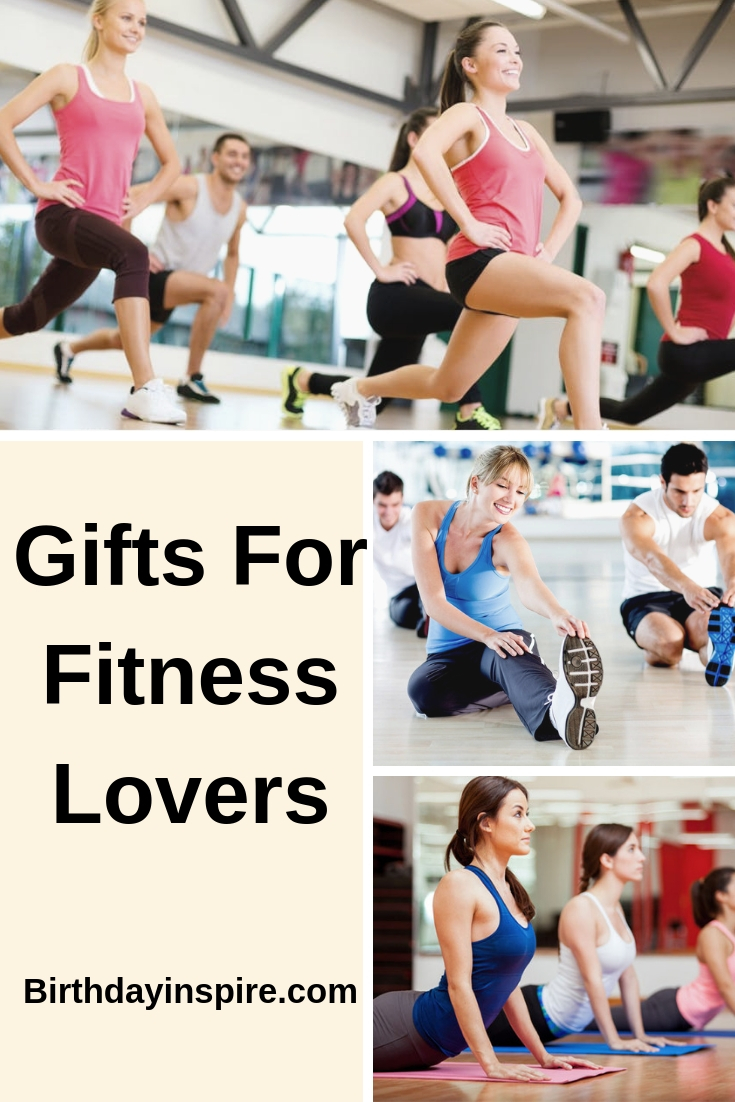 Gifts For Fitness Lovers
Those who love fitness also spending their time in the kitchen. Rustle up healthy salads for yourself as well as the family with this wonderful gift. Make delicious pasta and relish on your culinary skills. Not a dull day in your life as you start your mornings with a colorful and healthy breakfast.
Bring on all the veggies and boost the nutritional value daily. A gift that lets you stay fit easily and boosts your enthusiasm to rustle up a healthy breakfast.
A cool gift to give those who spend time at the gym and outdoors regularly. It helps them keep the sweat at bay and lets them follow up a fitness regime, hassle-free. A thoughtful fitness gifts for men who sweat it out at the gym or at yoga centers.
For all kinds of workouts like running, sports and outdoor activities, this towel helps you lower the body temperature and stay comfortable performing fitness activities. These are special towels especially made for fitness lovers as they have higher absorption power that absorbs sweat and keeps the body cool.
It is good to maintain a fitness diary to see the progress of your fitness goals. A good gift for those who take fitness seriously. It helps them jot down their fitness goals and dietary habits. Log the schedule of your food and use it to check how well you are progressing in your dietary plan.
This is a journal, unlike a notebook which comes with columns and pages that have a weekly schedule printed for you to fill in. You can organize all the needed information in this journal and reach fitness goals.
A wonderful gift for fitness trainers and those who take fitness seriously. It comes with weight lifting charms like the barbells and the dumbbells. This is a keychain with a unique design and is corrosion free.
It has words that depict the dedication a fitness lover would have towards staying healthy and fit. Keep your home or car keys safe locking them with this keychain. It also provides you motivation to go to the gym even when you are not in the mood.
You are going to sweat a lot during the fitness routine and might have to keep yourself hydrated often. This is a wonderful gift for those who are into fitness. It is BPA free hence non-toxic and keeps you hydrated throughout your fitness schedule.
You don't have to keep filling your water bottle when you use this water jug that fills in half a gallon of water and has a grip that makes it easy for you to carry and drink from.
A good gift for those who prefer a fitness regime at the comfort of their homes. This is a roller wheel for exercise that comes with an easy grip. It is good for the core and abdominal training. The grip lets you use this wheel for continuous fitness regime without letting it slip from your hand.
It is not heavyweight and can be used by beginners who have started their fitness regime. It is also easy to assemble. People at all levels of fitness can use this roller wheel for exercise.
One of the coolest fitness gifts for her who loves her coffee and an exercise routine. You can decorate your kitchen or office table with this coffee mug that says, "look like a beauty, lift like a beast."
An awesome fitness quote about beauty and fitness that goes well with the personality of a dynamic woman who takes style and grooming seriously. It is safe to use it in the microwave and the print does not fade with washing.
Yoga is all about wellness. Gift this elegant pendant necklace that has a design of a lotus that symbolizes spirituality and purity to women who love their yoga routine.
It encourages them to pursue their spiritual journey and never lose sight of the purpose in their life. It looks great on casual as well as party outfits. Gift it to your daughter, friend, sibling, wife, or coworker who is a yoga enthusiast and a spiritualist.
Cool gift ideas for fitness lovers are these deck of exercise cards. They have instructions on various exercises that provide complete fitness for the entire body. Enjoy a routine of cardio and muscle workouts at home with the help of these cards and stay fit without having to pay a single penny at the gym.
Forget referring to YouTube videos, they can be quite a task. These are easy cards to refer to for an exercise routine with easy to follow instructions for each exercise.
A fantastic gift to give a fitness lover is this food and a meal planner journal. It has printed sections where you can fill in the log about daily nutrition vs weight loss. It helps you keep a track of how your diet and exercise is working for your body and health. You can develop better dietary habits with this journal that provides printed tables and charts for you to fill in the logs after measuring food and weight.
It also provides information about how to measure body fat in different areas of the body. For those who are targeting certain areas of the body for weight loss, this is an apt gift for you.
A keychain that has motivational words about fitness is a good gift to give a fitness freak on any occasion. They will love this simple yet meaningful gift that is made in metal and is nickel free. A good gift to give women who love fitness.
They can use it for their home or car keys. It also has a studded infinity sign that makes the keychain look elegant suitable for women who love fitness. It has awesome wordings that say, "sweat more bitch less." A motivational message to work more and gossip less.
An apt gift for fitness freaks is this water bottle that has marks and measurements. With these marks, you know how much water your body needs at various times in a day. The water bottle is BPA free hence free of harmful toxins and chemicals.
You will only taste the water and have no odors or taste of plastic when you drink from this water bottle. Ideal for workouts and outdoor activities.
A lot of people prefer to have a fitness regime at home. This exercise cd is one of the wonderful gifts for fitness enthusiasts. It has many exercise games that make it interesting for you to develop a fitness regime.
The way the exercises are designed in this cd is so much fun, you would look forward to having a daily fitness regime following the instructions that come with the cd. There are various fitness exercises like yoga, aerobics, strength training, and weight balancing games.
These are microfiber towels that come with a pouch. You can carry it along with you when traveling, working out, or camping. They get dry faster and absorb sweat quickly.
They are easy to pack and take lesser space in the luggage. One of the coolest gifts for those who love outdoor activities and fitness. You can take it along with you while swimming, hiking, and for any kind of workout.
For fitness beginners as well as experts, this is a useful gift that lets them have a various weightlifting fitness routine. With these straps, you can start a weightlifting routine to tone abs, legs, and bring more efficiency to your workouts. It also helps you tone your glutes.
A great gift for those looking to tone their abs and glutes. As you begin to work with ankle straps, it also increases your efficiency of working out. A compact fitness regime gift for those who want to workout at home.
Terrific fitness gifts for her are these leggings for yoga and workouts. They are comfortable and absorb sweat making it easy for you to work out for longer hours. These are yoga pants that have a waistband on the tummy which makes it comfortable to do any kind of stretches.
You can try various poses of yoga wearing these leggings and gain strength and composure. A gift that lets you align your mind, body, and emotions through yoga.
One of the fabulous birthday gifts for fitness lovers is this pair of padded weightlifting gloves. You can wear these gloves for weightlifting and exercise training. You can get a good grip of the weights and not hurt your palms when you wear these padded gloves and go for the weightlifting training.
It protects your hands from injury when lifting weights. A pair of good gloves for men and women who hit the gym regularly for a fitness regime.
A fantastic gift for fitness lovers is this special coffee that boosts the energy levels as well as the athletic performance of the fitness lovers and sports people. It is useful for everyone as it also boosts cognitive abilities, memory, sharpens the focus, and enhances the brain function.
For those who work out for longer hours and want to stay productive at work, this the best gift to give. A coffee with a dark roast that has nootropic, a kind of drug that boosts mental and physical performance.
A beautiful gift to give your girlfriend who wants to have an hourglass figure and get her waistline in shape. Gift it to your wife, girlfriend, or fitness enthusiast who is working hard to get back in shape.
This is the belt that generates heat around the tummy areas and releases fat through sweat. An easy way to shed some fat around the waist area with this gift. If a vigorous workout is not your thing, you can use this gift to get back in shape.
A motivational gift to give someone who is struggling to lose weight. It has 365 tips printed on the calendar. With the turn of every day, you can read an excellent fitness tip from this calendar.
It inspires you to stay fit in 365 ways. It also includes healthy recipes and tips useful for anyone who wants to stay fit and healthy. Gift it to your family member or friend who wants to lose weight. A gift that inspires them to stay fit throughout the year.
A waist belt that has a pouch is handy for fitness freaks and those who love going outdoors. You can keep your phone in this pouch and go on a walk, cycling, workout, go beach walking, and hiking. A fantastic gift for people who love workouts, sports, and outdoor activities.
Take a fun trip anywhere and keep all of your valuables in this belt pouch. You can enjoy the rain in summers as well as take a swim wearing this belt pouch as it is waterproof. The strip on this pouch is reflective and increases the light in poorly lit areas.
It is easy to carry a yoga mat with you and not miss a single day of doing yoga with this gift. It comes with a yoga bag that has an adjustable shoulder strap. It is a great gift for yoga lovers. Go on wellness trips and carry this gift with you.
Perform yoga on beaches, in hilly areas, and in greenery, and feel the freshness of life. Boost your health and well being by taking this yoga mat everywhere you go. The carrier bag protects the yoga mat from any damages.
Gift this coffee mug that has much yoga poses printed on it to a yoga lover. For people who love to start their day with yoga and meditation, this is the perfect gift. Sip your morning coffee in this mug that has poses from your favorite activity. It is microwave and dishwasher safe.
It also has information printed about various chakras and energy cycles that help in the spiritual development and well being of mortals. It also comes with a coaster for the coffee mug. For the yogi who loves to live an organic and healthy life, this is a wonderful gift to give.
An amazing gift to someone who understands the spiritual side of staying fit. For those who practice well in thoughts, action, and fitness regime, this is an apt gift to give.
A great way to track the physical, mental, and emotional health through this journal. Start the fitness regime with a wonderful prayer to make use of your physical fitness for the betterment of your life and others lives. A gift that instills philanthropy with fitness.
Enjoy the taste of citrus fruits by using these spoons that have a spiky rim. They are made in stainless steel and look vintage. Forget the time-consuming juice maker and relish fresh citrus or a grapefruit by taking a scoop out with this spoon.
It is lightweight and safe for the dishwasher. A rust-free set of 4 spoons is a thoughtful gift that you can give a fitness lover who loves to start their day eating fresh fruits.
A practical gift to give someone who loves to workout and run in the morning. These are specially designed socks for those who love to run and jog. They are cushioned and have a high absorption power of sweat compared to the regular socks.
They are comfortable to wear for longer workouts and have extra padding on the heel area that provides maximum comfort during the workouts. It keeps the odor away and you can also wear it for hiking and camping trips.
Create a spa-like experience at home with this gift. A good gift for those who take wellness and fitness seriously. Use them for massage and relaxation therapy. They heat easily and are effective to reduce anybody pain and help you relax.
They heat up to a temperature that the body can handle. You can heat and place them on any part of the body that needs a massage. A great gift for people of any age. It helps them get a massage at the comfort of their home and have a relaxing time.
Your sibling or friend can have a better fitness workout with these earplugs. They can focus better on fitness training and get in shape staying fit. It has multiple uses apart from letting you have a focused workout.
You can wear them in a noisy restaurant and have a quiet time reading a book, relishing food and beverages. You can hear someone speak to you at a closer distance as these ear plugs cut down a lot of background noise. Wearing them you don't have to yell in a noisy place.
A meaningful gift to give someone who is a yoga enthusiast. They can get started at home starting a yoga regime with this yoga card set as a gift. It has pictures of 70 yoga poses that help stays fit and lose weight.
A great gift to give a yoga practice beginner that lets them get into a daily practice of yoga poses. Experience yoga practitioners will also find this gift useful. It has clear illustrations of various yoga poses in the sequence.
Men who are fitness freaks and love the hip-hop style will love this gift. A necklace that has boxing gloves as a pendant is a perfect jewelry gift for men. The necklace is made in steel and plated in rose gold.
It has a beautiful texture that suits men and goes well with most of the casual clothing. Gift it to your boyfriend who loves the hit the gym regularly. A unique gift for men who workout and wouldn't mind a piece of jewelry that is fitness-themed.
A cool gift for those who workout regularly. These are a set of hip and booty resistance bands that help tone and strengthen various areas in the body. They are used for butt and leg exercises and provide strength and boost the resistance when working out.
You can also use them for stretching when performing yoga poses, working on muscle training and pilates. They are non-slip exercise bands which you can use for longer periods of training and exercise.
A beautifully designed kitchen food scale is one of the awesome gifts for fitness lovers. They can measure the food for nutrients it has before cooking them. It helps them cook food with the right amount of nutrients and portions that help them reduce weight and reach their fitness goals.
It also comes with a food guide that has information about measuring food when preparing a diet menu. A great option to measure foods for meal preparation and lets you make yummy meals without missing on the nutrients.