Last updated on May 21st, 2022 at 11:40 pm
Engineers, throughout history, have been some of the smartest and most creative people around. With the advancement of science and the modernization of society, the importance of engineering and engineers has only grown exponentially. This opens up a way for much bigger communities and people are more openly encouraged to pursue engineering.
If you happen to be related to one of those engineers and you're looking to surprise them with a cool gift, you might have realized that it is more work to choose a good gift for an engineer than one would expect. If you want them to be satisfied with it, you might have to match their creativity with your selection or give them something that is incredibly useful.
Which is why we've made this list of gifts for engineers that meet all the above criteria without burning a hole in your wallet.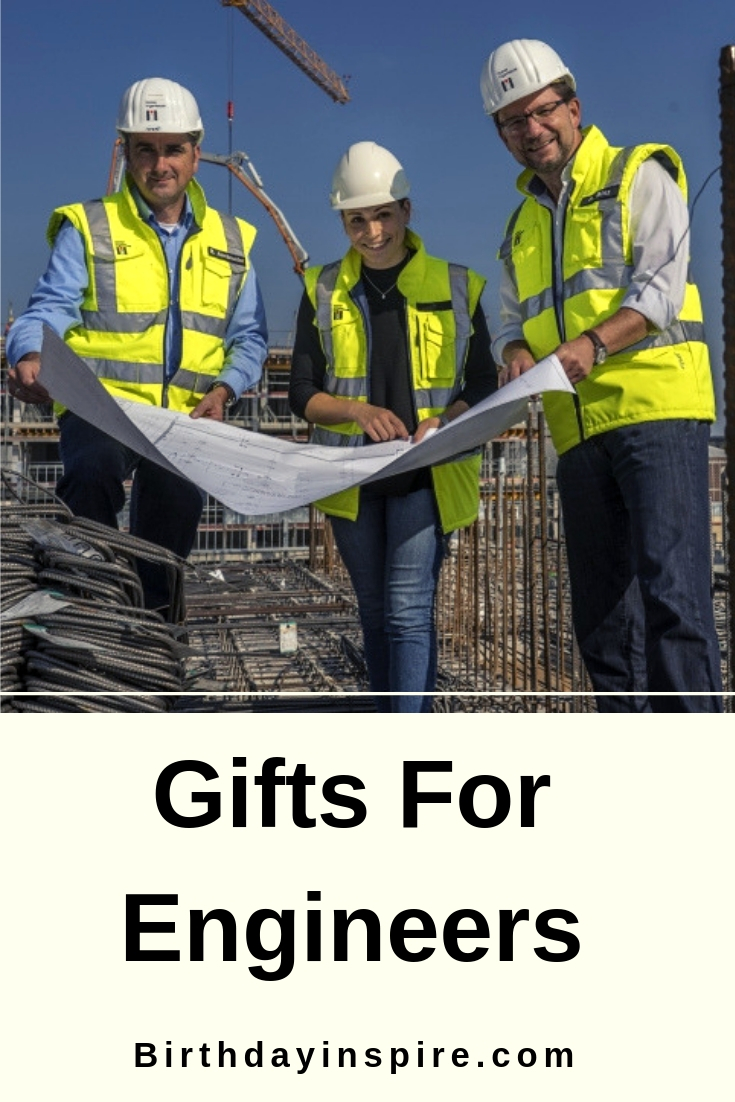 Recommended Gifts For Engineers
Previously limited to only science fiction novels and movies, robots have now made a grand entrance into the real-world science and it's very clear they are here to stay. Engineers would of course absolutely love them. This robotic arm is a very basic version of a full-scale robot but it's able to do a wide variety of complex tasks.
This would be a really nice gift for any engineer not only because it's an amusing piece of equipment that is fun to play around with but it's also a nice motivator for them to create something similar or better.
Being an engineer means they often have to work with a lot of tools some of which are pretty sharp and potentially dangerous. This pair of gloves can be used to add an extra layer of protection from such instruments. The fiber used to make these is extremely comfortable but also quite thick and immune to most accidental cuts.
It would be a cool gift not only in terms of utility but also to show your concern for the person. It is something that will come in very handy a lot of times and more than anything will give them peace of mind while working so that they can focus on the task at hand.
For better or for worse, a huge part of an engineer's job is done on a desk. So, if you're looking to augment that with a desk gift then this would be a great option. This LED lamp fits well on almost any desk and comes with its own control panel that can be used to set the light sensitivity.
This desk lamp has the potential to almost be their partner during night work sessions because of its easy to use but effective nature. The light is also very friendly on the eyes and can be used for long periods of time without any noticeable side effects.
Engineering deals with tools and materials that could be potentially dangerous to the person using them. Eyes being the most vulnerable parts of the body need to be very carefully protected in the process. This safety googles are specifically designed specifically keeping this in mind with scratch proof and fog proof lenses.
These glasses are by no means a fashion option but they serve their intended purpose well and anyone you wish to gift this to will be thanking you for it.
This is a very famous book by Henry Petroski in which he explores the concept of engineering and how it is inherently tied into humans but he sees it through a very different perspective. He talks about how failure is just as important as success when moving forward in the field of engineering and uses some of history's worst engineering failures to make his points.
It's a great read for all engineers or those aspiring to be one as it tells us how even failure can help us move forward and are not something to feel bad about.
It's not hard to imagine an engineer lost in frustration as they can't seem to find where they placed that essential screw while working. This wristband puts an end to that classic problem with a very unique solution, by attaching a magnetic plate so that any screws can be safely kept right on their own hand.
This is a very unique product that serves well and is right up an engineer's alley when it comes to a well-engineered product which they will also soon realize is a must have.
An engineer is always attracted by good technology and this globe is powered by one of the latest and coolest of those: magnetic levitation. In this case it is used to make a globe float, not only making it a great attraction to be in the house but also a technological marvel that is sure to inspire an engineer.
It's one of the best gifts for engineers due to its combination of artistic design and bleeding edge technology. It can be admired for both depending on which part the person prefers more.
One of the most well-known and well discussed facts about engineers is that they often need to take a lot of notes. This Smart Notebook, while not making the task any smaller, certainly does make it significantly more convenient. Its pages can be erased and reused as many times as one would desire and what's better is that every page can be individually uploaded online before erasing.
This makes this notebook one of the most essential things an engineer should have and you can help them get their hands on the first version of it. It will not only make their life a lot easier but also save some paper while you're at it.
3-D printers have created a lot of buzz in the engineering community simply because of the endless possibilities for creativity they offered. Now they have finally become more available and affordable to the common population making it possible for you to get one for your favorite engineer.
These 3-D printers offer a lot of creative freedom as they can be used to manufacture pretty much anything from just raw materials. This makes it very suitable for engineers.
This backpack, in addition to being made of high quality, comfortable material is fitted with a solar panel on the front side so that it keeps charging and storing energy while you're out traveling in the sun.
It's a really nice innovative and efficient design for generating energy. It would without doubt be a very pleasing gift for an engineer and could often come in handy, especially when out on long distance tours.
Engineers don't usually work by themselves and instead share their work and progress with similar keen minds so that they could move forward together. This leads them to positions where they often have to give presentations in order to explain something they've learnt. This mini projector makes that possible anywhere, anytime and actually a lot easier.
Being a very unique device that gives the advantage of compactness without compromising much on the functionality, this is sure to earn the love of anyone who uses it, making it an easy recommendation as a gift.
This book by Simon Winchester talks about how engineers completely changed the style of human societies. He talks about precision engineers and how their attention and obsession with near perfect results lead to some revolutionary technology coming into use.
This is a great read as it showcases how the mentality of a few was able to change the course of history and why engineers of today have the same potential. It's inspiring and a wonderful way to follow the growth of technology from the beginning to how it evolved to its current form.
Designing is a huge part of an engineer's job before building something and for that they require proper tools. This mechanical pencil acts as a perfect way to prepare a base design of their projects. Its most notable feature is its durability as the leads inside it rarely break and are very easy to replace.
It would be a great replacement to any pens or pencils they were previously using and it would be a major upgrade just based on how durable and comfortable to use it is.
This is probably a very striking indicator of the difference between a normal student and an engineer. This graphing calculator, unlike a basic one is used for executing extremely complicated
functions, equations and many others. Its screen and size are also much bigger to accommodate and process all the extra data being displayed.
Even more than a gift, this is essential so it would be something they would love to receive, especially if they don't already have one.
While a normal backpack would suffice for any college student, for an engineer who is already working or taking the professional life seriously, they need something a lot more durable. This particular model comes with an extremely durable molle design that is in fact very close to a military grade backpack.
The bag also has multiple compartments that are designed while keeping engineers in mind so that most of the common equipment can be carried around without much hassle. The bag's extra durability also means it will last much longer and it can be used in a work environment without worrying about the contents getting disturbed.
When it comes to engineers, even a normal daily usage item will eventually turn boring and they would be constantly be on the lookout for something a little less bland. This perpetual colander gives them a unique way of reading and displaying time which they wouldn't be getting tired of anytime soon.
This would make for a gift that is likely going to stay with them forever because unlike normal colanders, this can be extended to many years. It's also very attractive to look at which also makes it a good decorative item.
This is a toy with one of the coolest names in the history of toys. The infinity cube is comprised of 8 separate blocks that are combined together. There are almost an infinite number of possible ways to play around with this one and you'd never get tired of it.
The infinity cube also acts as a nice toy for everyone from children to adults so this is something that would effectively be a gift for their whole family instead of just one person.
These little cubes while not serving a uniquely important purpose do give the option of comfort and exclusivity. They let you put away all the distracting things such as your mobile phone aside, set a timer for how long your task is supposed to take with just the press of a button and then focus on the work.
The cubes come with a different timer on different size and can be activated by flipping it to the side you want to activate. These are surprisingly good tools for training your concentration and also improving your time management and efficiency.
Drones have quickly risen to become the most popular fad among the current generation and for a very good reason. Their versatility and relatively risk-free way of doing things is certainly a promising aspect for the future.
This remote-controlled drone will let an engineer experience all that enthusiasm for himself and inspire him to come up with ideas of his own. Not to mention it is insanely fun to fly a drone around.
Coffee is the backbone of late-night studies and works of many students and working professionals alike. It not only keeps them awake but also provides them with the physical and mental energy needed to complete that task. This espresso maker is capable of making some very tasty coffee extremely fast including additional options like adding froth.
If you're looking to make that a permanent part of their life there is no better way than to get this machine. Sure, it's a bit expensive compared to the others on this list but it is definitely worth every penny, especially for a hardworking engineer.
Raspberry pi is used to upload and run some light but still complicated programs that need their own separate platform. It is also used to experiment with the various possibilities of modifying and tinkering with it making it an invaluable tool to learn from for any engineer.
This kit comes with the Raspberry pi itself, an SD card reader, a power supply and a case. These tools are perfect for even a beginner to get started with raspberry pi and start learning and doing smaller projects over it.
This idea might have seemed a little outrageous to exist even about a decade ago and here we are today with Upright GO which is capable of being attached to our backs and then it keeps track of our posture through the day.
As someone who sits at the desk almost all the day, the engineer will certainly appreciate this little equipment and the changes it brings to his life.
Da Vinci is known for quite a few artifacts that he has created because they were simply so far ahead of his time. For this reason, he is considered to be one of the best engineers of all time. This cryptex, also based on a model by Da Vinci is not only a great decorative item but also an excellent hiding spot for any secret notes or some money.
An engineer would without doubt fall in love with this as the puzzle inside it needs to be solved before opening it.
Summers are extremely hard and it's even more so for the engineers considering how much energy they already spend working and studying at the same time. This mini fan by OPOLAR might be able to offer some comfort to them as it reduces the heat significantly and keeps the user at a reasonable temperature at all times.
The fan works just like any other portable fan but when it comes to build quality, design and longevity it beats all of its competitors by a large amount making it one of the best things to cool things down.
There is no arguing that engineers are constantly looking for new challenges and ways to provide solutions to them. This modern take on chess introduces a board that let's 3 players get into the action at the same time. Obviously, the rules of the board differ a bit from the original but it's not something hard to get used to.
It would be a fun little challenge for him to learn the 3-way chess with his friends or you might just be convincing him to adopt a new intellectual hobby.
Sometimes a coffee could go a long way, especially when you have to do extended periods of work or study. But a cold cup of coffee is also just as bad as no coffee. This mug warmer is capable of making sure that never happens. This can keep the cup warmed for as long as you'd like using electricity.
It's an unforgettable gift that they would be thanking you thousand times for because it's likely going to save their work as many times.
This piece of writing by DK is hailed as one of, if not the best books on engineering and engineers as a whole. It talks about some of the greatest engineers known to mankind and delves deeper into what exactly made them so phenomenal.
This is a must read for anyone dreaming to make it big in the field of engineering as it tells not one, not two but over 100 stories of people who paved the path for the current state of engineering.
When it comes to tools that let you be creative, there are very few that let you actually bring your creations to life and this 3-D pen is one that does the job extremely well. The pen works by emitting a certain liquid when in use, that immediately solidifies on contact with the atmosphere.
The nature and capabilities of this pen allow for some insane and very creative usage of art and depiction. If not the artistic beauty then at least the technology behind it should be enough to get an engineer excited.
The V8 engine is a type of engine that is used in the aircraft, which makes it every man's dream to achieve it. The engine model could be put together with relative ease and it even has sounds and lighting effects similar to that of a real engine.
This could be the one push that's needed for someone to step up their game and go to the next level as this engine is definitely going to provide some much-needed inspiration.
This certainly is something that is very close to being a necessity for an engineer depending on what stage of their career they're in. The small box comes with a screen and a few buttons and is capable of measuring distances by using a laser.
This small tool works on some phenomenal technology and as an engineer it would not only be a very convenient way of taking measurements but also something they would love to tinker with.
This list of gifts for engineers should've given you enough data to try and pick something that might suit the engineer you have in mind or at the very least give you an idea of what to look for so that you can come up with a perfect gift of your own.