Last updated on June 3rd, 2022 at 02:36 am
You don't have to be a kid to be a Disney fan. Disney movies and series are full of magic and enchanting things that fascinate children as well as adults. For your family, friends, colleagues, or anyone you know who feels goofy and is an ardent fan of Disney, this is the list that you must look into to choose from the best gifts for disney lovers.
Fairytales and animated movies of Disney have fascinated the young and the adult alike. Pick from these gifts to present them to a Disney lover and make their day. Sometimes the only reason to gift someone is love. For your sister, girlfriend, sibling, coworker, or anyone who absolutely loves Disney movies and is their ardent fan, these are the perfect gifts for any occasion.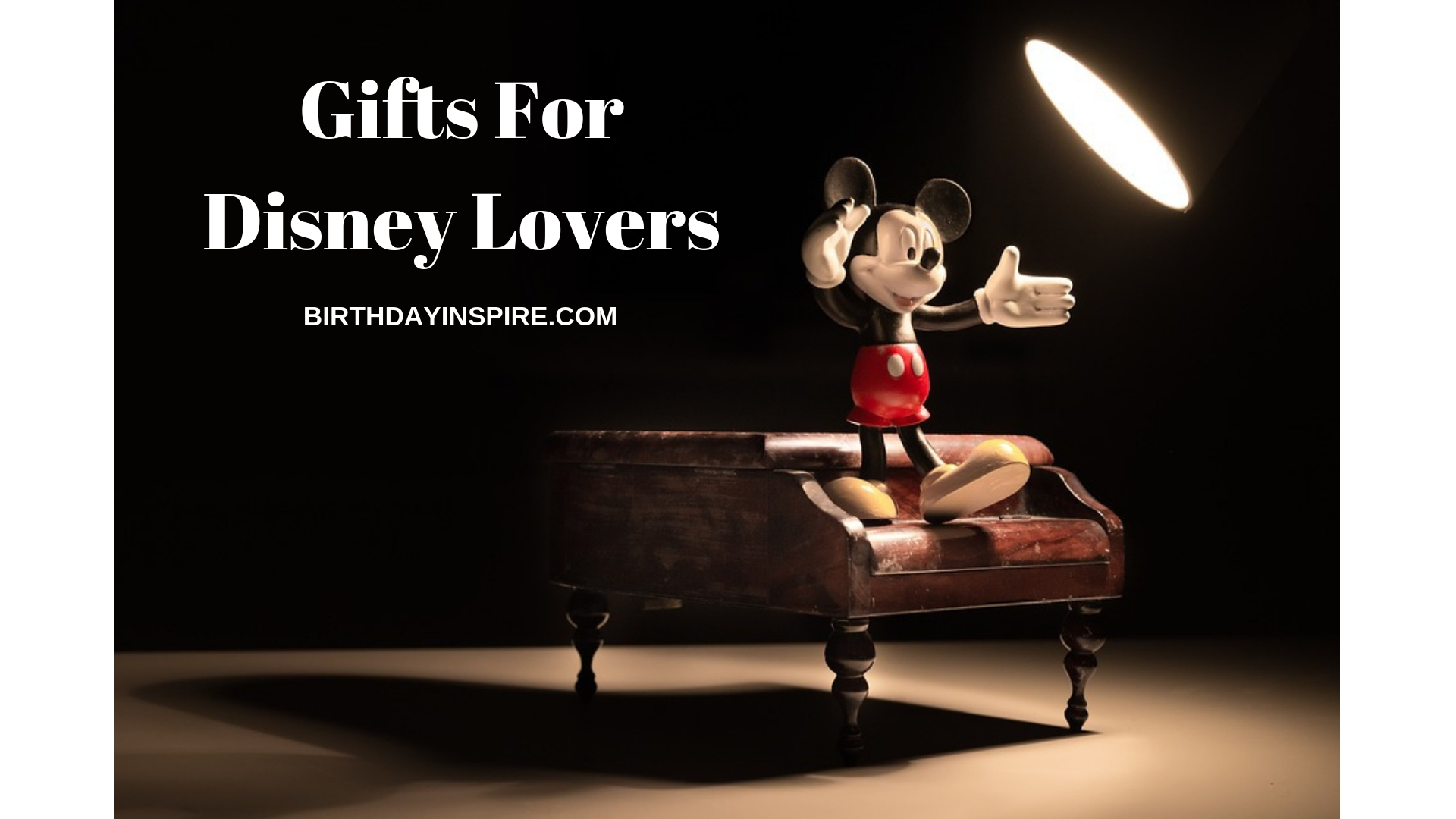 Enchanting Disney Themed Gifts For Disney Lovers
1.
Disney Printed Wireless Headphones
Pick this awesome Disney gift for the person who is a fan of Disney movies. This is a wireless headphone with crisp clear sound and a beautiful print. Something that men and women can wear it and show off their love for Disney movies and characters. They go well with most of the gadgets and are for long lasting use. They have soft pads and are comfortable to wear for a long period of time. Watch movies, listen to music, webinars, and any program wearing this gift given to you out of love.
2. Mickey Mouse Themed Mug Warmer
A cordless warmer that you can carry along with you anywhere and fix yourself some nice tea, coffee, soup, or any hot beverage. Relish your favorite cup of hot drink boiling it on this Disney themed mug warmer. It is portable and you can carry it along with you when you travel and use it in your home or office. Imagine going to a park, and carrying this warmer, and reading your favorite book with cup of coffee and having a nice leisure time. One of the thoughtful gifts that you can give someone who loves coffee and Disney.
3. Disney Themed Shopper Bag
Carry the Disney themed shopper bag along with you with a lot of pride and shop for any of the items. A bag that you can carry anywhere as it is an easy fit inside the luggage. This is a durable bag that is recycled and lasts for long term use. A fun, colorful bag you can carry with you for grocery shopping or shopping for small items. A nice gift that you can give a Disney lover is this shopper bag to carry light items. It is not meant to carry heavy items.
4. Disney Printed Shower Curtains
A pretty and a vibrant Disney printed shower curtain is one of the nicest Disney gifts for adults that you can give on any occasion. Adds as a great decor for bathroom and is a personalized gift that you can get. Show your love and care for the person who loves Disney as an adult and give them this wonderful gift. Let them celebrate a child in them and have a nice shower curtain with the prints of their favourite Disney characters. These are washable curtains that can be easily kept neat and clean. You can use it in the kids room as well and let them have a peaceful sleep looking at these cute Disney characters.
5. Mickey Mouse Themed Wall Clock
Gift this Mickey Mouse themed wall clock to anyone who loves Disney and make them smile. Having decor items of your favourite Disney characters is something that will make you delighted. This is one of the unique gift choices to give anyone who loves Disney. Celebrate the kid inside you with this Mickey Mouse themed clock and decorate it on the wall of your living room. A unique gift to give and adult who loves everything Disney.
6. Mickey Mouse And Pink Rhinestone Themed Phone Cover
Women who love Disney, sparkles, everything pink, and cute things are absolutely going to adore this gift. This is one of the cutest and stylish disney presents for adults that you can give on any occasion. It's compatible with most of the smartphones. Gift it to your sister, girlfriend, boss, friend, or any female who loves bling and cute things. This is one of the most cherished gifts for women that you can give on any occasion. Birthday is one of the best occasions for any women to get this gift.
7. Mickey Mouse Shaped Stud Earrings
One of the most awesome disney presents that you can gift a woman are these Mickey Mouse shaped stud earrings. They look great on girls as well as women of any age. They are made in simple design and are elegant. Bring some sparkle in the life of the women you love by gifting them these stud earrings. Made in Zircon stones, these are good for daily wear. Surprise your loved one with these pair of earrings that are good to go with most of the clothing.
8. Metallic Lunch Totes in Disney Theme
Have a cool time having your lunch from this Disney themed lunch tote. Everyday looking at this tote, it is sure to excite you to rustle up some nice and healthy lunch. A nice gift for someone who is fussy about eating their lunch. A good gift for adults as well as kids. Pack in some sandwiches and fruits for the kids and they are going to get excited to open their lunch boxes and finish off their lunch. Forget the lunch boxes with absorb smell and stain. This is a cool lunch box that does not stain or stink.
9. Mickey Mouse Themed Luggage Tags
Gift someone you love these cute travel tags that come in the design of Mickey Mouse. These are cute pair of tags that girls and women who love Disney will love to have. These are one of the simplest gift ideas for Disney lovers. These are lovely travel tags on which you can put your information like name and address. A good gift for kids as well as adults. Good quality tags for people who travel a lot. You can easily identify your luggage with these unique tags.
10. Disney Villainous Strategy Board Game
A nice and a fun gift you can give people of any age. This is a Disney themed board game that 6 players can play and have family fun. It comes with many cards, tokens, and other items. This is a strategy where you need to choose a strategy to win. There are action cards and board games for each of the Disney villian in this game and each has a different strategy. A nice game for family fun and holidays for everyone to spend time with conversations and playing a creative and an innovative game.
11. Mickey Mouse Themed Lotion Bottle
Decorate your bathroom or dressing room with this Mickey Mouse themed lotion pump. Fill in your favourite lotion or shampoo and have a good time taking bath or spending time in the dressing room. One of the cute Disney gifts for women is this lotion pump that has mouse ears and prints of a Mickey Mouse on it. Place any liquid like the liquid soap, skin lotion, moisturizer, and any other liquid that you use daily. A nice decor cum utility based gift for someone who loves the Mickey Mouse and Disney.
12. Disney Themed Mickey Mouse Toaster
You get a Mickey face on the bread when you use this toaster. Gift this toaster to someone who has kids. They will absolutely love this Disney themed toaster. Kids will enjoy their morning toast and butter with milk when you gift this to an adult who has kids. No more fuss drinking milk or eating their breakfast. One of the useful and best disney birthday gifts for adults that they will love receiving. This is one of the best utility based gifts and a meaningful one that comes with a popular theme that everyone loves that you can gift on anyone's birthday who loves Disney.
13. Disney Themed Waffle Maker
Enjoy the taste of scrumptious flavoured waffles at home when you get this gift. Gift this to someone with kids and someone who still loves Disney movies and desserts. This is one of the delish and cute thematic gift you can give someone who loves to rustle up a quick breakfast or snacks. The waffles from this waffle maker are in the shape of Mickey Mouse. Something that your kids will absolutely love and adore.
14. Disney Themed Slow Cooker
A Disney themed slow cooker is one of the sweet gifts that you can give someone who loves cooking as well as Disney characters. They will be delighted to cook appetizers, snacks, and dips. It comes with three settings and is easy to cook in this slow cooker that looks great in the kitchen. Make small roasts or cook anything that needs to be cooked quick. Though this is a slow cooker, you can rustle up a quick breakfast or lunch if you have been living alone. This is a good gift to give to single woman as well as someone who has kids. Cook something in this slow cooker over the weekend and relish on. The cooker comes with Mickey Mouse ears as handle and has the print of Mickey Mouse.
15. Disney Themed Wall Calendar
You can give this Disney themed wall calendar to anyone who loves pretty and magical world of the Disney movies. A formal as well as an informal choice of gift to give anyone that decorates the walls of their homes. Hang this calendar in your living room, kitchen, in office or any other room. One of the coolest and unique gifts you can give anyone who loves the Disney movies. You can find characters from most of the Disney movies in this calendar.
16. Disney Themed Pictopia Family Game
Gift this game to someone who has kids and they will have a fun time with their kids playing this game over the weekends or holidays. It boosts many skills like strategic thinking and team building amongst kids. You will bond well with kids when you play this game. This is one of the reasons to spend more time with the kids. It comes with instructions, challenges, questions and answers and many more activities that the kids can enjoy with their family.
17. Disney Printed Drawstring Backpacks
A cool and a nice gift to give to the solo traveller who also loves the Disney movies. These are a pair of drawstring bags that are printed in gold and silver Disney motifs. A nice bag that you can carry with you for short trips or errands. It can fit in many travel items like goodies, snacks, water bottles, and one or two pair of clothes. Enjoy hiking and camping taking along this Disney printed drawstring bags with you.
18. Polka Dotted Mickey Mouse Printed Hat
For the woman who loves Mickey Mouse as well as outdoor sports this is one of the best gifts to give on any occasion. A cool amongst the choice of gifts for Disney lovers who love all things pretty and nice. It comes in top quality and fits in like a fiddle to anyone who wears it. It has an adjustable strap at the back and is machine washable. A nice and a cute gift for a woman that makes her look chic as well as cute.
19. Snow White And The Seven Dwarfs Resin Figurine
Everyone loves the story of the Snow White and The Seven Dwarfs. This is one of the stories that never gets old. You can gift this to anyone on any occasion. This is a beautiful decor item that goes well on the wall shelf of the living room or the office. A good gift for a woman who loves beautiful and enchanting things. There are clear details on this figurine that makes it so artistic and a neat showpiece to be placed on the table or the shelf. You can see every emotion on these dwarfs as well as the Snow White. It is delightful to have a gift like this that goes well with the decor of any room.
20. Disney Printed Dog Collar
Love your dogs as well as Disney? Gift this Disney themed dog collar to someone who loves both. This is a cool looking dog collar that goes well with medium sized dogs or cats. Let your pets look chic and stylish with this dog collar. A unique gift to give a pet owner. They will love spending time with their dogs outdoors. A nice accessory for their pets that grab all the attention of the onlookers. This is one of the nicest and an offbeat gift to give an adult on any occasion.
21. Disney Printed T-shirt Set For Family
Gift this beautiful set of Disney themed t-shirts to anyone who has kids. A pair of t-shirts for adults as well as kids. Something that the adults as well as the kids will love. They come with a perfect fit for the kids as well as the adults alike. They are made in soft fabric and snuggly fit anyone you gift. A good set to gift anyone on any occasion. Visit Disneyland wearing these T-shirts and have a lot of fun watching all things Disney.
22. The Disney Princess Cookbook
Cook pancakes, desserts, and all delicious items that look like they have come out of the magical world of Disney. This is one of the sweetest gifts that you can give a woman who loves the fantasy and the magical world of Disney. A cookbook that comes with the theme of Disney and has many great recipes with step-by-step instructions for you to follow. Gift this wonderful gift to a woman and see her beaming with a smile.
23. Mickey Mouse Themed Ice Tray
Fill the wine glass or the glass filled with cocktails or your favorite beverage with these ice cubes in the shape of a Mickey Mouse. You can get creative and fill colorful liquid in this ice tray and get ice cubes in different colors and flavors. It makes the party better with these fun and cute ice cubes. A nice gift for women on any occasion. Girls and women can have fun sipping cocktails or drinks with their friends with these fun ice cubes. You can also use it as a chocolate mold as it is made in silicone.
24. Mickey And Minnie Salt And Pepper Set
These are ceramic salt and pepper shakers in the shape of Minnie and Mickey mouse. A cute gift for a Disney lover whose world is like a fairytale. A nice decor that goes on the dining table as it is colorful and bright. Use them in soups and salads and make your morning breakfasts even delicious. An offbeat gift to give someone who loves the Disney world and pretty much dwells in it.
25. Disney Printed Water Bottle
Go for jogging or brisk walking taking this Disney themed water bottle gifted to you by your loved one. Gifts like these make your morning routine interesting. Go camping, hiking, or on any of the outdoor activities with this water bottle in your bag. You will enjoy drinking water, energy drinks, or any other beverage that is filled in this bottle. Adults as well as kids can use this water bottle and will love to drink from it.
26. Disney Printed Coin Purse
A cute and a nice gift to give a woman or a girl who loves everything Disney. It comes with a detachable strap and can be carried for small errands. Go to parks or nearby errands without having to carry purse and it makes your life easier. You can carry your cell phone, cards, and some coins in this purse and hang it across your chest. A Disney printed pouch for women and girls to make their little excursions easy.
27. Disney Cinderella's Themed Wine Glasses
A great gift for someone who loves their wine as well as Disney fairytales. Cinderella themed wine glasses is something you can give as a gift to a woman of any age. They are lightweight and a nice decor piece for the kitchen or dining room. Drink red wine in these glasses and have a fun time chatting up with friends and family. They come with perfect detailing and look exquisite and delicate. They come in large size and are in fine weight.
28. Frozen Themed Thermos Bottle For Cold Beverages
This is a thermos with a Frozen theme that keeps the beverages cold upto 12 hours. One of the cool gifts that you can give a Disney lover is this thermos flask. Those who love their drinks cold will love this gift. Do not pour hot gifts in them as they are not meant for it. It comes with a leak-proof nozzle that keeps the water from leaking no matter at what angle you place the water bottle. Take them to parks, beaches, casual events, and have fun sipping cold beverages from them.
29. Minnie Mouse Themed Finger Ring
This is a cute finger ring in that you can give a Disney female fan on any occasion. It has a bow with sparkling pink and white stones. A nice and an elegant gift for a women of any age. It goes well with most of the clothing. It is designed in a polka dot style and Minnie Mouse's bow. Teens as well as women can look good wearing this cute and elegant ring. A perfect gift idea for someone you love.
30. Disney Family Feud Signature Game
This is a fun and a trivia game for the family who loves everything Disney. A board game that you can enjoy with a slice of pizza and beverages on weekends and holidays. A nice gift to give Disney lovers on any occasion. A fun game that people of all ages can enjoy playing. One of the cool and fun gift ideas for Disney lovers.