Last updated on June 3rd, 2022 at 10:13 pm
In the modern world, technology holds a very high place among the factors affecting our planet and the human race in general. With the advent of computers, we have taken a leap to a new era and the more we keep going forward the more we seem to be getting attracted to the amazing world of the binary. As a result of that, in the current age we have quite a few computer geeks, who love working and tinkering with the latest tech.
If you're familiar with them then you would know that they are very particular about not just the people but also the equipment they want to be around. If you're looking to surprise them with a gift you certainly have a hard road ahead of you. However, we can make it a lot easier as we've done quite a bit of research and came up with some clever ideas to not just surprise them but also to help you give their geeky lives a subtle upgrade.
Here's a list of some very creative gifts for computer geeks.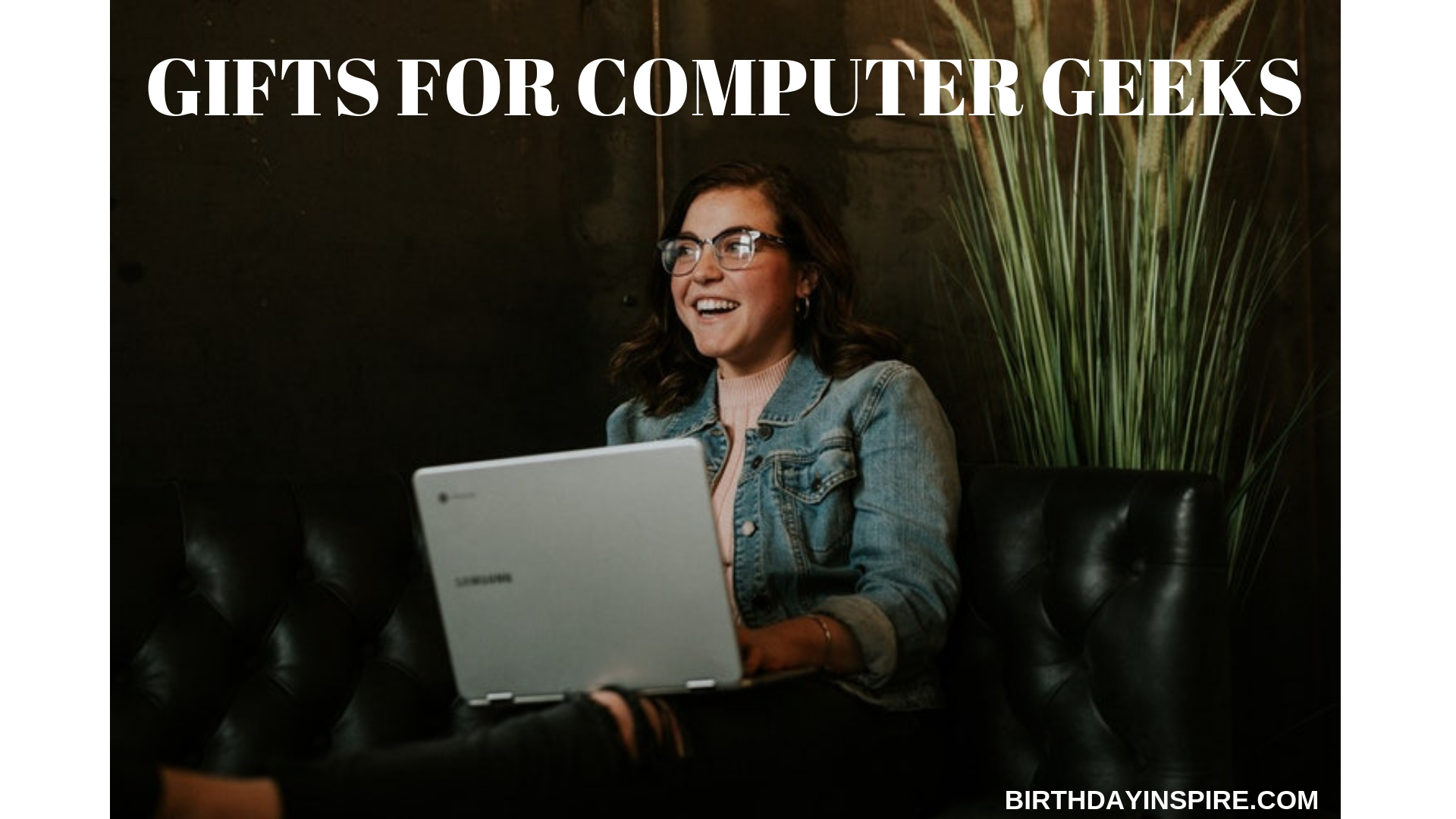 Gift Ideas For Computer Geeks
1.
Multi-Function Pen

At first glance giving a pen as a gift to a computer geek might not seem like such a useful idea but this pen has a lot more to it than just being able to put ink on paper. It has built in extra functions like a screwdriver and a ruler. It also functions as a stylus for their electronic devices while of course doing its job as a normal pen perfectly fine.
The utility of this pen and the number of times it's going to come in handy for a tech enthusiast is hard to count and in terms of value as a gift this one is hard to beat.
2. Phone, Pencil and Eyeglass Holder

anyone working with computers are going to spend a lot of time on their desk and this is especially true for computer geeks. This cat themed cute wooden holder is very compact but does a great deal by being able to hold pencils, a smartphone and eyeglasses all in itself. It looks amazing on the desk and helps keep it a lot more organized and the important things handy. If you're looking for a gift that's subtle yet useful, this is where your search ends.
3. Captain America Backpack
If you're looking at computer geeks, you're also probably looking at big fans of modern cinema. This backpack is made to look similar to a shield carried by one of the most famous modern comic book character Captain America.
It's made of some very good high-quality materials and comfortable to use while also giving out a geeky look. It would make them stand out in their own unique way.
4. Hand Warming Mouse pad
Mouse pads are usually seen as barely essential things that can be tossed out unless absolutely necessary in some cases. However, this one uses a small USB plug to draw power and will let you put your hand inside it while using the mouse to keep your hand warm and cozy for the duration of your work. This is one of those tools that you wouldn't know you need until you actually get one. Gift this to your computer geek and watch them thank you for bringing it into their life.
5. Glass Coffee Mug

Coffee is the lifeline for a lot of programmers and for a good reason. With the amount of constant high-focus work they do they're going to need some good coffee to keep their mind running for long hours. This glass mug adds a little bit more pleasure to their coffee experience with its unique design and notations.
Just like in programming, little things matter a lot in life too and this mug while doing a very small job, could turn out to be the thing that lifts their mood. It makes for an amazing gift for computer programmers.
6. Tile Mate Pack

While computer geeks are usually highly intelligent individuals, they also tend to be rather forgetful at times especially with their own possessions. If that's the case with the person you're dealing with then these tiles could be the life saver they've always needed. They can be attached to keys and made to ring through your smartphone so that it's easy to find.If you're having trouble finding your phone itself then you can simply double click the tile and it could make your phone ring. Truly a blessing of an invention and a fantastic gift for computer geeks.
7. The Self Taught Programmer

This book was written by Cory Althoff who was learned to code by himself but was amazed at how much more he needed to learn once he started working professionally. It gives very useful insights into how to be a better professional as well as the challenges you will be facing in the line of work that you might not be aware of while learning.
If you know a programmer in the making then this would be the best gift they could receive as it is a gem of information for them and would sky rocket their career.
8. Floating Bookshelf
Believe it or not, computer geeks do read a lot. However, the way they organize their books is usually a completely different story. You can change that by gifting them this creatively designed floating bookshelf. It doesn't actually float but with the superhero figurine attached at the bottom, the illusion is pretty convincing.
A bookshelf wouldn't normally make much of a gift but this one is a lot more than a normal bookshelf. In addition to carrying the books it also works as a great decorative item.
9. "You shall not pass" Door Mat

Geeks usually tend to like spending time with themselves and they are very picky when it comes to who are welcome into their room. Let them speak out their feeling in a subtle yet rather clear way through this door mat featuring an iconic dialogue from the Lord of the rings.
This is something that might not work for most people but a geek would absolutely love it and would be proudly showing it off in the front door. Overall a very creative gift idea for computer geeks.
10. Mug Warmer
Hot beverages like coffee are what keeps desk workers going through the day or even night and computer geeks and programmers are the definitions of desk work. This mug warmer is stylish, sits comfortably in a small space on the desk and is very capable when it comes to keeping the beverages on it hot.
It's yet another gift which could just be lifesaving to some as during work, it's hard to always pay attention to your beverage and notice when it's getting cold.
11. Wooden Jigsaw Puzzle

One of the pre-requisites to being a geek and a nerd is to be inspired by mentally challenging tasks, things that test your intellect and make your mind work more than your body. This jigsaw puzzle provides that challenge and much more by also doubling as an attractive piece of art.
This would be a great time for them to spend their free time and also gives them a decorative item once completed that would complement their desk or wall pretty well.
12. Levitating Bluetooth Speaker
Geeks are often the people who look a lot more towards the future than the present. This Bluetooth speaker is as futuristic as it gets in the current age when it comes to desk equipment as it levitates using a magnetic base.
It looks absolutely stunning on a desk and functions well as a normal Bluetooth speaker as well. This is a gift that any computer geek would love to receive.
13. Smartphone Sanitizer

It's not uncommon for geeks to go to a lot of tech conventions or meetups and when they place their smartphone in so many places it's exposed and contaminated by germs. This Sanitizer will use UV light to get rid of all those germs.
This is one of the most effective ways to clean a smartphone and it's even capable of charging the phone while cleaning it. One of the best gifts you could get for a computer geek.
14. TooTa Digital Clock
What makes this digital clock stand out from everything else is it's unique and creative design. It's a wooden design covered in charcoal black but with no dedicated screen. The time and other information look like it's displayed on a piece of wood.
This clock is the ultimate combination of vintage style combined with a futuristic look and it's the perfect gift for computer lovers.
15. Robot Vacuum Cleaner
This is one of the best inventions that came out of the modern technology boom. It is capable of automatically cleaning the entire room or house based on a set of pre-programmed instructions that are customized to the specific space it's working in.
This saves a lot of time and energy for computer geeks and programmers who usually find cleaning rooms a boring and tedious task. Perfect surprise present for computer geeks.
16. Reusable Smart Notebook

Even taking notes on your laptop could sometimes turn out to be too inconvenient and cumbersome which is where this smart notebook comes in. Its pages are not only completely reusable by erasing their contents but anything written on those pages can be saved in the cloud.
This is a tool that provides ultimate convenience when it comes to learning as it's a lot easier to note down things on a normal notebook and this is compact enough to take anywhere.
17. Making Things Smart
One of the biggest goals of programming is to automate things, make them work by themselves so we can reduce the stress on humans. While this is nowhere near what it could be, there are a lot of creative ideas coming out every year and this book represents a lot more of such ideas.
It's something that could not only teach but also inspire a programmer to build something new. It's a very thoughtful and motivating gift one could receive.
18. Custom Death Star Fire Pit
This fire pit is a very close replica of the famous 'death star' weapon in the Star Wars Franchise. It stands out really well and reflects some very strong geeky vibes to everyone around making this one of the best choices for a geeky party.
One thing most geeks have in common is their unyielding interest in the Star Wars Universe. In that case, this Death Star fire pit will be the biggest surprise you're ever going to give them.
19. HyperFIDO Security Key

In the modern day, a password is no longer secure enough to protect all your online storage and activity. Give your geek friend a way to improve on that by gifting them this security key that adds an extra layer of security to all their online accounts. Since geeks spend a lot of their time online, it's a good practice to have some extra credentials required before logging in and this key gives a convenient yet very secure way to have that.
20. Adjustable Footrest
Sitting for long hours in one place is never easy, especially on the legs. Infact doing that could cause some serious health issues that if ignored can lead to a lot of unnecessary suffering. This footrest has an adjustable mechanism that lets you keep your feet in whatever position you find comfortable.
Especially for a computer geek who spends a lot of their time sitting around a desk, this is not just a nice thing to have but an essential. If they don't already have this, they will be thanking you a lot for it simply because of how comfortable it is for them even after long hours.
21. Raspberry Pi Kit

Raspberry Pi is a very popular compact and modular computer that can be used in a variety of creative ways. This set bundles a Raspberry Pi with some other essentials like a power supply, transparent case and some extra storage.
This is the ultimate learning tool for any programmer or computer geek and would be one of the best gifts they could receive, especially at the beginning of their career.
22. Beginners Telescope
What inspires a lot of geeks and programmers is to be able to dive into the unknown and explore it, learn about it and build on it. That's exactly how computers work and if you take the scale up a notch, that's how our universe would work. Feed more into their curiosity with this telescope which helps them dive into the infinite expanse outside our planet.
It's a great gift that compliments their primary attribute and shows the amount of care and dedication you have towards them. This is something they are certainly going to be thankful for.
23. Magnetic Building Blocks

Desk toys are some of the best ways to relax or spend some time tinkering around without more physical work. These magnetic balls are definitely one of the best desk toys you can find as with over 200 pieces, they let you build a lot of creative things.
It's a very cool and unique toy that looks amazing on a desk and works as a great way to pass some time or get rid of some stress. It might not be essential but it's something everyone would love to have on their desk. It's definitely among the best presents for computer geeks.
24. Programming Pearls
This book by Jon Bently has been hailed as one of the best programming books for beginners and professionals alike. It teaches the reader to tackle the programming challenges from a creative side with some out of the box thinking instead of simply following guidelines.
This book has inspired many people to become better programmers and it could certainly do the same for your friend. It might not be the most stylish gift but in terms of value, it can't be beaten.
25. Computer Glasses

Whether it's for gaming or working, sitting and looking at the computer screen for a long time is bound to have some negative effects on your eyes because of the harmful UV light it emits. These glasses shield your eyes from the harmful light while also looking classy and cool.
It's one of the best gifts you could give a computer geek especially in terms of benefits for health. They also make the whole experience noticeably comfortable by making everything on the screen less stressful to the eyes.
26. Adjustable Laptop Stand
Sometimes it's just easier and more comfortable to finish that last bit of pending work from your bed. For times like that this laptop stand will come in handy without hindering your productivity at all. The adjustable height and dedicated mouse slot make it feel just like a work desk with the added comfort of your bed.
This especially helps a lot for people who are used to working in the bed making their experience more comfortable. It also comes with a cooling fan for the laptop and is extremely compact so it's hard to go wrong with a gift like this.
27. Binary Wrist Watch

Binary wrist watches are an inside joke among computer geeks and programmers. This watch displays time using the binary code and normal people usually cannot read it unless they learn how to translate it.
It's not hard to learn binary even for a non-geek but it's definitely a good conversation starter with anyone not familiar with it and it's a nice way of showing your own approval and appreciation for their unique interests.
28. Memory Foam Neck Pillow

One of the worst things about being a tech and computer enthusiast is how long you have to spend seated in one place. That's going to be especially hard on your neck. Which is why this neck pillow will make for an excellent gift for computer geeks.
Designed and produced using memory foam this neck pillow not only gives them a comfortable position to work on but also help a lot with neck and shoulder pains. It's also a good way of showing your care and concern for that person.
29. Miracle TimeCube Timer
Programmers are always on a quest to improve their productivity as it's easy to get lost in time when you're tinkering with technology. This cube has a set timer with varying level of time on each side and you can simply place it with the time you want facing towards you and the automatic timer will be started.
It does not offer a lot more than the timer in your smartphone but what it does offer is convenience and exclusivity. It's easy to reach, easy to use and does not cause any excess distraction. Perfect gift for computer programmers.
30. IFixit tech tool kit

This tool kit has every tool you could ever require to take apart and put back together an entire computer. It's also designed for convenience with features like comfortable grips and magnetic tips to the screwdrivers. This is a kit that is almost essential to a computer geek as they do a lot of tinkering.
This is something a computer geek would find impossible to not love. The tools are high quality and it has a solution for almost any situation. It's the single most perfect gift for computer nerds.
As you can probably already tell, the things you will be dealing with when looking for gifts for computer geeks are quite modern and with so many new and advanced tools in the market, it's hard to pin-point which are actually useful and which are just dead weight that rarely come in handy.
Our list comprises of gifts that are not only always useful to the average person but also have a very geeky feel to them. In addition, they are all high quality and manage to not burn a hole through your pocket. Hopefully you have also found something useful through it.