Last updated on June 3rd, 2022 at 10:31 pm
20 is when a person officially gets out of the teenage and enters proper early adulthood. This makes it one of the most significant times of their lives simply because of how important the transition into adult life is.
So, to mark that and make it a date worth remembering it's only natural that you'd want to give a friend or a sibling or even your own child a gift that they would never forget but also something that would give them a warm and meaningful welcome into the life of adults.
This will not only serve as a reminder to the great relationship you share but also serves as a memory that you were there when they first hit this milestone. Which makes it even more important for the gift to be something incredibly special and unique.
But selecting a gift for a 20 year old is not an easy task, especially if you want something that is meaningful and represents your shared relationship in some way. So, here is a list of our top picks that we think would make for amazing gifts on someone's 20th birthday.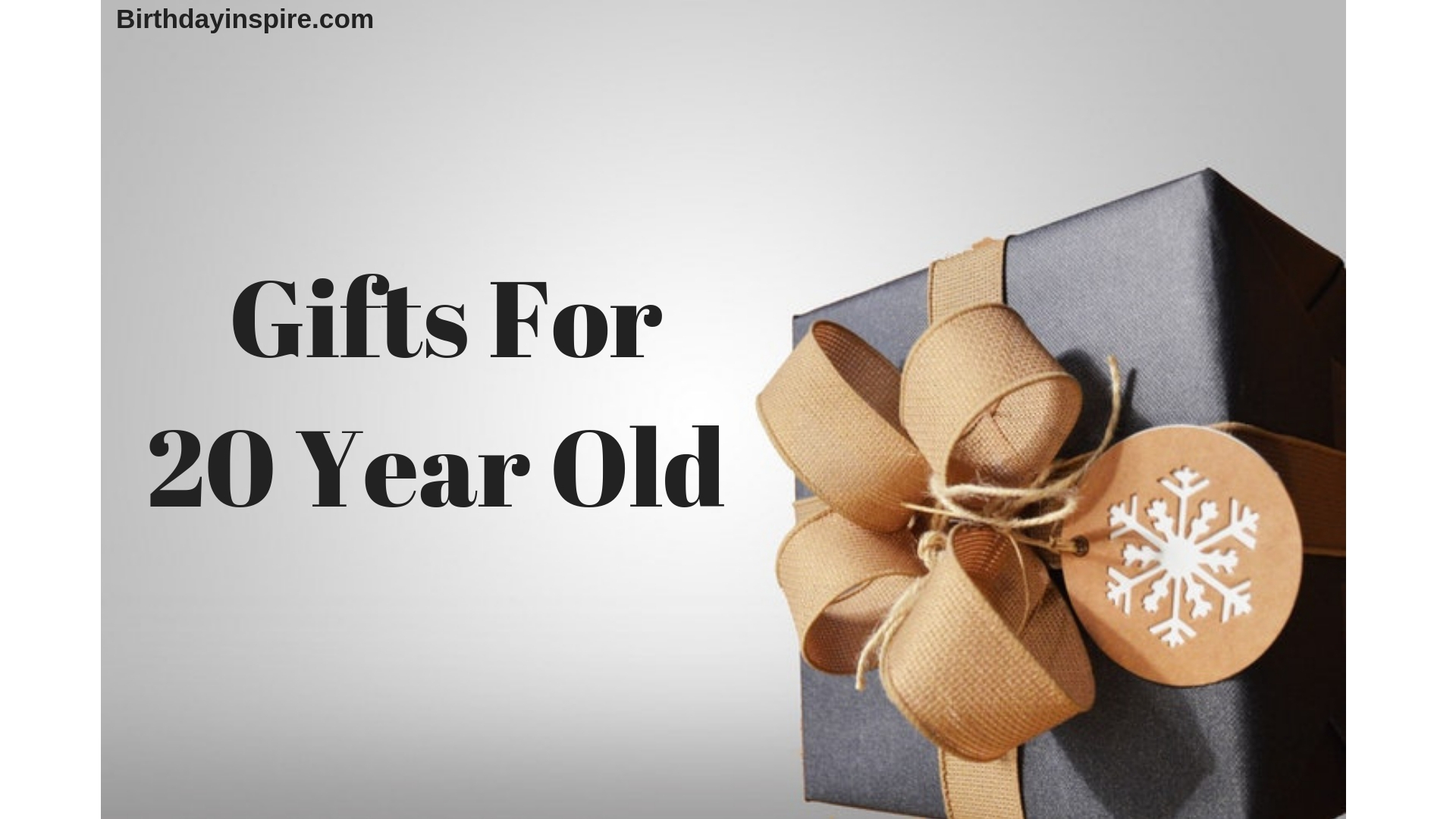 Recommended gifts for 20 year old
1. Instant Print Camera
One of the best things and arguably the worst things about adulthood is that you get to take complete responsibility of yourself and your own actions. This gives unparalleled freedom but also means that with all the responsibilities, people just find it hard to appreciate some very important moments.
This instant print camera will give them a way to not only capture those moments but also immediately get themselves a proper physical imprint of it. The prints are completely water proof and are capable of being stuck to almost any surface. All of this comes in the form factor small enough to fit in almost any backpack.

2. High Definition Pocket Scope
The craving for a good adventure is within every one of us. But the real opportunities only come in the adulthood. This high definition pocket scope would be a great gift for a 20 year old boy as it would be a great compliment to his desire for adventure.
This scope has high quality lenses that are great for viewing things at a distance clearly. It's also small enough to fit in a compact bag or even a slightly larger pocket. Bird watchers and nature lovers will especially admire this as it enhances their experience multi fold while being extremely easy to carry around.

3. Copper party cup set
Adult life comes with certain very distinct changes from the teenage or pre-teen years and it's very important to not only acknowledge but also embrace that change. This copper party cup is one that would help someone entering their 20s do just that.
It's a great upgrade from a typical glass or ceramic cup with a cartoonish design. Not only in terms of quality but also style. It is classy and signifies maturity into the adulthood in a way very few other things can. Overall a great addition to anyone's inventory who is serious about their adult life.

4. Beinia Valuker Women's Down Coat
This is a fantastic gift idea for a 20 year old female as it constitutes a great mix of style and quality. Chilly winters are always cumbersome to do things around and this coat will protect her from all the excess cold and keep her warm and comfortable throughout the season.
It's made of industry grade nylon polyester material and is extremely robust. It's also completely insulated from the inside so that the body heat has very little room to escape out. The hood even has a furry outer layer that not only makes it look amazing but also provides some extra warmth to the ears in extreme weather.

5. Back Neck Massager
As we've come to see in countless cases among our friends, relatives, siblings or even our own case, 20s not only signify freedom but also all the work that comes with earning that freedom. It's quite easy to get lost in the ocean of work and completely forget the cost toll it's taking on our health, especially the physical stress.
This back and neck massager is a great way to help them get rid of some of that stress. This compact machine is capable of relieving pains in various common spots on the body like the neck, back, shoulders, calves and feet. It has both pressure and heat mechanisms which can be adjusted to any suited levels. This is a gift that will make anyone thank you countless times, because that's just how many times it's going to save them from a sleepless and uncomfortable nights.

6. Microfiber Hedgehog dusters
As people grow up, they tend to find it more and more tedious to keep their things clean and just let the dust accumulate over time. This is never a good idea, especially when they're going to be adults. Which is why these microfiber hedgehog dusters are a great gift for your 20 year old daughter.
They are made of extremely soft interiors where her hand can easily slide through and the exteriors have knitted strands that will make dusting off most surfaces a literal breeze. They are cute, extremely easy to use and will not only make cleaning less tedious but also more desirable.

7. World scratch-off map
Everyone must've had the dream to travel the world at some point. While you might not be able to full-fill the dream itself, you could certainly try and encourage it. Scratch-off maps are a great way to make someone find passion for travelling or simply re-ignite a lost spark for it.
These scratch-off maps make it very easy to keep track of someone's current travel achievements including what kind of memories they have in different places. It has clearly defined boundaries of even states and other important divisions so they can only mark only what they have already visited. In addition, this would make for a great wallpaper that can be hanged in their room to show off to their friends about their travel achievements.

8. Yankee Jar Candle
Scented candles are a great way to personalize someone's space and that's exactly what makes this a great present for 20 year olds. It can be used in cars or in their own personal rooms. It makes the atmosphere a lot more pleasant both for themselves and any guests.
It is also available in many variants like flameless or 2 wick candles. The mahogany cologne aroma combined with just a tinge of musk and sage will leave everyone in awe. It's an amazing gift that will also act as a constant reminder of your own affection towards them.

9. Star-wars Jedi dressing Gown
The problem with movie costumes is that they're not looked upon very well apart from when they are on kids. But what if you could combine a fictional costume with class? That's exactly what you'd be getting with this Jedi themed dressing Gown from star-wars.
This would make for a great gift for a 20 year old male as most guys are likely to be big Star Wars fans. This will let them feel like they're in the shoes of some of their favorite characters without having to feel the embarrassment of using a ridiculous outfit as this looks amazing even as just a normal dressing gown.

10. Heat sensitive color changing cup
This is a very unique cup that could serve as both a visual pleaser during their morning coffee session and also has a quite a bit of practical use. It comes with some very impressive dark themed design consisting of constellations and planets.
But the best thing about this cup is that it changes between the both based on how hot the liquid inside is. So, not only will they get to see some cool effects on their cup but it also acts as a great reminder of the liquid inside getting too cold, which tend to happen often when people are drowned in their work.

11. Magnetic Wristband
One of the worst nightmares for any tech-savvy builders is to lose the screws or get different types mixed up when they're taking apart or building something. I'm sure many can relate to this as it's not a rare occurrence at all. Infact anyone who has built things a few times can vouch for this with a lot of frustration backing it up.
This magnetic wristband could be quite the life-saver when it comes to that and whoever you decide to gift it to will be thanking you for life. It has strong magnets attached to it which can be used to just attach the screws on to it so that you can never lose them. This is a wonderful gift for 20 year olds who love to work on building things.

12. Rabbit ear Headphones
Music has and is still a great companion for a lot of people, even well through their adulthood. Infact, adulthood is when we're really going to need it as it helps us get through tough and stressful times or simply have a good time. These Rabbit ear headphones will be something girls would simply adore as it combines 2 things they love into one, cuteness and music.
The headphones themselves are great quality and come with noise cancellation, both wired and wireless modes of operation and are foldable making them easy to carry. This is as close as it gets to a perfect gift for a 20 year old girl.

13. Bamboo odor eliminator Bags
Bad odors are some of if not the most annoying things to come across on a regular day, especially when you're not expecting them. These odor eliminator bags will completely get rid of that problem, replace the bad odor with something a lot more pleasant and even better, they prevent the bad smell from originating at all by stopping the growth of any mold or unwanted bacteria.
These bags can be placed anywhere including bags while travelling, bathrooms, shoes or even cars. They will serve them well and would make for a very thoughtful gift from your side.

14. Tile Mate pack
We can all relate to how frustrating it can be when we are busy with something and in turn lose track of some small essential like car keys or our phone. These tile mate keys are a great practical way to get rid of that problem as they can be attached as key chains to a lot of things and can be made to ring using your smartphone whenever you need to find it.
If you lose your smartphone itself, you can find one of the tile mates that is connected to it and double click it to make your smartphone ring. This is simply an ingenious solution to one of the most common and frustrating problems in everyone's life and will make for a fantastic gift.

15. COWIN floating Bluetooth speaker
Partying with friends is not only a great pastime but also something that can be used to strengthen the bond between them. An essential to every party is good music and the most creative way to deliver this is through this floating Bluetooth speaker.
It will comfortably rest in your pool or a tub of water and play music without any risk or worry of the water affecting it. It is completely waterproof and would be a great way to compliment a pool party. This is a gift everyone is bound to love.

If you have a friend, a sibling or your child who is about to hit 20, the above list should have some good gifts for 20 year olds or at the very least give you an idea of what they would enjoy given their current state in life. The list is made of some unique ideas, not necessarily adhering to the standard greeting cards or a play station troupe and trying to be as meaningful and creative as possible.