Last updated on June 3rd, 2022 at 11:00 pm
---
2-year-olds may be a havoc at home but they are fun to have around. They light up the house and enlighten your mood with their little mischievous and some cute shenanigans. Also, they give us a journey of the time when one is so innocent and unaware of the surroundings and yet how he adapts and behaves around.
Whatever is said, if you have a 2-year-old baby around or you know one in the close distance then you will definitely relate to whatever has been said above. And if it is a 2-year-old girl, then her journey of growth is very exciting because she would love to throw around some tantrums and some fascination for girly stuff.
And by that we mean it can be anything, you may just one day find her fitting her little feet into your shoes that may just incorporate her entire body.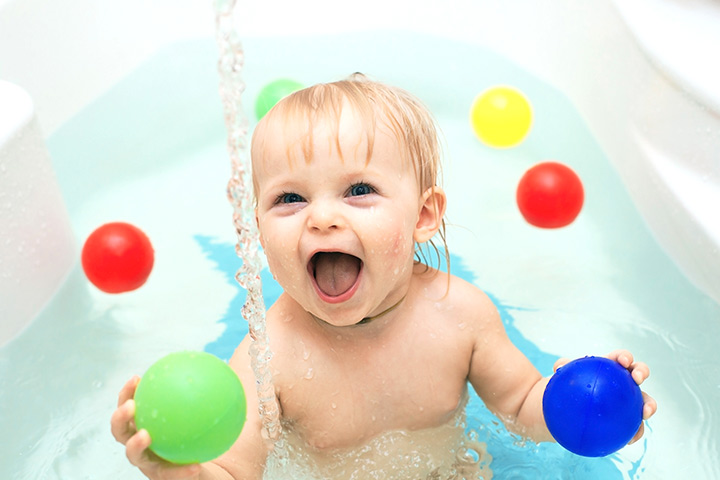 With all this being said, babies are good to have around to keep the environment cheery and fun. And if you wish to pamper them then gifts are something they will endure. But choosing gifts for 2 year old girls can be a little difficult and tricky at times because it is hard to know what will attract the toddler and what will not.
Also, 2 is an age when one hardly understands anything but at the same time, it is a crucial period when kids need toys or materials that may develop their senses faster. So if you are looking for gifts that a 2 year little angel will love, then we have something for you.
We have compiled a list of gifts for two year old girls that are specially designed by keeping the needs of 2 year old. The list is curated with a mix of fun toys, some learning tools, and some necessary products.
Delightful gifts for 2 year old girls: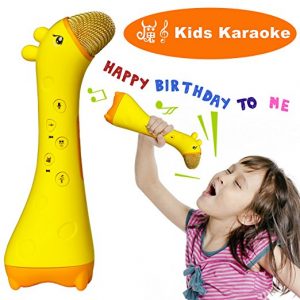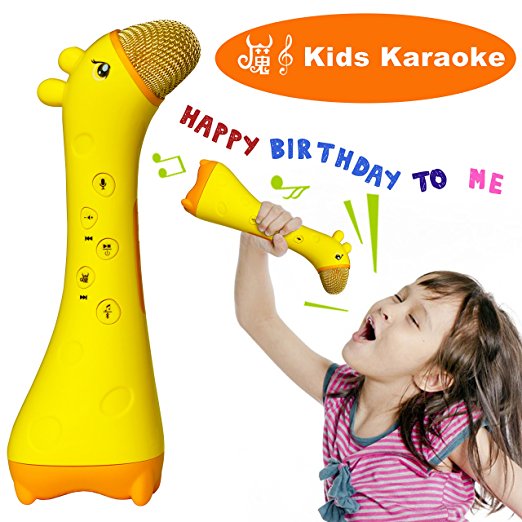 At 2 years, a toddler is at an age where she is learning the language and is developing a diction. During this time one should get the things that may encourage her to talk more so that she quickly adapts the language.
This microphone is a fun product which she can use to sing songs, recite things and just to entertain her self. In that process, the bonus is that she will get more familiar with various things.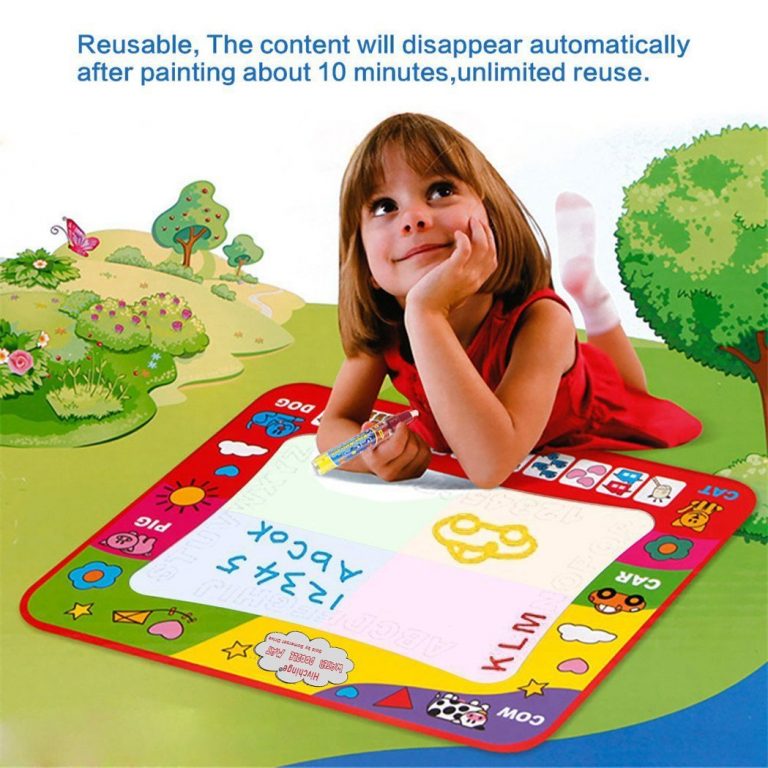 Gone are the times when slate board and whiteboards were given to kids to scribble up. These doodle mats have taken the lead if you are looking for a thing that the child can draw, scribble and ponder on.
These mats are pretty simple and are written with a pen that is filled with water. Whatever you write will be easily wiped out in minutes. It comes with different color options and is non toxic hence safe for kids.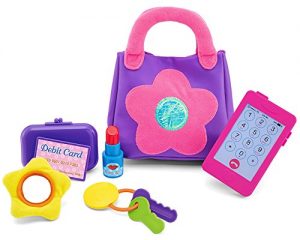 If you are looking for a girly product for your little princess then get her the first purse of her life. It is a cute stuffy material purse that comes with a few accessories to put inside.
It comes with a toy tablet, debit card, keys, mirror, lipsticks and so on. Watch her walk around carrying this adorable bag and see her be all ladylike at a tender age of 2. It will definitely bring a smile on your face.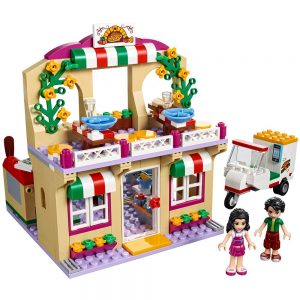 The first thing or the must have that a child gets when she is this young is LEGO's. It is obviously fun to play with but it is very educative and an analytical game. This lego is basically a structure of a pizza shop that one has to build with the blocks.
It also comes with doll figures and blocks to set up an auto tempo. It is one of the best birthday gift ideas for 2 year old girl to build her creativity.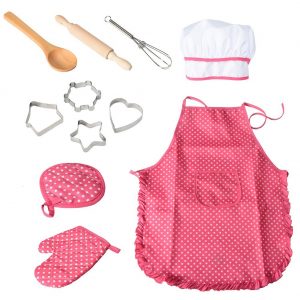 Bring that chef out of the little one with this lovely cooking play set. The set comes with a variety of things like the apron, the cap, the miffs and the cooking tools like the roller and spoons.
Everything is coordinated in shades of pink to please the little girl. She can pretend to be a chef around by adorning the costume that comes with it. Let her explore the cooking world!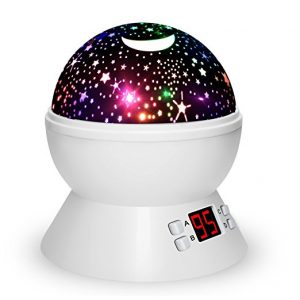 We all love to decorate children's room with some funky and cool decors to make it a pleasing place for your child to roam around. This galaxy print night light is an exciting gift that you can give a 2 year old.
It can be put to her room and can be lit at night before you put her to bed. She will definitely be amazed by the spread of stars in her room. Hence, this can be recognized as one of the best toys for 2 year old girls.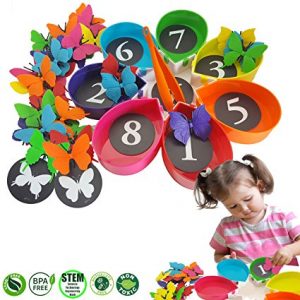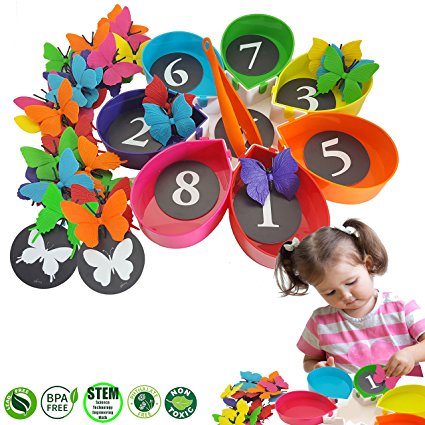 Although 2 is a little early to expose her to the wrath of learning science and maths but it is never too late to start to lay a foundation of the same.
This next gift is a learning based fun gift that can be used to make her learn the basics of mathematics and you can teach her to differentiate between colors. The beautiful looking butterflies will make math fun and games for her.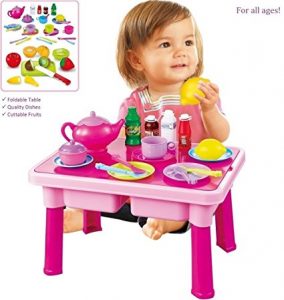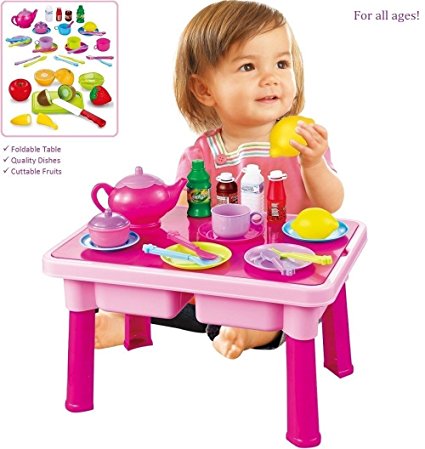 At this age you can get them gifts that entice them and please them since they do not have an understanding to get the meaning of the gift. This tea set is a great play toy that the child can indulge in.
It comes with a tea set, some fruits and an adorable stool to place it all. Such games also teach them basic things. So let your toddler prepare tomorrow's breakfast with tea for you.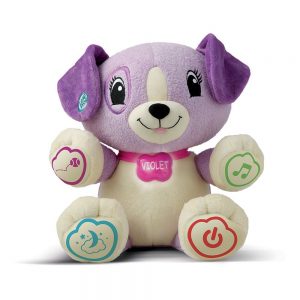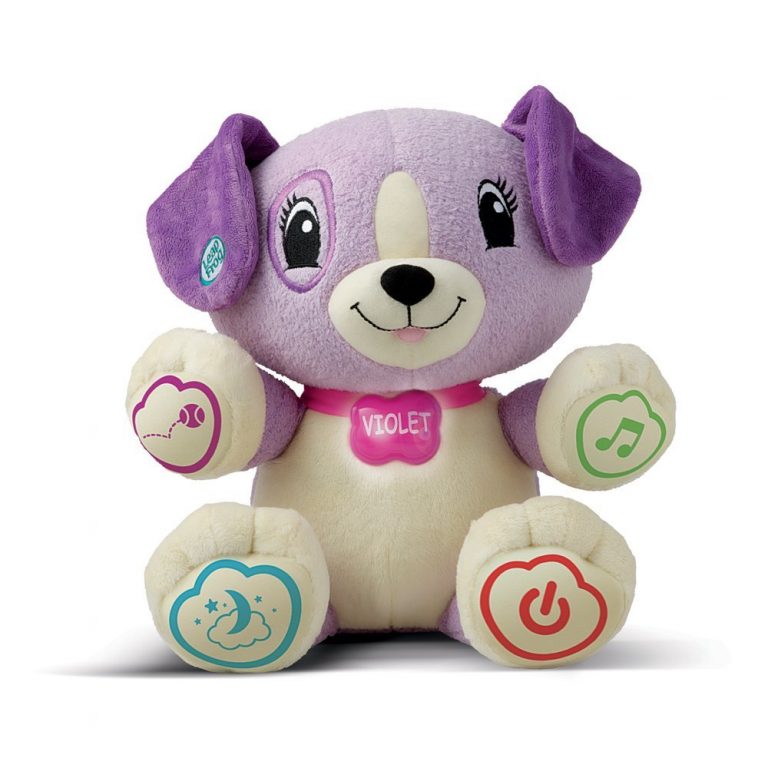 Soft toys can never go wrong. Their fluffy and cozy to touch nature can make any kid happy and all smiley. This my pal violet is a cute battery operated plush with a lot of learning activities, play a song feature.
You can also personalize it by teaching the pup the toddlers name and customize its settings by connecting it through a tablet, smartphone or laptop. The child can learn colors, rhymes and a lot of other things.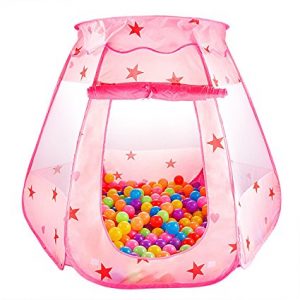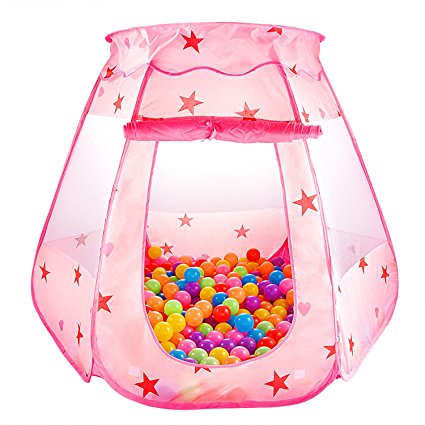 Gift your princess this pink shaded adorable ball house for her to play. It has stars printer on it which gives it a girly look and feel. It comes with pop up balls that can be placed inside it where she can jump and play around with them.
It is a portable tent that you can carry along with wherever you go. The kid will definitely love it just by looking at it. If you are looking gift for her birthday then this is the best birthday present for 2 year old girl.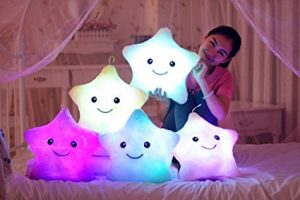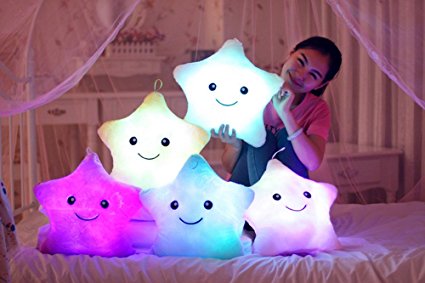 Decorate your princess' room with these luminous star cushions to light up her room and give it an extraordinary touch. These cushions come in different colors to choose from and have led lights in them that glow when you switch it on.
Generally, these kinds of offbeat things excite kids and make them wonder at it. This will definitely make her happy and is the best toddler toys for 2 year old which will help her to decorate her room.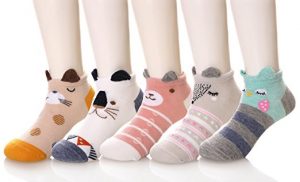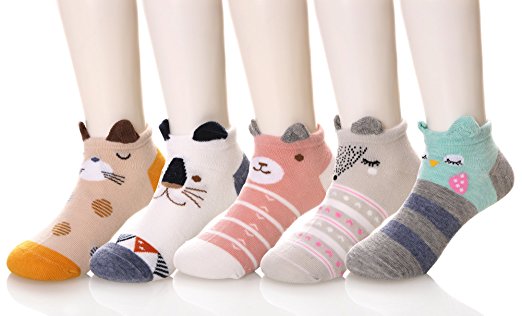 It is important to make your kid wear socks especially in winters to keep her warm and protected. But why should you always get those boring songs again and again. Go a bit quirky with the little ones socks.
These animal crew socks with a 3D feel and design are some cute unique socks that are available and you should get them and include in her wardrobe. They come in some adorable colors and patterns to pick from.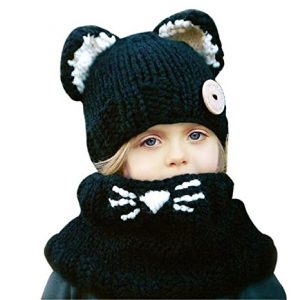 It is important to keep the baby warm and cosy during winters since their body is so tender that it is susceptible to allergies or illnesses that come with cold. This animal hat and scarf set is a perfect gift for 2 year olds that will keep the child safe and secure.
It also gives a fun and cool look to the baby. They come in different varieties that you can pick from. It will definitely make your child stand out.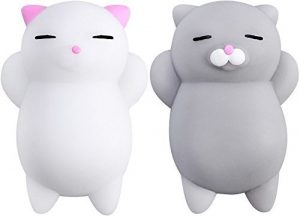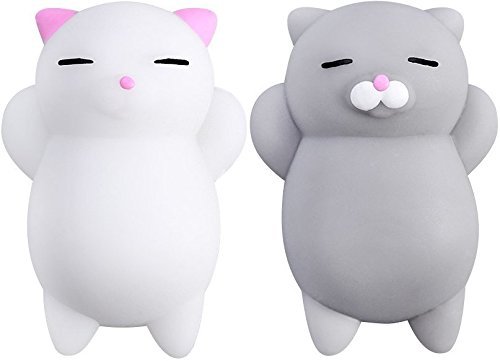 Kids are attracted to toys or things that have bright colors and have a little fun feature that amazes them. These cute little squishes are just for that. They come in attractive pastel like grey and white shades with an adorable design layout.
They are soft as a rubber and fun to press. It is one of the best gifts for 2 yr old girl to keep her engaged with it. You can carry it everywhere with you to keep the toddler busy.
Gift your little princess her own castle by giving this adorable tent built in a structure of a castle. The material and color scheme used for this castle is quite pleasing and can either be placed outdoor or indoor.
You can make this her designated play area and put all her toys under this one roof. The castle can be built very easily and without any help plus without any tools or equipments. Similarly, it can be moved around easily.
2 years old is an age when the child's brain has the maximum grasping power be it creative or logical. This piano keyboard is the best birthday present for 2 year olds to enhance your kid's brain abilities.
Although, your kid will also enjoy the melodies. It comes with a microphone which will encourage the kid to talk on it and learn to enunciate words. Also, who knows she might have an inborn talent towards music or singing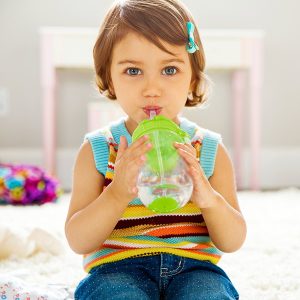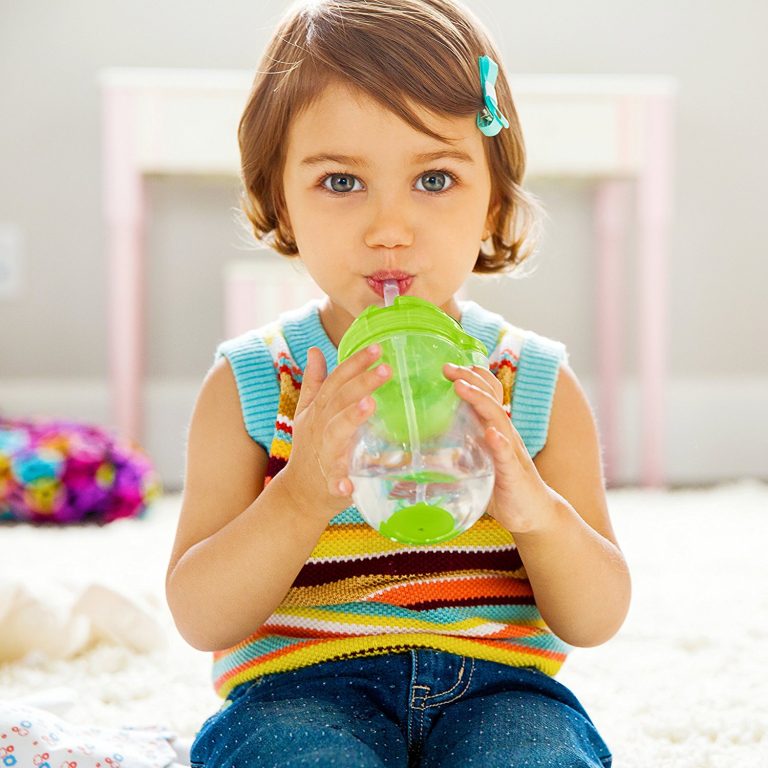 Kids at this age are mostly fed with nutritious liquids for their growth and to maintain their health since the tooth is not yet developed at this stage. This is simple yet catchy looking cups that can be used to serve such drinks.
It has a click clock system that ensures there is no leakage and any spill. It comes with a straw to facilitate smooth drinking. It comes in a nice shade of blue and green to choose from.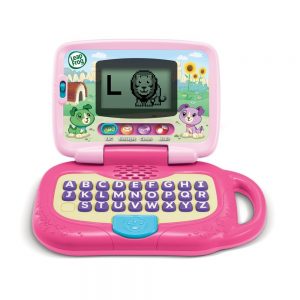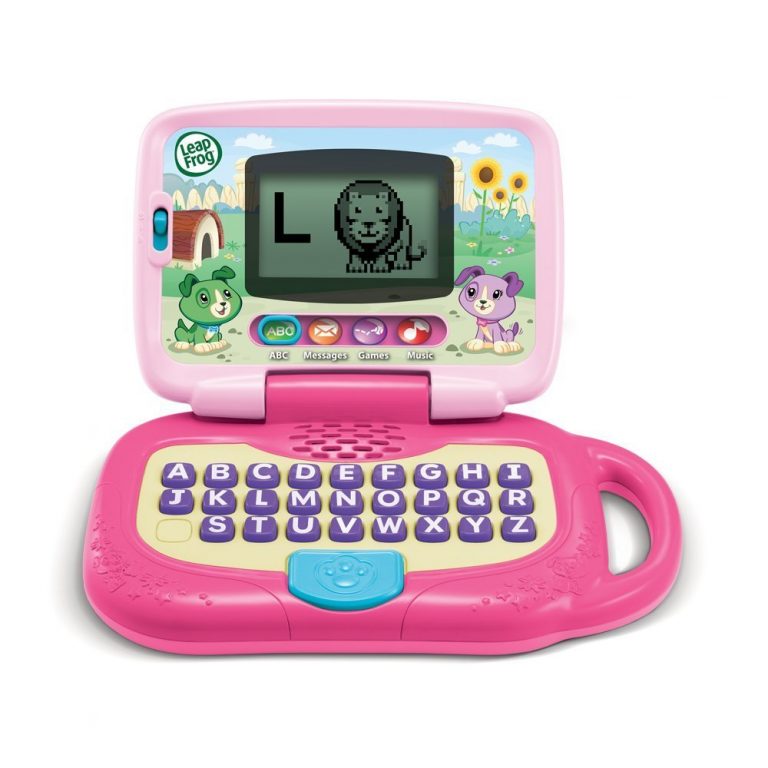 Learning is fun and easy to take when it is given in a unique manner. This dupe kids laptop makes learning a fun and exciting process. It comes with animated letter animations and has a some songs and melodies built inside.
It will help her to get familiar with alphabets too. Kids also have a tendency to imitate the adults, hence, she can pretend of doing work in this laptop and can play along.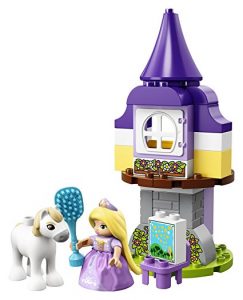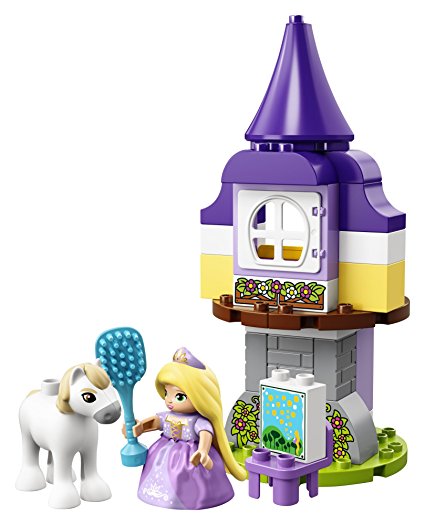 How about get your princess to built a castle with the legos? This lego building blocks is a great gift which can be used to built Princess Rapunzel's castle. It comes in vibrant shades of purple and white that looks really enticing.
One can recite Princess Rapunzel's story while she can build the castle to make the story telling process enticing and gripping. It also comes with the princess doll, her little accessories and a horse figure.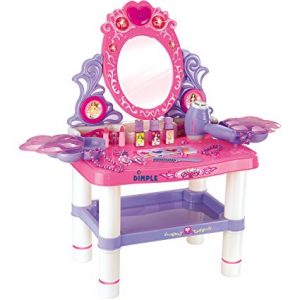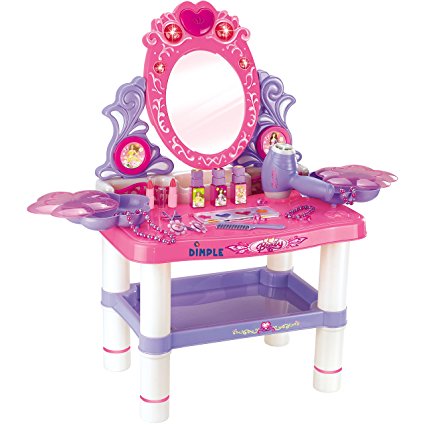 Get the two year old her own vanity set where she can sit and pretend to dress up. It is a fun set of different products including blow dryer, combs, some gel bottles, etc to make it look real.
It comes with a cute mirror and tool where she can sit and dress up. The dressing table comes with different inbuilt songs too that she can play and some exciting lights to play with.This It will be the best gift idea for 2 year old girl.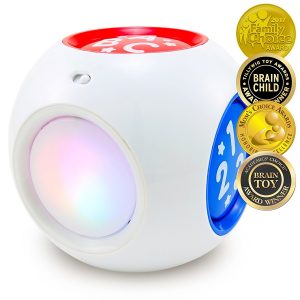 The next gift is a greatly awarded gift and has been some of the mom's top choices. If it has won so many accolades then it definitely is worth trying. It is a learning cube that will firm her foundational skills that includes colors, logical and analytical abilities, creativity, animals, alphabets etc. The cube is surrounded by different buttons to access each function. It also comes with colorful lights to enhance the look of the gift.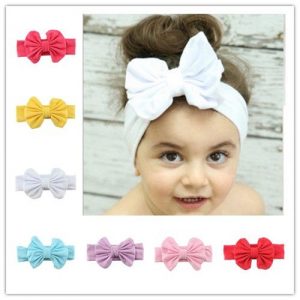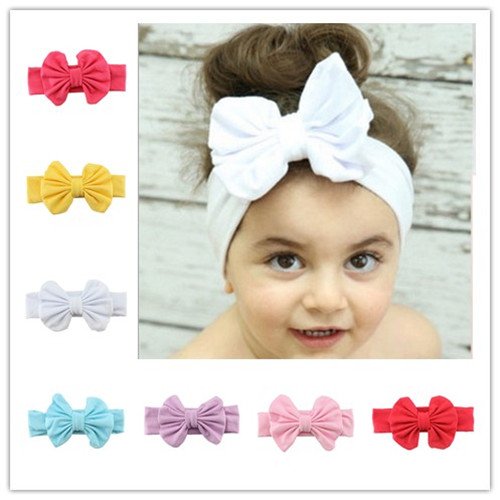 The trend of hairbands among kids have to take a shuffle now with the kind of varieties that have come in. Especially a bow knot forehead band. These look really pretty on little girls. It accentuates the facial structure and highlights your face.
These come in various subtle colors and vibrant ones like red and yellow. So take a pick according to the likings and dress up your little toddler.
This age is when you should inculcate hygiene and healthy habits that form a part and parcel of their life as they grow up. Brushing is one important thing that a child is taught from the beginning.
You can enhance this and ensure proper cleaning with this electronic brush that will do a great job on its own. It ensures deep cleaning and is really efficient. This electronic brush has a longer battery life and is sturdy enough.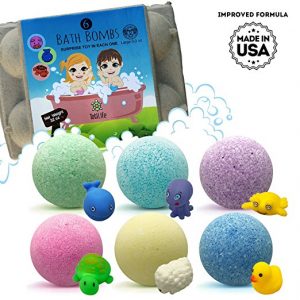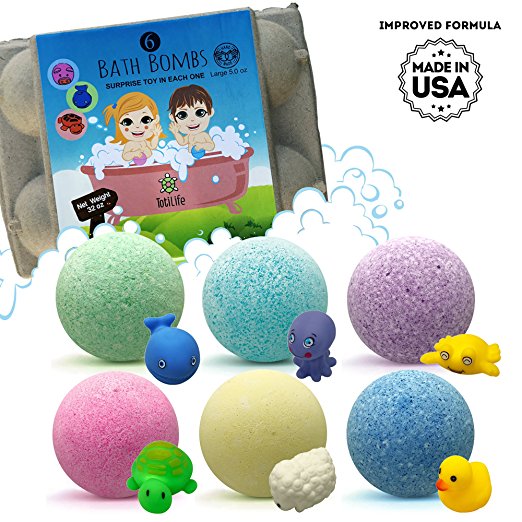 There are some kids who enjoy bathing whereas some dread it. For those who enjoy it, these bath bombs will just make their bathing experience better and fun. And for those who dread it, will start loving it with these bath bombs.
They come in different mellow and soothing fruity fragrances that kids will enjoy. The soapy texture also creates bubbles in the water which is again very enjoyable for the kids.

If the little girl fancies jewelry and loves to adore some by picking yours then this will be a great gift for 2 year girl. It is a kit that has all the material for one to design and execute their own wristbands.
It is a packet of different materials that include ribbons, some decorative stickers and likewise which can be used to create some exotic yet adorable wristbands of your choice. It will dig out the child's creativity.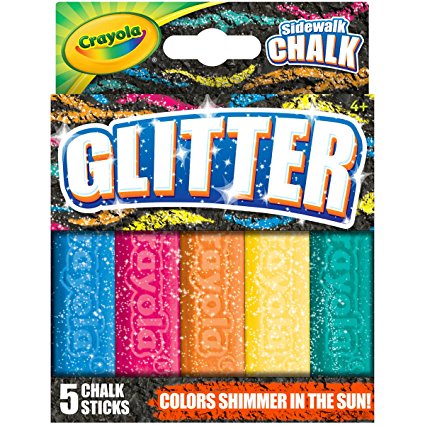 Children get really fascinated with colours and colourful things. In general, it is found that kids love playing with coloured pencils, sketch pens and so on. For your girl to try a hand on coloring, you can give her this pretty looking glitter chalks.
These come in 5 different colors and has a glittery feel to it. So in the next summer camp or holidays, she can spend her time fidgeting with these colors to create her own little masterpiece.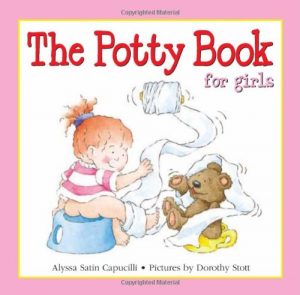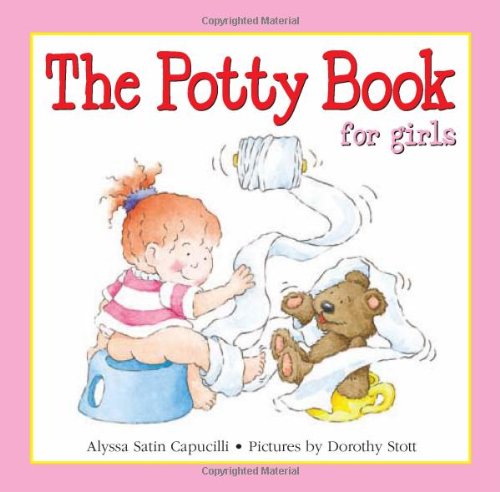 Kids love to listen wonderful stories and poetries. A lot of them like to be put to sleep with storytelling and so. This is a cute fun book you can read out to your 2 year old and explain her with actions that she will enjoy a lot.
The potty book is a story that is comical and charming to hear. It is a light hearted story around the potty time and the anticipation of a girl.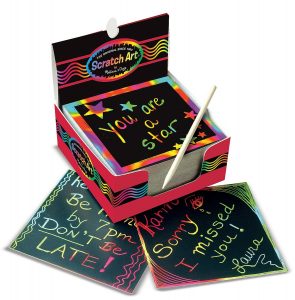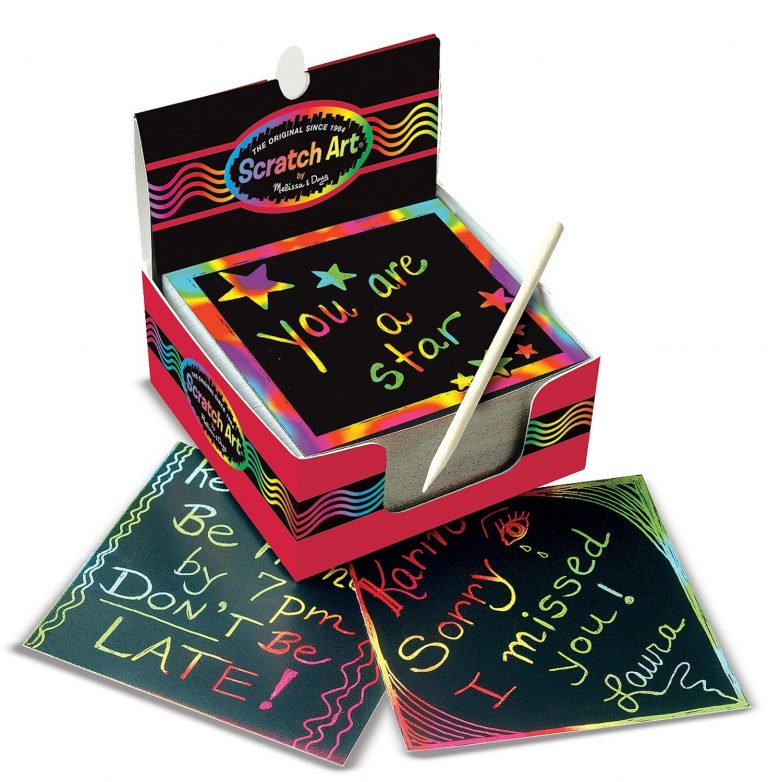 The next gift is a wonderful and creative addition to her stationery box. These rainbow notes are really endearing. They can be made and used to decorate her study table or the room.
There are a total of 125 notes, each one of them is matte finished and has a coating of rainbow color style beneath it. It comes with a stylus that can be used to write whatever you wish to on the note.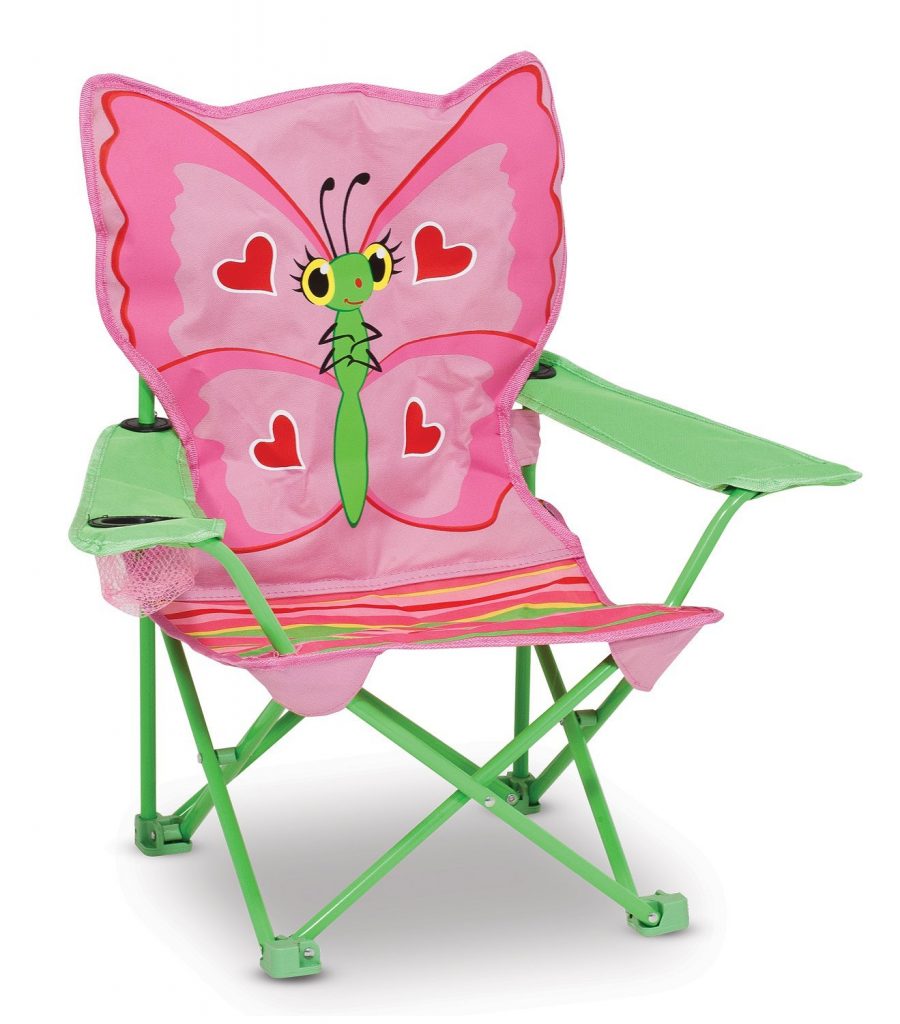 If you are looking a gift for 2 year old girls then on the top of the wish list will be anything that looks cute and attractive. Get the little cutie this pretty flowery butterfly designed chairs to rest on.
It will be her personal chair that can take around anywhere and everywhere. It is really sturdy and tough hence, the kid will be absolutely safe and secure on this.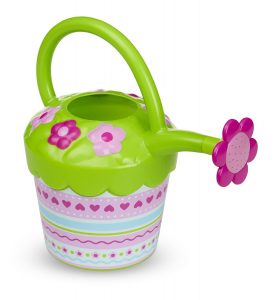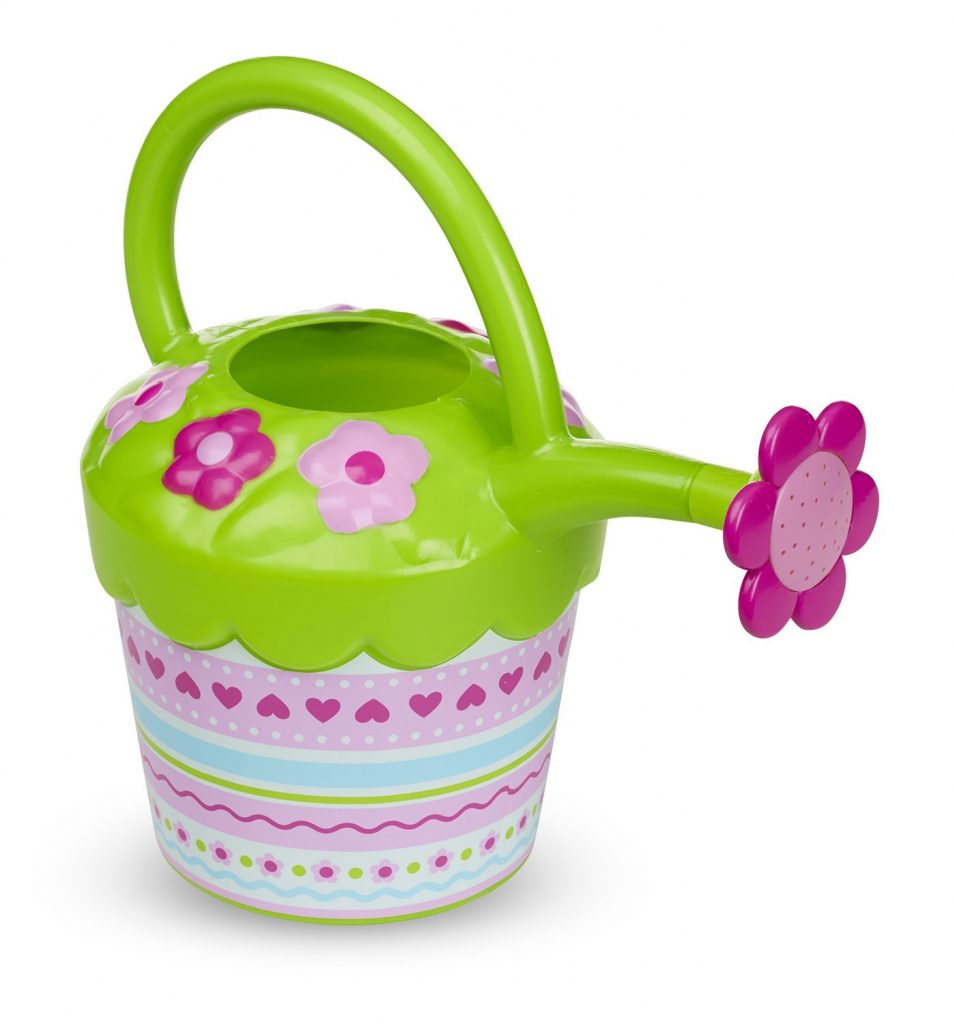 If your child loves to a company you when you go for gardening then you can encourage her equal participation in this gardening water shower. It is a sweet little can that comes in bright colors and an attractive design that will appeal to the kids.
You can use it to inculcate the good habit of growing and nurturing plants among the kids. So, next time you go for gardening you can ask her to fill her can and accompany you.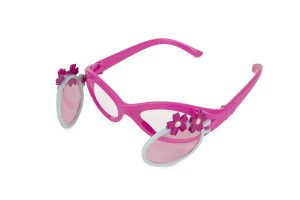 For the little girls who love dressing up especially accessorizing herself get her this lovely pair of glasses that she can wear with suave and bring out her sassiness.
It has flowers designed on it and comes in a bright shade of pink that is mostly every girl's favorite color. The tinted frames are clip bases and can be easily flipped open and closed depending upon the intensity of the sun.
For all the jewelry lover princesses, there is another lovely gift for her in store. It is a cute pearl based bracelet that comes in different shade varieties. The shades are mostly pastel based and has an ethnic feel to it.
The bracelet also has a personal touch because you can personalize it with the kiddos initial hanging in the center of the bracelet. The shades are such that it may go along with most of her dresses.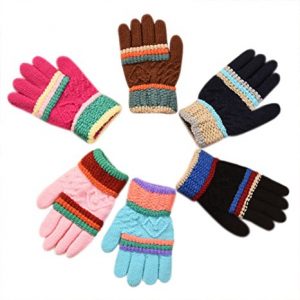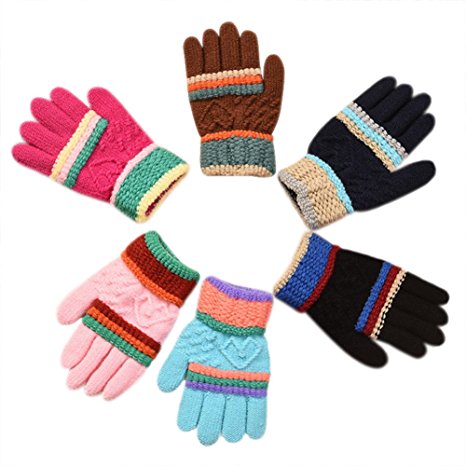 Another winter classic accessory are the knit gloves that will keep the kid warm and cozy and totally winter protected. These gloves are beautifully knitted and come in a variety of funky colors and design.
They are cent percent acrylic and are comfortable and soothing on the skin, the stretch of material keeps the cold breeze away and do not reach their hands keeping them warm and protected from the chilly cold.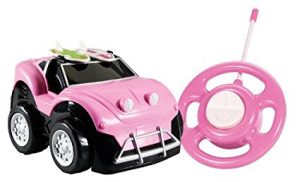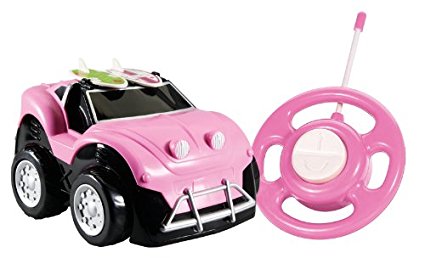 Who said remote control cars are just for the guys? A girl totally loves to stroll a car at the control of a button.
This cute pink colored blush cars are for little girls who show a bend towards adventure. It comes with a remote controlled steering wheel that can be circulated to steer the car in the direction you want. Like they say, why should boys have all the fun?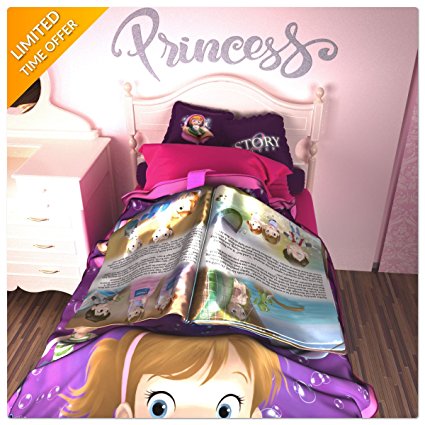 I think the list is quite interesting to find the best gifts for 2 year old girls because it is so unusual and something really innovative. It is a cute mermaid blanket in the shades of purple and pink and it comes with a flipping fabric book of bedtime stories.
It also comes with a complimentary audio book with it. It is the perfect bedtime accomplice for your kid that she can snuggle into to keep her cozy.
Now you have so many gifts ideas for the baby girl. I am sure now you are not confused about what to buy 2 year old girls.
Check out more links here:
Best Children Birthday Party Ideas