Last updated on June 3rd, 2022 at 10:19 pm
Tween age is considered to be one of the most volatile stages of growth for children. It acts as a transition phase into their teenage and as such, it plays a huge role in determining how they grow up to be as a person during that period. Which means this makes for an excellent time to show them, especially tween girls, as much love and appreciation as possible so that they grow up in a caring atmosphere thereby reducing the risk of any unwanted behavioral problems.
Even without all that, it's just good to sometimes express love towards children in a tangible way by giving them something they can cherish not just for one special day but for the rest of their lives. A gift on a special occasion would be perfect for this of course but selecting an appropriate present for a tween girl could in fact turn out to be quite the challenge.
So, we made a list of some amazing gift ideas for tween girls that are guaranteed to impress and get her a lot more excited for her life ahead.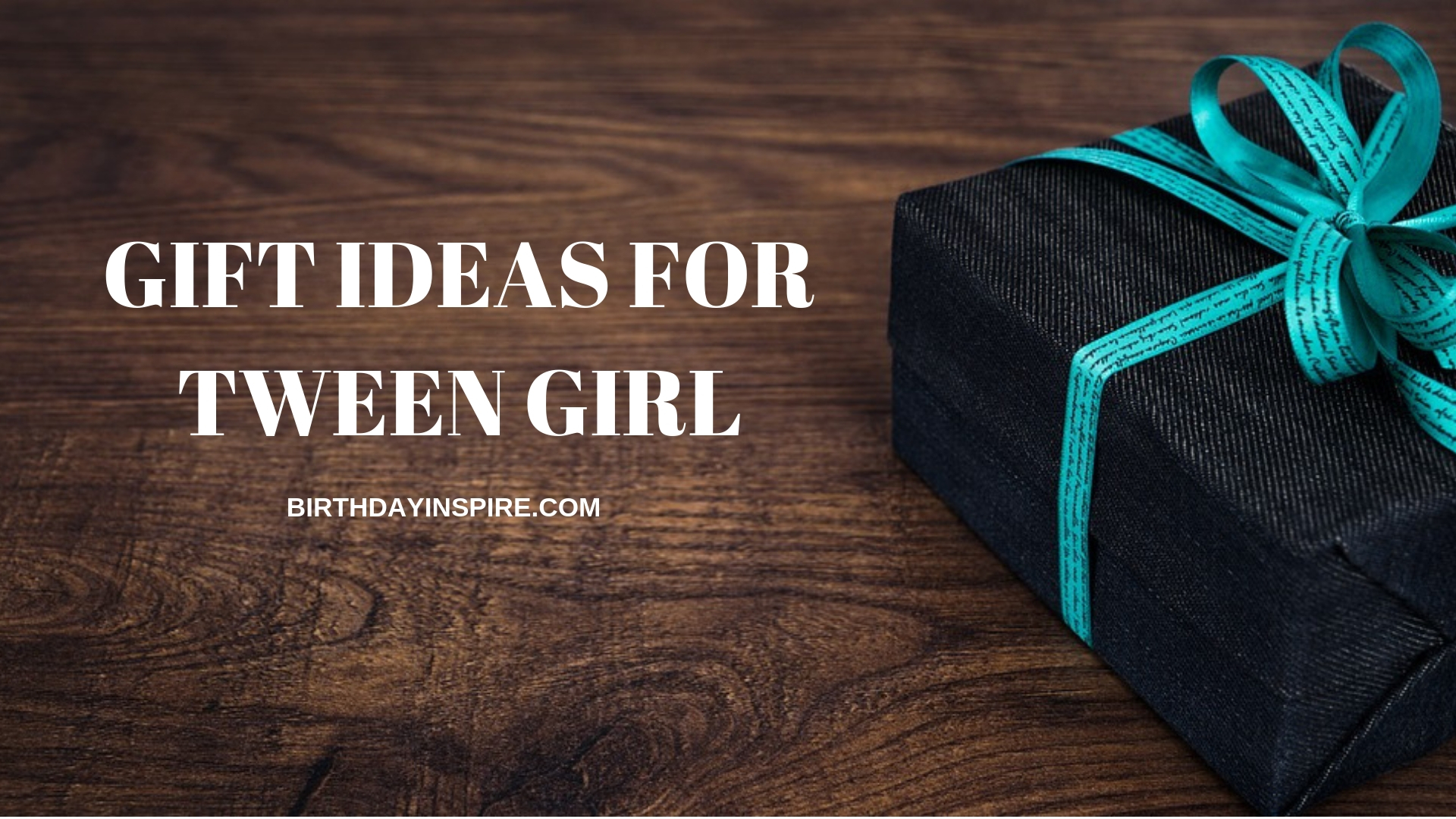 Recommended Gifts For Tween Girls
1. Sequin Journal
This would make for a perfect gift in more than one way. The journal is covered in a very attractive design made of sequins that can be easily flipped to invert the colors. This is a very cool effect for kids and it would make for a great item to have in their collection regardless of its usage. But it is not without its practicality. It functions as a regular notebook that she can write anything she wants anytime she feels like it.
The journal also comes with a locking system so that she has some of her own private space where she can put her thoughts that she is not prepared to share with the world yet. It's a great thing to have as company and it also encourages to not only be more expressive with her thoughts but also develop of a habit of writing which is very beneficial.
2. Snap-Pop Beads set
When it comes to women, jewelry is something that is almost universally popular among them. While a tween girl might not yet be old enough to own her own set of jewelry, she would've certainly got the wind of it and is already drooling over her first set. This snap-pop beads will make her first jewelry set even better by giving her the ability to create her own ornaments.
This set comes with 180 beads of various shapes and colors that can be attached together to form very attractive jewelry. Not only will she have a lot of fun coming up with new ideas and creating it but she also gets to show off jewelry that she made herself. This is one of the best gifts for tween girls.
3. Shengshou Megaminx Speed cube

When it comes to good gifts, they can be basically divided into either something that's beautiful and serves some basic purpose or something that will help supplement the growth of a child while also being fun. This one falls in the second category and does the job pretty damn well. This speed cube is a variation of Rubik's cube that can be solved not once but over and over again while she tries to beat her previous record.
The chosen colors are relatively attractive and would make for a good fidgeting tool or even a show piece whenever she doesn't feel like playing with it. Overall a good tween birthday gift.
4. LCD Doodle Board
The problem with a standard notebook is that, on top of being extremely boring, because they're associated with school lessons, they could be very cumbersome to use most of the time and they need to be frequently replaced. This LCD notebook will let her write anything she wants anytime and easily erase it.
The notebook is pressure sensitive allowing for drawing with different thickness. All of the things written or drawn on it can be easily erased with the press of a single button making it open for completely new notes or ideas. A tween girl would love this as it would let her express all her thoughts and ideas without having to always look for a pen and paper.
5. Emoji squishies

Emojis are perhaps the best way of expression, at least when it comes to young kids. A tween girl would be more than familiar with emojis and giving her some cute little toys with emojis would be quite an exciting gift for her.
These squishes are very small and come with high quality imprints of different emojis that will serve well as either key chains or even simple table decorations. They could be used very creatively to convey messages with each other. These are some very creative presents for tween girls.
6. Mermaid blanket

It's not easy to get young girls to get to bed early and sleep. There's usually a lot of convincing to do before they finally give in and go to bed. This is because sleep is mostly boring, especially for children at such young ages when they are full of enthusiasm. A good way to counteract that would of course be to make going to bed not so boring and this mermaid themed blanket would be a great place to start.
This blanket comes with a very close replica of an actual mermaid shape including a fully designed tail that she can get into and perhaps even feel like a mermaid herself. Not only would it make her extra comfortable, but it is something extra special that she can come back to every night when she goes to bed.
7. I-LOOM Bracelet Maker set
Girls, especially at young ages are very enthusiastic about a lot of things and there could be a lot of occasions where they would want to show some appreciation to their friends and loved ones. A bracelet would be a great way of showing that and this set, allows them to create and make their own custom bracelets instead of buying them.
The set contains all the materials including strings and bracelet locks needed to make one and they can even make bracelets using pre-made designs that come with the set. It's an amazing way to enable them into being more creative and giving them a way to express their affections more freely towards those they care about.
8. Wireless Bluetooth Karaoke Microphone

Music is the most popular form of art for the current generation and there's absolutely nothing wrong in enabling a child's desire for it. If your tween girl is really into music then you can get her one of these microphones enabling her to conduct her own karaoke sessions where she can showcase her amazing skills.
The biggest point of the microphone isn't so that everyone can hear her better, it's just to make her feel like a superstar and at her age, that will mean a lot to her. Since it is Bluetooth enabled it doesn't need any wires and the whole experience can be completely wire free where everyone can just focus on her.
9. Infinity Cube
Fidgeting is one of the best ways to relieve stress and anxiety and over the course of the past few years a lot of fidgeting tools have come into popularity. One of those tools and probably the best of them is this infinity cube that comes with a great build quality and design.
She can play around with this for as long as she wants and if she decides to take it seriously, it also functions as a puzzle that might take quite a while to solve. It's a sweet little to have with her at all times and it also makes it so that she doesn't get addicted to her phone or other modern technology.
10. Cinema Light Box

This is a rather unique gift. This light box comes with over 190 letters, symbols and emojis that can all be used in any order to make signs or messages that light up just like in cinema boxes. It will give her the ability to make any space truly her own by customizing it with this light box and give it a name or showcase a message.
Due to the presence of emojis and other symbols she could express herself better when she wants to or even find more creative ways to do the same. While a bit out of the ordinary it's certainly a good tween girl birthday gift.
11. Fashion Drawing book
As is the case with almost everything when it comes to the newer generation, they tend to catch on to newer trends very quickly and one of the biggest trends girls focus on from a very young age is fashion.  This drawing book enables her to keep up with the latest trends and even create their own designs.
The set comes with color pencils, stickers, die-cut frames and art-starter pages. For beginners it also comes with very clear instructions on how to make use of them all and get started. It's not only a great pass time that would end up making them feel really good knowing that one day they're going to own all those things but also get their creative juices flowing.
12. Hasbro Simon air game

Hand games are starting to become extinct with the advent of new technology. They are slowly being replaced with virtual devices and games that are fun but don't offer quite as much in terms of development.  This air-game will keep her well entertained and is a great combination of classic games with the modern virtual elements.
What makes this game stand out even more is it's 2-player mode that will let her team up with a friend to complete various challenges. It's a nice way to have fun and bond with her friends while not being as addictive as virtual games.
13. Leather backpack and handbag set
When it comes to female fashion, handbags for women and backpacks for kids are the most basic and also the most common accessories. This set comes with extremely well-designed backpack, a handbag, a cross body bag and a small purse.
The bags have a very premium look and feel while also boasting a design that is very appealing to kids. This set would be a perfect gift for tween girls as it serves multiple purposes across multiple occasions, whether it's school, a small shopping trip or even a fancy party.
14. Unicorn themed portable charger

Mobile phones have become pretty much essential to have a proper life in the modern world and especially when it comes to young girls, having a mobile phone with them will make everyone feel more secured as it gives her the ability to call help anytime she needs. But if it's longer trips that she's on, she definitely needs a back-up battery.
This portable charger gives her that utility with a capacity enough to charge most modern smartphones once while also having a very attractive unicorn with them. It would work perfectly fine as a standalone desktop show piece when not in use. It's something that can be used purely as a display but is also something that provides a lot of convenience.
15. Vermax Mini Sewing machine
Sewing has been an age-old skill that is passed down from one generation of women to the next. It's mostly traditional but learning to sew also has a lot of practical application in real life. Not only will it improve the concentration and creativity of the participant exponentially but it can also come in handy a lot of times when you're in an emergency and need to stitch something up.
If your tween girl is showing interest or curiosity on some level towards sewing then this mini sewing machine is a great place for beginners to start. It comes with a design and color choice that will be particularly appealing to young girls and comes with some nifty beginner features that makes learning a lot easier.
16. Flannel Unicorn onesie

Dresses could make for decent gifts but if you want something that is truly memorable, then you need to come up with something unique, something that's not just attractive but also stands out among normal dresses. This Unicorn themed onesie is exactly that.
This cozy outfit serves as more than just a dress. With its well-designed hoodie that contains the unicorn's horn and a tail on the back, this could very well be used on a costume on several occasions. If she is not the type to participate in such occasions outside, she could do it in her own home and get to roam around as a unicorn.
17. Galaxy Clock
While it's easy enough to get to know the current time from the wall clock, a wristwatch or even the smart phone, traditional table clocks haven't quite died yet. Not this one at least. Showing time is this Galaxy clock's most basic function. This clock emits light from the top while casting the shadows of the stars imprinted on it to the roof. This would be a great way to fall asleep, especially for kids who are scared of the dark but can't sleep with the lights completely on.
The clock also has an inbuilt speaker that can be used to set alarms. The speaker can be connected to most of the modern smart devices and is capable of playing music from them, which can in turn be used as alarm tones. Both the volume and brightness are completely adjustable and this makes for a great waking experience for the kids. This is one of the best gift ideas for a tween girl.
18. Fujifilm instant mini camera set

Girls have a lot of new, exciting and adorable experience in their tween years and it would truly be amazing if you could give them a way to save and cherish those forever. Not just in a smartphone where no one would touch them again, but as physical copies. This instant camera lets her do that by being able to produce a picture of anything she clicks within seconds, right in her hands.
The set also comes with most of the essentials like the frame stickers, lens and even an album so that she has everything ready to go. Because the photos are printed on a sticker, they can be easily attached to most surfaces and don't have to be carefully stored in a file. This could give them the opportunity to make some incredible collages and photo shows at a very young age, improving both the fun and creativity at the same time.
19. Pet animal hats

Winters are extra harsh on kids as their bodies are too fragile to resist the extreme cold. But you often hear them complaining and rebelling about not wanting to wear a proper hat to protect their head from the cold because it's uncomfortable. Well, here's a beautiful solution for that problem.
This cat themed animal hat looks extremely cute on tween girls and does a great job of keeping them warm and comfortable on the inside because of its high-quality fabric lining. Because of its looks, you won't be having a problem convincing her to put it on either, winter or not, this would be part of most of her outfits without you even asking.
20. Piggy desktop pen holder

It's important for kids to keep their things organized and teaching them that from a very young age is a good thing. To compliment your lesson, you could also give her this cute little pen holder to be placed on her desk that would not only look great but also do a great job of providing her with the ability to neatly organize her stuff.
It's something a tween girl would absolutely love to have on her desk on its own regardless of its utility. You pair that up with well-made separate compartments and she's going to certainly use it and make organizing her table a priority.
21. Cat stud Earrings
Girls love earrings because of their attractive design and the depth they add to the look of a girl's face. Now you can combine an even more creative design on top of that to make for some of the best jewelry they have ever seen. This is among the best tween girl birthday gifts out there.
These pearl ear rings are themed like a cat with ears protruding outside but it's not an overly complex design. There are no facial features, the design is subtle and elegant which is what makes it so attractive in the first place. They work with almost any outfit, whether it's a serious occasion or a fancy show party.
22. Unicorn pool float

What's better for a tween girl than reading stories about unicorns? Riding one of course! This pool float is designed to represent a unicorn and it does a very impressive job of doing so. This can fit multiple people inside it so it's not only a great ride for her but she gets to bring along her friends with her too.
With pool parties and swimming sessions with family and friends becoming so popular, this is a great way to both have a fun time and learn to swim. She gets to not only have a big, attractive and adorable unicorn toy of her own, but also fly on it. It's one of the best gifts you could ever get a tween girl.
 Tween girls, despite their age tend to be quite complicated to deal with and it's rather hard to please them, even more so than teens. That however doesn't mean you should stop trying and a good gift is certainly a great way to get close to their little hearts.
The above list of gift ideas for tween girls  was designed while keeping all those factors in mind as well as ensuring that the gifts are not only likable but also useful to their growth in one way or another.