Last updated on June 3rd, 2022 at 10:14 pm
Photographers are highly creative and quirky people. When choosing a gift for a photographer friend or a colleague of your, choose a gift that is creative, offbeat, or something that they can use in their day-to-day routine. There are umpteen gift ideas for photographers that you can choose from. These are creative professionals who spend hours of their time using their creative nuances to get the shot right as per the theme and occasion.
When choosing a gift for your photographer friend, do not choose something that is run-of-the-mill and common place. The quirkier the better is the gift and a reminder of the person who gave them the gift. Amuse them with a creative gift, and they will cherish it for a lifetime showcasing it like a souvenir.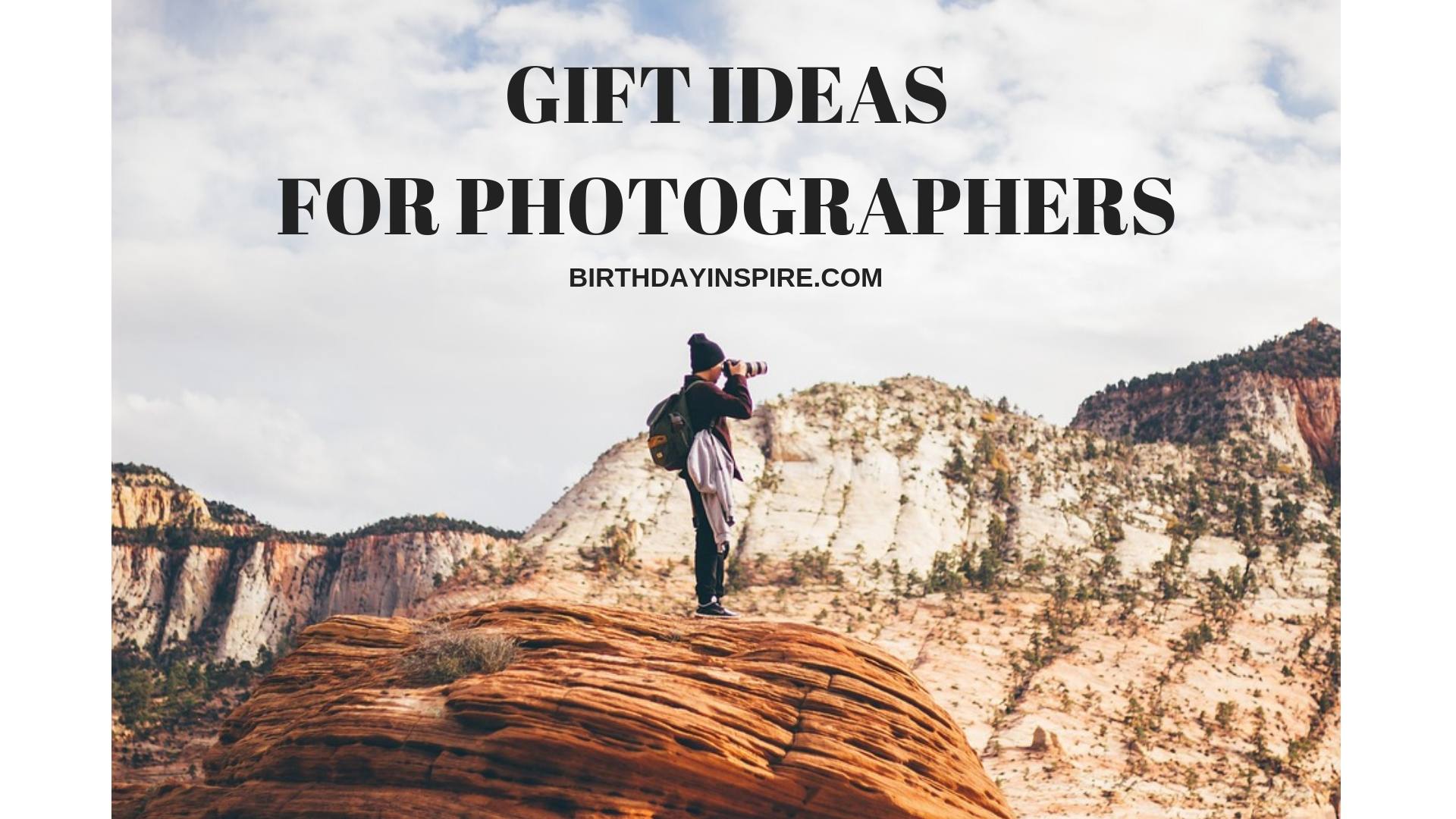 Gift Ideas For Photographers
1. Camera Lens Themed Coffee Mug
This is a quirky gift for photographers that you can give on any occasion. They will love this coffee mug that looks like a camera lens on the outside and has a stainless glass on the inside. It also comes with a spoon to stir some sugar. This is a personalized gift that you can give your creative friend who spends his/her time with aesthetic ideas and capturing all kinds of moods and emotions. This is a durable coffee mug that your friend will absolutely love drinking his morning coffee in.
2. Camera and Vinyl Record Themed Wall clock
A creative gift for your friend, sibling, or a loved one who is fond of photography. This is a vinyl record and photograph themed wall clock that can sit like a wonderful decorative piece. This is an awesome gift for photographers. It can nicely sit on their wall and give it a creative look. They will absolutely adore decorating their living room with this creative and interesting gift. The specialty of this wall clock is that it is handmade and created from a real vinyl record.
3. DIY Collage Wall Hanging For Pictures
Gift this DIY creative hanging photo frame as one of the gifts for photography lovers. They can hang it on the wall and paste their favorite collection of pictures on this photo frame. This makes for a good room decor for the aspiring photographer and gives it a rustic and a creative look. This is the gift that lets them present a creative and quirky collage of pictures on the wall of their room. When you clip pictures to this hanging wooden frame, it looks offbeat and creative.
4. Rustic Floral Photo frame With A Distressed Finish
This is a beautiful decor item that you can give as one of the creative and memorable presents for photographers. It is made in resin and looks artistic with a rustic charm. They can hang their favorite pictures within this frame. This is a beautiful photo frame that goes well as a decor in any room or office of creative people. This is an artistic frame that a person with an artistic flair will love as a decor and a display piece.
5. Tape Shaped Shoulder Purse
This is an offbeat and a unique shoulder purse for your creative friend or colleague who spends time in creating pictures with moods, lights, and themes. This is one of the best gifts for photography enthusiasts as they love carrying quirky and creative items. Nothing about them is ordinary. This is the best gift that you can give them on any occasion. This is a clutch bag with a chain that is attached to the purse. It is unisex. Both, men and women can be gifted this item.
6. Camera Shaped USB Drive
This unique, camera shaped USB drive is one of the gift ideas for photography lovers that you can give on a special occasion. This is a plug and play USB drive that is compatible with Windows as well as Apple systems. A stylish as well as creative utility device that photography enthusiasts can carry with them. It does not show capacity but is certainly useful for photographers.
7. Retro Camera Shaped Coffee Mug
This is a ceramic coffee mug in the shape of a retro camera that you give as one of the offbeat and quirky birthday gifts for photographers. Though, you cannot use it inside the dishwasher or the microwave, this is the coffee mug that fits your travel pouch. It adds a flair to the coffee or tea that you drink in this mug. A far-out and a creative gift that graces the crockery at your home giving it a distinctive look.
8. Camera Shaped Wooden Pencil Holder
This is a cool gift to give to a person from the profession of photography. You can keep your stationery inside this camera shaped pencil holder. It looks interesting and unique decor for the table. A nice addition to the home or office table. It keeps the decor creative and inspiring. For a photographer, a gift like this motivates and boosts the mood to get the creative juices flowing.
9. Camera Shaped Woman's Shoulder Bag
This is a nice and a cute shoulder bag in the shape of a camera. You can gift it to your friend, female sibling, or a colleague who loves photography. It is compact and unique in design and can be carried with you to office or when you travel. It can store important items like phone, cosmetics, etc. For the women who loves quirky things and loves the unconventional, this is the gift that is perfectly suitable for their taste.
10. Combination of Keychain And Memory Stick
This is an elegant gift that you can gift a female who loves taking pictures and exploring photography and visual elements. This is a novelty gift item in the shape of a camera that you can gift a female. One of the cool and creative gift ideas for photographers or those who love photography is this keychain-flash drive combination set in the shape of a camera. It comes in a compact size and can be gifted on any occasion other than birthdays and anniversaries.
11. Elegant Camera Shaped iPhone Case
A unique and an original idea for a gift to give to someone who loves photography. A unique phone case that protects smartphones. It comes with adjustable features. If you drop your phone suddenly, you have nothing to worry as this gift given to you will protect your phone from breaking or getting damaged. A useful gift for a creative person who has love for photography. For those bulky as well as sleek smartphones, this is the perfect gift that provides protection from damage.
12. Oh Snap!! Coffee Mug
A nice and a cool coffee mug to gift your the person who loves photography or is in this profession. Printed in motifs and a smart quote, this is the mug that you can gift on any casual or a special occasion. A microwave and dishwasher safe mug that lets them enjoy their cup of morning coffee and make a nice start to a day. A coffee mug with a nice quality to gift it to a creative person who works with pictures and colors.
13. Camera Printed Colorful Pair Of Socks
These are angrogeneus socks that are printed in the motif of a camera. A neat gift to give your photographer friend or colleague. They will love wearing accessories that have motifs and prints of the profession they are passionate about. These are artistic and beautifully printed socks that can be given as a gift to someone you love and loves photography. These socks are made with soft material and are durable. A gift that has practical use and can be used for a long period of time.
14. Vintage Necklace With Camera Motif
A unisex necklace that can be gifted to a man or a woman who loves photography. Even for a selfie obsessed lover, this is an awesome and an artistic gift that you can give. It has a grunge charm and goes well with most of the casual outfits. A necklace that serves as the best gift option for anyone in their teens or an adult who loves donning vintage items.
15. Glass Coffee Mug With Funny Quote
This is one of the neatest gifts that you can give a person who loves taking pictures. A funny mug with the elegance that will make the day of the person whom you gift. Choose a nice casual occasion or an event to gift it to them. Sometimes you do not need a reason to send gifts. You only need emotion to let someone you love and care about to give meaningful gifts like these.
16. Camera Shaped Cufflinks
Your photographer friend does suit up, don't they? There are times even the most creative people wear formal clothes and accessories in their own style. This is an elegant and thoughtful gift for the person who spends their entire day with the camera taking amazing pictures. With this gift, they will suit up in the most creative fashion wearing formal clothes as well. A cool and a nice gift for a creative person who creates brilliance in taking pictures and capturing memories.
17. Pantone Themed Notebooks
Professionals who deal with colors, visuals, moods, and capturing beautiful moments will love gifts like these. You can gift this set of stationery items to your photographer friend, colleague, or a sibling that adds some color to their office desk. It is inspiring for creative people to have colorful and vibrant items on their desk. They look chic and in-vogue. Something that adds color to a creative professional's life.
18. Tripod Shaped Wine Bottle Holder
A nice and creative gift to give a photographer professional. It is made in metal and is in the shape and design of a tripod that is standing in action. It can also be used as a decor item that can be displayed as a showpiece at home or office. You can as well place it on the dining table. Give this gift to a creative person or someone who loves creative pursuits as a hobby. A nice gift that you can give on a casual event or celebration.
19. Charm Bracelet With Camera Motif and Trinkets
A nice and elegant charms bracelet for women who love their jewelry. For the women who has a routine of taking selfies, and instagram filled with amazing and beautiful pictures, this is the bracelet that you can gift her on her birthday or any casual occasion. A nice bracelet to gift that enhances the bond and makes them feel special with this meaningful and thoughtful gift.
20. Camera Shaped 3D Optical Illusion Night Lamp
A cool gift to give that changes colors when it is switched on. This is a 3D shaped camera LED night lamp. It works as a beautiful decor piece as well as a night lamp that gives out pleasant light. It has seven color settings and different modes. A far-out gift that is unique makes your creative friend smile and cherish you for this meaningful and creative gift. It is USB powered and gives away stunning visuals of a camera when turned on.
21. Vintage Scarf With Camera Motif
Make your sweet and creative friend look pretty with this vintage scarf that is printed in the motifs of a camera. It looks awesome on casual tees. It is lightweight and has an elegant print. It is in polyester fabric and is a cool gift that you can give a person in the field of photography. A perfect gift that is suitable for any occasion. A gift that brings a lot of likes on the pictures taken with it and posted on social media pages. A scarf that can be worn in all weather and makes you look chic.
22. Camera Lens Shaped Vintage Pendant
A beautiful and handmade pendant that your photographer friend will love. A vintage piece of jewelry that comes in lovely texture and motifs. It looks contemporary and chic on younger people. A nice gift that has a charm and looks unique on anyone who wears it. A piece of jewelry that can be worn everyday. You can gift it on Christmas, birthday, or any casual event or occasion. An artistic gift that can be given to a creative person.
23. Zoom Lens Shaped Wristbands
A unisex accessory for men or women who love photography. If you are a shutterbug carrying your DSLR, shooting pictures, expressions, moods, and capturing amazing events and other stuff, this is the perfect gift for you. Something nice and subtle that is not too ornate is the perfect gift for a photographer. Have fun gifting this novelty item to your photographer friend on their special day. A gift that has a set of bracelets that can be worn with a casual outfit and also at work.
24. Retro Cotton Pillow With Camera Motif
Gift these throw pillow covers that come with a pillow case that have a camera printed on them. These are awesome and creative decor pieces that look good on the couch of the home or office. Your photographer friend will love this decor piece and happily use it as a decorative item in the interiors of their home or office. You can also find an option that comes in bronze printing and has other vivid colors for gifting.
25. Bohemian Themed Floral Camera Strap
A fun and a trendy floral themed camera strap that secures the camera when you take pictures. A beautiful accessory for your camera when you shoot anywhere. Gift it to a photography professional or an enthusiast and make their day. A nice and trendy option for anyone who loves photography and taking pictures. It is made in finer details and looks great when you wear it around your neck when taking pictures.
26. Waterproof Camera Float
With this gift, you can take pictures underwater while swimming,, snorkeling, or performing any of the underwater activity. It works well with digital cameras. Take breathtaking pictures of sea life when you travel and go snorkeling in any of the lakes and oceans. A utility gift for the photographers is this waterproof camera float that comes in vibrant colors. It slips easily on the wrist and lets you take pictures underwater.
27. Camera Shaped Silver Earrings
Cool and funky earrings for females who love creative and quirky things. A nice pair of earrings can be given as a gift for the person who loves their camera and is active on Instagram taking and posting wonderful pictures. Colors, visuals, moods, and all that stimulate emotions are something that photographers to do to create magic. This is one of the offbeat and one-of-a-kind gift that you can give your creative friend on any occasion.
28. Miniature Camera Shaped Pendant
Available in beautiful silver is this camera shaped pendant. A nice gift that your photographer friend can use on a daily basis. Gift it to them on their birthday or holidays and bring a smile on their face. They will be amused to receive a creative and thoughtful gift on their birthday. A cute and a nice pendant for girls who love the camera and get busy posting wonderful pictures on social media.
29. Inspirational Pillow Cover With Camera Quote
Let your photographer friend add some color, graffiti, and quotes to the interior decor of their homes. This is a decorative and a funky pillow cover that comes with a cushion. A nice and far-out gift that you can give creative people on any occasion. It adds vigor to the environment and brings out offbeat and funky themed decor to the office or home. Gift it to your coworker or a boss who has love of photography.
30. Camera Shaped Ear Studs
Gift these beautiful pair of camera shaped ear studs to your friend who is about to get engaged. This is a creative gift that they will absolutely adore and love you for gifting them. A nice piece of jewelry that is so offbeat, it can also be used as a showpiece. Looks quirky when worn and grabs a lot of attention for its unconventional design and novelty. A unique design that your friend or coworker will be happy to receive on any occasion.
31. Camera Montage Printed Mousepad
Gift this nice and unique gift to someone who loves photography on a special or a casual occasion. This is one of the offbeat designs and a wonderful gift that you can give your friend, sibling, or a coworker that decorates their desk and also finds utility as a mousepad. It brings a reminder of your passion to the space that you work in. A mousepad with an offbeat and smooth surface to decorate your desk and inspire you to work better.
32. Camera Buff T-shirt
A creative and an elegant t-shirt that comes with amazing prints. This is a nice gift that you can gift someone who loves and uses the camera. A candid gift for the person who is devoted to making amazing pictures and knows how to capture human emotions. A sweet gift for the shutterbugs who see art in seemingly mundane things and bring life into pictures. For someone who loves good humor and creativity, this is a perfect gift to be given. Get compliments and admiration for wearing this creative t-shirt with abstract camera motifs.
33. Shower Curtain With Vintage Camera Motif
A creative and an artistic gift to give your photographer friend made in turkish fabric. They will enjoy receiving such a wonderful gift on their special day or a casual occasion. This is one of the cool choices for a gift that you can give a person who loves photography. Gift it to your friend and let them know that you value their creativity and taste in art. A memorable gift to give a person who is into creative pursuits and handles the camera.
34. Vintage Camera Printed Journal
The vintage camera printed journal is one of the gift ideas for photographers that you can gift them on any occasion. It has the camera montage print on the front and is a nice addition to the stationery on the shelf of your home or office. Make notes, lists, jot down ideas, and write a lot of important stuff inside this journal that comes with camera themed print.