Last updated on June 3rd, 2022 at 02:33 am
Nurses selflessly care for patients. You can choose from these gift ideas for nurses to send them a token of thanks and appreciation for their selfless dedication towards nursing and taking care of you when you were in hospital. You can choose from the list of these gifts to give the special nurse who gave you care and attention while you were sick. It is a good reminder and a way to showing gratitude and adding some fun element in their tedious lives.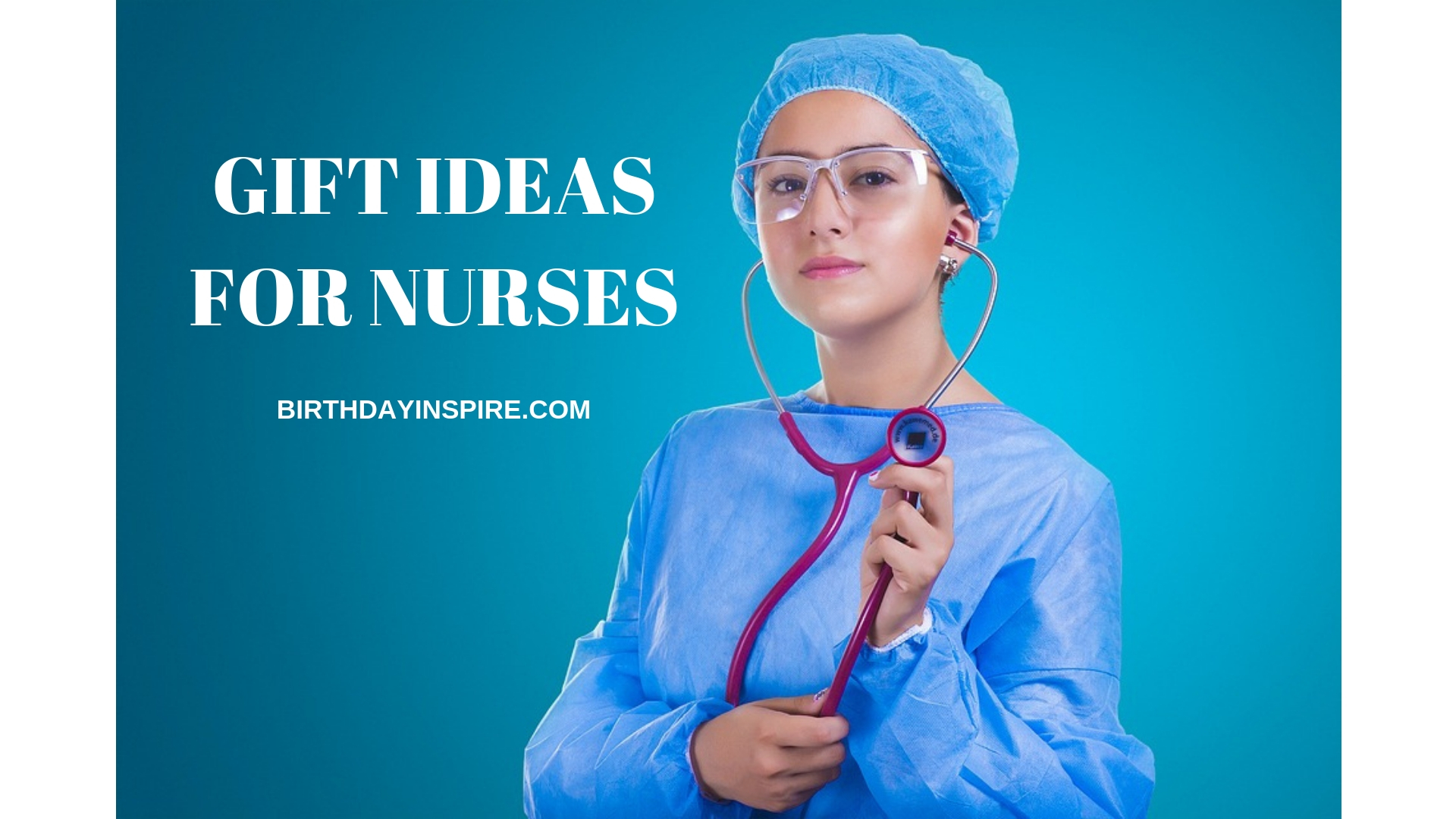 Gift Ideas For Nurses
1. A cool coffee mug with quote
A nice and thoughtful gift to give a nurse that has a nice quote that can make her feel appreciated and inspirational drinking her morning cup of coffee from this mug. One of the coolest gifts for nurses is this ceramic coffee mug in yellow and other colors to cheer her up every day. Gift it to your daughter who could be graduating from nursing school, or anyone in this profession to make their day and thank them with this gift for their dedicated services.
2. Hand painted angel figure for nurse
Gifts for nursing students is this hand painted sculpture of an angel nurse. Gift them this angelic sculpture and provide them encouragement and support and make them feel appreciated for choosing a noble profession of serving people. A beautiful decor piece for their work desk or home that sends them a reminder of your gratitude and love. If you have a daughter or a sibling who has joined a nursing school, this is the best gift to give them to show your love and affection towards them.
3. Wine tote with funny quote
One of the best presents for nurses is this wine tote with a funny quote for nurses. Made in cotton canvas material and easily washable, this is a cool gift you can give nurses to bring some smile and laughter on their face. It can easy their day of dealing with sick patients and hectic activities. Cover a wine bottle with this tote and gift it to your nursing instructor or anyone from this profession and they will love it. A unique and nice gift to give someone from the nursing profession.
4. Message ornament for nurses
A heart-shaped message ornament that the nurses can wear and feel appreciated and loved for their services to the sick and unhealthy. A nice birthday gifts for nurses is this ornament that has a beautiful message for the nurses etched onto it and comes enclosed in a beautiful box. It lets them know that they are gentle and compassionate in healing those who are sick and ill. You can gift it to your coworker nurse or your instructor at your institute.
5. Keychain with a little prayer
A beautiful charm keychain is one of the cool gifts for male nurses that you can give on any occasion as a token of thanks and showing your gratitude for their services. It comes with a beautiful prayer and a message for the nurses that they can say for their patients. A metallic keychain that they can carry around holding important keys that also has a nice prayer etched onto it. It also has charms and speaks of the extraordinary efforts of the nurses that they put in to save lives and serve sick people.
6. Letter size plastic clipboard for nurses
This is a letter size plastic clipboard that the nurses can use to take instructions and use it daily for their work. A nice and a useful gift ideas for nursing students is this clipboard that comes with storage for keeping papers and a clip to hold the papers. It makes the job of the nurse convenient and easy to keep instructions and information organized. It easily fits into the purse or the backpack and lets the nurse write smoothing onto the paper clipped on this clipboard.
7. Pill splitter pocket device
Gift this thoughtful and a useful gift that makes the life of a nurse or a nursing student easy. A pill splitter is something that is handy and helps them split pills in two halves and hold them inside the holder. It lets them give an accurate dose of pills to the patients and consumes less time splitting the pills. Any tablet of small or large size can be split using the pill splitter device and is useful for patients if they have a problem swallowing the pill.
8. Syringe shaped watercolour highlighters
A unique and a funky accessory for the table or the desk of the nurse that adds some color and happiness to their daily lives of dealing with sick patients. A bright and a colorful present that fills their day with a smile are these set of syringe shaped highlighters. They come in a set of 10 where four of them are pens in various colors with a ballpoint and the rest 6 are watercolor highlighters. A funky and a cool set of stationery that adds vigor to their daily lives of taking instructions.
9. Heartbeat printed nurse socks
Nurses run around all day. You can gift them these pair of comfortable and iconic nurse themed socks that makes their daily life comfortable and adds an element of fun. The heartbeat printed socks are an ideal gift for medical or nursing students. Something they can show off while they get to the serious work of learning the medical or the nursing course. They are soft on the feet and are durable for wearing them in the long run.
10. Stethoscope themed cuff bracelet
An elegant gift that you can give a nurse is this bracelet in the theme of a stethoscope. This is a cuff bracelet that they can wear daily looks good with their uniform as well. Made in stainless steel, it is incredibly beautiful and dainty. Gift it to any women from the nursing or the medical profession and bring that bright smile on their face. A unique gift that blends with their profession and adds style to their daily lives. It has a rhinestone and a heart-shaped charm that gives the subtle hint of their profession as well as looks chic.
11. Heart-shaped earrings for nurses
Medical themed jewelry is cute and something that goes well with their uniforms too. Nothing garish or blingy and has the design that speaks of the subtle hint of their profession. A pair of heart-shaped earrings with heartbeats printed within is something that they can wear daily. It does not interfere with their dress code and lets them look stylish and chic while maintaining professionalism. Get everyone complimenting you in the hospital when you were this beautiful gift given to you.
12. Prescription themed coffee bug
A novelty gift for anyone in the medical or nursing profession is this novelty coffee shots mug that is in the theme of a medical prescription. It has a funny prescription of coffee written on it and can amuse anyone from this profession. Enjoy coffee shots in between clinical trails and doing the rounds of taking care of sick patients and rejuvenate with a cup of Joe in this thematic coffee shots mug. An amusing gag gift and a conversation starter for anyone in the medical field.
13. Bone-shaped ballpoint pens
Gift a set of bone-shaped ballpoint pens to nurses or anyone from the medical profession and bring some smile on their face. An easy way to let the conversation flowing is this gift that they can place on their desk and use these pens to write prescriptions and take notes. Healthcare professionals can amuse themselves with these kinds of gag gifts, make practical jokes, relax, and have fun. It takes the burden and stress of dealing with sick patients all day and adds some light hearted humor.
14. Nurse Lapel brooch watch pin set
Gift this beautifully wrapped set of brooch pins that come with a watch for a nurse to look at the time attached to the lapel pin. The lapel pins come in 12 different textures and patterns. The brooch fob watch has clear numbers on the dial that makes it easy for them to read time anytime. Makes them look chic and adds style to their uniform while giving them practical use of this gift. Made in silicone, it is removable and easily washable. A good gift to anyone from the medical profession.
15. Prescription themed insulated travel mug
A stainless steel insulated travel mug that comes with a print of funny prescription is a good gift to give a medical or a healthcare professional. Gift them this travel mug on holidays, or any other occasion. It is dishwasher safe and is lightweight. It keeps the coffee warm and lets you relish it on a busy day when you are out and about. Something that the people in medical professions would love to use it in the long run and keeps their energy and enthusiasm up working long hours and taking care of patients. They can enjoy drinking coffee from this mug and carry it with them anywhere.
16. BPA free meal prep container set
You can think of practical and non-toxic gifts when you gift them to nurses or anyone from the medical profession. These are set of metal containers that people from the medical and healthcare profession love to carry their edibles in. They can be used in the microwave and are easily washable. It comes with a bag that lets you store various compartments of these sets of containers. They are lightweight and can be easily carried anywhere as they come with a bag that holds all the compartments of the containers.
17. Wrist watch for nurses
A simpatico wrist watch for nurses to see time and be punctual in all of their activities during work is a wonderful and thoughtful gift you can give a healthcare professional. It makes every number and dial visible and goes well with the scrubs. No matter what the color and design of your uniform, this is a nice gift that comes handy and is of practical use in day to day life of a healthcare professional. It has a large dial and is easy to clean and maintain.
18. Coffee mug with a funny quote
A coffee mug for the nurse or anyone from the healthcare profession that has a funny quote that depicts how people search for medical issues and get paranoid about their ailments. A perfect gift that has a quote that depicts the behavior of patients. Something to laugh about and sip some coffee going about daily work. A nice gift that you can show off to your patients who are always searching for ailments on the internet and coming down with imaginary problems.
19. Nurse shot glasses
After a hard day work, nurses too can have some fun time and relax drinking through these shot glasses. You can give this surprise gift to a healthcare professional who has worked hard a lot to keep you in good health, back and running into your normal life. A nice gesture of appreciation and gratefulness to the healthcare professional is this shot glass that comes with a good quote for nurses. Surprise them with this gift and make their day.
20. Bracelets for nurses with charms and pendants
This is a pendant that is made in metal and is adorned with charms and stones. A nice blingy bracelet that the nurse can wear it over the weekends and celebrate chic style with panache. This is an elegant bracelet that you can gift a nurse and let it add to her personalized collection. It has crystals inside the heart-shaped charm and is gentle on the skin as well. The metal of the bracelet is hypoallergenic and goes well with most of the casual clothing. One of the pretty gift ideas for nurses that adds some shine and brightness to a dull day.
21. Nurse themed mason jar
Gift this nurse themed mason jar to your healthcare professional that lets them use it as a storage container or drink healthy juice from them daily. A pretty and practical gift for the healthcare professional that decorates their kitchen and also acts as a useful container that they can use it in their kitchen or garden. A perfect gift that you can give to someone who is a nurse or a healthcare professional on any occasion.
22. Insulated nurse lunch tote
Gift this retro themed insulated tote to a healthcare professional and let them carry their lunch in style. It adds to the beauty of their work desk and makes their luncheon interesting. Have compliments coming your way with this tote as a gift to any of the healthcare professionals. Gift it to your friend, siblings, colleagues, or anyone who you know in the healthcare profession. It is machine washable and comes with the closure of a zipper to pack the lunch for your every day work.
23. Prescription themed beer can
Everybody enjoys a pint of beer. Gift this prescription themed beer can to your nurse friend or loved one on their birthday or any occasion. It comes with a funny prescription in the theme and instructions related to the beer. A fun and a thematic gift for the healthcare professional that they will absolutely love. This is a can that can keep any of the cold beverage cool. Do not pour hot beverages into this can. A nice party gift for your healthcare professional.
24. Medical tools themed chocolate moulds
Make some chocolates in the moulds of medical tools when you get this wonderful gift on any occasion. It is fun to eat chocolates in the shape of a thermometer, pet bottle, bandage, and in the shape of the other medical tools. You can as well use these moulds to make soaps and add the fragrance of your choice to them and enjoy your spa time using the handmade soaps using these moulds. You can gift them to your fellow nurses as well.
25. Medical organiser belt
Gift this belt organizer to a medical professional and make their day. It lets them keep their medical tools organized and comes handy when they are dealing with patients. A practical and a thoughtful gift for the medical or a healthcare professional is this belt organizer that has many small compartments to keep tools. You can place stationery or medical tools inside this belt organizer and go about your job smoothly every day.
26. Sweatshirt for healthcare professionals
Gift this beautiful sweatshirt to a healthcare professional that comes with a simple yet inspirational quote. They can wear it on top of their uniforms on a cold day. It has a crew neck and full sleeves and comes in a pleasant color that will not disturb the decor and environment of the hospitals or healthcare institutions. Unisex in design, suitable for men and women. You can gift this sweatshirt to your male or female nurse on their special day or holidays and other occasions.
27. Fruit infused water bottle to keep you hydrated
Drink healthy and flavored water with this gift. This is a water bottle that is fruit infused and keeps you hydrated all day. Along with it comes a recipe book for free. As a nurse and being a healthcare professional, this is a perfect gift that keeps you healthy all day. It also has measurements on the side of the bottle and comes with an infuser that lets you drink flavored water all day that keeps you fresh and healthy.
28. Do not disturb sleeping sign for nurse
Nurses work night shift and this is a good sign you can give a nurse who can hang it outside of their door and have a sound sleep during day time, unperturbed. It also acts as a decorative piece for the home. Printed in nice cursive handwriting, it has a message to not disturb the sleeping nurse during the day time who works night shifts. A thoughtful gift for healthcare professionals who lacks sleep and needs a nice sign to be put up to let them have a sound sleep.
29. Word printed wooden mixing spoon
To the nurse who loves to cook this is a good gift to give on her birthday or any occasion. The mixing spoon has nice wordings that make it to the list of gift options when wanting to gift something to a healthcare professional you know. Make delicious salads and cook a hearty meal mixing all the condiments with this spoon. Though you cannot use it frequently for cooking as it is meant for displaying like an award. Use it sparingly for cooking if you do not have a lot of condiments to blend and mix.
30. Wine glass with funny wordings
Gift this wine glass that has funny wordings to a healthcare professional and let them enjoy their glass of red wine amusing themselves with the wording on the glass. A funny and a nice gift to give nurses on their birthday or festivals. A good choice of gift for men and women nurses that lets them relax and sip some wine or cocktail in this glass. It can be washed in a dishwasher and adds some style to the table or the shelf.
31. A box of blessing cards for nurses
Send across blessings to the nurse who nurtured and took care of you while you were in the hospital. A nice way of showing gratitude and being thankful to them is sending them a pack of blessings. Every card inside this pack has meaningful and thoughtful messages. Prayer cards for the nurse to pray for the patients and to heal people. If you have had a bad day, just pick a card from this box and read them to feel positive and motivated again.
32. A pack of 5 nurse badge holders
Add some bling to the scrubs with this shiny badge holder. It comes in different colors and the shape of a heart and in retractable length. It is easy to wear and comes with a rotating clip that rotates 360 degrees. One of the beautiful and thoughtful gift ideas for nurses is this pack of colorful badge holders on any occasion to add some color and sheen in the routine life of a nurse.