Last updated on June 3rd, 2022 at 02:31 am
Gaming gadgets and accessories are one of a kind and hi-tech. A gamer has cool stuff and when you are looking for gift ideas for gamer friends or siblings, you can check out this list to find an appropriate gift for them.
Ranging from VR devices, gaming keyboards, there are many cool stuff that you can choose from to gift a gamer. They are people dwell in the virtual world. For the adventurous soul, these are the list of ideas you can choose from to gift them on their birthday or any other occasion.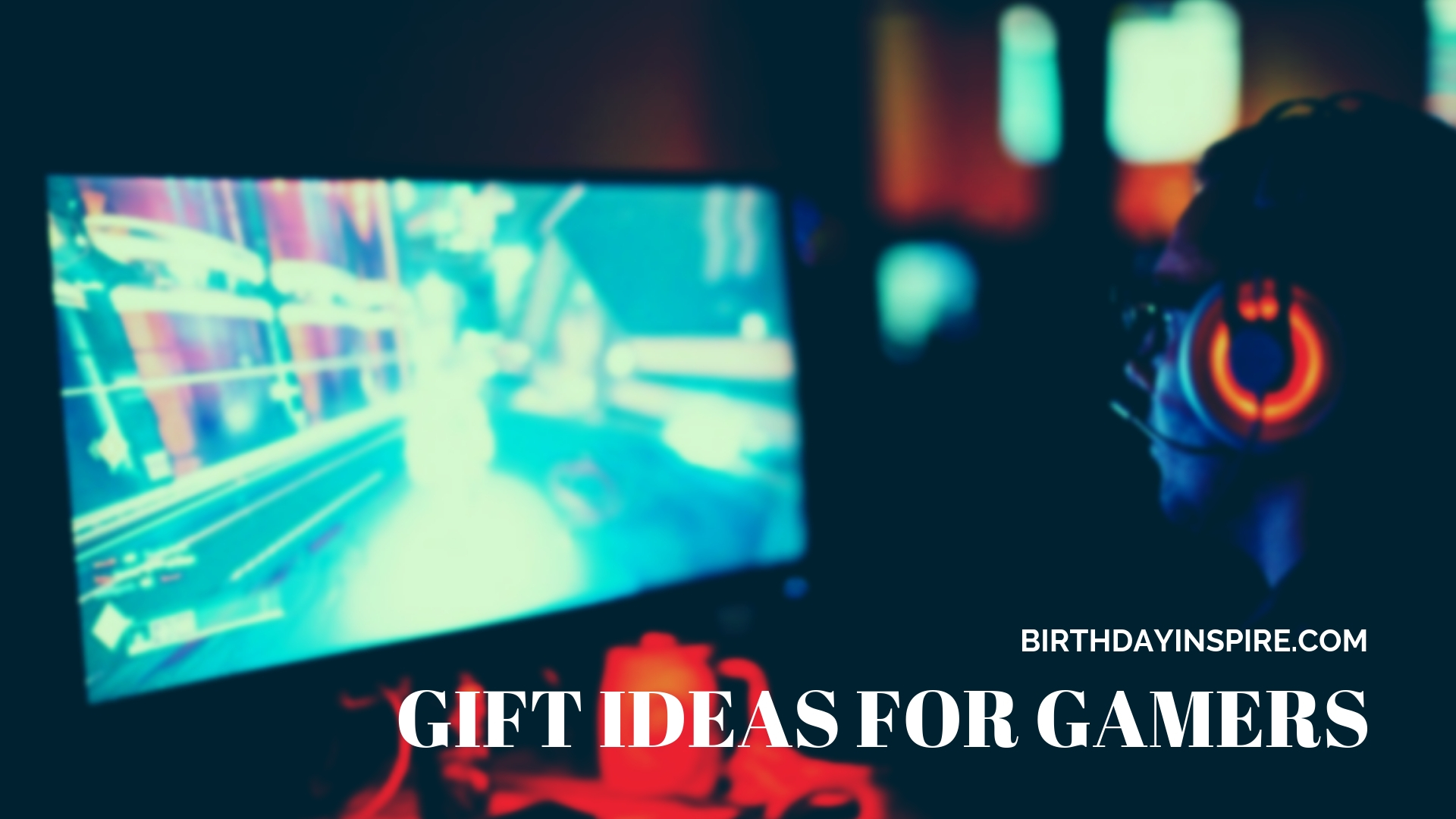 Gift Ideas For Gamers
1. LED colour changing mouse
A mouse that comes with LEDs that change colors and comes with adjustable levels of DPI. A plug and play mouse that does not require any additional software or hardware. A cool gift for your son, nephew, or anyone who you know is an avid gamer.
A lightweight mouse that has light and speed settings for playing games on PC as well as the console. Do not miss a single gaming task with this mouse as it lets you click and play the task with speed and spontaneity. Comes with an ergonomic design that is easy to use for hours of gaming.
2. T-shirt with funny gaming quote
A cool t-shirt for gamers and a nice gift for them to wear with casual outfits. It displays quotes about their love for gaming and comes in a nice bland color. Something that gamers would love to wear most of the time.
One of the cool gifts for gamers is this t-shirt that you can give them on their birthday or any other occasion. A gift that they will love and cherish and certainly love to wear is this t-shirt. It comes in good quality and is durable.
3. Wristwatch that displays time in binary code
This is one of the unique and offbeat presents for gamers and they will love the uniqueness of this wristwatch. This is a wristwatch that has LEDs and displays time in binary code. A feature that gamers will love to have and use it to calculate time.
A fun thing for gamers and those that live in the world of virtual reality. A practical gift with a lot of spunk is an ideal thing to gift your gamer friend or sibling. For the geeky or nerdy gamer who loves science and technology, this will be a memorable gift.
4. Im Playing Do Not Disturb Socks
A perfect gift for those who sit on their lounge and play video games or get busy in the virtual world playing games on their console. A perfect gift for computer gamers who get lost in the story and adventures of the virtual work.
They will thank you for gifting these gamer themed socks that lets them play unperturbed. These are ankle socks with wordings that the gamers will love and relate to. It lets them play their games on the console while letting you know how busy they are. These are perfect pair of gifts for gaming fans.
5. Gamer themed sunglasses
Suitable for gamers of any age and gender. These are gamer themed sunglasses with a pixelated design that gamers will absolutely love. Though they are designed this way they do not obstruct vision and come with UV protection.
A cool gift for gamer boyfriend who loves his virtual world and gadgets and shows you love too in the real world. Make his day by giving the gift that he would love and use and shower his real love on you coming out of his virtual world.
6. Star Wars Themed Slice Toaster
Let the morning of your gamer friend start with a Star Wars themed toast and coffee to make his day. This is a cool gift for gamer guys who would love a Star Wars themed toast every morning with a cup of coffee.
It comes with adjustable controls and looks sleek and hi-tech in the kitchen of your gamer friend. A utility based item that comes with decor is nice gift you can give your gamer friend on their birthday or any other special day or celebration and show your love and affection for them.
7. Star Wars themed coffee mug
One of the awesome birthday gifts for gamers is this heat changing Star Wars themed coffee mug. When you pour coffee in this mug it shows the lighted sabers. Something that your gamer friend, coworker, or sibling will absolutely love.
A gift that is thoughtful and shows your affection and consideration for their taste and like. Gift it to them on their birthday and show them you love and care regardless of their addiction to gaming and the virtual world.
8. Floppy disk shaped colourful coaster sets
For the gamer friend or sibling or boss of your who is from the era of millennials, this is the perfect gift to give. For their addiction of coffee and gaming and the 90's era, this is the gift that will make them feel nostalgic.
Perfect gifts for pc gamers are these coasters that come in different colors and keep your table free from stains. For every computer nerd or a geek, their workstation or their table for playing pc games is their home. A nice coaster will make their day and they will absolutely adore this gift.
9. The Legend of Zelda themed coasters
These are coasters based on the classic game, the Legend of Zelda. This is the game that your gamer friend must have played a zillion number of times and enjoyed playing it every time.
This is one of the awesome gifts for video game lovers. They can enjoy their cup of hot beverages and place these coasters on their dining table or workstations. These coasters come embossed with themes and icons of the game and your gamer friend would love this gift.
10. Gamer themed t-shirt
A cool t-shirt that you can gift someone who loves playing games on their pc or console. It comes with a funny gaming caption on a solid color. Ship it to your gamer friend or a sibling in a nice package and surprise them with this cool and funny gift.
Something that they can wear in the longer run when they are gaming. It comes in all sizes and you do not have to shell out a lot of money to make them happy. A nice gift that they will absolutely adore and remember you for showing thoughtfulness and affection.
11. Glares for gamers
A thoughtful and meaningful gift for someone who spends all their time on the gaming console. It protects their eyes from the blue rays and prevents migraines and eye problems that happen because of these rays. One of the awesome gift ideas for gamers are these glades that protect their eyes and let them sleep better at night without feeling like an insomniac living in the virtual world.
It blocks harmful rays from the gaming consoles and the screens. Your gamer friend or sibling can play for long hours without any health issues wearing these glares.
12. Gamer graphic t-shirt with funny words
An awesome gift for someone who loves playing pc and console games is this graphic printed t-shirt in 8-bit style font. For the geek and the nerd who is drowned in science and technology and enjoys the virtual world, this is the best gift that you can give.
There are various colors of t-shirts available from which you can choose to gift the gamer you know. A nice surprise gift for birthday or holidays is this graphic printed t-shirt.
13. Matrix style wrist watch with binary code time
An awesome wrist watch that the gaming people love whether they are men or women. Think of anyone who loves the movie Matrix or sits for hours together on their gaming console or spends their time on computer programmes generating lengthy codes.
Yes, this is for those celebrated nerds and geeks who love their world of bits and bytes and create useful and utility based applications from them. They are going to love this gift when you give them.
14. Portable mini fan for desk
Gift this portable, battery-charged mini table fan to the gamer on his birthday or any other celebration. It comes handy when they get busy playing on their console or go outdoor camping.
They can keep their cool with these mini fans that are portable and run full speed for up to three hours at a stretch. They are rechargeable and run at different speeds. They also come with LED lights that let them glow in the dark and can be used as a night lamp as well.
15. Gamer themed socks
Gift these gamer themed socks to someone who is deep into playing console and pc games. They will adore knick-knacks and accessories related to gaming. A pair of socks with wordings related to video games is cool stuff that they can wear with formals as well as informal clothing.
Comfortable and durable, these are the pair of offbeat socks with gaming theme that the gamers will love receiving as a gift. No matter what the age or gender, you can gift these pair of socks to avid gamers on any occasion.
16. Touchscreen lit offbeat dial wrist watch
A unisex wrist watch that you can gift to a male or a female gamer. Unlike the analog or digital watches, this has a unique dial and a mechanism of showing time. These features are unique and something that gamers will absolutely love.
Just with a finger touch it lights up the dial and shows the time. It has unique ways of adjusting time as well. A simple and an elegant wrist watch for the geeks and gamers that they will absolutely love as a gift.
17. Keep out gamer at play sign
A cool gift to give a gamer who can display it outside his room. Something that young gamers would love and hang it outside their rooms. You can gift it to your son, sibling, or any young gamer and bond with them letting them know you accept their nerdiness and geekdom and send across this token of acceptance of who they are as a gift.
A funny sign that is made in tin and painted in black and white is an offbeat gift for the young gamer. Make their day by gifting this sign on any occasion and make them smile.
18. T-shirt for female gamers
For the female friend who is a fan of Game of Thrones, this is a perfect gift to give to make her happy. You can choose this unique gift for your geeky and nerdy friend and make her smile on her birthday or any other occasion.
Words printed in distressed print, this is the kind of gift that the female friend would love to have. If your mom loves playing video and console games, this is a t-shirt for her to show your love and letting her know that she is a cool mom.
19. Gamer bowl for snacks
Gift the gamer who loves playing video and console games this ceramic bowl of snacks. It is designed in the theme of a gamers control stick and has words printed in 8-bit pixel font.
A fun gift for the gamer of any age and gender and a unique decor piece for their kitchen. You can fill it with snacks and cereals and relish it when you play on your pc or console. It has handles that look like the gaming controller and looks cool on the desk of the gamer.
20. Gamer themed fridge magnet with eraser board
Make your fridge look like a gaming board with controllers and a screen with this gift that comes with an erasable board as a fridge magnet. It is large in size and you can make a checklist on this board daily and erase it as done.
A cool gift for gamers to keep their daily activities organized and create a checklist. These are removable fridge magnets that lets the family interact and have fun conversations. A fun decorative item for the dining or the kitchen in the house of geeks and nerds.
21. Gamer themed wall clock
A gift for your gamer boyfriend to decorate his room. This is an ideal gift you can give him to show you care about his nerdiness instead of getting irked with his gaming addiction. A cool home decor piece made in vinyl is this wall clock that goes well in any room of the home.
Place it in the bedroom or living room and show off its unique design that creates an element of exclusivity on the wall. A unique for the gamer you love that lets him decorate his wall with his favorite theme.
22. Super Mario themed 80 fridge magnets
Games from the 90's era will absolutely love this gift. Gift them these fridge magnets which are a set of 80 pieces in the Super Mario theme that makes them feel nostalgic every time they open their fridge. This is the classic video game that can never get old even though it looks pixelated.
Right from Luigi, turtles, coins, and other iconic structures of this game, there is everything in this set of fridge magnets. Choose from these iconic pieces to decorate the fridge and live the nostalgia of the 90's gaming era.
23. Video game themed soft pillow
Decorate your gaming room with this gift. This is a gaming printed pillow that adds to the decor of your room. It is a soft pillow that you can rest on a enjoy playing video games for hours together.
You can enjoy living in the virtual world that is full of adventure and fun playing different video games and boosting your imagination, alertness, and curiosity. A cool pillow that goes on the sofa or the couch and gives a unique look to the room of a geek who is a loves playing video games.
24. Set of joystick controller thumb grips
These are set of 8 thumb grips that let you play video games for a longer time. A nice gift for your gamer friend who spends most of their time playing games on the pc or control. It lets them have a firm grip on various controls and provides a good gaming experience.
The buttons of your gaming controls will not fade away when you use these thumb grips. You can avoid soreness of thumb with this set of thumb grips.
25. 5 port usb charger for various devices
Gift this 5 port USB charger to a gamer who is also a geek and can take this on road trips to charge his devices. Not a day to lose playing his favorite video games when all of their devices are charged using this charger. When you are playing games on your phone or any other devices, the battery goes down and this charger comes in handy in charging many devices in a single go.
It also comes with a charging cable to plug into the charging socket and charge all the devices connected to it at once. Charge all the devices of the family members on the road trips and let everyone have fun on vacations and travel with all of their devices fully charged.
26. The legend of zelda ocarina
Gift this The Legend of Zelda theme ocarina, an ancient musical instrument that has many holes and comes with a song book, to the gamer who also loves music. It has a strap for the neck to learn the songs and play them comfortably while wearing the instrument on the neck.
As you play games themed from the medieval ages also play this instrument that is from medieval times. This is an ancient mouthpiece on which you can play many musical notes. Play the Zelda themed songs on this musical instrument and enjoy every bit of the game.
27. Wi-Fi quoted gamer t-shirt
Gamers and teenagers and teenagers who are gamers find it impossible to go by the day without wi-fi and video games. For someone who eats, sleeps, and breathes gaming, this is the t-shirt that suits their personality and passion for gaming.
For any gamer who loves the wi-fi, the virtual world, and the adventure, this t-shirt is the perfect gift. Gift it to your nephew, grandson, or a friend who thrives on the wi-fi and gaming.
28. Playstation one month membership
Gifting a free membership card to a gamer is something they will thank you and love you for. They can enjoy playing all the and exciting games on the playstation with this membership card as a gift. Gift it to your gaming friend or sibling and make them your friend for life.
They can choose from the collection of new games available with this card and enjoy their fun and adventure ride in the virtual world. A fun way to play the multiplayer game online and have a great time playing them with multiple players across the world.
29. Sports and game themed shower curtain
Gift this sports and game themed shower curtain to the game lover and let them have an awesome time in their personalized spa and bathtub. Vibrant and machine washable, this is the gift that your gamer friend or sibling will love.
It is printed in a nice graphics print, it provides a good decor for the bathroom of the nerd or the geek. Show your love to the geek friend by gifting them this game themed shower curtain on any occasion.
30. The Legend of Zelda coffee mug
This is one of the cool gift ideas for gamers that you can gift on their birthday or any other day. The game-themed coffee mug in ceramic is something that they will love to sip their coffee in. From all the knick-knacks and collectibles from this game, this would be another addition.
It is dishwasher and microwave safe and adds to the collection of the franchise of the game. For the Zelda fans, this is a cool gift to give.