Last updated on June 3rd, 2022 at 10:17 pm
Teenage boys are adventurous, ushering a brand new phase of life. Transitioning from the phase of wearing school uniforms everyday to experiencing freedom. This is one of the most happening phases of life for a boy who is exploring his choices and finding answers to many questions that arise in his mind. A time where you begin to be independent, make your own decisions and mistakes and learn from them. Gift ideas for 17 year old boy are umpteen and can be given on numerous occasions.
You might be a mama's boy still in search of your own identity, making choices, and overcoming many challenges of a teenager. A time when peer-pressure hits you like a rock but also a time you make the best of memories with your friends. Birthday are special occasions. With cake gummed all over the face and many more cheers and good times with friends.
For a teenager, their friends are their own world. They live in the world of dreams, aspirations, fun, and possibilities. Choose from these gift ideas for a 17 year old boy on his birthday, holidays, festivals, or any other day.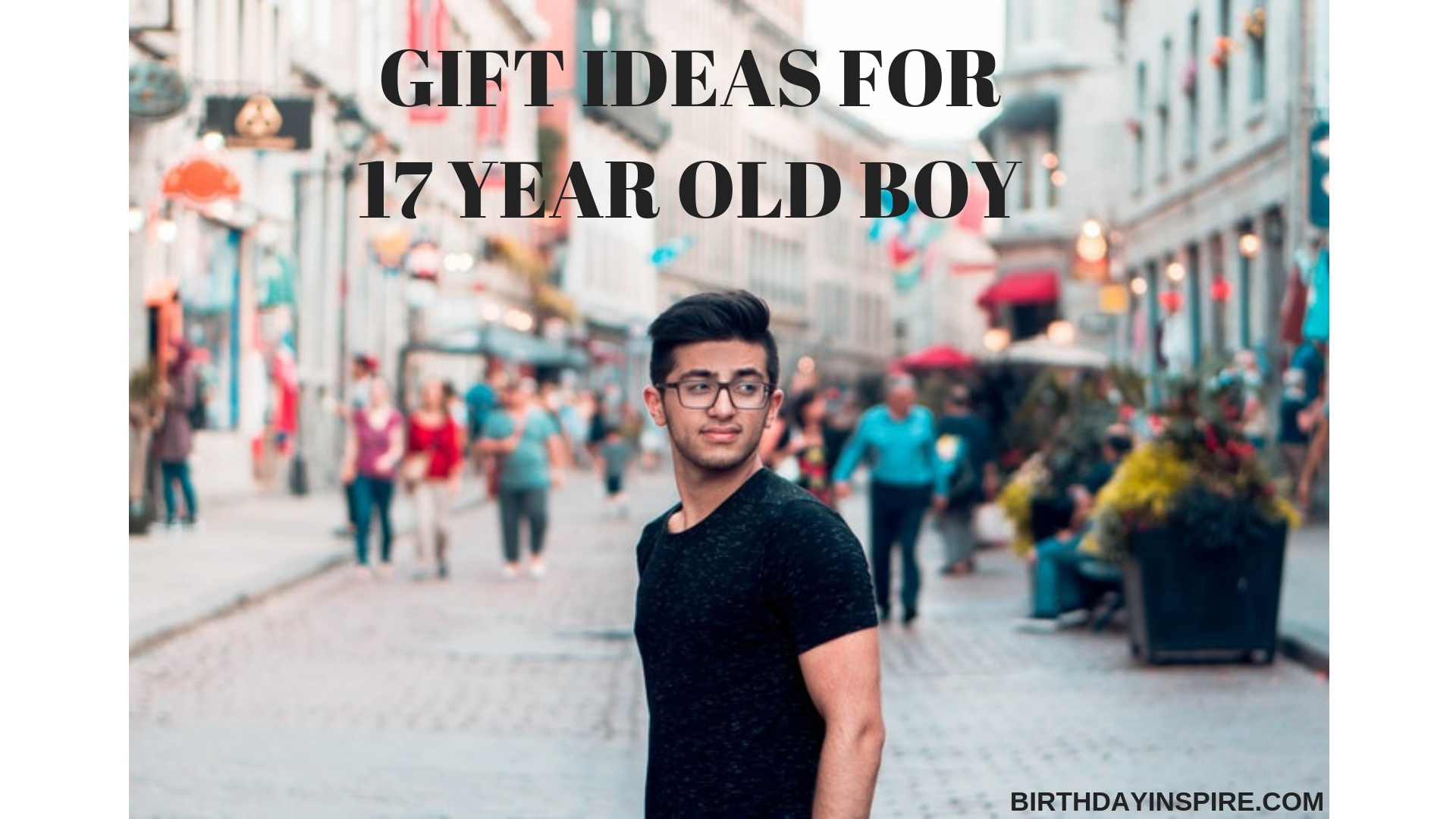 Cool Gift Ideas For A 17 Year Old Boy
1.
Party Card Game
An amazing party game with 300 cards that lets you put your friends on the hot seat and answer questions. An icebreaker game for parties to make more friends and have fun. A cool gift for 17 year old boy.
If you have been the introverted boy who does not know how to make friends, this is the best gift for you and a reason to start organizing parties and having fun. It comes with search queries, voting games, and many other topics that the players can guess and have fun.
2. Teen Guide Of Awesomeness And Ruling The World
This book is an awesome gift for teens and they will love you for gifting them. It has some great advice for teens to cope up with numerous problems which they might not always be comfortable discussing with parents. One of the awesome gift ideas for 17 year old boy looking for advice and guidance.
Teens can come out of sticky situations and navigate in the world of choices and challenges and stand out. A motivational book for the teens who are having trouble coping up with various problems and challenges at emotional and mental level. This is the book that makes you awesome and success in life.
3. Vintage Messenger Bag
A nice gift that the teens can take along with them on hiking, camping, and travel trips. It has a vintage feel that goes well with any outfit and personality. A charming messenger bag for the teenage boy who can take it to his tution classes, college, and cafes.
It is one of the trendy birthday gifts for 17 year old boy that adds a dash to his style. Easy to carry and stylish to look, this is one of the cool gifts that you can give a teenager on his achievement or a special occasion.
4. Glowing Basketball
This is a basketball that comes with LEDs and is illuminated when you play. Those who are fond of playing basketball in the night, this is a perfect gift for those boys. One of the cool features of this basketball is that it shuts off automatically when you are playing with it.
Choose from these cool birthday presents for 17 year olds who love playing outdoors. You can have fun having an awesome game night with your friends playing this basketball. It comes with replaceable batteries and is easy to install and use.
5. Inspirational Michael Jordan Wall Decal
An inspirational gift for the teenagers to stick in their rooms. Teenage is a sensitive time and accepting failures might not be easy. Viewing this poster can motivate the teen not to give up and feel dejected because of failures in life.
It is an inspiration to pursue your passion and true calling, no matter what and stay focused on your goals in life. It is an inspiration to look within yourself in times of failures and improvise your life. An awesome gift to give to a teen that motivates him everyday.
6. Spiderman Night Lamp
Who doesn't like Spiderman? A nice night lamp with the spidey toy is a gift that you can have in your room. Read those amazing novels, and all that you want to read before bedtime. The lamp has a rustic look and suits as a decor item for boys room.
Its small in size but gives out pleasant light that is good enough for reading in the night. Battery operated does not need a chord and an adapter to turn on. A nice gift for the teenager that serves as a decor for his room.
7. Fidgeting Cube Toy
Put your anxiety and restlessness to rest with this fidget toy. It calms you down while you are waiting for a train, or while you are alone all by yourself in a coffee shop lost in your thoughts, or waiting for a lift.
This is a perfect toy that you can carry with yourself and pass the time while you are waiting for something or have a lot of time in hand. It is a nice way to kill your boredom and be constructive fidgeting with the toy. One of the unique gifts for 17 yr old boy who is always restless.
8. Motivational Poster Set For Boys Room
You can wake up to reading these motivational quotes everyday. As you open your eyes in the morning, reading these motivational advice inspires you not to give up on your dreams and be a man of action rather than words.
It instills self-belief and faith in yourself, something that you would need most to succeed in life. If you are wondering what to buy a 17 year old boy on his birthday, you can choose to give this gift.
9. Secret Brain teaser Puzzle Box For Cash
Slide in your cash, secret notes, or coins inside this box as it is not easy to open and access the inside items. This is the place where you can hide of all of your secrets and collect cash. One of the unique and offbeat gifts to give teens that lets them save money. Since the box is a puzzle to open, teens are bound to feel the urge to splurge cash.
This is a tricky way to encourage teens to save money and be thrifty. One of the awesome birthday presents for 17 year old boy who love puzzles and brain teasers will surely love this wooden puzzle box.
10. Bluetooth Beanie With Built-in Headphones and Speakers
Don't stay away from music when you are outdoors. Listen to music in style when you are hiking, trekking, camping, or traveling wearing this beanie that comes embedded with a bluetooth device.
It can be paired with any of the devices and is easily rechargeable. You need to take the headphones out before putting it in the washing machine. A cool gift ideas for 17 year old boy that plays your playlist wherever you go.
11. Hilarious Card Game For Those Who Love Mischief
Play with friends, siblings, and adults and have a fun time playing this hilarious card game. An amazing game for parties, holidays, picnics, and outdoors. Have a good laugh carrying these pack of cards with you and make new friends wherever you go.
Interactive games that have umpteen answer set for a set of more than 100 questions. With this game bid goodbye to boredom and have a face-to-face interactive time with family and friends.
12. Beatles Themed Wall Clock
A wonderful wall clock to gift the teen who is a fan of The Beatles. Rock music is a genre that attracts the teens and they will love it to see the clock ticking to to their favourite band.
This is a classic rock band who people of all generations love. Something to wake you up on time and get going. An offbeat decor item for the boys room that also encourages and instills time management in them.
13. Remote Control Boats For The Pools
Speed up the boat with the remote control and play in the pool in your leisure time with this remote control boat. This is one of the best ways to spend time by the pool or the lake in summers.
Make your outdoors interesting by taking this remote control toy along with you and have a lot of fun playing with it. Get the feel of racing the actual boat when using this toy to race the boat.
14. Smiley Puffed Cushion
Fun pillow for the teenager who cannot text without emojis. It does not contain lint, so you do not need to sleep with a lint duster. A unique pillow that decors the room of the boys with fun elements.
A soft, odorless pillow to sleep on that you can carry with you when you travel or go outdoors. A cool gift to give a teen on his birthday, a special occasion, or a casual event.
15. Anti-anxiety Fidget Toy
A semi-rubik's cube that comes with a spinner. Easy to carry in the pocket and fidget with when you are anxiously waiting for something. You can use it before looking at the exam results, or waiting outside the bus station, inside a lift, in a park, or anywhere where you are all by yourself getting bored. A nice toy that boys can carry with them and pass away time instead of getting bored.
16. Military Themed Wrist Watch
A unique and a stylish digital watch for the outdoors and adventure lovers. Gift this watch to teenage boys and they will love wearing it in style. A waterproof digital watch that comes with a chronograph, alarm setting, and a calendar.
A durable watch that is so sturdy, you can wear it for years without worrying about damage. Impress your friends and stay in style wearing this wrist watch.
17. Pool Game Ball For Outdoor Fun
A pool game played with a watermelon themed ball that is filled with water and passed on. For those who attend and organize pool parties, this is the best gift to give. Connect and bond with friends over these games.
Play basketball or football inside pool and have fun with friends playing outdoors during festivals and holidays. A simple game that gets people engaged and have fun for hours without getting bored.
18. Leather Cuff Unisex Hand Bracelet
A cool bracelet is a nice gift to give a teen boy. An accessory that he will love wearing all the time. This is a set of leather cuffs that are nice to pair with casuals. Wear them for casual events, parties, and any celebration.
It has a tree of life pendant that adds to the style of the bracelet. A cool design with a unisex theme that is good for boys and girls. You can easily wear it around your wrist and look stylish.
19. Graphics Printed Jogger Pants
Gift your nephew graphic printed joggers next time when you visit him for holidays. They are available in abstract graphic prints. Something to encourage him to wake up early and have a fitness regime.
Suitable to wear in all seasons, hot and cold. A gift that has offbeat and abstract prints that make jogging activity interesting and chic. Jog in style with these pair of graphic printed joggers.
20. Lightweight Double Hammock For Outdoors
A hammock for the outdoors when you go hiking and camping. A nice gift for the teen boy to enjoy the nature, read a book, take pictures, or simply relax amidst trees and greenery.
You can also use it in your courtyard end sip some coffee or cocktails while you read a book or just day dream. Dream about all of your goals and all that you want to do in life lying down in the comfortable hammock on a sunny day.
21. Vintage Round Glasses
Cool pair of vintage glasses that boost your style quotient and take you back to the trendy 90s style of the millenials. Available in different colors and look great with most of the casual and semi-formal outfits.
Sing along the numbers of The Beatles, or any of the classic rock tracks and feel the age of rock music giving you and adrenaline rush. Look charming in these timeless pair of vintage round glasses.
22. Men's Wallet With RFID Blocking
An elegant and sophisticated wallet that comes with the feature of RFID blocking that prevents from anyone stealing data from your credit cards. Travel anywhere in the world without worrying about data theft and keep your money safe in this wallet.
A durable wallet that can be used for many years without being worn out. It comes with many slots for cards and cash. If you are not looking for something very flashy, this is a nice gift that you can gift a boy in his teens.
23. Funny T-shirt
Everybody loves humor. Gift this simple t-shirt with humor printed to a teen on any occasion. A casual gift that you can give your friend to celebrate your bond of friendship.
Boys of any personality and hairstyle can pull it off nicely. For the geeks, the uber stylish as well as the boy-next-door, this is the t-shirt that goes well with anyone and adds style to their personality.
24. Smart Money Clip Wallet
This is a two-sided clip that holds cards as well as cash. A cool and debonair money clip wallet that is easy to carry and style to look. A utility based gift that you can gift your brother or friend and make them smile.
A smart way to carry money and cards and keep them secure. They fit inside any pocket easily and are unique design for a wallet. You can also personalize this gift by engraving the name of the person whom you are gifting this.
25. Stylish Men's Scarf
A nice plaid scarf for winter that boys can wear with casuals and formals. A scarf that adds style and keeps them warm during the cold winter. A nice and a cool gift to give teens on a celebration or holidays.
A scarf that is not too big and comes with colorful tones gives a rustic charm to the wearer. Wear it during the spring or the winter and hangout with your friends at the cafe or go outdoors hiking in style.
26. Assorted Patches For Denims and T-shirts
Nice bunch of embroidered patches that go well with denims as well as t-shirts. Choose from the motifs that suit the boys wear and get them latched onto the garment. Unisex patches work well on girls as well as boys garment.
A gift that you and your sister can use as well. It has burger, blingy patch, smilie, football, and many patches in assorted designs. You can choose one for your solid color t-shirt.
27. Formal Bow Tie
Gift a bow tie to your brother or nephew on his birthday or on the day of his prom. He will thank you for being thoughtful and adding to his style and calming his nerves about the prom day. A time when boys want to look their best and grab some attention.
A simple and an charming gift to give boys if you are not looking to give a gift that is inexpensive and stylish. A nice gift to give your friend on friendship day.
28. Digitally Printed Pullover Hoodie
A smart and swanky pullover with stunning graphic prints is a wonderful gift that you can give a teen. A gift for your brother or a son on a special occasion. If your son has reached a milestone and performed well in academics, this is the cool gift you can give him.
A piece of clothing that the boys love to wear and show their style. The graphic printed hoodie suits boys of all personality and blends with their style.
29. Party Wear Embellished Shoe
Dazzle in style when you wear this rhinestone embellished pair of shoes to any of the parties. Ideal for night parties, this is the gift that makes you look swanky and chic. You can suit up and pair these shoes with them or wear on nicely pressed clothes.
However, avoid wearing them with casual clothes if you do not want to make the fashion faux pas. A pair of gift that makes the teen boys look stylish ready to ramp walk.
30. Themed League Button Collectibles
Perk up your style by popping up one of these themed buttons on your coats or t-shirts. You can also add them to your bags, backpacks, pants, and any other accessories. Get creative using these buttons and add some flair to your style.
Show off the pop culture and your love for superheros by displaying these buttons on your outfits. A cool gift to give your friends on friendship day or any other holiday.
31. Funny Beanie Beard Knit Hat
You might not resemble Gandalf from Lord of the Rings but might look like a younger version of him. It covers your face and keeps your head and face warm during the winter season.
A nice and fun beanie to wear in the cold season that comes with a detachable beard. You can wear the beanie without the beard knits in the other season and look stylish. Gift your younger brother this beanie and let him have fun playing with the hat and the beard.
32. Vintage Necklace For Men
This is an anti-fade and anti-rust necklace in vintage chic that looks awesome on any teen. Gift this necklace to your friend or your brother and let them flaunt his style wearing this necklace. An everyday jewelry that boys can wear without getting allergies as the metal coating is hypoallergenic.
It comes with an anchor pendant and a chord that makes it look ravishing and goes well with most of the casual and thematic clothing. Don't think twice before wearing this necklace as it gives you a sense of hip-hop and gothic blend of style even if you are wearing a simple tee.
33. Basketball Hoop
This is a nice and medium sized basketball hoop that can be installed in a room. It comes with a basketball and boys will love playing the sport in their free time. It gives them a fitness regime and keeps them engaged in the sport for good amount of time in their leisure.
Anytime if you are bored of doing homework or tution studies, you can take a break and play basketball in your room. A good gift to let the boys take a break and relax, and refresh their mind with the sport. This is one of the nicest gift ideas for 17 year old boy.