Last updated on June 3rd, 2022 at 10:38 pm
Friends are an essential part of life and without them life becomes meaningless. So fun and jokes are especially for friends and getting out funny gift ideas for friends needs a creative and fun-loving mind.
So on their birthday or any special day make your best pals laugh out their heart with the gifts you give them.
So why not this year make it fully special for that best pal of yours who has always been your strongest pillar. And not just gifting him or her on their birthdays but for being there.
And choose the gifts which would not just be good but choose some really fun gifts which would bring that broad and hilarious childlike smile on their faces.
Fun and smile are what makes life meaningful, so when one receives gifts which can bring out that laughter from within is a worthy gift to be received and given.
Relatives cannot be chosen but friends are always our own choice, so when we have chosen to have the most fabulous friends in our lives then why not make them go rolling on the floor and use the gift you give them for eternity with the same fresh smile on their face.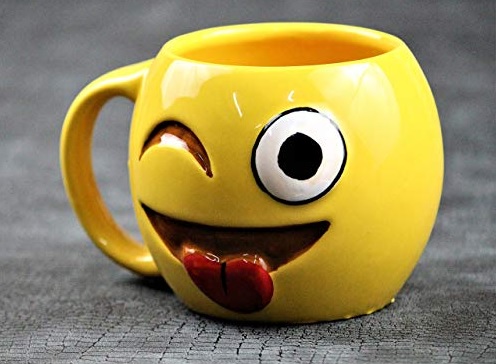 Recommended funny gift ideas for friends
1. Funny stemless wine glass tumbler
drinking would be more fun when it is from the funny wine stemless wine glass tumbler, for your pal. This 12 oz double wall insulated tumbler comes with a lid and would keep the taste of the wine retaining the flavor.
The funny quote is surely the one to go for as it would always bring a smile on your pal's face whenever they would take a sip from it.

2. Cereal killer spoon weapon of choice
Why not make your buddy laugh out whenever using this awesome spoon which says he or she is a serial killer. Although it is foody yet with the killing factor is always there. This stainless steel spoon with the engravings is to die for.
Making each morning of your buddy funny this spoon will make his cereal session much better and healthier with a splash of laughter added to it.

3. Novelty wine glass set
ell if your pal is getting married and you want to surprise them with some fun then this set of wine glasses are the unique gift you can think of for them with the Mr. eight and Mrs. right logo on them.
These pair of 16 and 17 oz wine glasses each have their own touch of style and sturdiness to go with, making them too classy and creative to be precise.

4. Prank pack- Bath and brew
gift in this amazingly funny and yet secretive gift box, as the mystery would be opened by your best buddy making him or her think something awful is inside but the real gift would bring a smile on their face for sure.
The box is of the size of a regular phone book so it can fit in any type of gift you have chosen for your best buddy.

5. Stop kitty black cat but wine bottle stopper
Well if you can get your pal this distinct and funny wine bottle stopper then nothing like it. the look itself would make them role to laughter and whenever they see it you would be in their mind.
it comes in a durable form and is best used with easy cleaning and for any type of wine bottle. So now wine sessions would be full of laughter. This would be one of the funny gifts for guys.

6. The table bamboo drink coasters
These eco-friendly drinking coasters are made out of organic bamboo which makes them durable and lasts for longer times. The words are funny although a bit sound like weird but says indirectly to keep the table clean.
So now you can make your friend laugh a bit with the best and suitable drinking coasters for multipurpose usage and cleanliness.

7. Emoji charms with Suction 12 pack
Life becomes empty without laughter and happiness. So now you can gift happiness and some funny moments to your best friend with the new emoji charms which are used as the glass markers making them smile out loud.
These markers are best for any form of drinking glasses or wine glasses and can be used for any celebration or party.

8. Funny wine glass
So your best buddy is getting married and you want to gift her some laughter, why not give her the I am getting meowed funny wine glass. This would be one of the unique and funny gifts for her till eternity.
As whenever she would use it a smile would be on her face thinking of you. This 15 oz wine glass is a must gift for her wedding

9. Deluxe nursing pillow
Make comfort with fun and gift your friend this deluxe nursing pillow for a comfortable resting of the back and neck, usable for any journey. It would be happily comfortable for your pal to rest in the office too.
But see to it that they do not get scolding for getting to sleep in the midst of comfort from your end.

10. Sasquatch soap
The natural and organic reusable soap which has an outer case with a funny picture on it is the one good gift which you should choose for your friend.
Be it his or her birthday or any special occasion this would be a cool gift. Made out of pure and hundred percent essential oils this soap is a good choice for all ages.

Relevant Articles
Top 25 funny gift ideas for birthdays
11. Funny grammar mug
This wonderful coffee mug which is microwave proof has a funny quotation which would be a funny birthday present for your friend, saying silently correcting your grammar.
So make your friendship filled with some wittiness and this coffee mug would always be refreshing for them. The black bold letters on the mug are safe and would stay after washing too.

12. Upright bagless vacuum cleaner
The multi-cyclonic suction vacuum cleaner is the new age cleaner which can be used on any form of a surface for cleaning any form of debris.
It has the best multi cleaning and washable filter which helps further to reduce any form of dust or allergic viruses in the home. The look is funny yet it would be helpful for your pal at any time.

13. Kato wine accessories gift set
A shape of a bottle and then funnily when you open there lies the different forms of bottle openers and especially wine openers. Total five pieces in the wine opener and these are just so interesting and full of fun.
So now your friend would first be surprised then find it funny and also use the accessories for parties and enjoy wine.

14. Funny 15 oz coffee mug
Why not gift your girlfriend this funny mug which will make her morning happy and fun with each sip of coffee. One bitchy girlfriend to another and the fun times you both had.
So this coffee mug would remind her of the fun and crime times you enjoyed. The artwork and writing would not be spoilt and is durable until the last wash.

15. Crazy loop straws (pack of 50)
It may seem quite tough to think of funny gift ideas for friends but with a little creativity and humor, it can be easily done. Now the fun-filled the crazy loop straws which are of different shapes and sizes is one such gift for your friend.
With the various funny shaped straws if vibrant colors it would bring a smile always in their faces.

16. The Friends series finale (CD)
Who can dare to forget the most hilarious series on TV the friends, so now bring back that yesteryears comedy to your friend's life by gifting them the new CD of the finale series of Friends.
It is the special edition and would surely take your friend back to that time when laughing was a natural instinct and these series were the medicine for it.

17. Awkward turtle word card game
An unusual yet ironic card game for adults to play, this would be a humorous gift for your best pal and with the charging of mental senses, it will give them a little touch of awkward feeling too.
It has a total 372 different types of awkward puzzles and questions to be guessed and is made for 4 players to play together. so now your friends Sunday gatherings would be fun.

18. 11 oz funny wine glass
these marked 11 oz wine glass would have a little humor and also the warmth needed to give your friend. the classic and fine elegant shape of the glass would surely be an added bonus for your pal.
so whenever they would be drinking wine in it a smile would add to their lips giving that extra factor of happiness with the wine to go with.

19. Electric foam maker
At the first look, it seems like a slim stand which is quite funny. Then slowly you can understand that this is a new age electric foam maker especially for coffee and lathe drinks. So now your friend can have real foamed coffee with their friends and family with this funny yet smart foam maker.
Made out of pure stainless steel this is a rust free foam maker and would last for a longer time.

20.
Knock Knock WTF Nifty Notes
A little sarcasm yet full of fun these WEF nifty notes would help your best friend keep a track of important happenings and work to be completed. This pad has 50 pages for notes and the sign on the top would surely add a little humor to their life.
the irony is light and will have a strong impact on the laughing buds of your pal for the time he writes his notes on it.

21. The funny socks
These pair of funny socks is the best for your gal friend who has always been a part of your mischief gang and now on her birthday, you can easily give her this wine printed funny socks.
the vibrant pink color would not only be sparkling but the humor would always make her smile a lot. it will keep her feet warm and soft at any season without fail.

22. Ethnic colorful ceramic beads bracelet
I little touch of fun and a little touch of life is what comprised in this lovely gift for your friend and pal. So why not make her happy and always smiling with this ceramic beads bracelet.
This would always bring the happy vibrant mood whenever she wears it on her wrist and would remind of those fun times you both used to have.

23. Mirrorvana vision makeup glass
This multi rotating makeup glass from Mirrorvana is one of the funny presents for your pal. As this glass can be moved to any direction and few are quite funny to look at. But the angel would always have the best reflection on the one in front of it.
It is a 360-degree rotating glass with a sharp magnifying image, best for clear make up any time and is portable too.

24. The neck support travel pillow
Well, funny does not always mean to give a prank but something which would make one laugh. This neck travel pillow looks a bit weird in shape and so the touch of fun is added to it.
Soft and cushiony this is light yet comfortable to use. Comes in vibrant pink and is easily washed in the machine which would not destroy its coral soft finish.

25. 5 pairs of fashion ladies reading glasses
The colorful and fun-filled reading glasses are the must for your girlfriend who has always been a bookworm and now needs glasses to read. So make her reading sessions vibrant with these 5 pairs of different reading glasses.
The non-polarised and plastic frame and lenses would make them much durable for a usage of a longer period of time without the fear of breaking.

26. Ninja food chopper express chop
If your friend is a chef or loves cooking them make their cooking time full of fun and laughter with the new age designed Ninja food chopper express chop. This chipper makes it easy in the kitchen and chopping a better experience with the fine blades to be used.
It helps in chopping, blending and even mixing so now cooking would be fun and fast with this new chopper with them.

27. Funny dog mug
Well an animal lover friend, if you have then this funny dog mug would be the best for them. The quotation itself is too funny and would always make them realize their motto of life to be there for their dog.
This ceramic mug with the dark letter embedded marks a style niche with durability and also drinking coffee or tea in it would make their day full of fun and adventure.

28. Cooking thermometer
This funny cooking thermometer is the new age invention to check the meat temperature and also helps in better BBQ preparations.
So now your dear friend would be able to add some humor during his barbeque parties with their family as this superfast thermometer will give the exact reading. The vibrant color too would be making it a worth buy for all.

29. Reusable grocery bags (set of 5)
These reusable grocery bags are the one stop humor and vibrant bags which would be friendly whenever your friend would be going shopping. So now grocery shopping would be filled with fun and excitement with these different colored bags.
Made out of pure polyester these bags are durable and can be used for better and longer period of time.

30. Silver zenergy chime
Quite an amicable and funny gift idea for friends as this Woodstock Solo silver zenergy chime comes with a dong to make the vibrant sound. Generally, chimes are for hanging but this can be kept flat on any surface and used.
Best used for welcoming guests in an ancient way for dinner or even used for starting a class. This multi useable chime would add some fun to your friend's life for sure.

Now you have a long list of gifts to choose from. I am sure you will get the best from one of these funny gifts for friends.