Last updated on August 31st, 2021 at 01:44 am
Brother-in-law is the person who has taken care of your wife for years before she was married to you. He is the most important person in the life of your wife and they share a sacred bond which is cherished for a lifetime. Brother-in-law is also the person your husband has spent all his life with. Brothers of your husband have been his trusty-sidekicks and know all of his shortcomings. These are funny birthday wishes for brother-in-law that you can choose from on their birthday and bring joy and smile to their face.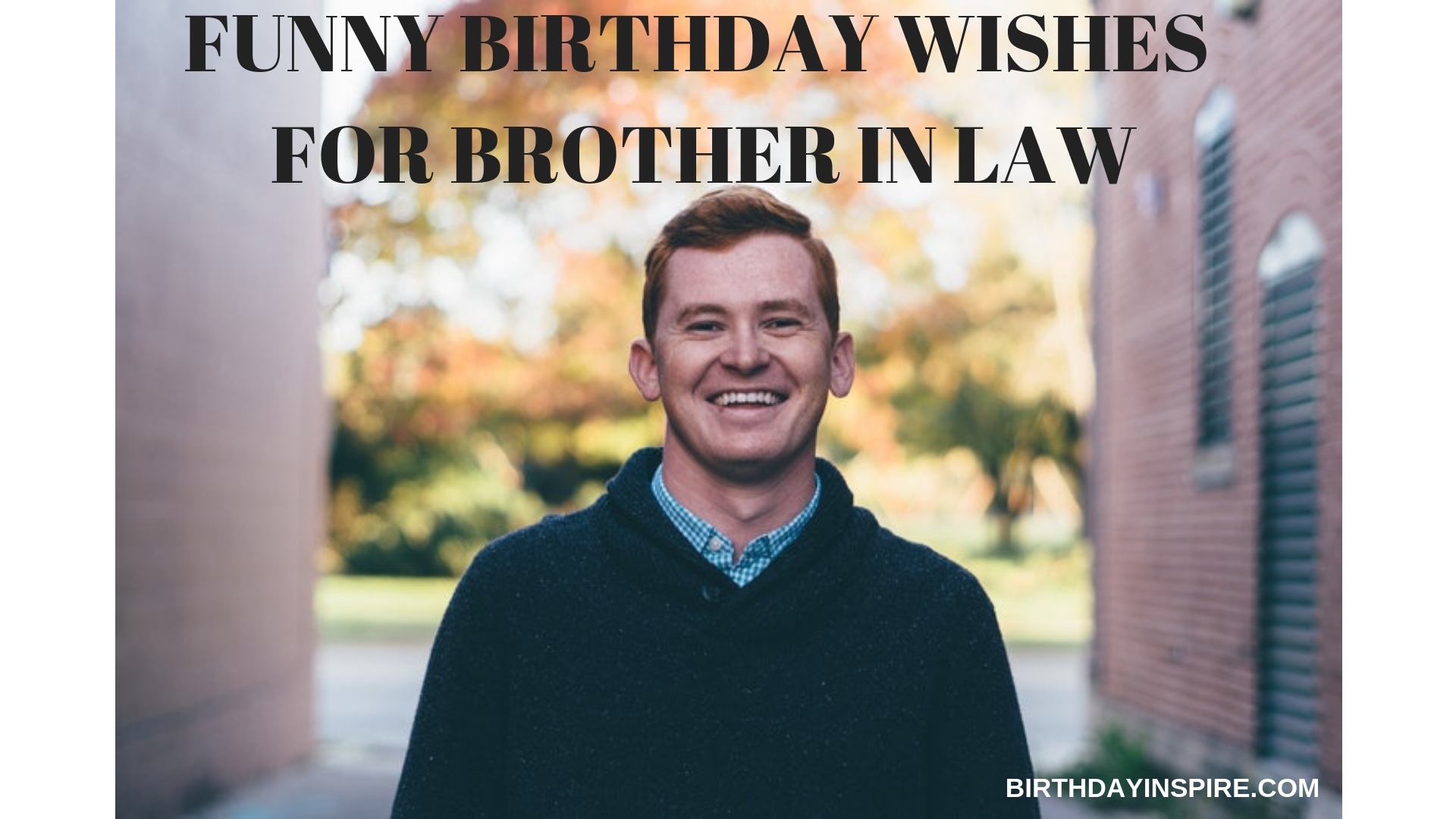 Funny Birthday Wishes For Brother-in-law
You are the little brother of my wife who is always up for some pranks. It might not be the best thing that I always enjoy. But I do sometimes enjoy being around with you. Happy birthday and I hope you be more responsible in the coming years.
You have been partying all the time. You need to get serious about life. Happy birthday. I hope from this birthday onwards you look at life differently.
Today I will take you out to an awesome place to party as it is your birthday. You have always had fun with so many sisters in your life. This is time to enjoy some 'bro' time and have fun. Happy birthday. I hope you suck less today and be on your good behavior.
You are a cool brother-in-law who takes care of my sister so well knowing she has crazy mood swings. I thank you for keeping her well protected and loving her endlessly. Happy birthday. May god bless you both with many years of love and happiness.
Birthday celebrations means being around your mischievous kids who are always up to some pranks.Nevertheless I love these little monsters. Happy birthday, may you and my sister stay happy and healthy and in love lifelong.
You are so hardworking and responsible. My sister is lucky to have you in her life. You have brought so much stability to her life. Happy birthday and may god bless you with lot of success and good health lifelong.
You make my sister a better person. Whenever we meet there are less or no arguments with her. She has grown into a lovely person after marrying you. Happy birthday. You have tamed the shrew. You deserve a golden crown. Happy birthday.
You get all the five stars for being a wonderful person and bringing all the joy in the life of my sister. Spending time with you is awesome. Happy birthday. May all of your life be enlightened with progress and wonderful things.
You take everything to heart, criticize my decisions, and also make me look like an idiot sometimes. But all of this is forgiven because you take very good care of my sister. Happy birthday. May you show more patience towards me and be less of a critic. God bless and have a good life.
Going bowling with you and watching games are the fun times we have had that let you escape from the shopping errands with my sister. You are so much fun to be around and full of life. My sister is lucky to have you in her life. Happy birthday.
You monkeys were like noisy kids and very warm showing me all the love and affection when I was married to your brother. You have always been his best friend and I see that bond between you two is wonderful. Happy birthday and stay funny and happy always.
I am glad you have learnt to take up a few responsibilities since some time. I do not have to get you out of your room for small things. You are his younger brother and so calm and adorable. Happy birthday. Hope you learn many more things in life and live to the fullest.
Funny Birthday Quotes For Brother In Law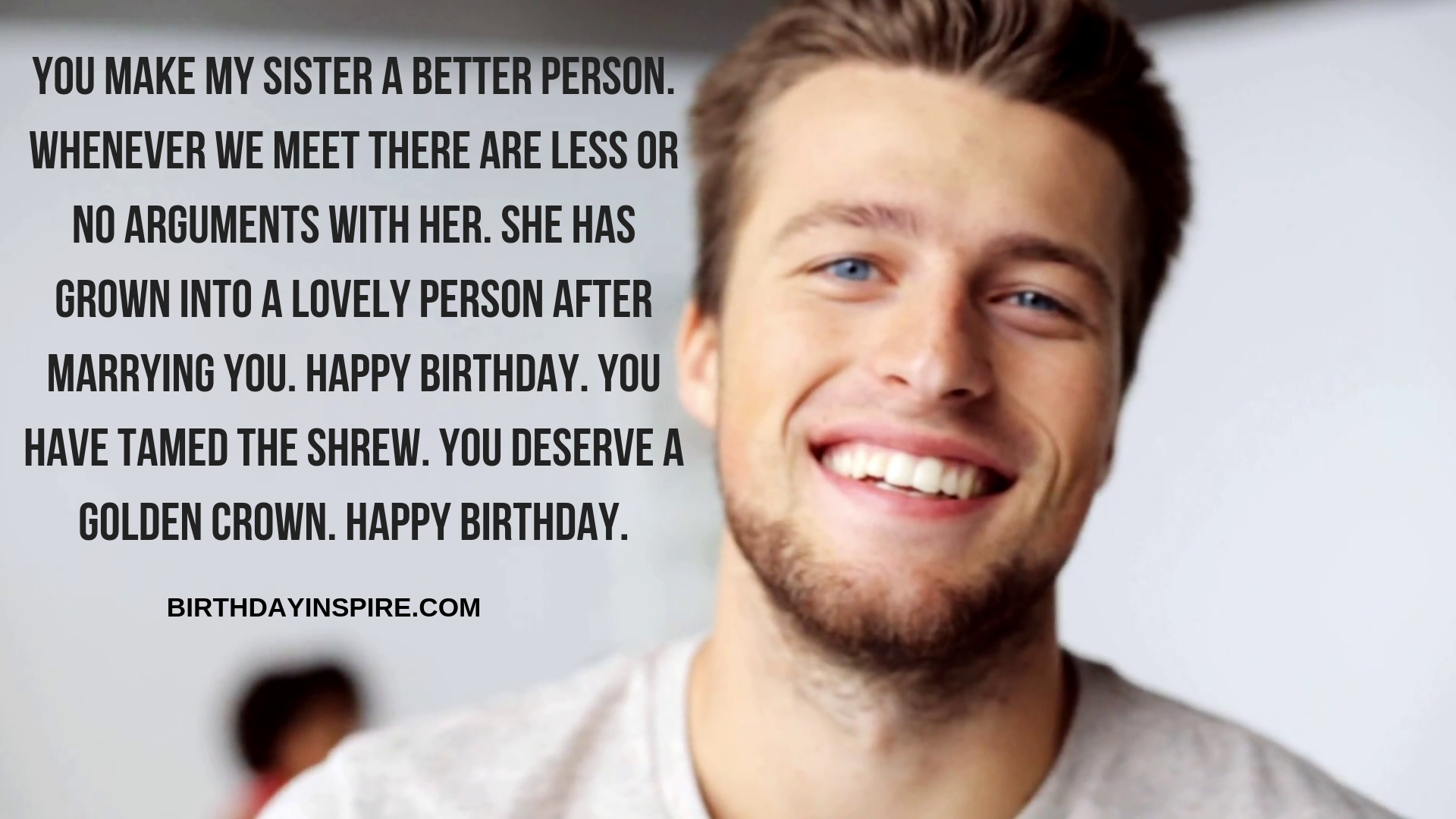 You are my best FB game buddy. I am glad you too enjoy playing the same FB games that I do. We have so much fun playing them. Happy birthday. You are the best addition to the family and my husband is always proud of you.
I think you are an awesome person because my sister won't stop saying the nicest things about you. Looks like you are the best thing that has happened to her life and that makes me happy. Happy birthday. May all of your life be filled with glorious moments and happiness.
My kids have so much fun with you. You take them out when I am busy. It is a nices gesture of love you show us and do so unconditionally. Happy birthday. My wife says how you have taken responsibility at a younger age which makes you an outstanding person that you are.
You have taken a lot of effort to let us know how much you love our sister. My family was apprehensive getting my sister married to you. But your golden heart has won us over. Happy birthday and god bless you with all the comforts and happiness.
My sister has become a party animal being with you. She used to be so boring and introverted and always with her studies. You let her hair down and let her see the fun side of life. Happy birthday. Partying with you are best moments of life.
I cannot pick a flaw in you. You do everything in a lofty manner and with ease. You are younger to me but I admire how you handle everything with calmness. Happy birthday. You deserve many more years of happiness and joy. Your sister will always be your biggest fan.
Your sister thinks you are a superstar. Everything you do she considers it to be an achievement. I am glad to see the brother-sister duo to be so well bonded and seeking the best in each other. Happy birthday. May you find the best girl to settle down with soon.
On your birthday we need to party hard without needing permission from your parents. Happy birthday and have a lot of fun. This is your chance to experience the best things in life as long as you are young.
Enjoy your time as a young man. When you grow old, partying might take a back seat and you might end up doing boring and responsible things like us. Happy birthday to the little brother of my wife. May you choose the right career path and life a fulfilling life.
Your FB page is filled with so many wishes. You look like a ladies-man, popular amongst all the women. Happy birthday and enjoy all the attention before you get hitched.
You have been working too hard and you certainly need a break. Today is the day you need to let loose and go out and have some shots. Happy birthday. You give my sister a good life. May all of your coming years be filled with fun and good times.
Witty Birthday Messages For Brother In Law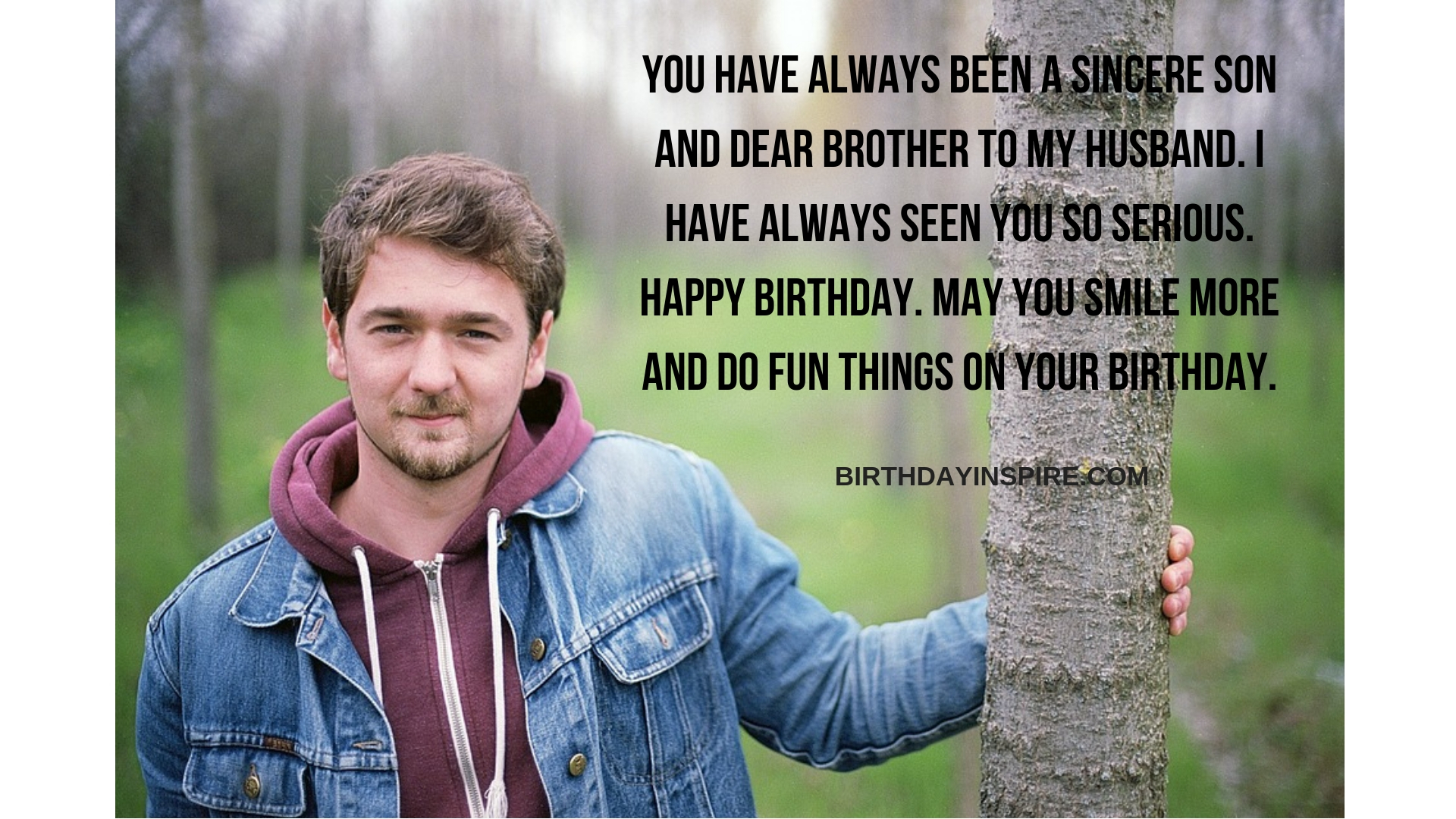 I grew up with sisters, being their shopping buddy, doing all their chores. It is so good to hang out with you and have a boys night. Happy birthday 'bro' you bring all the coolness to my life and make my life awesome.
You are an adorable brother-in-law always with good things to say and taking my side during an argument. You never let me shed a tear and are always a bridge between me and my husband. Happy birthday. May you find a lovely life partner who brings lot of joy to you.
Sometimes I think if you get married I will be able to spend more time with my husband. I am bored of your game nights and all the noise. Happy birthday. I wish you love and more joy for the rest of your life.
I keep forgiving you for all the mistakes you have made. It seems like a hobby to you that you keep going on about them. Happy birthday. I hope you live your coming years more sensibly.
Happy birthday. Hope you stay more organized and clean as I am tired of playing a mom to you. You are very dear to us, but you need to start taking the responsibility.
Bring home more friends and have a good time this birthday. Being around you is joy. My husband has so many words of appreciation for you. Happy birthday.
When my sister married you, I got a best friend. Though we do not meet often. I trust you enough to speak my heart out to you. Happy birthday and god bless you both with many years of joy and happiness.
You have always been a sincere son and dear brother to my husband. I have always seen you so serious. Happy birthday. May you smile more and do fun things on your birthday.
There is a surprise gift waiting for you. Come home quick and forget your football game today. Happy birthday. May all of your life be illuminated with joy and happiness.
For a creative person like you who lives in a different cosmos, it is inspiring you are apart of our lives. You have a different take on everything. Happy birthday. We admire you but you can tone down on your arrogance a bit and feel the warmth and love of the family. You have a beautiful heart and my husband loves you to the core.
Star Wars, Transformers, and all of your Sci-fi gimmicks bring a sense of adventure. Your space is decorated so differently. We are always in a different zone when we come to your place. You won't the boy inside you fade away. Happy birthday. May you find a girl who is as geeky as you.
Happy Birthday Wishes For Brother In Law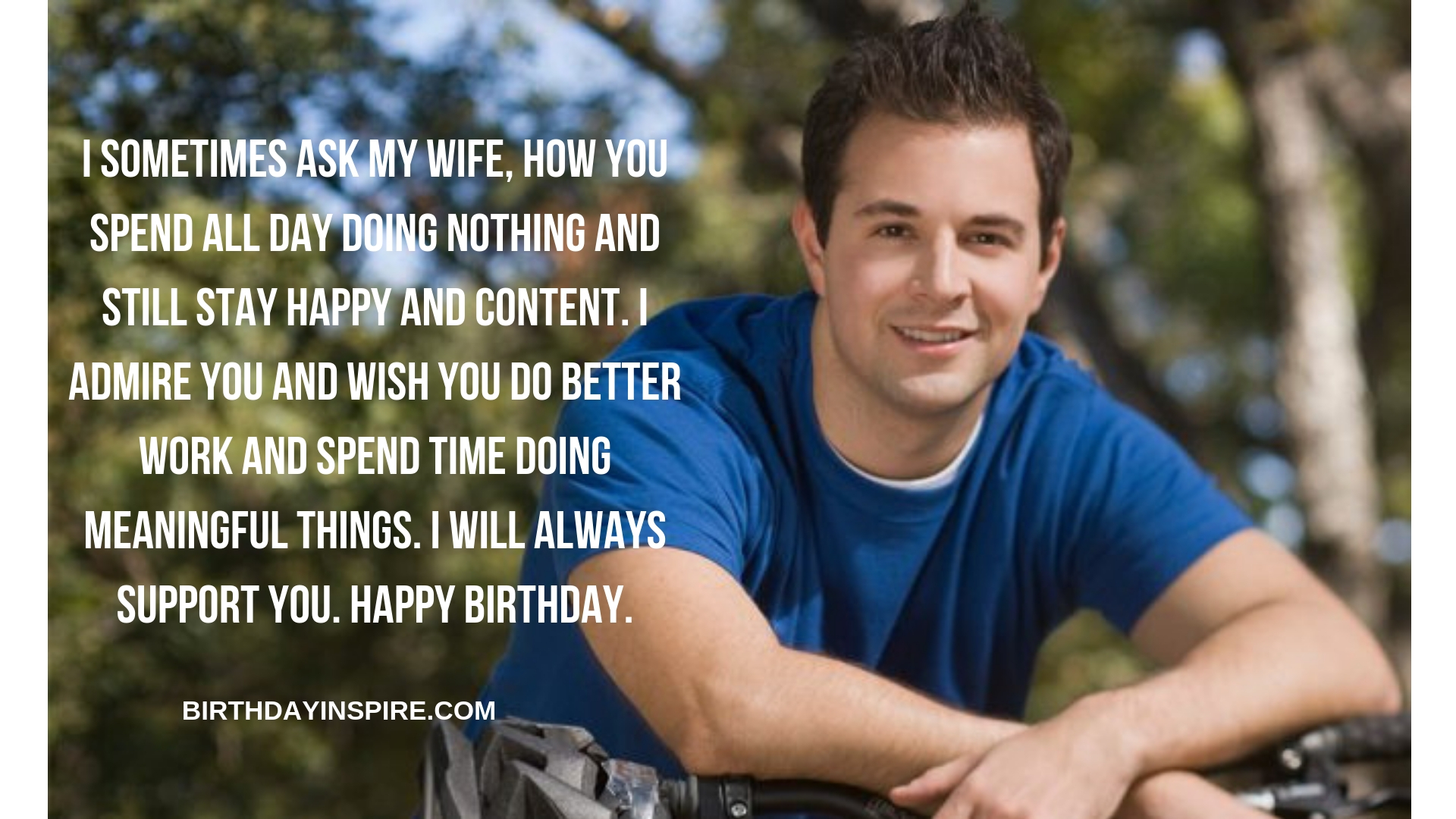 At least on this day I hope you crib less and not think about your problems at office. Live your life and take everything with a pinch of salt. Happy birthday.
I still remember the twinkle you had in your eyes on the birth of your daughter. It has made you more responsible and let you do away with your boyish ways. It is so endearing to see you grow into a mature and a responsible person. Happy birthday and wish you all the luck with parenthood.
You are always drowned in your work, you must learn to have some fun. I know the profession of law is not a fun thing at all, but, hey, it's your birthday. You will not be proven guilty of celebrating your birthday and having fun.
Forget blogging for a while and take a birthday vacation. Your subscribers will have fun seeing your fun pics and love you more. Happy birthday. It's time you visit us and have a good time chatting over.
Your craze with social media and putting everything on the updates is kind of putting people off. You can crib all you want, we will give you all the years. Have nice things to post on your birthday. Life is more fun. Happy birthday. May there be more joy in your life and I hope to see more positive things here on.
I sometimes ask my wife, how you spend all day doing nothing and still stay happy and content. I admire you and wish you do better work and spend time doing meaningful things. I will always support you. Happy birthday.
We have been more of friends over years, sharing all the joy and sorrows, having drinks together, going on vacations. Happy birthday. You are a great company to be around. I am so happy my wife grew up with such a wonderful person.
I heard you cook in your spare time. It is an unusual combination that makes you an instant hit with the ladies. Happy birthday. It is time we treat you with the goodies and take you out dining to your favourite restaurant. Your sister is waiting to surprise you.
You are so witty and funny and always ready with on-liners. Happy birthday. May your life be full of joy and wonderful experiences. My husband talks about all the funny things you did as a kid. It is wonderful to have you as a family.
You have been the best friend in my family that has helped me understand so many things when I was newly wed. Your advice helped me bond better with the mother-in-law. You have been a true savior. Happy birthday.
 Funny Birthday Greetings For Brother in law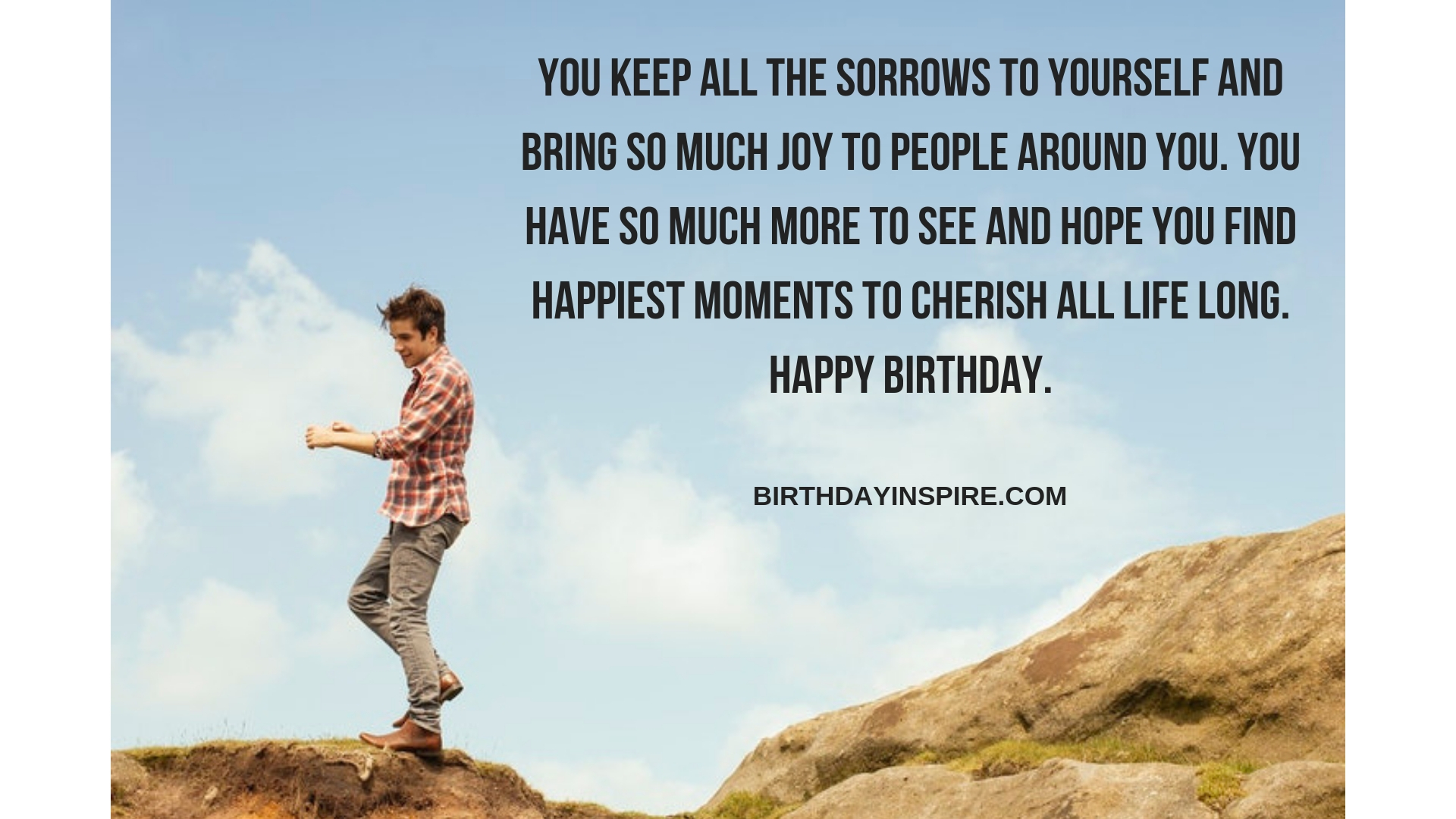 You took care of my sister for years. You deserve all the happiness in the world. You pamper her so much, put up with her mood swings and tantrums. You must be getting a bravery award for taking care of her so well. Happy birthday and god bless you with all the strength and joy.
My sister is difficult to love. You make her life so easy and make her laugh. You are a blessing in her life and have changed her for better. Our family feels you are a lucky charm and may god bless you with all happiness and success.
I have never seen you lose your cool over anything. I takes a lot of courage to remain focused when so many people are trying to provoke you. Though you are so younger to me, you are an inspiration. Happy birthday. My wife is lucky to have a brother like you.
You keep all the sorrows to yourself and bring so much joy to people around you. You have so much more to see and hope you find happiest moments to cherish all life long. Happy birthday.
You are the youngest person in the family, full of spunk and zeal, always ready for an adventure. Your travelogues and travel diaries inspire me to see the beauty in life. My husband is lucky to have a brother like you who brings newness to life.
You are probably the greatest dog lover. So many dogs at your home. I wonder if you will ever have some space for a woman in your life. My husband is tired of finding the right bride for you. Happy birthday. Do what brings you joy and stay blessed.
You will never get tired of being a bachelor. I envy the best times you have now that am married. Though your sister is the best thing in my life, looking at you I miss being a bachelor. Happy birthday may the you be soon bitten by the marriage bug and join the bandwagon.
Your stamp collection that you cherish deserves a trunk and not to be stashed inside the cupboard. You are so young and still in your teens. Your noisy jamming sessions and all that you go through is what I understand and let you be. Happy birthday and make less noise jamming in your room.
Drink less this year on your birthday. You have already embarrassed us with your drunken nights. Happy birthday and I hope you stay sober and have good fun this year.
To all the good times we have had before I got married, cheers to that. I toast to all the amazing times, outings, movie nights, chatting, and arguing with you over silly things. These make up for important memories in life.
Brother-in-law is the person who adds an extra fun to life. He knows about all the quirks, secrets, and shortcomings of your wife or husband. Wish him with these funny birthday wishes for brother-in-law and make him laugh on his birthday.