Last updated on June 2nd, 2022 at 10:18 pm
Maybe you're thinking that our dog theme birthday party is for kids. Well, those of you with pets know that a dog party knows no age!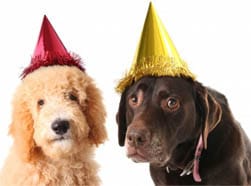 The ultimate dog theme birthday party is one where the guests can bring their dogs along. Think high-end dog park, socializing two-legged and four-legged creatures at the same time. Plus you won't feel guilty about another evening out without the dog. And, yes, we realize you non-dog lovers out there have now moved to the luau birthday party page.
An obvious idea: bandanas for the dogs with the guest of honor's name and date. And the not so obvious (but expensive): a silver charm for each guest with his/her own dog's name on it as a party favor. Another great favor that the four-legged attendees will just love to take home: doggie treats, Frisbees, tennis balls or a dog bowl (write the dog's name on it with a paint pen).
For the 2-legged guests, tiny choke collars which can be used as bracelets with the guest of honor's initial dangling from them.

This particular collar is really inexpensive (yep, it's not silver) and 14″ long so you can wrap it twice around your wrist. Love it! Adorn it with a cute dog charm if you want to get fancy.
And speaking of dog bowl…they make great serving bowls for all of the people food (new bowls please). Large bowls for chips, small ones for salsa, and so on. Use different colors and sizes to add to the fun. Put cute names on them, Spike's Spinach Dip or Lassie's Lasagna.
For decorations, place a gigantic cardboard fire hydrant at the entrance to the bathroom and a doghouse cardboard cutout surrounding the front door.
And speaking of dog bowls again, how about a party without the dogs where everyone goes to a ceramics shop and paints a dog bowl for their own dog. This is of course after everyone helps paint one for the birthday boy or girl, and autographs it with a cute little paw print (representing his/her dog of course) and his/her (guest's) name. This one's a pricey party option but lots of fun. Most of these paint your own pottery places will let you reserve tables for a party and allow you to bring in your own food/drink.