Last updated on June 4th, 2022 at 12:42 am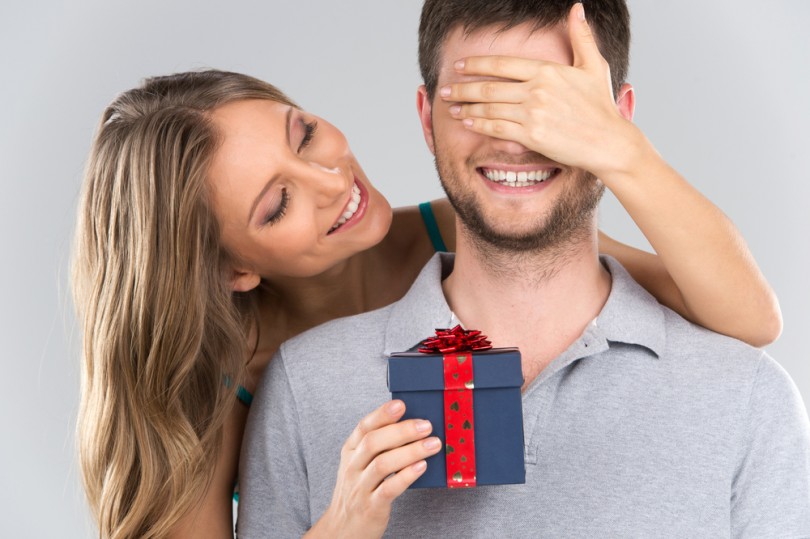 While it is easy and upright to impress a girl with some flowers and chocolates, boys have pretty unusual choices when it comes to gifts. Some love their video games while few are passionate towards the real games. And the elegant gift like flowers or lip-savoring chocolates is not what most of the boys expect.
It is a daunting task to choose a gift that'd suffice their heart. Therefore, we made a list of 7 cute gift ideas for boyfriend's birthday.
We go beyond the arc to impress our partners. Whether it is to impress another by planning a huge surprise or an excellent birthday gift, we love to see the happiness on our partners face when they acknowledge our efforts and gifts.
It is cute, lovable, and an excellent personalized gift from which you can express your heartfelt feelings in 90 different ways. The gift pack contains a glass bottle and 90 capsules with blank pieces of paper in it.
Therefore, you can write whatever you want on the paper and keep it in the capsules to your boyfriend to read. It is the best way to express your feelings towards your boyfriend.
And it is not the gift but the words you write and hide in the capsules that will decide the fate of your gift. All you can do is keep it simple by giving him 90 reasons why you love him or either you can think over to find something innovative.
From listening to your favorite music to opting to play a specific music just with your voice, this machine does it all. With outstanding multimedia features and great technical abilities, Amazon echo is going to be most marvelous gift for any young man.
Not only music, but it read out the news, reports traffic, answers questions, and provides scores using Alexa voice.
All this features in one single device, isn't it awesome? Your boyfriend would feel the same about the device. It is one nasty machine that can almost do everything within its range.
Boys are technology-savvy and they love their gadgets to the core. Add to his extensive range of gadgets by gifting him a health-driven smartwatch. The cute little watch fits perfectly on one's wrist and also inspires him to stay fit with the calorie meter.
It'd take him one step closer to the social media as the watch also keeps us updated about the notifications from Facebook, Instagram, etc.
It has a sleek design, several outstanding features, and unlike any other watch, it can do multiple things within few touches. We're pretty sure the gift would be much appreciated by your boyfriend.
Boys either love beating the crap out of the people in the video games or love dashing their cars or play their favorite sport in a virtual world. Play Station Portable 4 suffices all the needs of an ardent gamer.
So if your boyfriend is a die-hard gamer, PS4 is the perfect and exclusive electronic gift for him. Also, add a dash of cuteness by customizing its cover design.
Boys love their beers as much as the girls love their chocolates. Therefore, a greeting card disguised in the shape of a beer bottle box would entice your boyfriend to the core.
The greetings can convey the most words from you to him, while the beer bottle box set-up can add a little bit up cuteness and quirkiness to the gift. It sits perfectly on the showcase or in a closet as a souvenir.
And apart from having a special place in the showcase, it will occupy a great space in your boyfriend's heart too.
Gifting an ordinary T-shirt can be a too mainstream. Therefore, a t-shirt with a customized message that bursts him up would perfectly sum up the gift. The t-shirt has a quirky message along with some praises in disguise.
He would flaunt his t-shirt amidst his friends and family and would wear it usually. That's the way you want your gift to be embraced your boyfriend, isn't it?
If he is a wanderer of a kind and loves to travel, the travel organizer will help him a great deal. It will follow him in his every journey making his travel experiences smooth. Every time he fidgets into the organizer, it would remind him of you.
Also, all his journeys would be smooth because he doesn't need to locate his documents. It'd be a one stop solution for all his documentation needs at the airports.
He'd love the thought behind the gift and would embrace it for years to come. Also, he would miss you more every time he has the organizer in his sight.
Give him the joy of draping into a bathrobe after a relaxing shower. A gift from you would surely add to the value of bathrobe. That's the closest you will ever get to him every day when you're not around.
Maybe his bathrobe has become tetchy, or maybe he never wished like purchasing one. Therefore, the star wars bathrobe would definitely be much appreciated.
Also, there are high chances of it being his first one. There are various prints available in the market. So buy one and watch your guy relax on his soft and comfy bathrobe.
Let your boyfriend know that you care about his health and leisure by gifting this larger than ever bath bombs. Not only they are enriched with lovely fragrances but also filled with essential oils to soothe one's body to perfection.
The bath bombs come with heart decorations which are a visual delight. Also, the essential nutrients help the user to rejuvenate their mind and body.
By gifting these bath bombs, you assure that your boyfriend will have a wonderful time while bathing. Your efforts to keep him fresh will surely entice him to the fullest.
Regardless of his age, this bag would come in handy for him at some or the other point. It has a classy design matched with strong leather built. It is outright durable and is made to last.
Your boyfriend can carry it to his school, college, hangouts, treks, and morning walks. It would not only add to his style factor but also will be handy in his daily routine.
It comes with an adjustable cross body strap. So no matter the size of your boyfriend, this messenger bag is going fit every size.
In case your boyfriend owns a car or a bike, it'd be perfectly awesome to gift him the car tool kit set. It will help him organize his garage, and there wouldn't be any tools lying on the floor.
Boys love their vehicles, and something that will mend all the problems of his love would surely be appreciated with a big heart.
The car tool kit set consists of well-crafted tools which are required by both professionals as well as self-repairers. It is durable and is going to last the test of time. Therefore, your boyfriend would love it even more.
This one is for the guy who loves smoked meat more than anything else on this planet. So if your boyfriend is BBQ- frenzy or in that case always drooling over the smoked meat, you can gift him an offset smoker.
The smoker will suffice his cravings for barbecued meat and also help him host BBQ parties for his friends and family. It is a wonderful amalgamation of an offset smoker, charcoal grill, and a barbecue set.
The main perks about the smoker art its adjustable height and easy hash removal trays. Your boyfriend would love this quirky yet useful gift. Don't be surprised to get blessed with a scrumptious smoked delicacy after you give him as a gift.
If your boyfriend loves bacon, this is surely the perfect gift for him. It is a book that will help him to cook, smoke, and grill beacon. If he's a cooking enthusiast, he will appreciate it even more.
The book consists of mouth-watering recipes that can be consumed at any hour of the day. Even if pork prices have piled up, there isn't a decrease in numbers of bacon lovers.
And there are high chances that your boyfriend might be one of those. By gifting him the recipe book, you can expect to get treated with a scrumptious recipe from the book.
I mean which guy doesn't like Rocky? Are there any of those? Mostly not, but if your guy is a big time Rocky Balboa fan, this DVD collection is meant for him. It comprises of all 6 movies from the Rocky series, viz. Rocky I, Rocky II, Rocky III, Rocky IV, Rocky V, and Rocky Balboa.
All these movies are offered in Blu-ray providing the viewers a fantastic view about their favorite Rocky Balboa. Not only for extreme diehard fans, but it would be a great collection for any film lover too. Whether your boyfriend loves Stallone or does not, he has to amaze over the filmmaking aspects.
Well, it may sound a little odd to ask you to gift a sleeping mask, but these new fancy printed ones in the market are a definite yes. These new sleeping masks are extremely comfortable and are coupled with fantastic anime designs.
If your boyfriend is an anime love, he is definitely going to love this sleeping mask which is customized with this anime character's eyes. It is perfectly constructed to block lights from all sides giving you the perfect atmosphere to enjoy a healthy sleep.
Gifting a blanket is weird, but gifting a customized blanket is bliss. You'll be with our boyfriend in his sweetest of dreams while you gift him the blanket.
And the fact that it is customized with your name or his name would let him cuddle with the blanket even more. And there is no better sight than to watch your boyfriend enjoy a goodnight's sleep.
The blanket is soft and thin, yet provides the efficient heat in the winters. It can be easily carried outdoors because of its lightweight.
A baseball fanatic is crazy about his caps and loves collecting his team collectibles. If your boyfriend is a baseball fan, he is surely going to love the cap of his favorite baseball team. He would flaunt his cap while he goes to college, or while he goes on the field.
His cap would be his best companion while you're away. He'd carry it with utmost pride and would miss you through his cap. Trust us, for a baseball fanatic that there is nothing more adorable as a cap.
If you go by the literal meaning of cute and try to be sleazy by gifting him a teddy or rose wouldn't impress him. It's nothing like he will not accept, but most guys don't find joy over utterly romantic things like teddies and roses.
Instead, buy him some fanboy stuff or a music CD of his favorite pop-star. You'd automatically see the joy on his face. Or in case he is not into music, a video game CD or a video game itself can do the trick.
Trying to be cute doesn't always have to mean about cute cuddly gifts. It can be some DIY gifts where you put romantic messages for your boyfriend to read. Also, you can make 365-one-a-day jars or things like that which can add to the cuteness.
Although some above-mentioned gifts aren't cute, it is how you present it to him that adds to the beauty of the gifts. Now that you have ample ideas, get off your porch, think something that about your boyfriend, prioritize his choices, and choose the best gift you possibly can.