Last updated on March 10th, 2022 at 05:47 am
Looking out for some good construction birthday party ideas? Here you go, plan out a perfect construction birthday party with some of the very helpful ideas which i have shared in the list below. So be with flow and explore each ideas to make your work easy.
---
Kids are normally and by instinct very creative and would always like to indulge in intuitive activities whether indoor or outdoor whatever the situation. Every opportunity should be taken to provide them with as many gadgets or toy tools that have plenty of puzzles and creativity hidden in them which will also help in improving their motor-skill and eye-to-hand coordination. These activities are going to be very useful when the child grows up and will have to shine in their career or jobs.
A birthday party of every kid and child is so very special that they wait for the big day for days and moths together hoping and dreaming of all the surprising activities that are to come on that day. And if we are able to fill that big B-Day with plenty of mechanical and creative or interesting toys and activities, then that will be one of the milestones covered in their lives. It is in one way every parent's commitment to fill their child's life with as much creativity as it is possible so that they are ready to face any cognitive challenges that they are going to face during their academic careers and at work.
There are plenty construction toy birthday themes available and they are sure to inculcate some constructive ideas into your child's minds which will make them highly competitive in cognitive skills. The construction birthday day theme is one of the most effective toys to bring that kind of creativity in your child's life that too when it an occasion as special as his/her birthday and that is being celebrated along with friends and buddies. Every child here becomes an architect and construction engineer and for a few hours forgets about the world and get busy setting-up the pieces of the construction kit that come along with the Construction Birthday Kit.
Construction birthday party ideas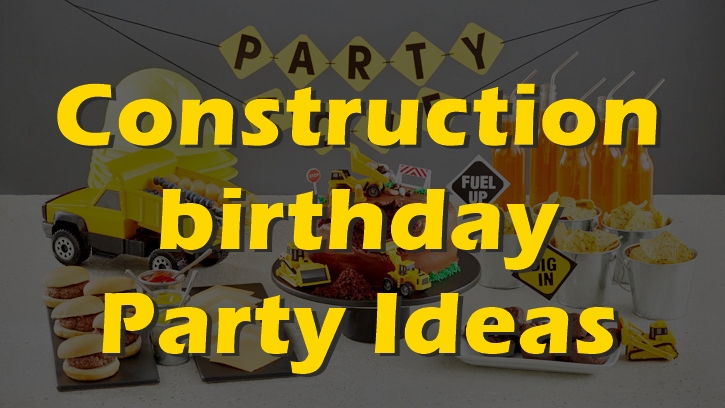 1. Modern Construction Birthday Party
This amazing Modern Construction Birthday Party comes to straight from the Studio City of Los Angeles in California. It's specially produced for a construction themed birthday bash with creative ideas from Juliet Boydstun and their team of the COOP fame and has hit the birthday ideas market once again with a smashing hit and welcome idea.
It's all the attractive colors that one could imagine of and more over a fine touch of glittering gold with fine coatings of orange palette color, sunset yellow, milk white, and sheer black. It looks just fabulous and your team of young monsters and guests are sure to love this birthday theme for all the care we have taken to construct and build it.
2. The Dirty Construction Birthday Theme Cake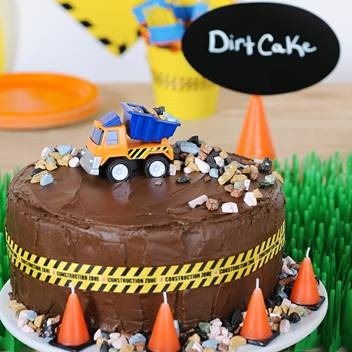 This kit comes with everything to decorate your cake for a construction theme except that it doesn't come with a cake itself because it might get too messy by the time it is transited or shipped to you. Rest everything is perfectly in place and all you will take is a few minutes to decorate your pre-ordered cake and we are good to go for an awesome birthday party with construction theme. All you need to do is to place your birthday cake in a platter with balanced weight and the first thing to do is to pick out the ribbon provided in the kit.
This is a construction pals grosgrain ribbon though but is free in size and you need to measure the size of your cake and cut it accordingly. Fasten your cake's circumference and secure it with and tape so your cake doesn't slip or slide away on the weight that you are going to place.
3. Candy Bars Construction Theme Cake
This unique idea will suit a Construction Pals Cupcakes and the final take is that, everything will sound good until the birthday cake tastes great and is a no-mess and non-greasy. The toppings shown in the picture comes in the kit and all you need to begin with is cut the ribbon as per the cake circumference and fasten it tight and secure with a tape that will be transparent and not look like a mess.
Now, we are good to drop all the toppings of you birthday kid's favorite construction tid-bits that has come with this kit. To add up to the glamour of this cake add some construction themed molded construction style cone candles to make it look genuine.
4. DIY Construction Theme Cake Decorating Kit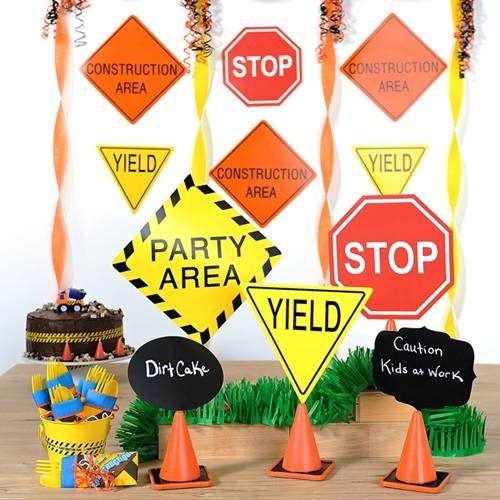 This Do It Yourself construction themed birthday cake kit comes with everything you can think of including 8 sets of each so you can have eight cup cakes to entertain. The kit also includes all required materials for preparing table signs based on construction themes.
The table setting is made simple and all you need to do is to fold the napkin paper in thirds crease it well and place it vertically, pack in some plastic-silver knick-knacks and we have a bow of ribbon to secure it. Erect them in a yellow mini bucket for displaying and secure them with the grosgrain ribbon. The kit also comes with chocolate colored construction cone structures for displaying traffic blocks.
5. Construction Pals 'Centerpiece' Themed Cake Kit
This unique and amazing kit of construction pals centerpiece is crazy easy in building when unpacked from the box and sounds like is made to hold yummy snacks such as; potato chips, popcorn or nuggets.
Keep that centerpiece over some attractive tissue color paper synthetic green grass, and lay a suitable length of the yellow construction caution tape for a long length birthday bash table runner. The yellow construction caution tape could even server as an alternative for any crepe fancy paper, or even left swinging on the ends of the birthday table.
6. Birthday Bash Construction Theme Wall Decor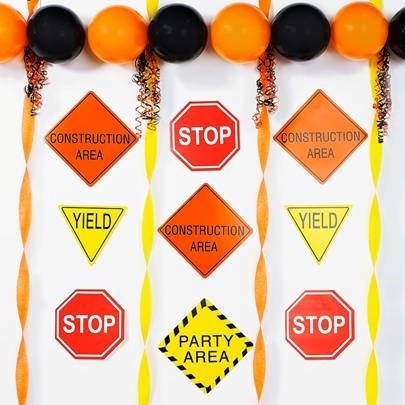 All you will ever require to build a grand birthday party on construction theme decoration is well packed into this super kit. Begin decorating your birthday home walls with those fun construction theme cardboard construction and traffic signs and boards – they appear similar to a real construction arrangement! Sequentially lay them into a perfect grid just like you did, or else you can also create similar design which blends with your birthday room space.
Now, add few yellow and orange color crepe paper around and between the sign boards. Place these mind-blowing twisting styles, through initially taping those ends of one roll of the color crepe along the wall and twisting them as you go unrolling prior to securing the end.
7. Construction Pals Birthday Bash Table Themes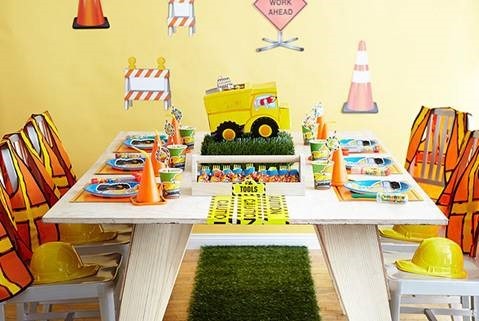 The Construction Pals birthday construction themed party kit reflects more ways in accenting your kid's party kit into their birthday Party Pack to augment a fancy kiddy themed visual. Construction 'Site Crew' paper cutouts make for an awesome colorful – and simple – background of your birthday dine table, moreover, "Work Zone" outfits and attractive match tough hats add to the crazy collection as a construction style decor.
A unique runner of the faux lawn spreads all through the length of its platform below the construction site of table for the additional feel and touch of vibrant color and theme.
8. Caution Tape Runner Theme Birthday Kit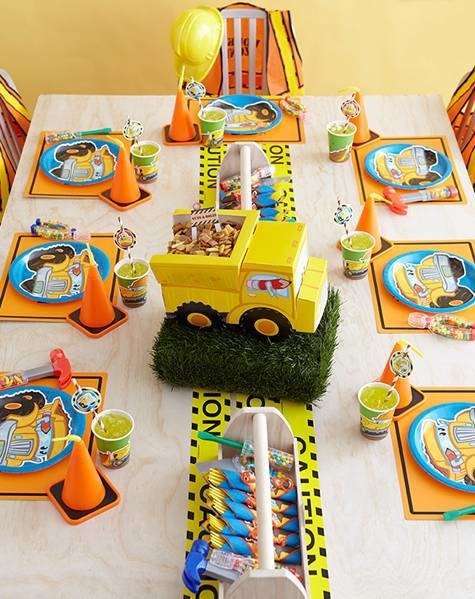 This seems to be one of simplest forms of birthday runner kit ever and it takes less than a minute to arrange your birthday table for your kid and it serves the whole gang of little monsters. The long caution construction tape serves a table cloth and if your table is of plywood then the theme is going to look amazing on the table.
It will appear like a real construction site with everything else in the kit that is needed for a genuine construction site. This kit comes with everything else to make your construction themed birthday bash become a passion and remarkable memory for your birthday kid and their pals.
9. Construction Pals centerpiece Styrofoam block Birthday Kit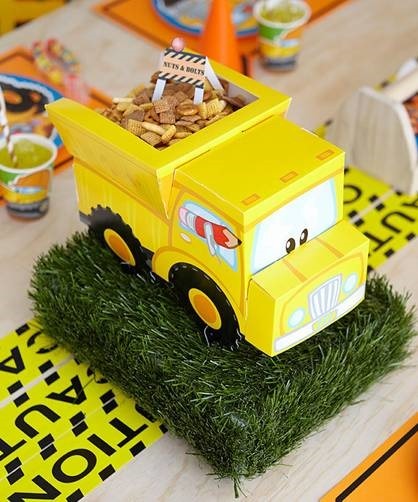 This Styrofoam piece of block covered in real faux green grass adds-up to the height of the Construction Pals centerpiece fully loaded/packed with lots of store-got yummy snack ready mix.
Orange construction activity placemats make for an amazing and bright color contrast to the birthday themed unique dinner porcelain plates and also juice cups with striped theme paper straws engraved with some Construction Pals attractive stickers. Candy-packed "construction tools" to lick anytime for a yummy feel and carry-home cone of chocolate cups make for a great memorable keepsakes for birthday kids.
10. Birthday Construction Theme Placemats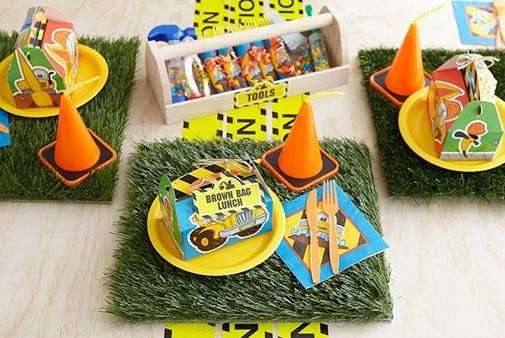 For the sake of an out of the box thinking and alternative location setting, we plan for a teamed birthday construction theme placemats cut out from a long roll of green faux soft grass along with chocolate cone cups, printed fancy napkins, orange color attractive utensils, and solid sunset yellow party dinner set plates, all these topped-up with tableaux and with yummy normal boxes-turned-to-lunch pallets.
This as expected is one of the craziest birthday party ideas based upon construction equipments settings if your kid is really fond of this stuff then they aren't going to forget this unique party parents set for the childhood birthday alongwith buddies and neighborhood pals.
11. Construction Themed Birthday with Solid Kitchen Utensils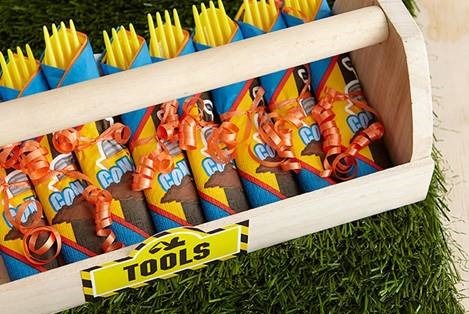 This is one of those construction themed birthday gifting ideas that is as unique as the stars in the sky above. It's also one of the simplest ideas that could look very brilliant and appealing with just domestic solid kitchen utensils that tend to get fancily upgraded to a birthday party decor for your kids when has been wrapped in awesome colorful printed beautiful napkins all tied over with amazing curling multicolor ribbons and well arranged in a wonderful wooden construction toolbox.
Even though it is a faux but, looks very professional and fancy, is the best fit for a birthday bash that will remembered for decades.
12. The Birthday Dining Feast Construction Party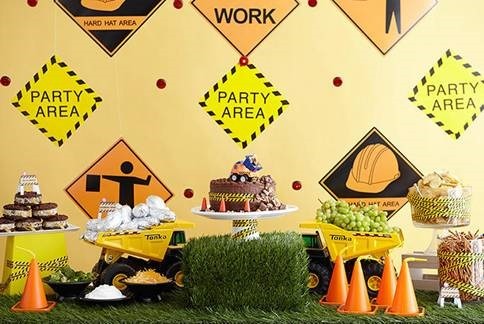 The birthday table dining feast-table party set-up is fairly too yummy but simple to make. We tactfully paved the fancy table with some solid green faux synthetic grass from a large roll and then added the cones of cups, lovely appearing plastic play construction wagons, and lots of yummy snacks are gussied in along with "Construction Birthday Bash" the danger construction tape strip in yellow.
Its layout is totally mind blowing overall looks from the traffic construction signs, attractive reflectors, and a sign of cutouts that is fixed to our walls with a neat painter's professional tape.
13. Drink, Cake and lots of yummy Ice Cream;
You must have already seen our lovable and simple to set-up construction party yummy Birthday Cake, however, pastry shop-purchased chocolate ice cream veggie sandwiches are only as much simple as to make it up and to display, and any other soft drink comes directly into the theme when it is served in cone cups.
14. Ready-To-Serve Lunch Birthday Construction Theme Party: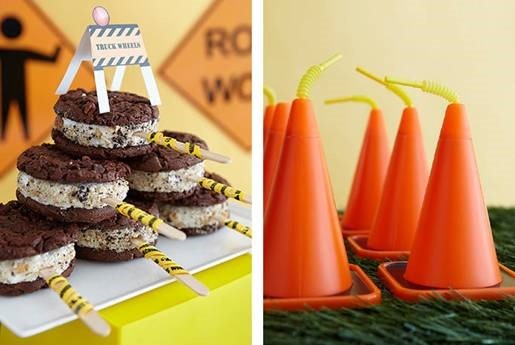 Have you planned your kid's birthday party in the afternoon or for lunch? If so then this is going to be the best ever party to remember in your kid's life. Just add some of our yummy and sweet-spicy super-simple soft baked-fresh potato sticks as a quick-gulp meal.
Add little more crunchy snacks, to it, if you actually like it. Whenever it is decoratively displayed, they will definitely make for a lovely birthday party contribution to the whole birthday construction theme party!
15. Load the toy construction tipper-wagon with green farm-fresh grapes;
Pack the tiny "Construction Zone Truck" warning ribbon around a crystal clear glass tumbler and fill-up with pretzel rods, adding up some candy-loaded plastic hammers to its edge.
16. Child-Friendly Construction Themed-Birthday Party:
Amaze your birthday party guests in this construction theme idea with the kid-friendly plastic fancy toy Hammer with Time based activity which is sure to encourage your child's brain and neurologic-motor skills and enhance their hand-eye link coordination and thus help them grow mentally healthy. Just spray some soft odorless paint in the wooden synthetic golf tees to make some artificial "nails" out of it and cover the Styrofoam pads with soft wooden-grain crepe paper to build wooden Pads.
Decorate a party dining table with the green faux grass-construction themed cover prior to handing out the candy-loaded toy hammers derived from the awesome showcase. Your guests can playfully hammer the toys till their hearts' fulfillment and complete content, however, if they are too small then, he MC Hammer would suit better for a reference.
17. Demolition Man Construction Theme Birthday Party: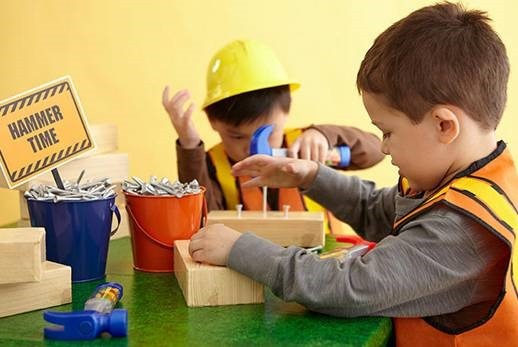 Your guests are going to have a gala time at this birthday party of your kid with the construction theme and focus on 'Demolition Man'. Allow your guests a free hand with the throwing arm on this fun construction toy table with all accessories and a fine tabletop. Guest kids will have a great creative and mechanical toy time with the X-Acto play knife to slice the top of few construction reflector cones leading to modifying traffic signs.
Mix the heights in one or more risers and (normally foam blocks are covered in green faux synthetic grass) and set-up on a party table layered with a sturdy dining table cloth covered and a construction danger sign "Caution" yellow tape. Party kids attempt to bring-down the signs from a short distance with the inbuilt mild and portable Splat stones which of course are absolutely safe for indoor use.
I hope this list of construction party ideas have helped you gather some hint of how to go about your construction birthday party.