Last updated on June 2nd, 2022 at 10:22 pm
Feeling lucky?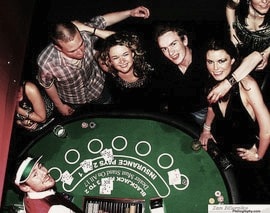 We've got some great casino theme party ideas for you. Number one on our list?
Get your guests in the mood with the real deal: set up a couple of real gaming stations. And, nope, you don't have to rent fancy shmancy equipment to do this (unless you want to). Read on for our DIY casino theme party ideas…
Set up several tables as gaming stations (how many tables will depend on the number of guests): one for poker, one for blackjack and one for craps. Red, black and white are the usual theme colors for a casino theme party, so keep them in mind as you choose your tablecloths and decorations. If you can hire dealers for your tables, fabulous. If not, ask a couple of card-playing friends to help you out (in their fanciest attire, of course).
You can make your own craps table with artist's stretcher strips, a piece of plywood and some green felt. Put it all together with an industrial strength staple gun and a bit of glue and you're ready to roll (I know, bad pun).
Now, this is one of our favorite casino theme party ideas —a make-it-yourself personalized wheel of fortune!
Here's our spin on the idea (sheesh, make me stop!): customize the wheel with your own prizes and make them all about the guest of honor. And don't forget to have some fun at the honoree's expense (c'mon, just a little bit) and throw some gag gifts in there too.
Here are some prizes to get you started:
a gift card to his/her favorite restaurant
a gift card to his/her favorite bookstore, coffee shop, nail salon, etc.
a CD of his/her favorite band
a DVD of his/her favorite movie
a favorite book
a funny framed photo (high school yearbook perhaps?) of the birthday guy/gal
a box of his/her favorite cookies
a bottle of his/her favorite cologne/perfume
one of his/(hers?) favorite kinds of cigars
a six-pack of his/her favorite beer
a bottle of his/her favorite wine or liquor
We could go on and on, but you get the idea.
What, No Roulette Wheel?
Hang on, we have one. It's the birthday cake!
You'll need a large round cake for this project. A couple of 9-inch cake pans will work fine, but if you need to feed a lot of people, or if you want a larger cake for decorating purposes, consider investing in a 16- or 18-inch half round cake pan. These pans are deep (3 inches) and you only bake one at a time so they easily fit in a residential size oven. When both halves are done and cooled, just push them together on a large cake board and they're ready to be frosted.
After you've frosted the cake and decorated it (marshmallow fondant icing would be a good —and easy— choice for this cake), add a marble on top and you're done!
Follow the Red, Black and White Scheme onto Your Table
Arrange a centerpiece of red and white flowers and place smaller glass vases with flowers all around the room. Fill the bottom of the vases with quarters, nickels, dimes, pennies and/or poker chips instead of glass beads. Scatter them around the vases as well.
Find playing cards with solid red or black backs and use them as place cards. Simply write each guest's name on the back using a paint pen and place each card on a plain white plate. Very elegant!
And the Perfect Casino Party Favors are…
Personalized playing cards, of course!
You can find stores online that will customize decks of cards for you. How fun to see the birthday guy or gal's photo on the back of a deck of cards! Add a funny saying if you're celebrating a milestone birthday.
Hope you found enough casino theme party ideas to get your party off to a great start (oh, and good luck)!