Last updated on March 3rd, 2022 at 09:14 pm
Father-in-law is like a father and a friend with whom you can talk and learn about life. Your father-in-law might not be very keen in looking forward to a birthday wish, but you can make his day by sending him birthday wishes. These are birthday wishes for father-in-law that you can choose from and make him feel loved and cared for.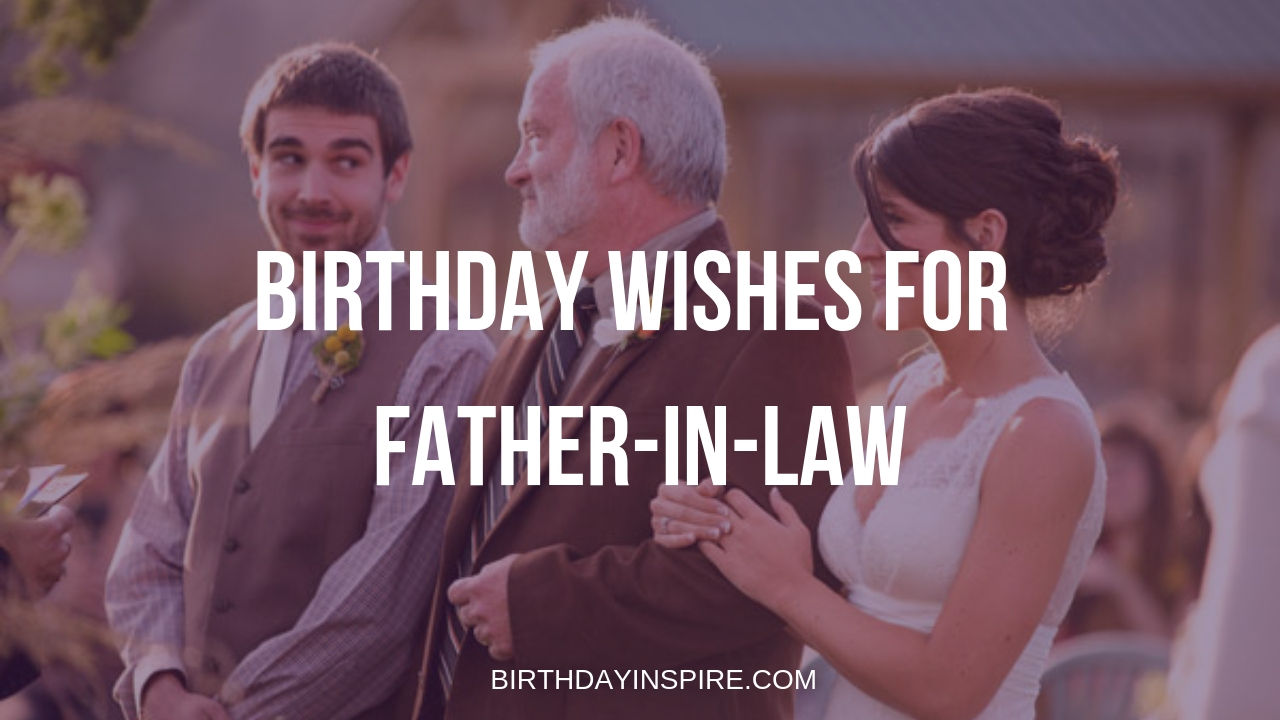 Endearing Birthday Wishes For Father-in-law
You are so calm and busy reading stuff and watching TV most of the time. I take this opportunity to wish you on your birthday. May you be blessed with good health and stay fit in the coming years.
You are the person I can talk to in the family. You are as dear as my father to me. You are so affectionate and patient. I do not fear to commit mistakes in front of you. Thank you for being so considerate with me. Happy birthday.
You never interfere with our choices. You always let us do what we want to without trying to control us. It shows us how much you love and trust us. I promise to take care of you and your health lifelong. Happy birthday. I feel blessed to have you as a family.
You are so kind hearted and funny. You always come up with jokes and make everyone laugh. It is such a joy to have you in the family. Happy birthday. I pray that you always stay fit, happy, and smiling.
With every year you can wiser and age so peacefully. You are a peaceful person. I feel blessed to have you as a father-in-law. Happy birthday. I want to do whatever makes you smile and feel the joy of life.
I wish all of your wishes get fulfilled and you stay happy always. After a prolonged illness, I am so glad you are up and healthy. I always pray for your good health and well being. Happy birthday.
You manage to stay organized even at this age. Your sense of discipline and time management is laudable. I learn a lot from you. It encourages me to put in more hard work and not leave a room for excuse. Happy birthday.
I have a lot of respect for you and how you single-handedly raised a family. I admire you and feel proud that you are a part of our family. Happy birthday. It is a privilege to learn so much about life from you.
Ever so patient and sweet father-in-law. You always appreciate even if I make imperfect food. I never see you complain or whine. You always have something nice to say. I am so lucky and happy that you are my father-in-law. Happy birthday. May all of your life shine brightly and may you always be joyful.
You are the best gift as a family member to me. You have raised your children so well. The time you spend with kids, they have so much fun. They love and adore you. Happy birthday. We are blessed that you are a part of the family.
Every year this day brings us joy to celebrate your birthday. We feel happy to let you know how much we love you and care about you. Celebrating this event every year is important to us because you are very important to us. Happy birthday.
Charades, board games, and all the fun activities that you and kids participate in bring so much joy to all of us. We feel so happy that you are always here to bless us and your presence makes us feel nurtured. Happy birthday.
Your collection of books, your stories about your village and the life that you spend is so fascinating. You have lived your life fully. Without ever cribbing or whining. It encourages to always look at the brighter side and stay happy. Happy birthday. May you see some more adventure that quenches your thirst for travel.
You always treat me like your daughter. I never felt like I was away from home. You are more of a father than a father-in-law. Happy birthday. Have a wonderful birthday.
Your collection of stories and knick-knacks makes up for an interesting family museum. You have a unique story for all of your collections. It is amusing you are still so interested in so many things. Happy birthday. You are unique and amusing. May you always be happy and find joy in everything that you do.
I have many wishes and prayers for you. I have always been happy taking care of you for so many years. It has been a decade. Happy 60th birthday. May you live longer for many more years and stay healthy and happy.
I am always grateful to you because you have nurtured me as a daughter and not a daughter-in-law. I always felt that I am lucky to have this family where there is so much love and togetherness and that comes from all that you have taught my husband and everyone else. Happy birthday. Our family is incomplete without you.
You are still so young at heart. It is amusing to see your upbeat enthusiasm for life. You still have so much will to learn so many things. The focus with which you play FB games and seriously read FB updates is very amusing and makes me laugh. Happy birthday. You are a wonderful person in your years and may you always remain this way.
You have succeeded in so many things. Professionally and personally your wisdom and advice are unmatched. You are so right at the button, it is hard that your advice hardly goes wrong. You analyze every situation so accurately. Happy birthday. We respect and honor your presence in our lives.
I am always happy to take you on pilgrimages and your favorite musical concerts. It is a blessing to have an elderly person in our lives like a guiding light. Happy birthday and may you live many more years with joy and good health.
Funny Birthday Quotes For Father-in-law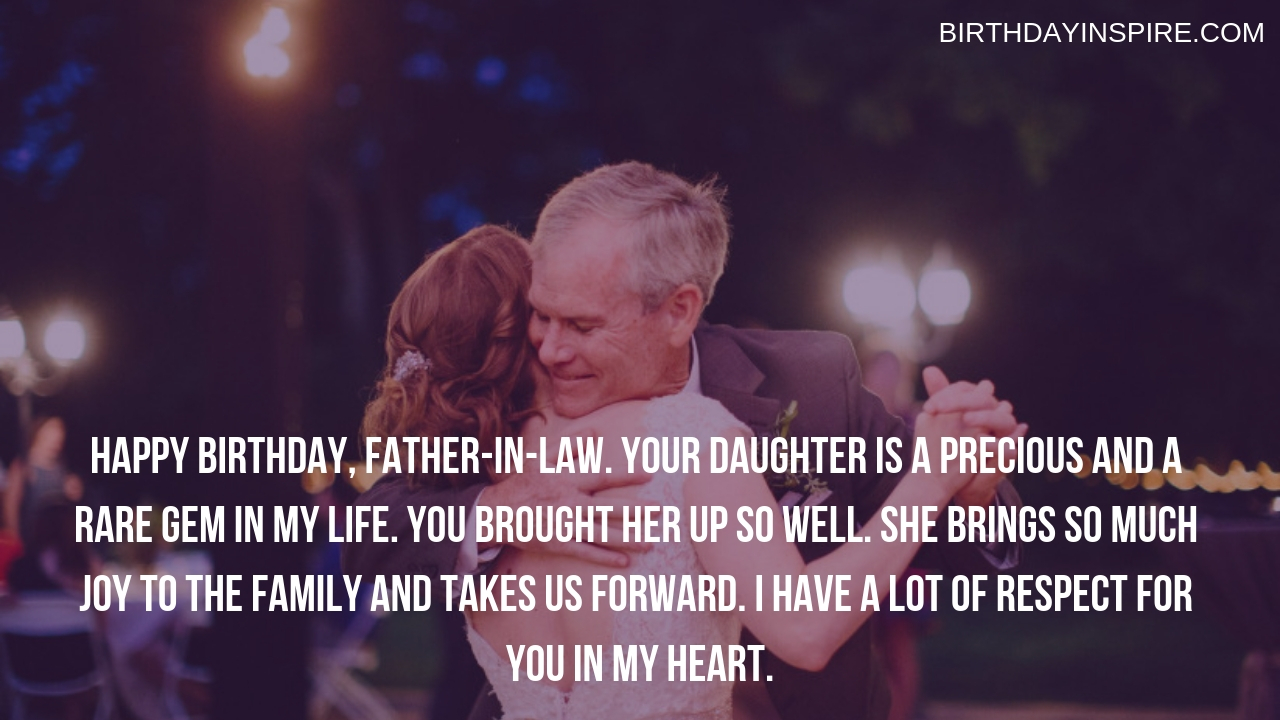 Even in the age of the internet, you still listen to the radio. It is your prized possession that you never let anyone touch. It is so amazing to see nostalgia of yesteryears through you. You are so old school in everything, it retains all the good. Happy birthday. It is because of you we feel grounded.
The way you remain calm in the most heated arguments and bring every good reasoning on the table is the quality that I admire the most in you. Happy birthday. May you have more peace and joy in life. I will always want to see you in happiness and good health.
Today your birthday is filled with blessings and wishes. We always plan a surprise for you to make you happy. Happy birthday. My life with you in this home has been nothing less than wonderful.
Your interest in philosophy and knowledge is so deep. I could listen to all of your gumption and wisdom for hours and imbibe so much from you. Happy birthday. You take us closer to divinity with your presence.
I sometimes that you are such a miracle, so calm, and cheering around my mischievous children. They are always being playful, snatching the remote, playing with your walking stick, still, you are so lenient with them. Happy birthday. I pray that you always stay in good health and have many more wonderful memories with us.
You have stayed away from us for so many years. Whenever you snail mail us, it is the most awaited thing for us. In the age of email, it is endearing to receive your handwritten letters that share all of the things that you do and have to say. Happy birthday. We miss you a lot and wish to see you soon.
On your birthday I pray that God gives you many years of happiness, many more places to travel, and many more things that you enjoy doing. Happy birthday. You are always lost in your thoughts in your rocking chair, sometimes falling asleep. Wish you peace and good health.
You have mentored me through my days of post-graduation when I told you I wanted to study after marriage. You are so forward-thinking. I am truly blessed to have a father-in-law like you who is a guardian and a mentor. Happy birthday. May every moment in your life be filled with content and good health.
Happy birthday, father-in-law. Your daughter is a precious and a rare gem in my life. You brought her up so well. She brings so much joy to the family and takes us forward. I have a lot of respect for you in my heart.
I always see you vibrant and optimistic. All of your life is filled with adventures and travelogues. You are an adventurer at heart. Happy birthday. May your life be blessed with many more travels to fill the pages of travel diaries and may you age with a lot to talk about.
Here is my chance to let you know how much your presence has changed our lives. You have always been an inspiration to us. Your daughter is your greatest fan and so am I. Happy birthday. May you stay happy and blissful in all of the years.
You are the most amazing person in our lives who bring an experience of life and many meaningful insights. Your daughter is wise and mature because you taught her so well. She brightens our lives. Happy birthday.
I admire you so much I wish to age like you gracefully and with dignity. You have always lived a respectable life, and given so much to people. You are truly altruistic. Happy birthday.
You still rock at playing football and outdoors with you are so much fun. By the campfire when we go on a family outing with you, it brings a lot of joyful memories. You are so much fun to be around with. Happy birthday. Every event turns into a laughing riot when you are there.
Sending you best wishes, hugs, and many blessings. May you stay healthy and eat fewer desserts. We want you to live long enough to see your great grandchildren. Happy birthday. It is a joy to see you grow old so beautifully.
Every day you have a set routine which you never miss even if you are on a vacation. For us, being so young, it is awesome how to manage to do it without getting bored. This is something that I would like to imbibe from you and let go of my random routines and erratic schedules. Happy birthday. You bring stability to our unplanned lives.
I lost my father as a kid and did not know what fatherly love was until I was a part of the family. You have loved me like your daughter and never gave me a chance to miss home. My mom is so content in her growing years to see me so happily married. Happy birthday.
I will always do my best to keep your daughter happy. You have raised her like a princess and set the bar very high for me. I will always do my best to bring joy to her life as you did. Happy birthday.
You are so audacious and fearless even at this age. It is not a good idea to get into an argument with you. With your reasoning and wisdom, you stand right in your place. It is awesome to have you in our lives. Happy birthday.
You have always encouraged me to fulfill all of my dreams and never restricted me in any way. Just like a father would, you have always pampered me and guided me throughout, helping me take the right decisions. Happy birthday. You are a blessing and i'm going glad I got married in this family.
You are so fit that you could defeat even the young in a marathon. The younger people have a lot to learn from you about fitness and all the significant things in life. Happy birthday. You are the rockstar of the family. May you always stay fit as a fiddle.
Meaningful Birthday Messages For Father-in-law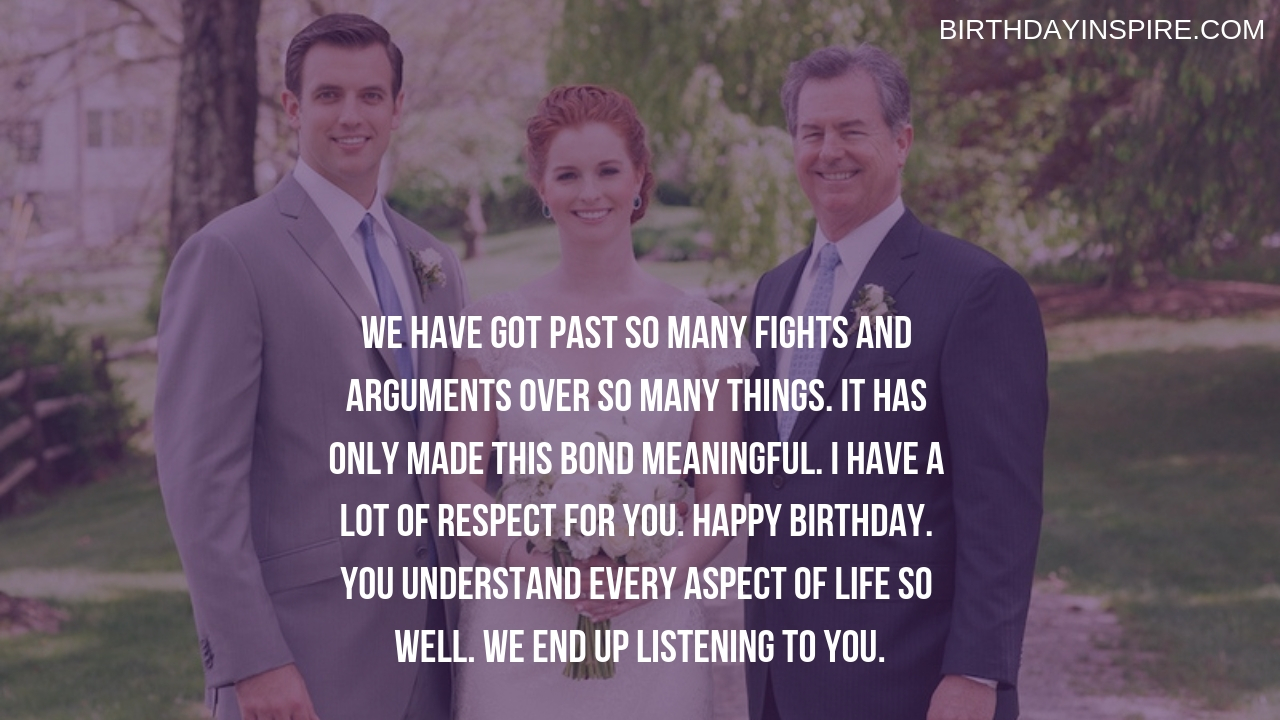 You are so strict, it is intimidating to say anything to you. But on your birthday I want to let you know that you are the most loved person in the family who brings so much order and stability to our lives.
We have got past so many fights and arguments over so many things. It has only made this bond meaningful. I have a lot of respect for you. Happy birthday. You understand every aspect of life so well. We end up listening to you.
You have always been known for your flamboyance. Even at this age, you have not lost your charm. You are so full of life. Happy birthday. May all of your coming years be vibrant and colorful as they have always been.
You have emotionally and spiritually uplifted the family. It is so awesome that you connect so well regardless of how we are generations apart. Your openness towards learning social media and keeping up with the current events is laudable. Kudos to the coolest person that you are. Happy birthday.
I have posted on your FB page and also sent you many lovely messages on WhatsApp on your birthday. You have always showered so much love on us, it never seems enough no matter how much I wish you. Happy birthday. May your day be extraordinary and you live all the years of your life in joy and happiness.
The ping pong matches, Pictionary, and all the activities planned with you are such a great pass time during vacations. Every year when you visit us, it is the happiest time for us as well as the kids. We wish you to visit us more often. Happy birthday. I pray that you have many more memorable moments in your life filled with joy and happiness.
You have always been so committed towards everything in life. Your son has the same virtues and is lucky to be married to him. He is dedicated and a thorough gentleman just like you. Happy birthday.
You have pampered me and spoilt me with your love. I could never feel like I was your daughter-in-law. You have to give me so much love, affection, and freedom. I hardly feel I am with my in-laws. Thank you for all the joy and happiness. Happy birthday. I will always take care of you and may your health be good and you always keep smiling.
Your sarcasm deserves an award. You come up with so many original liners in split seconds. I do not how you do that. It's amazing. I must admit even during serious moments your comments had made me laugh. Happy birthday. You are the most loved member of the family.
Senior citizens and older members of the family hardly remember their own birthdays. Sending birthday wishes for father-in-law can bring tears of joy to their eyes. People at that age only need to know that they are still loved and cared for. Show them you love and care for them through these happy birthday messages.