Last updated on February 22nd, 2022 at 02:51 am
Today i am going to share with you one of the best messages and birthday wishes for dad. I know its hard to express your love to your dad but to make things easier for you i am sharing some of the best birthday messages for your dad that will surely make his day special.
---
A son's hero and a girl's first admirer 'Father' holds a pivotal role in everyone's life. An example worthy of admiration, the best way to make his Birthday special is my greeting him with wonderful wishes.
Wishes have the power that no gifts can ever have. The words encapsulate the greetings with vivid descriptions making it simply amazing. Capturing the essence of umpteen emotions and spilling the feelings in a subtle and succinct manner here are some of the choicest wishes which are sure to make this day even more special.
Birthday Wishes And Messages For Dad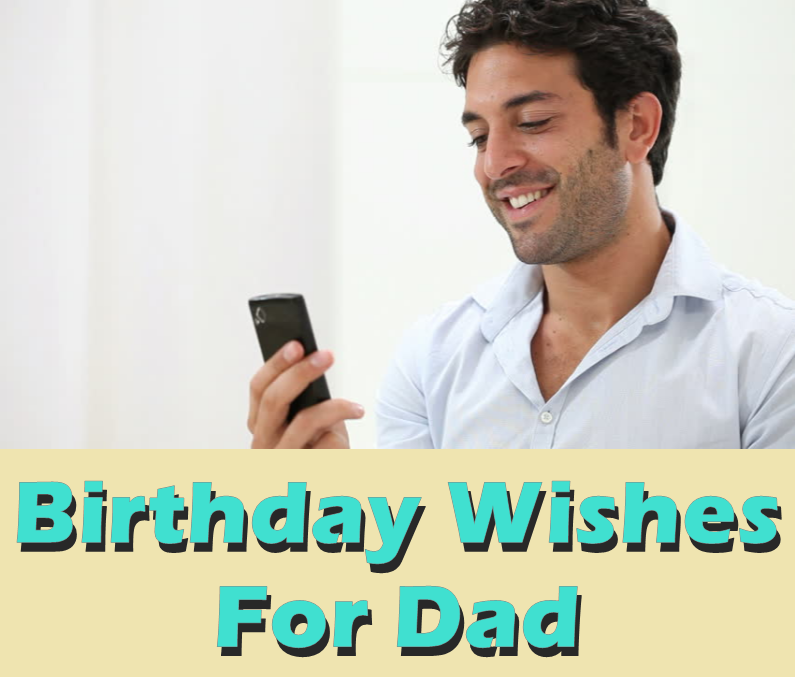 Perhaps it is a very small word for all the years you have molded me, but I still want to say it, Happy Birthday Dad! Love You.
When there was no one around me, you held my hand and showed me the path. Be lighted with the road ahead here is Wishing you dad a Very happy birthday. Love you loads
Thank you Dad for making me understands the meaning of the words support and strength. Here is wishing my strength and support of life a very happy Birthday
With every passing year my belief in you is strengthened knowing that I am ready to face life. Thank you very much for being there for me. Happy Birthday!
May your life be filled with basket of luck and a bunch of happiness spreading its fragrance of on this day and the days ahead here is wishing you many happy returns of the day!
On this very special day, a small curve on your face is all I need to make it a memorable day. Cheers to the greatest dad in the word. Happy Birthday!
I never believed in the word perfect, until I realized that the perfect person has always been around me since my childhood. Here is to a perfect dad one can wish for- Happy birthday.
There are no words to describe my love for you – for Dad you have something amazing which is just beyond words. May this special day entrails my love and warmth for you in the most amazing manner. Happy Birthday Dad.
Wishing my one and only inspiration in love that taught me the essence of life and made me the one that I am today. Here is wishing you the world's happiness. Happy Birthday Dad!
My pillar of strength, my inspiration for life and my entire world, Dad you the one that completes my life in the most amazing way. Wishing you tons of happiness on this very special day.
Happy Birthday Wishes For Father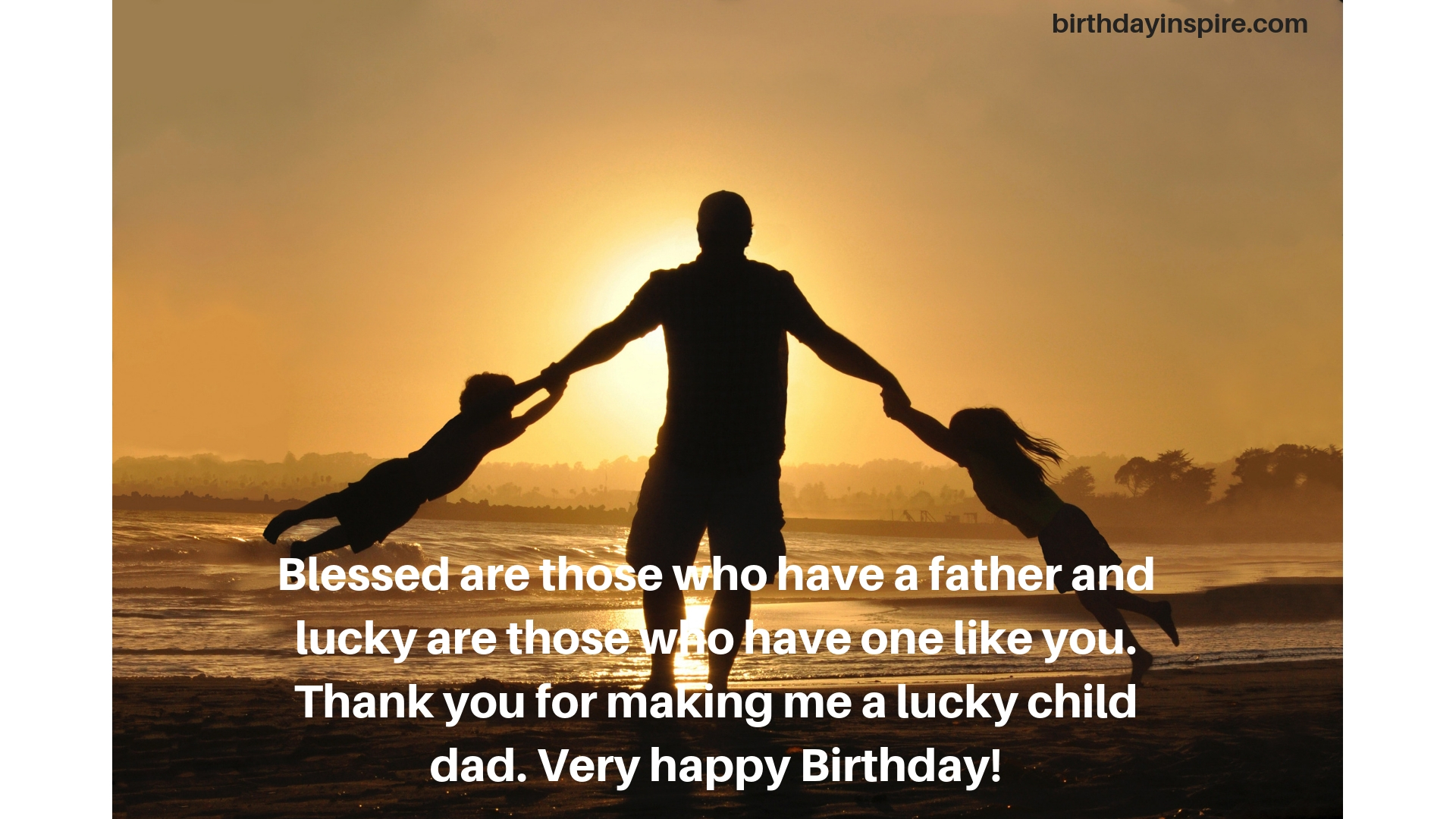 I remember the day when you taught me how to walk on my feet. Till this day you have taught me to walk the walk of life. Thank you for being there. Love you Dad.
With a cup of tea in one hand, and your favorite novel in the other, here is bringing you the staples that make your life beautiful as always. Happy Birthday.
Know that these two words have a deeper meaning filled with bubbling emotions full of wishes, love and gratitude. Here is wishing the greatest dad in the world a Very Happy Birthday!
You have always toiled hard for us so today give it a break and bask in the glory of this very special day. A day full of fun, happiness and joy- many happy returns of the day.
Blessed are those who have a father and lucky are those who have one like you. Thank you for making me a lucky child dad. Very happy Birthday!
Every long drive with you was special to me, as I embrace those moments I feel blessed to have such a perfect person in my life. Love you Dad and wish you a lifelong of happiness.
When it comes to you love and trust becomes blind. Cause I know that I can trust you blindly and blindly enjoy the warmth of your love. Happy Birthday Papa.
You toil and toil and toil. But today you will just relax and enjoy life as you deserve this very special day. Many happy returns of the day dad!
Perhaps you deserve a lot of happiness unbounded by boundaries. But here is a little warm hug that encompasses that happiness with my wishes and love. Love you dad.
I know people hope that they had their genies to make their wish come true while I always knew my genie is holding my hands since childhood. Happy Birthday to my genie(Dad)
Birthday Message For Father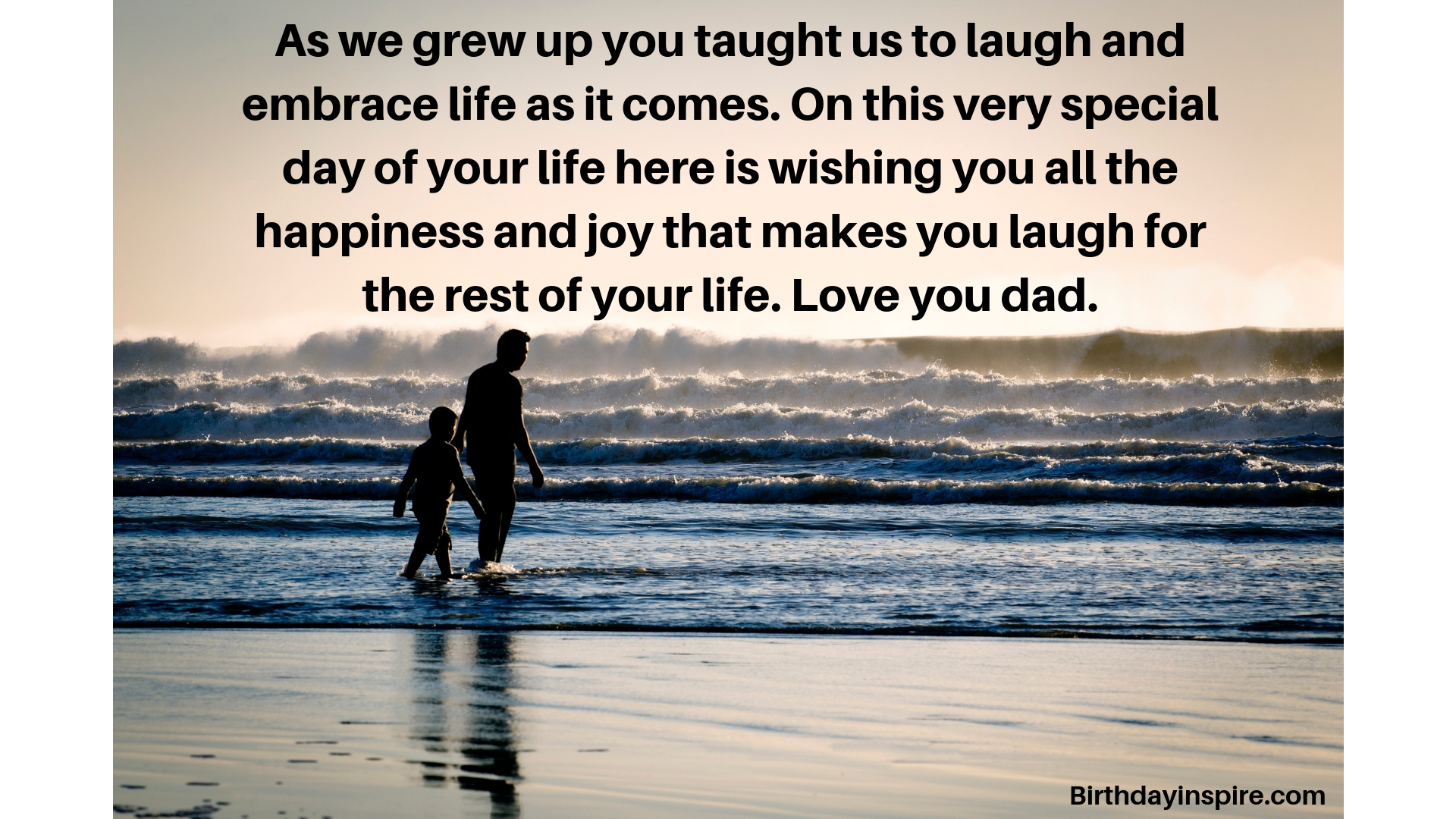 There is definitely no gift that can match the gift of your love and affection. Love you dad for giving me such a memorable gift of life.
From my driving skills to the way I live up and look into my life, you have been there as my guide and teacher. Love you dad and wishing you a very happy Birthday.
I am the princess in the kingdom of my Dad's house. So here is wishing my special King many happy returns of the day from the special princess( your daughter).
You wore those old rugged shoes while you gave me the beautiful stilettoes just to see the gleam in my eyes. Perhaps this rolled down tear express how much it meant to me. Love you Dad.
Dabbing splash of vibrant colors, in the canvass of my life, you molded it in the way which has shaped to this beautiful one that I am living every day.
No matter how rich I become, I can never compete it with the wealth of love that you have showered throughout my life.
Every single moment of my life has been possible with the assurance that, my father is there to support me no matter what. Thank you for this reassuring feeling Dad.
You know what makes me happy? The joy of celebrating my favorite persons birthday with full galore. Here is wishing you a very Happy Birthday Dad.
As we grew up you taught us to laugh and embrace life as it comes. On this very special day of your life here is wishing you all the happiness and joy that makes you laugh for the rest of your life. Love you dad.
I knew you are someone extraordinary, someone out of the world. . Yet you are the best dad in this planet. Lucky to have you in my life. Happy Birthday!
Happy Birthday Dad Quotes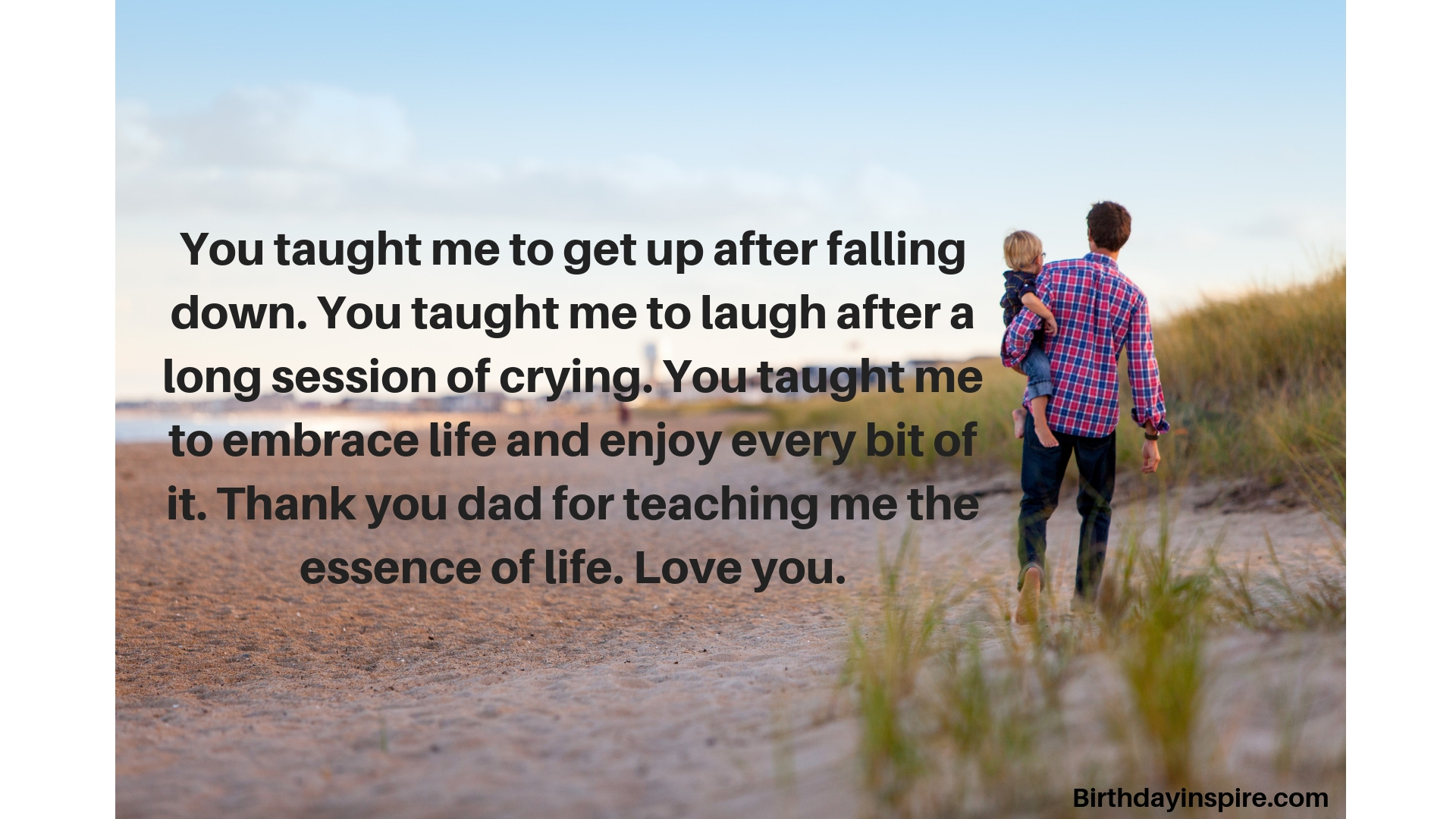 A birthday wish is a just a way to express the gratitude and levy a channel for emotional feelings. Glad I can do this with the help of this message. Many many happy returns of the day.
If there was something to express infinity, I would show you how much I love you and the extent to which you mean to mean. Here is a heartfelt wish for someone truly special.
I guess everyone has a father, but there are a few special ones who get the warmth and love of a dad. Thank you for making me special. Happy Birthday!
There is something special about the blanket of warmth and essence of love which levies a sense of security to make me feel secured all the time. On this special day let me thank you for that secured and peaceful feeling. Love you.
I have always dreamt of my man to be just the reflection of you Dad cause there can be no one who understands me better than myself. Happy birthday Father.
As you helped to make our lives a fun and frolicking experience, here am me trying a little to help you make your special day the same kind. Cheers to the most lovable and fun dad in the world.
Is it me or are you the one who is growing up handsome and more handsome by every passing year. Here is to the dashing dad who is the most amazing person in the world.
I was never afraid of failing cause I knew that you would be there by my side when the entire world turns against me. You are my everlasting support and I love you to the very core.
Cherishing all the fond memories and remembering all the hard core lessons that helped me shape up my life here is wishing my hero a great birthday full of happiness and joy.
You taught me to get up after falling down. You taught me to laugh after a long session of crying. You taught me to embrace life and enjoy every bit of it. Thank you dad for teaching me the essence of life. Love you.
Birthday Greetings For Father
My heart always has a special place to store the memories of my dad making my life worth living. On this awesome day let me wish you lifelong happiness and good health.
Dad my admiration for you grows with each passing year learning how to survive in the bad days and stay grounded in the good days. Lucky to have you as my dad. Happy Birthday.
On this very special day, I gift you the tie, the tie that bonds us with affection, love and respect. Wishing you loads of luck and best wishes on your special day.
I would like to let you know that the best gift that I received from God was you –Dad. You truly have made my life wonderful in every way possible. Have a wonderful birthday dad!
The unconditional love of a father and a child is so special that it cannot be even expressed in words. Thank you for embracing me in that unconditional love. Happy Birthday Papa!
My hero deserves a special treatment on his favorite day. So Dad here is gifting you happiness bundled in a cup of coffee and a novel to make your day special in your own special way. Enjoy your Birthday!
What I can wish for on this very awesome day is some moment of peace and relaxation, for Dad you deserve some time to yourself too. Have a great year ahead. Love u Dad.
Dad you are like a canopy of tree protecting me through the ups and downs of life. Your protection has made me secure and comfortable. Hope your years ahead are secure and comfortable knowing that your loving child is always there for you. Happy Birthday Father.
You taught me how to walk, you taught me how to run, and you taught me the meaning of life. So on this very special day all I want to say is 'Thank You' Dad you are really the best. Have an amazing Birthday.
When you held my hands to teach me how to write, I did not realize that it was not just writing alphabets in the paper, but was actually the art of writing beautiful memories of my life. Love you Dad. Enjoy your special Day.
Birthday Quotes For Father
Birthdays have always been special. But your birthday is extra special you know why? Because you are the best dad in the world. Here is wishing you tons of happiness and joy on your birthday.
When I was a child I turned to you for the little tips to help me tackle life problem. Well I guess I even do it now J. Need you forever Dad. Happy Birthday.
It was you father who taught me to forget fear and live freely like a bird. Here is to a fearless father –my inspiration for life. Wishing you a very happy Birthday.
I cannot imagine my life without you Dad because I know whatever happens you are the one whom I can turn to with an open heart. Have a wonderful birthday Dad.
My life is imprinted with memories from childhood with your teaching in bold helping me to live life the way it is meant to me. This makes you so special. So on this special day, hope this day brings you laughter and joy and loads of luck.
I would have never learned the meanings of struggle and strive if it weren't for you. You are the one who explained the meanings and made my life an amazing journey. Here is wishing you an amazing day. Happy Birthday.
I might have outgrown you in terms of height but I will never outgrow out of your heart. You are so dear to me and I will always remain as your little child. Happy Birthday Dad!
You have helped make each of my dreams a reality. Today as I stand to greet you on your special day I wish that all your dreams come true and you get a lifetime of happiness. Many happy returns of the day Dad!
I have always tried to imitate your strength and agility and the way you look so crystal clearly on every little nuance. But well I guess it will take a long time to reach your level as you are simply marvelous. Happy Birthday Papa.
Whenever, I was perplexed with any question in my life, I knew whom to turn to cause Dad you are the answer to any problem. Well that is how important you are to me. Have a great birthday Dad!
Birthday Message For Dad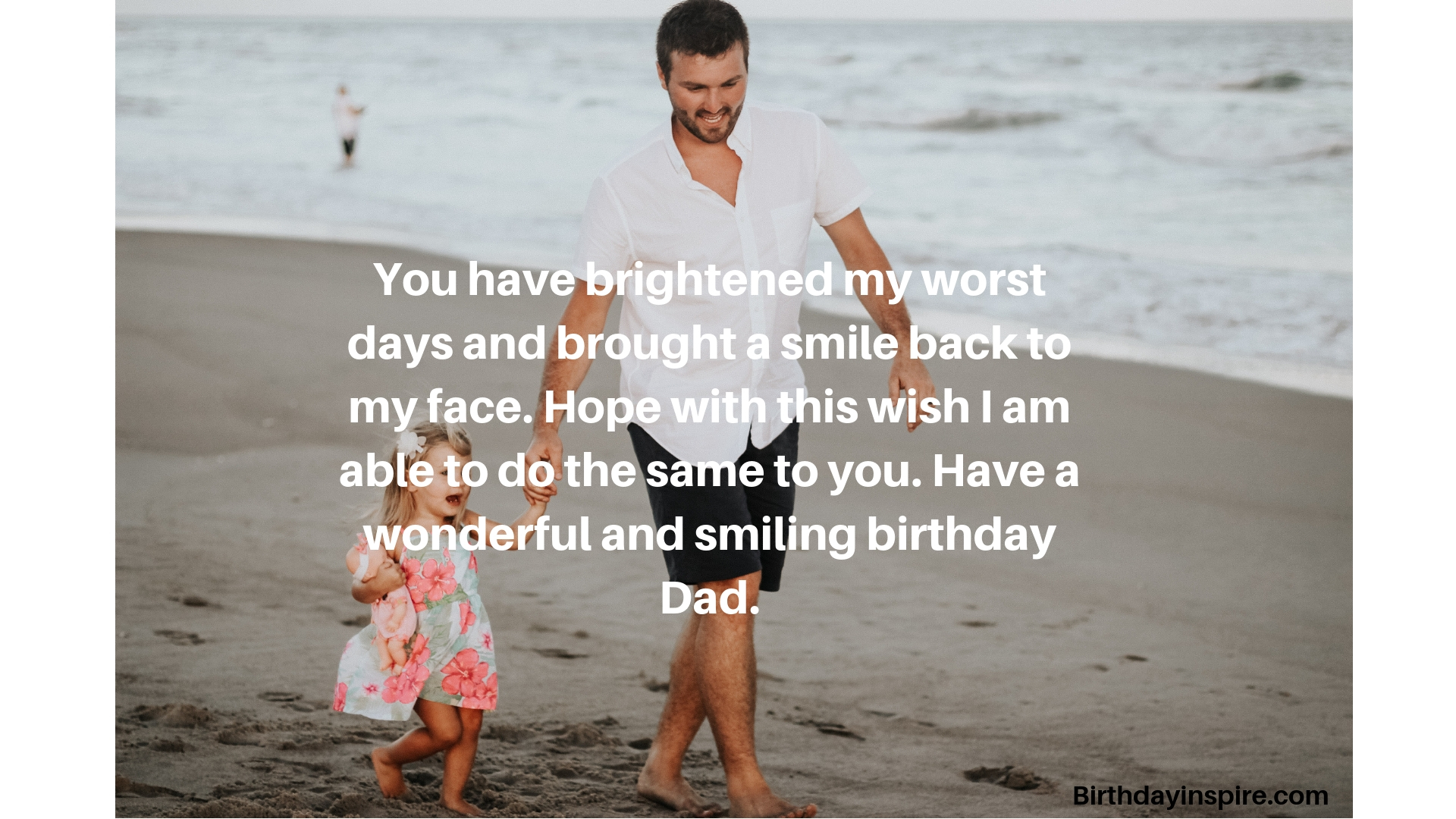 You have so many qualities it will take forever for me to jot them down. So there is honor, respect, strength, love, care…… Seriously you are my superhero. Have a great birthday full of fun and frolic.
I have always wanted my dream man to be just like you- a perfect gentleman to the core and a man encompassed with warmth and compassion. Love you dad and have a wonderful birthday.
Dad you are an outstanding example of patience, boarded with basket of knowledge and sea of experiences that makes you a level above than perfect. Trying to send you the perfect wishes for the perfect dad in the world.
Strange as it is , a part of you forms my world, in fact, there are several actions that I have unconsciously started taking like you. So here is to the best dad who is just amazing. Have an amazing birthday.
With every passing year, your personality seems to add in a feather of dynamism which makes your personality even more charming. Have a blast dad on your birthday!
Whatever I am today, is the toil of your every moment to shape my life into an amazing ocean of experiences. You made my life easy my striving each and every day. I know words cannot express it but you mean a lot to me Dad. Love you.
You never celebrated your birthday, owing to the long hours of chores. Today I would like to gift you time to sit back and relax those cherished moments cause you deserve a lifetime of happiness.
You have brightened my worst days and brought a smile back to my face. Hope with this wish I am able to do the same to you. Have a wonderful and smiling birthday Dad.
I have looked upon you as my inspiration, I have looked at you as my friend in times of trouble and I have always found you as my support no matter what, Dad you really mean a lot to mean. Happy Birthday to my father.
I wish that the twinkling stars adorn your life, the sky cover you with its warmth, and the joys of the world encompass you forever cause father you deserve nothing less than this. Many happy returns of the day Dad.
Best Birthday Wishes For Father
You remember how you used to help me in my homework after a tired long day. Well today I would like to repay that by giving you those lost moments and a hug filled with love. Love you dad you are simply amazing.
Your every little move, be it reading newspaper or driving the car has been a source of inspiration to me, cause father you are the hero in my story book of life and that is something which has keep me motivated throughout. Happy Birthday Father.
Thank you is such a small sentence to cover up for all the sleepless nights, the homework sessions and the long drives that made our day. Still I want to say Thank you dad for being my dad. Happy Birthday.
Dad you mean so much to me that I can never ever express them in words. You are something which is more than a world. You are everything to me and I love you. Happy Birthday Dad!
You are truly a heavenly gift from God to me, because I know that whenever I am with you I am always at peace. Thank you for being there for me. Love you Dad.
Dad you have always been my source of inspiration and pride. You are that amazing person whom I count as perfect and indeed you are the gentleman with all those qualities etched in that one reads only in books. Have an amazing birthday Dad.
On your very special day, I would like to gift you smiles, because that is what you taught me while growing up. Have a birthday full of smiles for today and for the days to come.
Dad you have been good to me even when I was bad and perhaps that is what makes you someone so special and supportive. Cheers to the best dad in the world. Have a blast on your birthday.
Birthday wishes are always special, but this one is a little extra since it is to the most important person in the world- my Dad. Many happy returns of the day.
Life would not have been the same if you were not in it Dad. In fact, when I look back all I can see is your memories that have dotted my life and made it beautiful. Here is wishing you a beautiful life ahead.
I hope that you found these birthday wishes for dad to be helpful. You can directly copy and paste these messages or else you can edit the messages accordingly to give personal touch.