Last updated on March 3rd, 2022 at 09:13 pm
A male friend who is a best friend is one of the best bonds that you can share. You can talk to him about anything, get sensible, sound advice, know about the latest gadgets, and many more interesting insights about life. These are funny birthday wishes for best male friend that you can wish him on his birthday and make him laugh.
Hilarious Birthday Wishes For Best Male Friend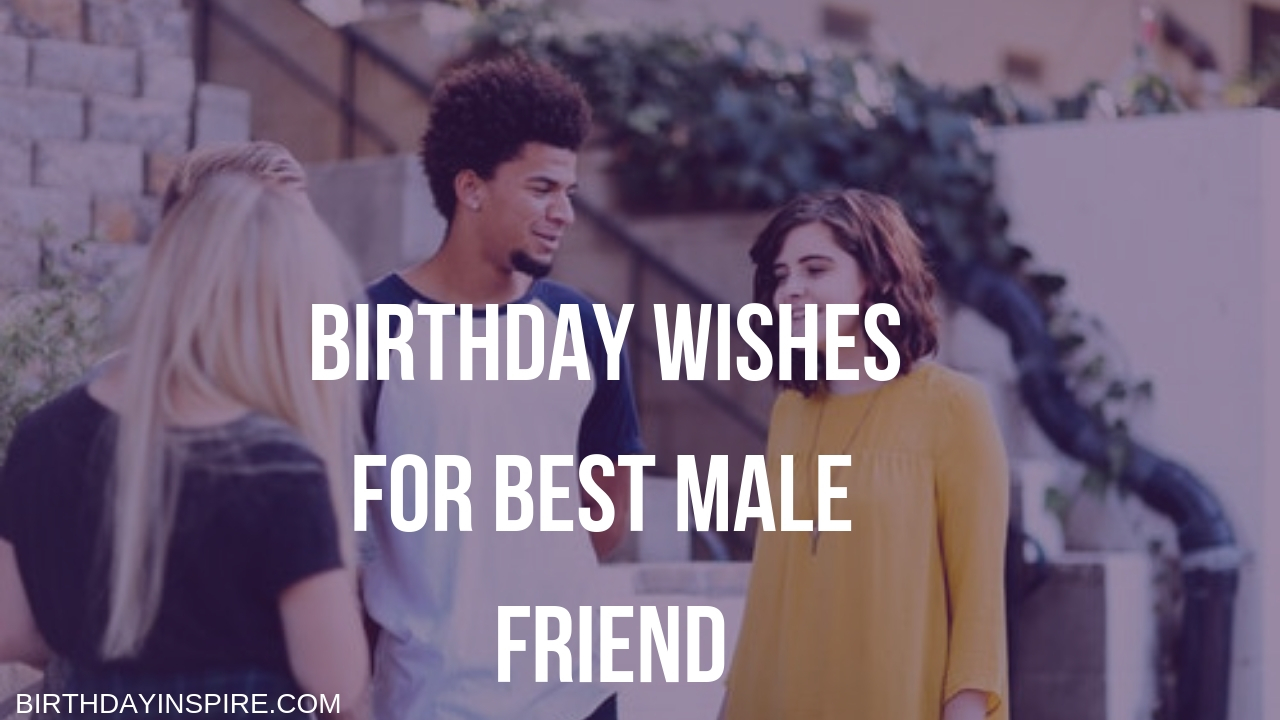 We have spent many fantastic years together talking, hanging out, discussing movies at length, and doing many fun activities together. Happy birthday and here is wishing many more years of friendship.
We grew up together as kids and pursued the same things in life. Even though we are married to different people, we still share the same bond. Hanging out with you after so many years is like nostalgia. Happy birthday. Have a lot of fun.
Happy birthday. May you keep jamming and come up with some great music. You write beautiful lyrics. I hope to see you will be a good musician.
Your friendship is the truest form of bond I have formed in this life. I hope it remains the same lifelong. Happy birthday. May you reach all of your goals and get the strength to fulfill all of your dreams in this life.
Happy birthday to you. You always helped me with my homework. Taught me math in school because you were always very brilliant. You have always been the biggest fan of my artworks. May God bless you with many years of success.
You have always been there in my good as well as bad times, being the best advisor, taking care of me, and always guiding me in the right direction. Happy birthday. God has already blessed you with a lot of goodness and wisdom. May you get outstanding success and get all that you desire.
You are the only person who gets my sarcastic jokes. We have always been peas in a pod. With you as a company, growing years and all the challenges seemed easy. Happy birthday.
Every time I had a fight with my parents, you were the agony aunt. With you I always felt like I can talk about anything without being judged. You are a best friend forever. Happy birthday.
You have patience and endurance. You might not always get my interest in fashion because of the geek you are. Happy birthday. You deserve a lot of success in all the coming years.
You remain so cool even when they were ragging you and handled it so well. I sometimes wonder from where do you get so much wisdom. Happy birthday. I hope you get all that you are seeking.
Funny Birthday Wishes for Best Male Friend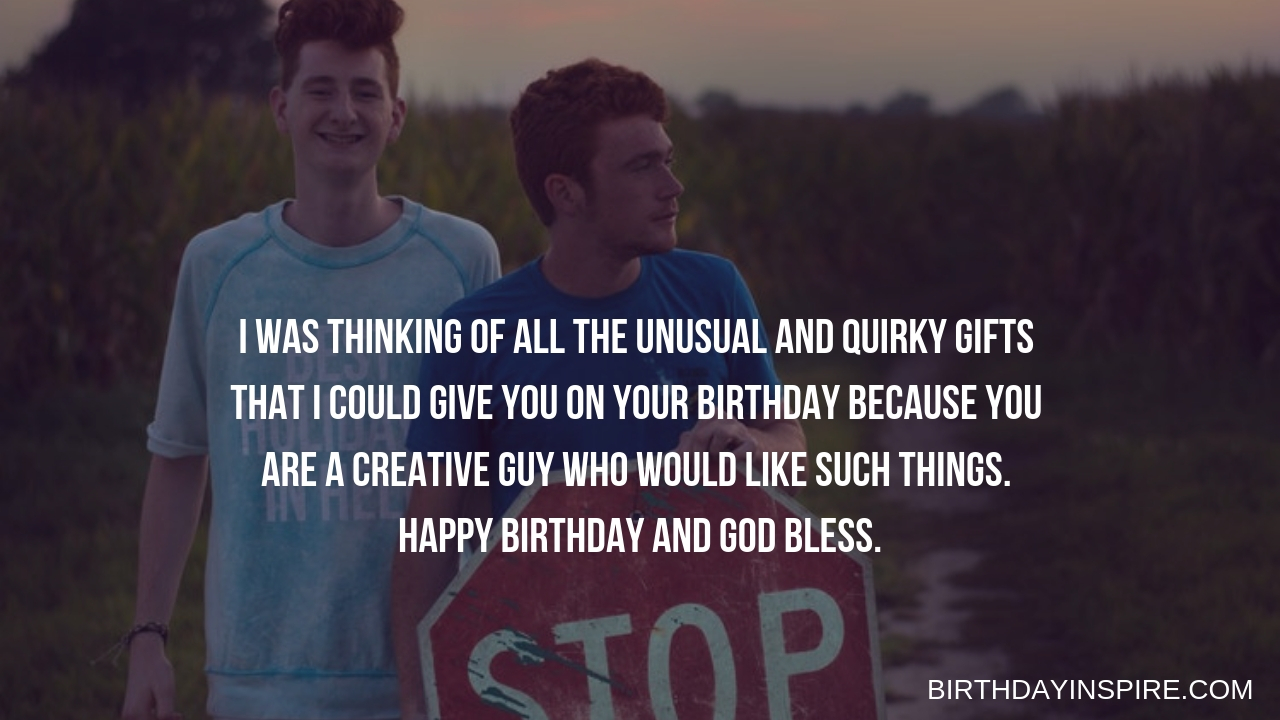 Despite your busy schedule, you have always attended my birthday. I wish you all the happiness and success in your life. The dedication that you have towards life is rare. You are a rare gem and a rare find.
I am thankful to God that I have a true friend like you who always gives honest feedback. You are never wishy-washy. I know when you say something, you mean it. Happy birthday. I am sure you will achieve all that you want in life because you are so sensible and gritty.
It is a matter of pride to have someone like you as a best friend. You have been the ideal son, and are the finest examples of a good human being. Your down-to-earth nature attracts all the good things in your life. You are humility personified. Happy birthday. You have a beautiful soul.
I can be silly and stupid with you. With you, all of the meaningless and trivial conversations are a true joy. I could say that with you I enjoy talking nonsense like I am getting a Pulitzer for doing that. Happy Birthday.
You wake up early in the morning and have a routine. I am a lazy bum. We are oil and water who blend so well as friends. All that is a contrast between us makes us the best of friends. Happy birthday. I enjoy your sensible advice even when I am all about being nonchalant.
You always listen to all of my sob stories patiently even in the middle of the night or early morning, whenever I call you. Even if you are busy you take my call just to listen to my nonsense. You have no idea how much I value you and the time you give me. Happy birthday.
You are the buddy I like to go out on backpacking vacations and have drinks with like a guy. Shopping sprees with you have been more joyous that what I would do with my girlfriends. Happy birthday.
I was thinking of all the unusual and quirky gifts that I could give you on your birthday because you are a creative guy who would like such things. Happy birthday and God bless.
Randomness is something that you can only enjoy with your best friend. With you, there is no need to have a plan. Every time we have hung out has been the most memorable and hell lot of fun. Happy birthday. God bless you with a smart and a hot girlfriend.
Sometimes I wonder if you will ever settle, always surrounded by hot women. On your birthday I wish that you find the one soul mate with whom you can share all of your life. Happy birthday and may you shine and find true love in your life.
You have done some crazy things as a teenager that only I know of. Your secrets are always safe with me. Happy birthday. I am so happy you have grown into such a fine and a mature person. It is a pleasant surprise.
You have always chosen a boyfriend for me, but you so suck at it. Nevertheless, it was fun to see you do that. Happy birthday. I wish you a happy life and success in everything that you do in life.
You are the best person in my life with whom I can have silly fights and do really stupid stuff at any age. Happy birthday. You bring so much meaning to this friendship and I cherish it.
You and I have watched umpteen list of movies and have had super bowl events together for decades and it never gets old. This is the bond that will always remain the same even if we are not in touch daily. Happy birthday.
Emotional Birthday Messages For Best Male Friend
I remember the times I have been a total loner, feeling so misunderstood and dejected, having so many fights. My life was literally driving me insane. Had you not been there as a true friend, I would have lost it, completely. With you by my side as a trusty-sidekick, I have coped up so many times. Happy birthday. You are an angel, who has always been there helping and guiding me.
Through all the difficulties and bullying that I have faced in school and college, you have taken so many hits for me and protected me like a guardian angel. My friendship with you is sacred. Happy Birthday. May you always shine and be successful in life.
You are so caring and understanding, there is not a minute where I have the chance to feel lost or void. I know you are the person that I can count on in times of need. Happy Birthday and may God bless you with grit and fulfillment of your dreams.
You taught me so many valuable things in life like a friend and a guide. You are a blessing that I thank god for every day. Best friends like you add purpose to life. Happy birthday. May all of your life you never shed a tear and see the joy in everything.
We have made so many mistakes together. I feel so guiltless making mistakes with you. Happy birthday to the best buddy in my life. With you, all the memories become fun and bright. Happy birthday.
Together we have had so many laughs and great moments. I don't have to be sane around you. Every time we meet there is some crazy happening and there is no plan for sailing through that kind of madness and fun. Happy birthday.
To the endless drunken night, endless whining, endless laughter, and endless fun times, everything is crazy and fun with you. You are a wonderful person gifted with a bit of cookie. Happy birthday.
You have always been my daily dairy who would know all of the things in the day. I just yap with you and not a moment of silence. Happy birthday to the person I trust the most in life.
Friends like you I am lucky to have because friends like you come by once in a life. Happy birthday. The bond we share remains the same over years regardless of the distance and time we do not spend or keep in touch regularly.
You are special and you do not even realize how much awesomeness you have inside you as a person. You are so humble that you need to be reminded that you are a wonderful person. Happy birthday.
May all the years be full of fun, entertainment, happiness, adventure, and joy in your life. For the years you have put in so much hard work, you deserve all that you have been seeking. Happy birthday.
You have always been so much fun it's like sadness can never touch you and never should. Always jolly full of witty liners and jokes, time flies with you and there is only laughter. Happy birthday my dear friend and always keep smiling and laughing.
Age was never an issue for you are and will always be my best friend. It might be unusual to have a best friend of this age difference. But with your maturity and experience, I seek so many things and learn from you. Happy birthday.
Together we have never done one right thing as per our parents but those were the best things that taught us true things in life. It's like a force of two rebellions who together battle the unknown. Now, can I get any more dramatic? I don't think so. Happy birthday.
Friendship with you is a fun ride that I can take to any corner of the world. It is a privilege to have known you. Happy birthday.
Like a shooting star, you are wonderful and full of surprises. Your unpredictability might not go down well with a few people, but it comes across like a pleasant surprise for me. Keep rocking dear friend. Happy birthday.
It has taken so much time for this friendship to germinate and I am so happy that it stays intact. Happy birthday and may you have all of your dreams and hopes fulfilled.
When you have a best friend you do not need therapy or pills, no matter who and what is driving you crazy in life. Together we just laugh it off as if it is nothing and all problems are a bubble blown away. Happy birthday.
Friends are the people who accept you despite your bad past and take you into their world and give you company, never leaving you stranded. You are the friend that I can count on always. Happy birthday.
Your life has been full of adventure and crazy experiences that you can tell people about. You have the best life dear friend. Happy birthday. May there be many more years of crazy experiences in your life and bring a new sense of adventure every time.
I treasure my friendship with you which is simple, fun and has so much meaning in it. Happy birthday. I pray that God takes away all of your sorrows and pain, and give you a lot of happiness and joy.
You are so silent all the time and makes you a good listener. I always love listening to everything that you say because the times you talk, everything you say has a meaning. You are the non-nonsense silent guy who has intimated so many but I know that you are a sweet guy. Happy birthday.
Male friends add a different beat to life. They can be your shopping buddies as well as people always ready with sound and practical advice. The funny birthday wishes for a best male friend can make his day and let him know you always care about him.