Last updated on June 3rd, 2022 at 10:29 pm
Teachers are probably the most valuable resource, not only for the students but also the whole institution they're a part of. They are responsible for shaping the future of a young student in a way that not many others including the student's own parents can. Despite that, teaching still remains one of the most underappreciated jobs in our society.
One of the best ways to remove that norm and show some special appreciation for a teacher would be through a birthday gift for teacher. A good teacher is as close to a second parent as you will ever get without actually having anything in common. It's very important that you show your respect to that bond through some form of physical representation.
But that's no easy task. Choosing something meaningful for your teacher, who by all means has a lot more experience in life than you do is a really hard ask. But we have compiled a list of some unique gifts for teachers that you might want to consider.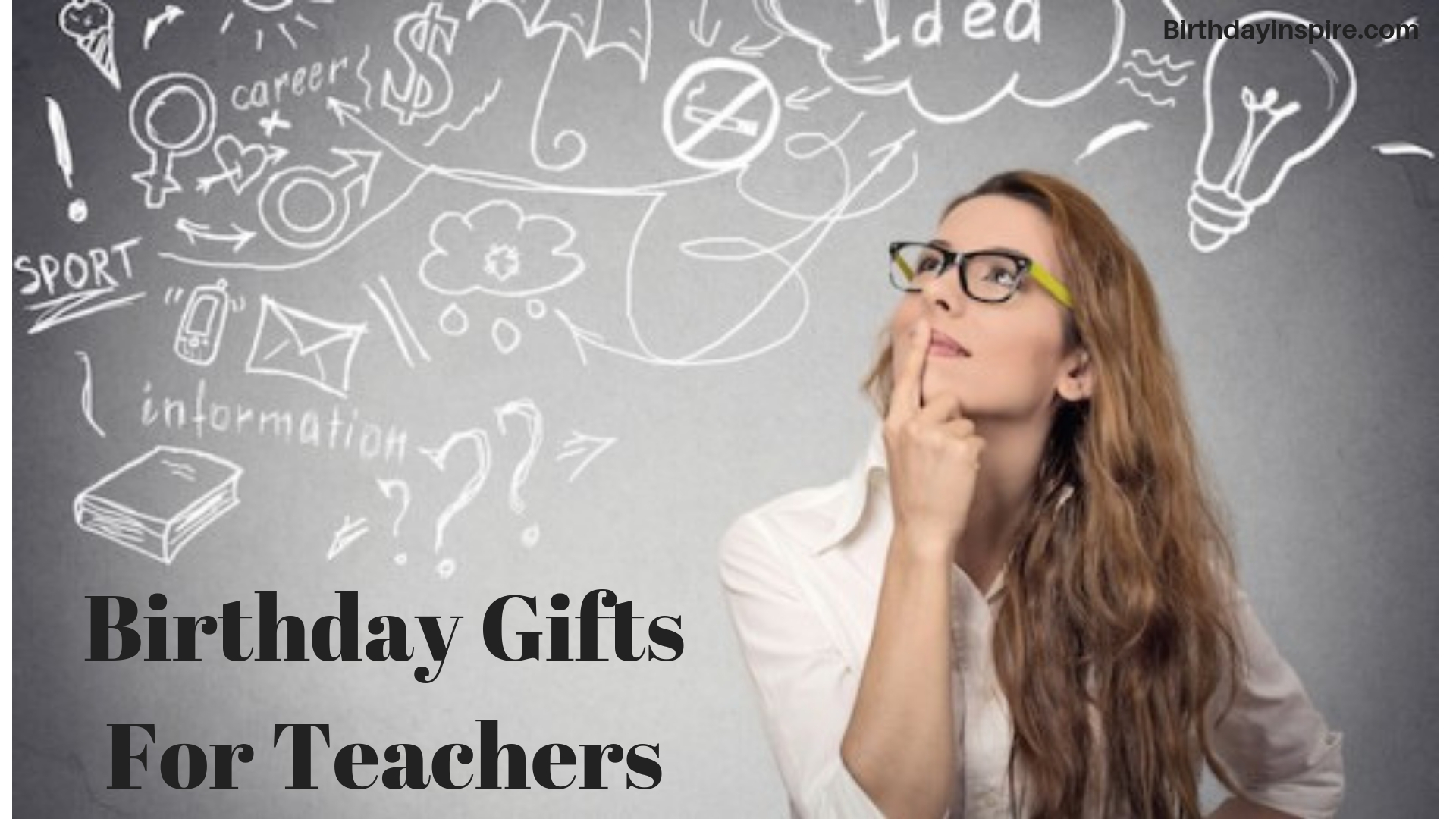 Best Gifts For Teachers
1. Custom Coffee Mug
Coffee is often a teacher's best friend. Especially when they had no sleep the last night and have to take multiple consecutive classes. Make that small coffee experience even better with this very creative coffee mug that lets you customize it with your own text. Weather it's your teachers name or a small and sweet message.
In addition, this mug is also completely microwave friendly and made of ceramic with the text being adaptive to all heat conditions so that it is not easily washed or burnt away. This will not only give them a premium feel but also give them a gentle reminder of your admiration for them.
2. Multibey Gold Paper clips and holder
If you're looking at a gift for your teacher, one of the most important criteria you might want to check is utility. With this paper clips and the holder combo you get that in addition to top class elegance in a small beautiful form-factor.
The clips themselves are gold plated with extremely smooth finish while the holder is marble themed on the top with transparent glass on the bottom so that the clips are always visible even when inside while the marble has a small magnetic strip that will hold the pins in place without falling out.
3. Glovion Light Pen
A pen is essentially an extension of the teacher himself and for ages has also been one of the most valuable gifts you could gift a teacher. But this special pen lets you take one of the best gifts for teacher from students and make it much better and useful with very little extra cost.
These light pens have a small glow inside them that can be turned on or off when desired. This light is just strong enough to illuminate the writing piece but not disturb anyone else in the room even in darkness. This would be a great quality of life upgrade for any teacher, which is usually most of them, that works late night.
4. Heart shaped Glass Paper Weight
Sometimes the best gift could be the simplest. This glass paper weight shaped like a heart will convey every ounce of admiration and affection you share towards your teacher while also making their lives a bit easier.
This paper weight can be customized with various color themes and messages imprinted on them. You can choose what you feel would be the best fit for your teacher. Being a paperweight, this is something that is always within your teachers reach and will be a fantastic reminder of everything you share with them.
5. Stemless wine glass
A classy gift, while not providing the most utility will certainly gather the most attention. It might not have as much materialistic impact on someone's life but it would certainly leave a lasting impression in the eyes of every person who comes across it.
This stemless wine glass is as much class and style you could compress into such a small form factor. The glass is made of plastic and is completely waterproof when it comes to liquid damage. It also has a fancy I teach therefore I drink quote.
6. 3-D crystal ball LED Lamp
Teachers have a lot of daily essentials that might not be on the same scale of necessity for normal people. Which also means they might end up with a the most basic model of that item because there aren't many options.
This crystal LED lamp gives you an opportunity to present them with one of those essentials but in a much more attractive form factor. It has a solar system themed interior that will be lit up in 7 different colors. This would make for an excellent work lamp and one of the best gifts for teacher from student.
7. 50 Strong Reusable Water Bottle
A very good choice of showing your appreciation to your teacher by gifting them this reusable water bottle. For one, it serves the purpose of carrying and using one of the core components necessary for human existence, water.
Unlike normal bottles it comes with a very stylish teacher themed design and is capable of resting comfortably in most backpacks or coffee cup holders, be it in home, office or a car. It is also eco-friendly presenting your favorite teacher with an opportunity to make the environment better.
8. Teacher stamps by Stampmojis
This is probably the most unique gift for teachers which is in-fact just as much fun for their class. These stampmojis are small enough that they can be placed anywhere on the students notes or exam sheets.
They can be used to express a lot of things in a very creative way as there are over 100 emojis included in the set. These emojis not only make the teachers remarks a lot more fun and enjoyable but would also encourage the kids to express themselves in more creative ways.
9. Apple note-dispenser
If you've ever prepared for giving a speech or a lecture, you'd know how hard it is to note down and keep track of all the points you want to make. A teacher has to do that every single day and it could be quite hectic, especially on a busy day.
So, show them your affection and make their lives a bit easier at the same time with this apple themed note dispenser. This would be an ideal gift for female teacher as they are going to love the cute and adorable design of this thing and it will always be there with them when they need to jot something down and their handbag isn't big enough to carry so many full sized notebooks.
10. Baby Groot pen holder
Whether your teacher is into fictional characters or not, this baby Groot pen holder is certain to capture all their awe. It is a well-made piece that is complete on all sides and is very visually pleasing to look at no matter where you do it from or which side.
It will fit in perfectly with most wooden tables because of its theme. It could be used as a pen holder; flower holder and it will act as a decorative piece regardless of what it's used for. It's very durable, doesn't easily break and also does a very good job of hiding the dust because of its color and theme selection.
11. Mini air Humidifier
Teachers often find themselves in a position where they have to work for very long hours without getting a chance to freshen up. It's not only tiring mentally but also not very good for their own physical health. This happens because the rooms they are in could get dry and out of air really quickly.
This mini air humidifier moist the air around them while making little to no noise. It will make their elongated work periods a lot more bearable. It will provide good breathable air, removes dry skin and other passages in the body all the while being barely noticeable with its subtle presence. It is extremely compact and is powered by a single USB port. This is hands down one of the best birthday gifts for teacher.
12. Mesh desk organizer
In most cases a teacher's desk is almost always tasked with carrying a lot of essentials. After a while it could get quite complicated and hard to properly organize them and lose something in all the clutter. This mesh desk organizer will help make that organization a lot easier with its separate spacious compartments that can be used to hold different things while conserving space on the table.
With the compartments distinctly separated, everything that is stored can be easily found. The mesh design also means that they get to see what's at the bottom all the time hence making it easy to keep track of where everything is at all times. Anything from pins and paper clips to full sized pens and rulers can be stored in there.
13. Self-Stirring Mug
Beverages are extremely useful for anyone who works long sessions in a single stretch. However, if they have to make those beverages themselves, which is often the case with teachers in the middle of the day, it might just feel like extra work for them that might not be quite worth it in the end.
This self-stirring mug is a great way to remove that small but very mentally taxing step and give make their time easier. It is powered by batteries and when turned on with a switch will start stirring the drink inside automatically. This would make a very thoughtful gift and is certain to earn some gratitude from your teacher.
14. Wooden digital puzzle platter
A significant aura that a teacher almost always radiates is one of knowledge and skill. That is what they represent and that is something they intend to pass on to their students. This wooden puzzle set is a classical representation of mental skill in a physical form.
It can be comfortably placed on the teacher's desk and can be used either by the teacher or they can use it to challenge their students whenever they get a visit. It is a rather fun and intellectually engaging way to pass some time or conduct a test. Even when not in use, the high-quality wood material looks very premium and just visually pleasing to look at.
15. Portable Beverage Cooler and warmer
Drinking a cold drink or hot drink, especially during the middle of a rather hot day or during extremely cold winter day could be two of the best things a human could experience. However, this isn't always possible simply because it's hard to find and use a freezer everywhere you can go.
Rid your teacher of this problem with this extremely compact beverage fridge that is extremely capable at keeping the drink inside it cool or warm depending on which mode you choose. It's also extremely power efficient and can be powered by a simple USB cable. It can be used at home, office , during a trip or even in their vehicles. It's one of, if not the most thoughtful and cool gifts you can give a teacher. They will certainly appreciate it.
As a student it's not easy to choose a birthday gift for your teacher as you might not know their expectations as well as you would your friends. This list is designed with teachers in mind. Both in terms of their taste and what would have the most positive impact in their daily life.
Even if you're completely lost, this list should give you some idea of what kind of birthday gifts for teachers would make the most sense and how much of your admiration you can express through it.