Last updated on June 4th, 2022 at 12:06 am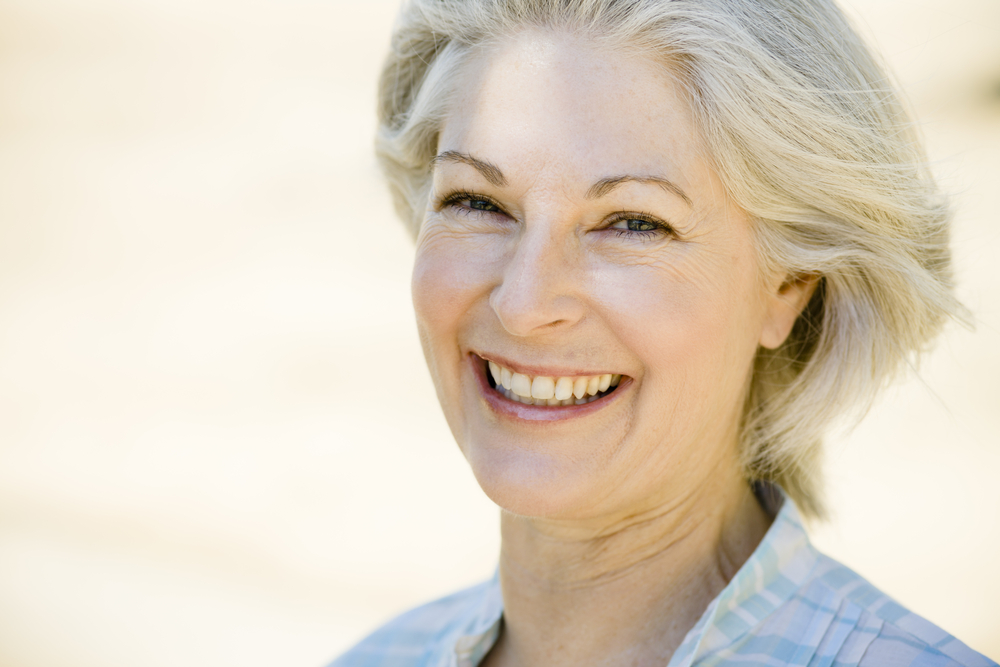 Looking out for some nice birthday gifts for grandma? I am sure you are also one of those who finds it difficult to choose a right gift. So for all of those here is the list of gifts that you can refer for your grandma.
---
Grannies are the coolest, aren't they? Even cooler when she saves you from all the mischief that you do. She is one of those women who has always stood up to you whenever you needed her. And all those bedtime stories make her even more special.
Now when the time comes for her birthday, it is to be made sure that she loves it. She deserves those gifts that make her feel ultra special.
After all, she is meant for that. No matter how much she has aged, a beautiful gift from her grandchild will bring a wide smile on her face. And you are going to love this even more.
We have listed down few amazing and great gifts for grandmother that will make her feel extra special.
Keeping in mind what she would like, we have sorted out the gifts really well. So, you do not have to fret over the idea for her gifts. It is time to make her birthday memorable.
Here you go with these selective gifts that we have chosen for your grandmother and that you can choose too without having any second thought.
Well, you, of course, love your grandma, don't you? Then it is time for you to make her feel special with a customized pendant.
You can get any special word or a letter carved on it or in some shape and gift it to the special woman.You can check online for the size and shape and pick up that you think your grandmother would like.

This is one of the sweetest things you can gift to your old lady. Such frames come with a sweet quotation or any message that you would want on them.
You can gift it to your grandmother along with the picture of you, your mother and your grandmother. Won't that be utterly sweet?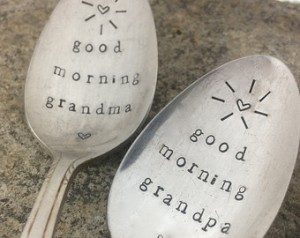 Guess what? You can get a stamped spoon with any message of your choice and present to your grandma. The message can be anything that would make her feel special.
So, the first thing she would have in the morning will be a cute smile on her face while having her cereals with that special spoon.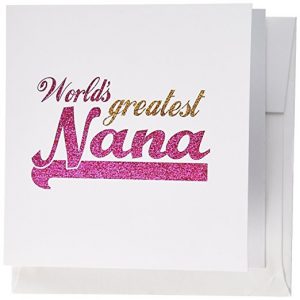 Well, birthday cards are very special. Even more special when they are customized. You can get a beautiful birthday card and get it customized with any sweet message for your grandma.
You can even gift her a big sized birthday card with all the memories written down in that. The words expressed by you will mean a lot to her.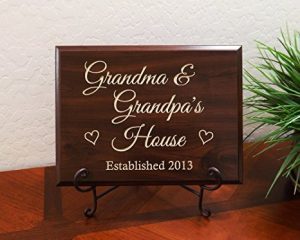 Wooden signs are available in markets and online stores that are really sweet as a gift. And gifting it your grandparent would be sweeter as you can personalize the signboard according to your own message. She will feel so proud and can hang it anywhere in her room.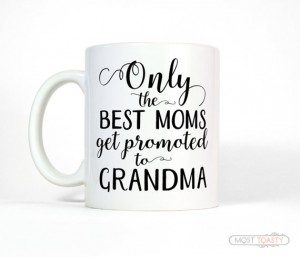 Let her mornings be special. Let her know how special she is by gifting this cool mug with a quotation about her awesomeness.
Every time she drinks her tea, a smile will catch her face. Such mugs can also be customized with a message of your choice.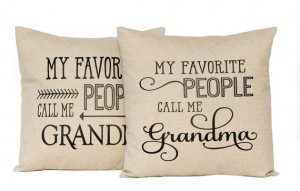 We bring you yet another sweet gesture for your grandma. You can get a pillow and get it customized with a really cool message for her.
Such pillows are even available online with printed quotations and messages. Her bed will be adorned with this cool pillow that you will gift her.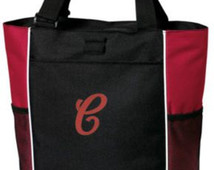 Your grandmother needs a bag to carry. So, it is time for you to gift her this necessity with your own personalized message. Yes! You can get a tote bag personalized with a message for her. You can get a similar type of bag or other handbags for her that she can easily carry wherever she goes.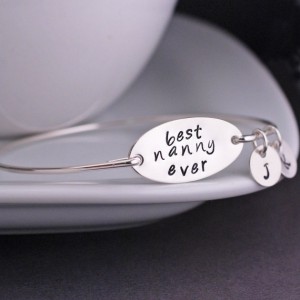 If your grandmother loves wearing jewelry, this is the great grandma gift. Such bracelets are easily available online.
These bracelets come in good metal with a cool tag for your nanny. She can wear it anywhere she wants. It will be an easy wearable. And she would love to flaunt it to others.

This personalized gift is for those grandmothers who have kept their passion alive for cooking. If she loves cooking, you can buy her a personalized wooden cutting board with a sweet message from you for her.
You can dedicate a few special words to her so that she smiles every time she uses it in her kitchen. This could be one of the best gifts for grandma.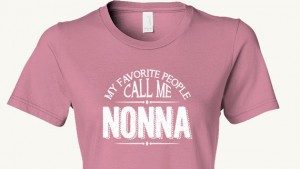 This is one the most comfortable gifts that you can gift to your grandma. And a lot more sweet because it will come along with a quote that will define as to how awesome granny/ nanny she is. You can choose one of her favorite colors and the message you think will be loved by her.

It is time to let your grandma feel how much you care for her. You can present her with comfortable therapeutic slippers that are so soft and easy to walk in.
Its material is extra soft and comfy. You can even get it customized with her initial. These slippers come in different colors. Choose the size that you think your grandma would feel comfortable in.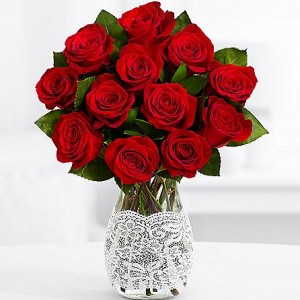 Women have always known to love flowers. Do not back out from gifting a bunch of roses to the lovely lady. Your grandmother is going to love this gift.
Absolutely! She will not be able to stop herself from smiling. Flowers will make her so elated. So, go on! Be it a dozen or just a few, roses will make her day on her birthday.

Every woman needs a jewelry box. And seeing the grace and elegance of your grandmother, she definitely deserves a classy wooden jewelry box.
These boxes are easily available online in different shapes and designs. You can get it customized with your grand mother's name too.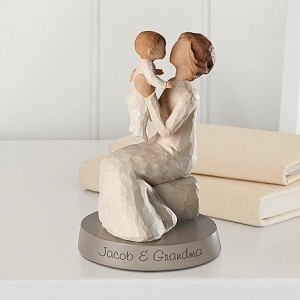 As a good luck charm and to make her feel elated, you can buy a beautiful figurine depicting a woman nurturing a child.
What a great way to define your bond with her. It can be placed anywhere in her room to increase the beauty and to bring better days. What more? Well, you can customize it with a personal message of your choice.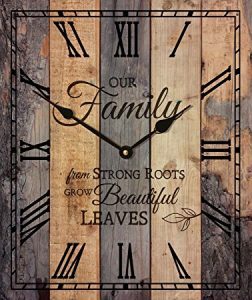 You can buy a beautiful wall clock for your grand mother's room. The amazing thing is that you can easily find wall clocks with good quotations about time, experiences and family. And no doubt your grandmother will love them.
Buy such for her room as well. Time flies, so do memories. Let it remind her how lucky she is to have you in this present time and so you do feel the same.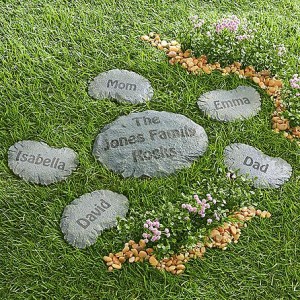 These rocks are not usual. These are customized with your family member's name. You can place these in your garden or your porch and surprise your grandmother on her birthday.
This will remind her the long way she has traveled and how united her family is. This will be one of the sweetest gifts to be received by you on her special day.

Yes! Here you go with sweetest gifts ever! No matter what your grand ma's age is, she will love receiving chocolates and cookies on her birthday.
You can get the best ones from a good bakery or order the personalized ones online. These come in different flavors, of course. You can gift her a box of cookies without any second thought and she will be filled with joy.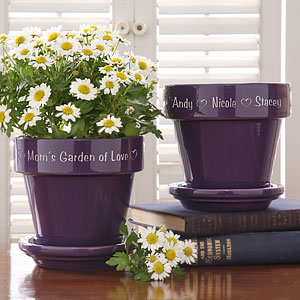 Let her garden bloom with beautiful flowers in more beautiful pots. You can get engraved flower pots with your grand mother's name on them. Or you can even get a short message engraved.
You can buy the ones of her favorite color. She will love having them in her garden. These flower pots come in different sizes and shapes. Choose the one that you think will be easily managed by her.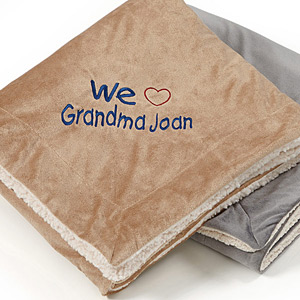 She needs comfort. So, let her comfort be wrapped in love. Gifting a soft blanket to your grandmother will be a great idea. Even greater if you get it customized with her name or a simple, short and sweet message.
Every night, she will be reminded of how much her grandkids care for her. Her sleep matters. So, let her know how special she is with this small but beautiful gesture. Choose a blanket of good fabric which will comfort her during chilly nights.

You can also check out some more birthday gifts for an older woman.

I hope you found your birthday gift for your grandma. These were some of the best suggestions and recommendation I have given you. But if you still have any query or want to know some specific gift ideas then feel free to contact me.