Last updated on February 28th, 2022 at 07:35 am
1st Birthday Party Ideas
Even if your one-year-old doesn't understand what is going around and why so many people have gathered him or her, you try your best to make it memorable for yourself and the guests who attend the birthday party.
It is a huge landmark for you as parents to celebrate this auspicious day with utmost joy. Therefore, we tend to go that extra yard to make is even more special by arranging a wonderful birthday party which would revert in your memories for years.
Even though your little baby is unaware, it'd make him or her glad when he or she goes through the pictures of his or her first birthday. Your efforts would be much-appreciated then, and also when you throw a memorable party for the guests on that auspicious day.
Hence, we browse through the net, got our personal ideas together, and consulted our experts to give you few of the finest 1st birthday party ideas for your child. Now that you are going to read the following article, you will have ample choices to choose from.
From birthday cakes to return gifts or whether planning gifts for 1 year old baby, we shed light on almost every aspect that makes your 1-year-old child's birthday party fruitful.
Exciting 1st Birthday Party Ideas
1. Invitations
First things first. So if you want to throw a party for your child's first birthday, you need to make a guest list as in who you'd like to attend the party and celebrate the auspicious day with you and your child.
You would want to invite every second person you know to celebrate this milestone function, but you need to keep your invitation to yourself.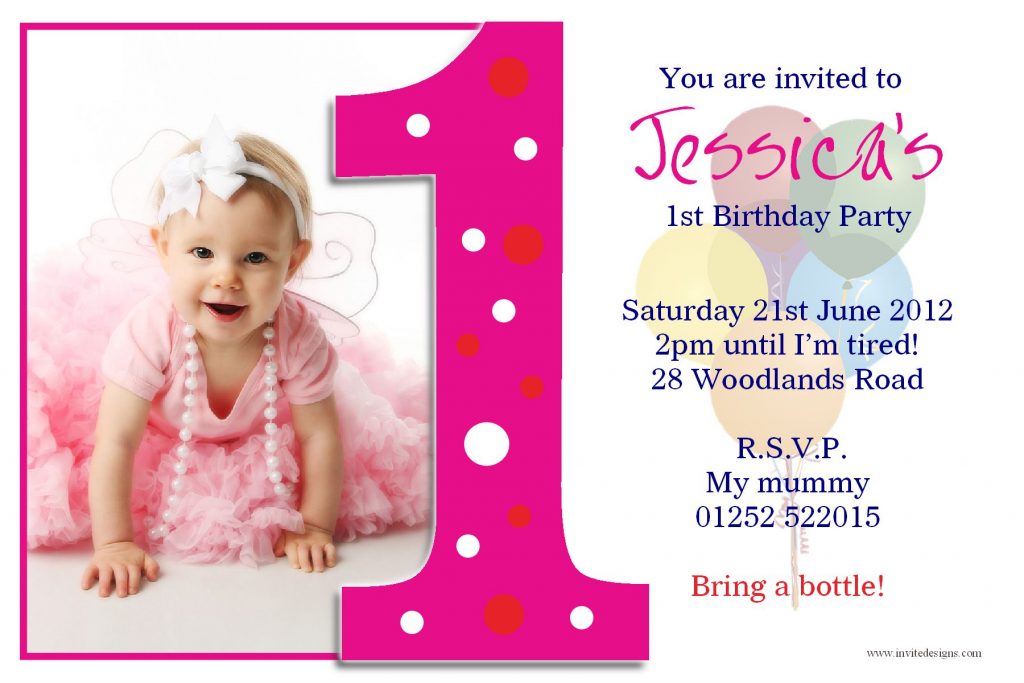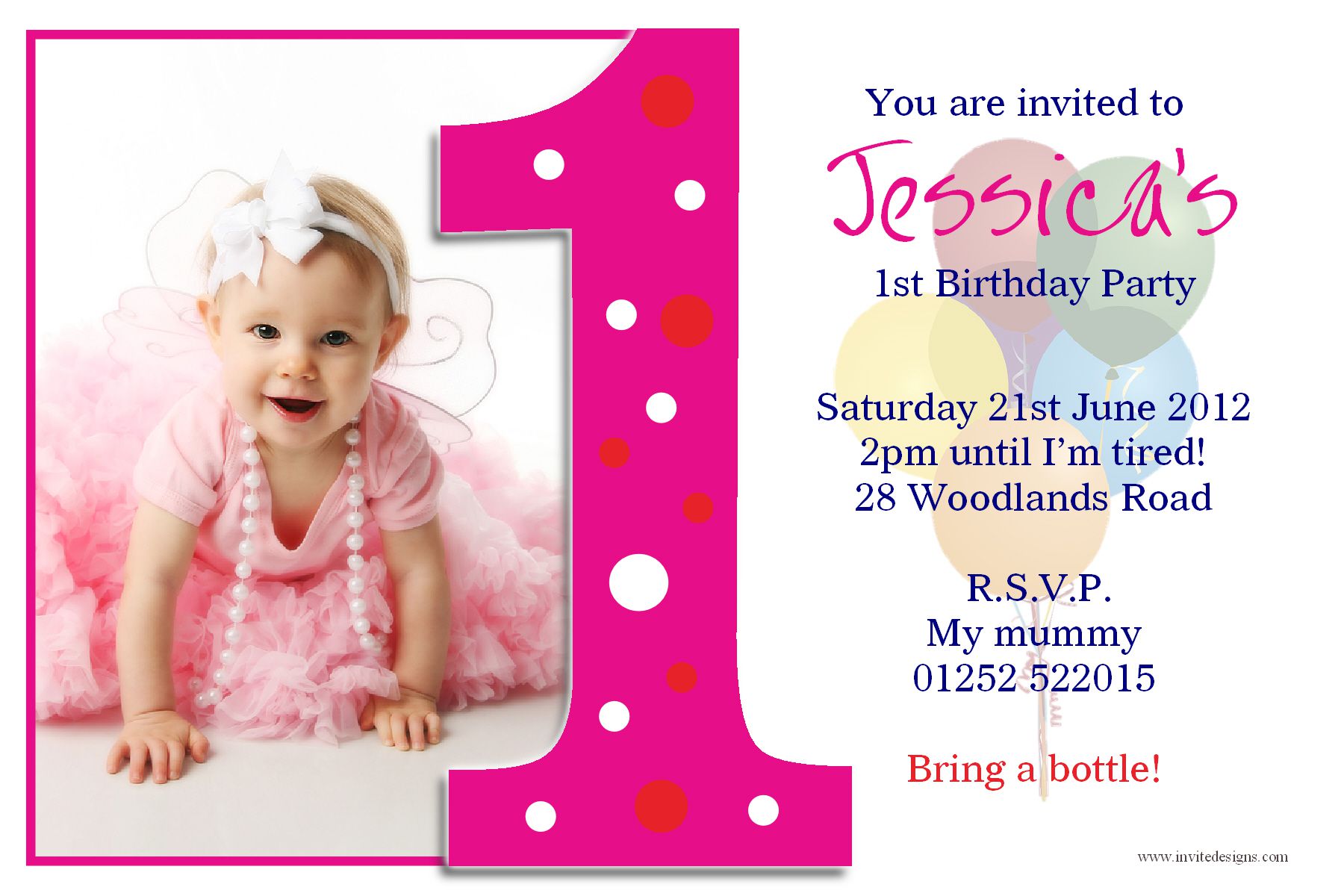 The very fact that your child is just one year old might get irritated after watching so many people doing rounds around him. So please try and make your guest list as short as possible.
Also, so many people around would leave your child exposed to catching infections. Therefore, lesser invitations would keep your child in mood throughout the party.
2. Invitation Cards
Well, you can do all the invitations on phones these days, but if you want to create a common buzz amongst the friends and family, you can go that extra yard to make DIY cards, or buy some online templates. You can make them real quirky, flashy, vibrant, and something that'd suit the mood of the party.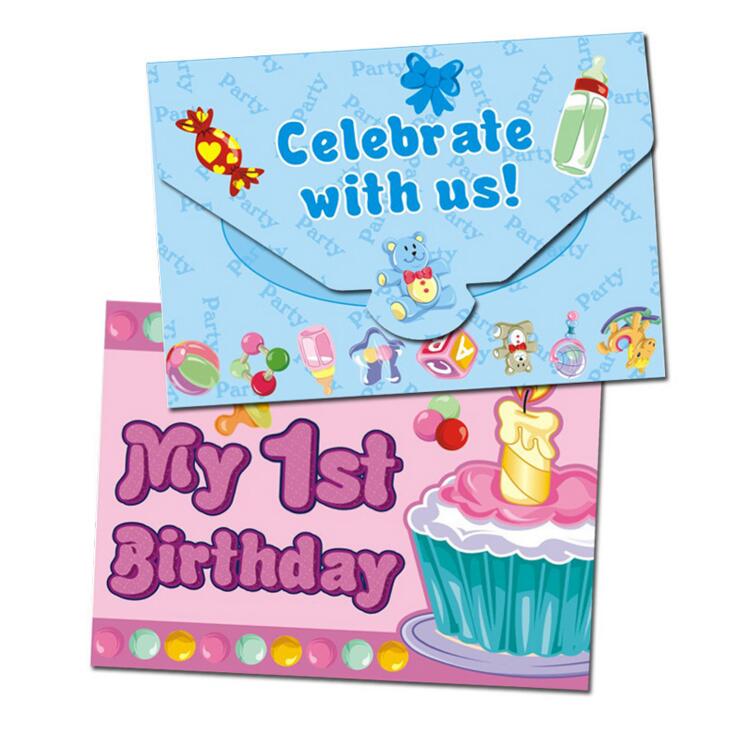 3. Birthday Cakes
The first birthday of any child is their parent's opportunity to celebrate their auspicious day along with their children. The proper planning of a birthday party is really important.
The birthday parties are incomplete without a cake, aren't it? Therefore, one needs to pay a little bit extra attention while selecting a cake for your child's birthday party.
The design would hardly matter to the child at that time, but he's happy to see a fancier design of the cake in the images after he grows up.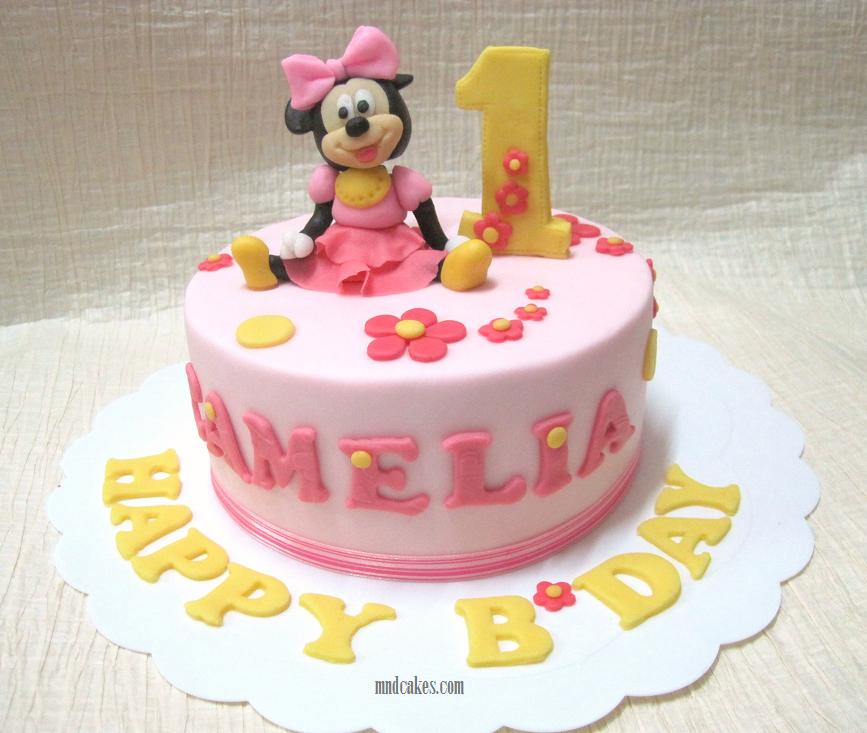 Choosing a flavor is easy. As it is a birthday party of a newborn, there are high chances of young toddlers in and out of the party.
Therefore, one should opt for fruit flavors instead of going for the classic dark chocolate ones. Children love fruit flavors, and a tad bit of fanciness with the shape of the cake can attract them even more.
4. Fancier cupcakes to attract young children
Children are always attracted towards the quirkiness of the cupcakes. They can be designed in several shapes and sizes. We have quite a bit ideas on the birthdayispire.com is different sections that can give a plenty of ideas about the fancier cupcakes.
For example, cakes in the shapes of Pokémon or emojis would be much loved by the kids. After all, the parties are meant for the kids. And they'd love to savor such peculiar delicacies thrown at them at the parties.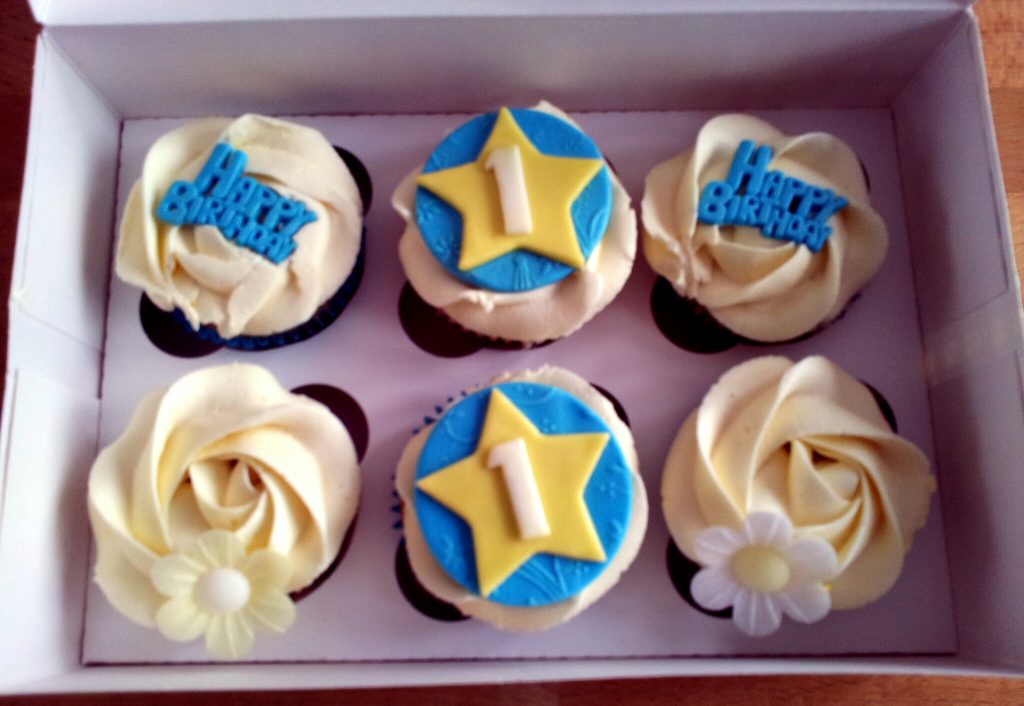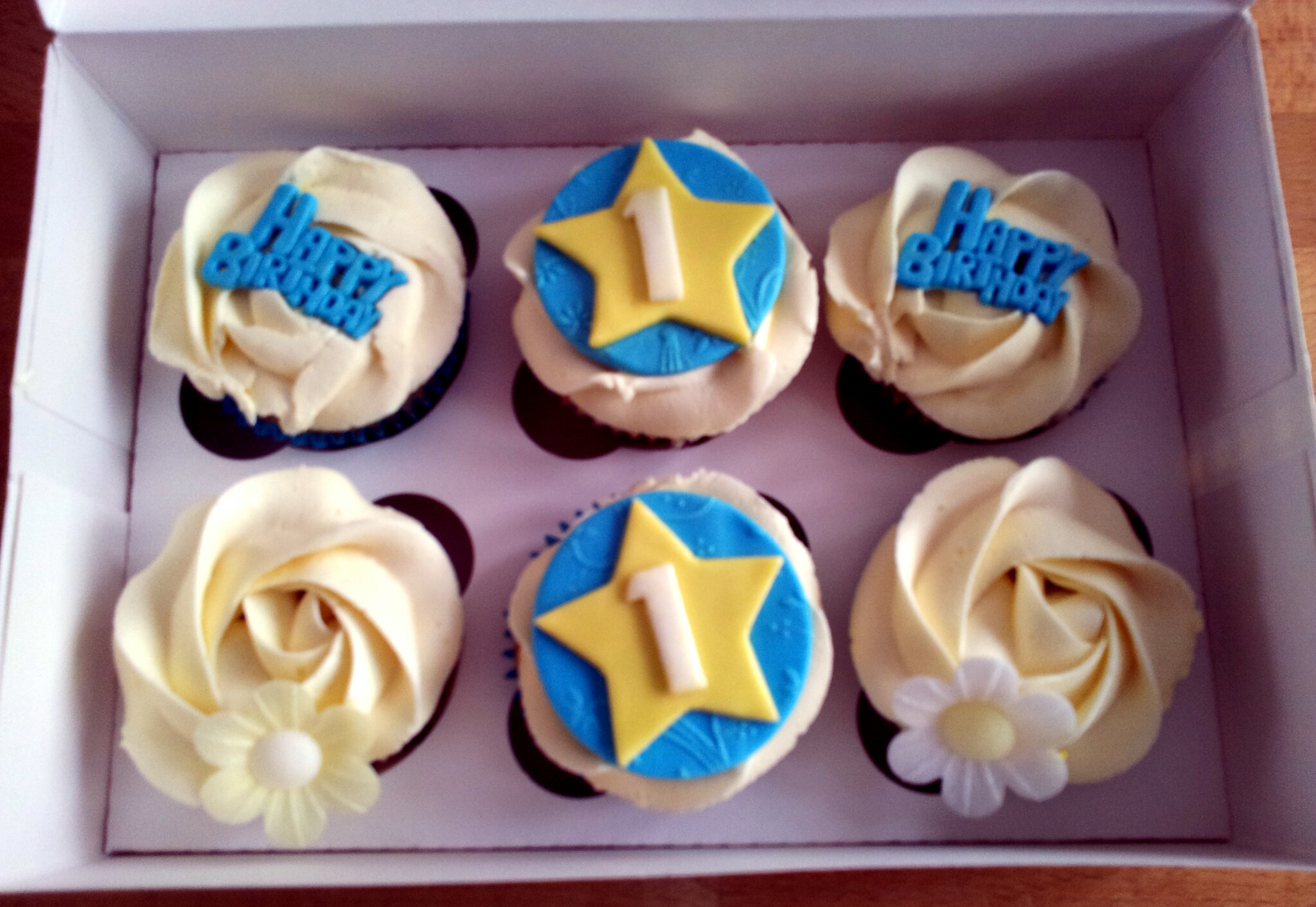 5. Party Decorations for First Birthday
This wouldn't matter to the birthday boy or girl, but it would certainly matter to you, the guests, and everyone attending the party.
Decorations are the most integral part of any parties to set the mood of the party. Therefore, it needs to be on point so as to make your party a memorable one.
Apart from the regular name and year banners on the cake table, you should think out of the box to decorate the party hall. After all, it is going to stay in the images forever.
So run your minds through several 1st birthday party decorations ideas and decorate the best you can. Even we tried to suggest a few party ideas for the first birthday of your child. Go through it, in case, you like anyone of them.
6. Indoor Camps- Inspired First Birthday Party
The basic idea about this themed party is for children to have ultimate fun. One can set few camps for children and fill them with toys, and a lot of them. Try to get a cake that'd suit the mood of the party. Even the invitations could be altered in a way of camp templates.
DIY teepee can enhance the entire look of the camps. A camp themed table cloth adds to the detailing of the themes. Even the return gifts can be tagged with main party theme logos. You can add a jar of herbs as return gifts for the grownups.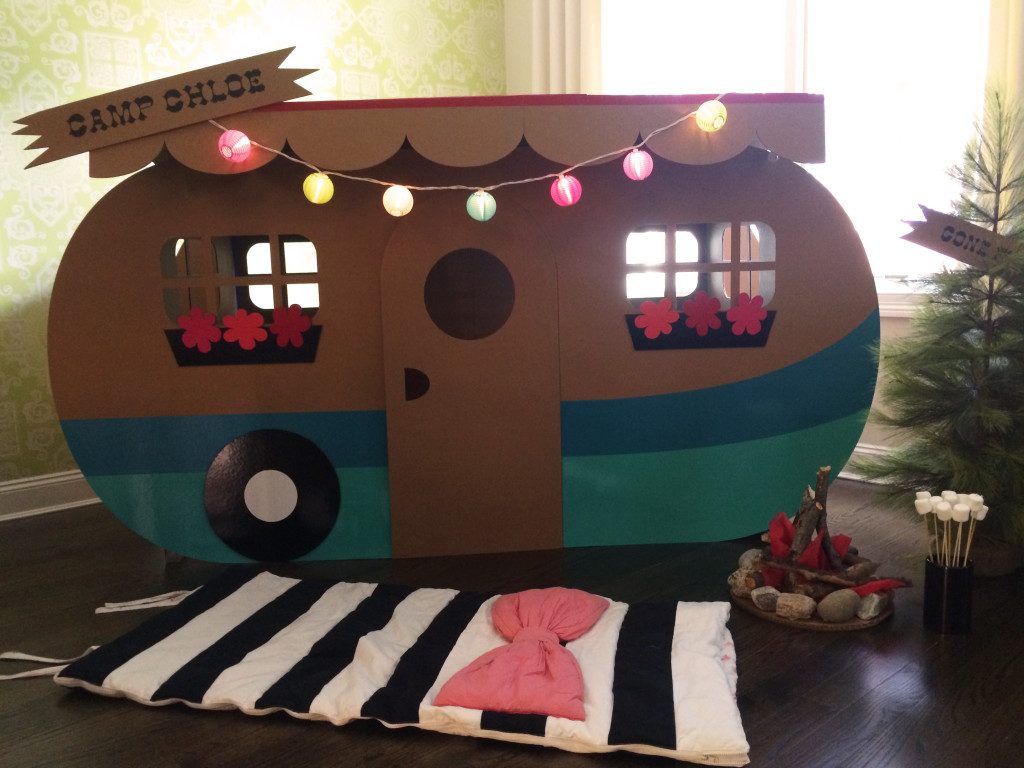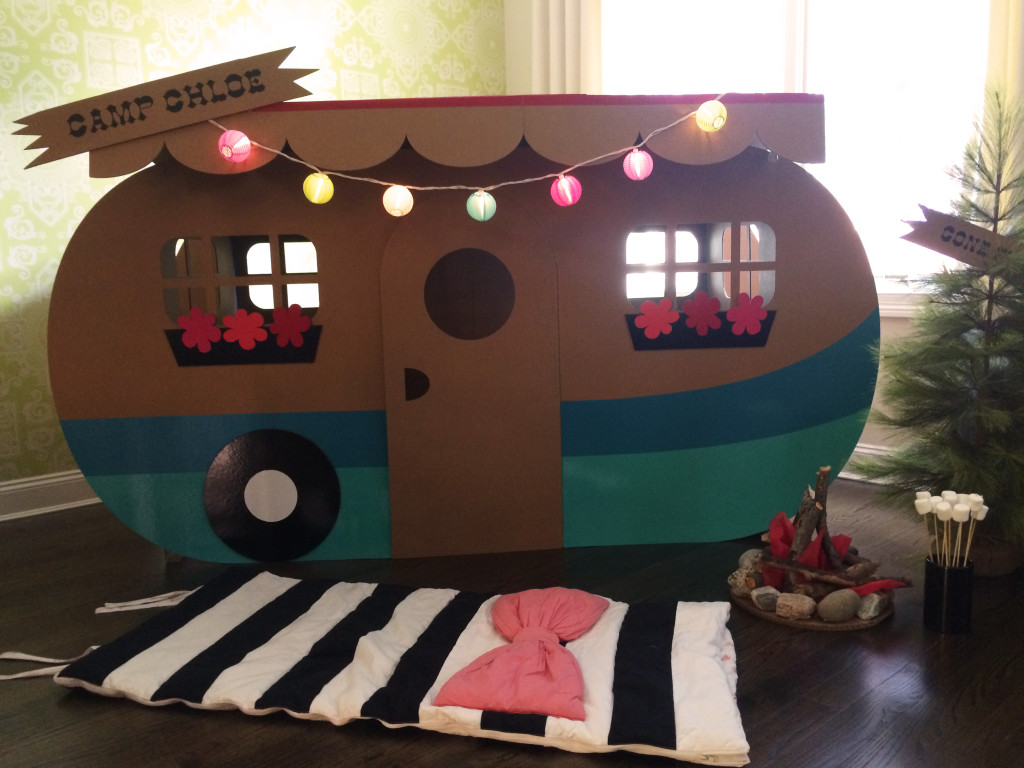 7. Bow down to the bow ties
This party idea can generally be decoded as a bow-themed party. Everyone attending the party can be requested to walk in with bows, especially children. They look the most adorable with bows, don't they? Also, bow shaped invitations and cakes can set the entire mood of the party.
Don't forget to dress the birthday boy/girl in an exquisite flamboyant bow which will differentiate him/her from the rest as a birthday boy/girl. This joyous party can create memories for that can last a lifetime.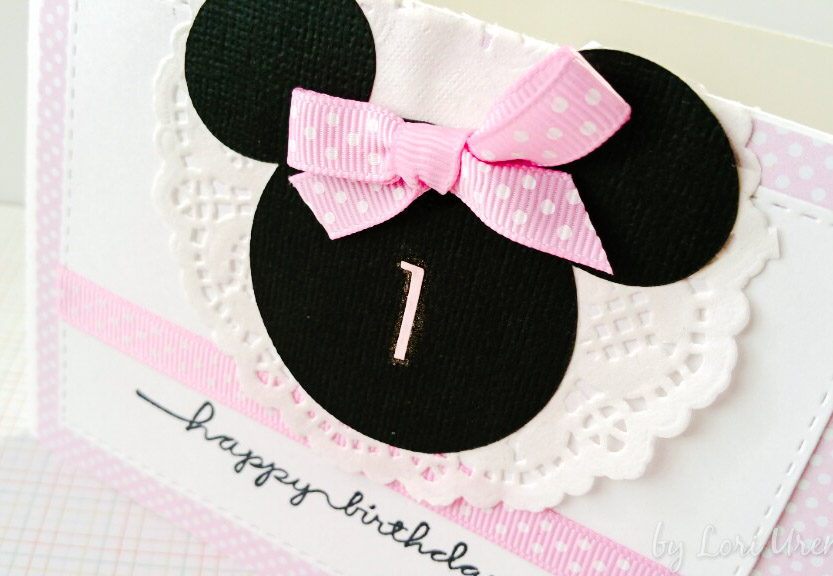 8. The Animalia Kingdom
Kids at the very young age are always fascinated by different animals. Therefore, for children attending the party as well as your birthday toddler, an animal-themed party will be an appropriate toddler's birthday party idea.
Guests could be treated with animal-shaped delicacies such as these lip-smacking cookies. Needless to say that cakes and other things could be designed in the shape of animals as well. The birthday boy/girl wouldn't get bored of this party and so many people around while adults enjoy their time.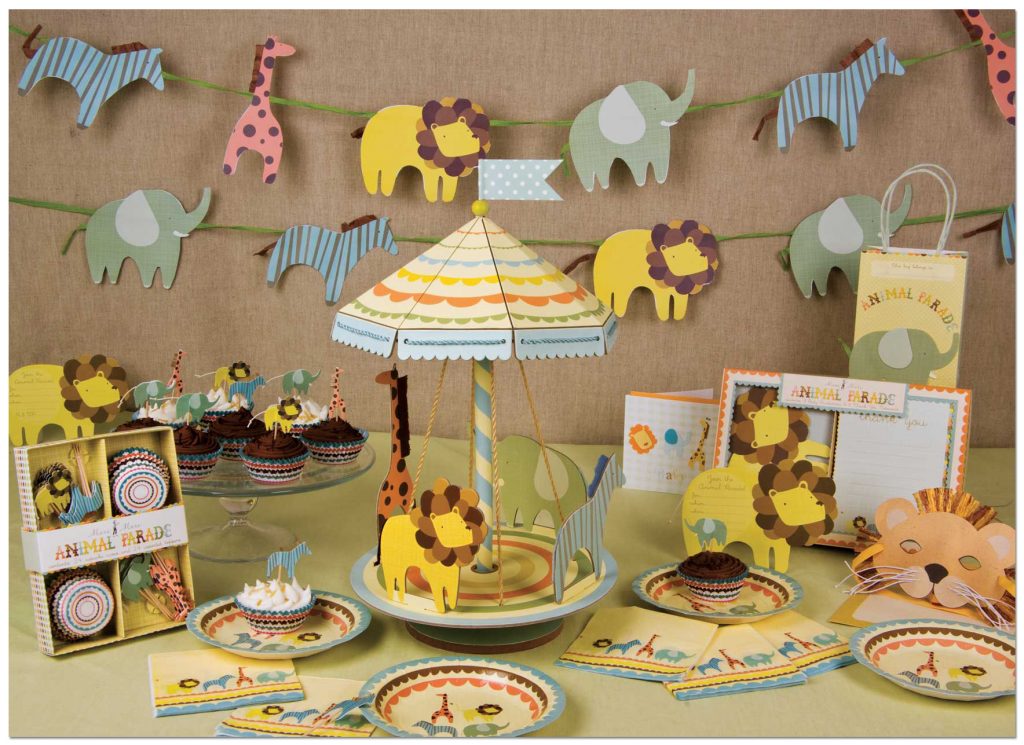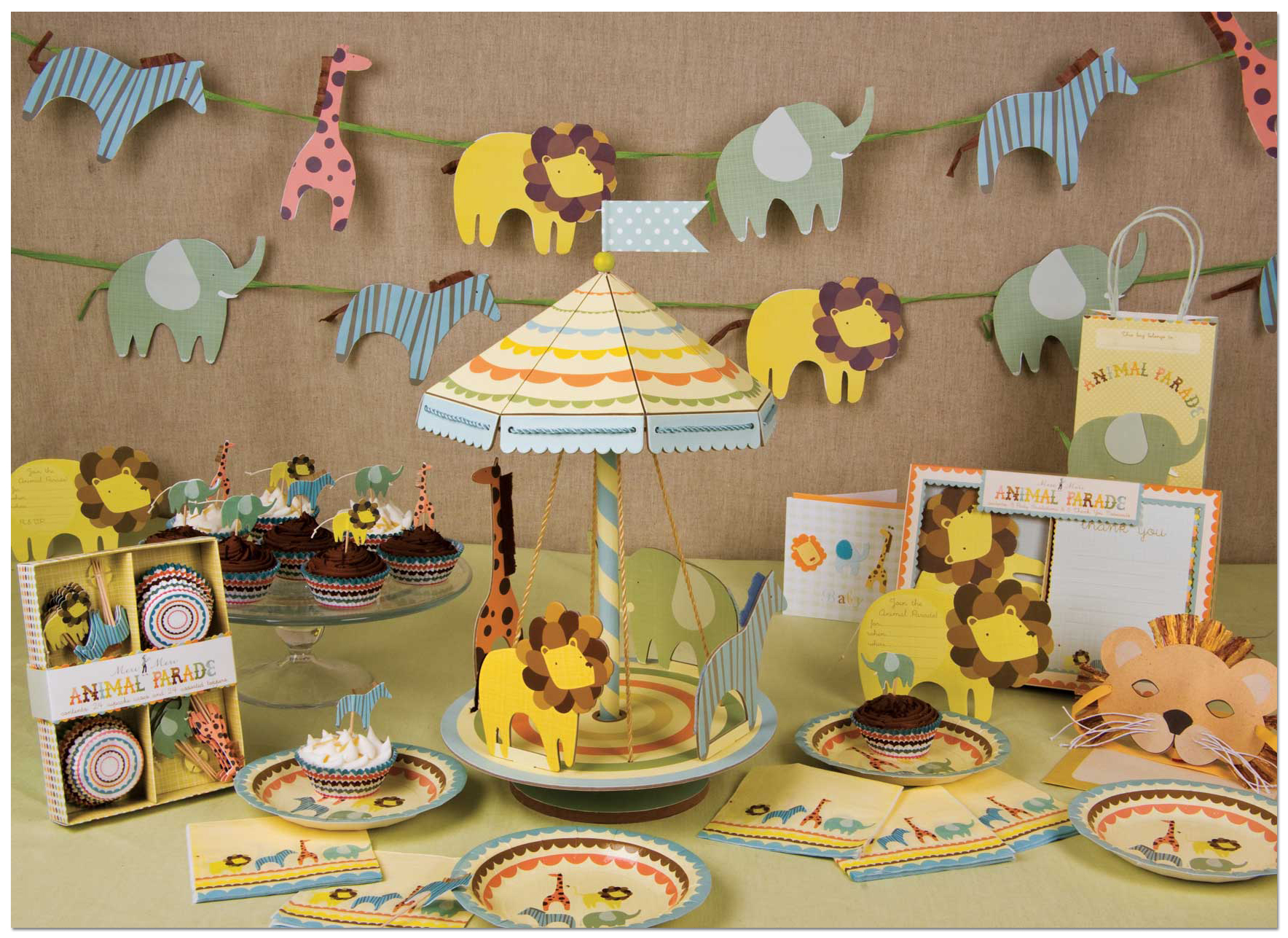 9. The Circus Goer Themed Party
While you are thinking about a particular theme to host a party on your child's first birthday, the circus theme would be much-loved and appreciated by everyone attending the party.
The party from which we got the idea had the birthday boy dressed as a ringmaster, while his mom and dad were dressed as circus performers.
There was a street magician who kept the guests entertained while a face painter fancied the looks of the young toddlers. A lookalike tent added to the theme of the party.
The entire theme appeared beautiful. The only absentees that differentiated the party from an actual circus are roaring lions and dancing monkeys.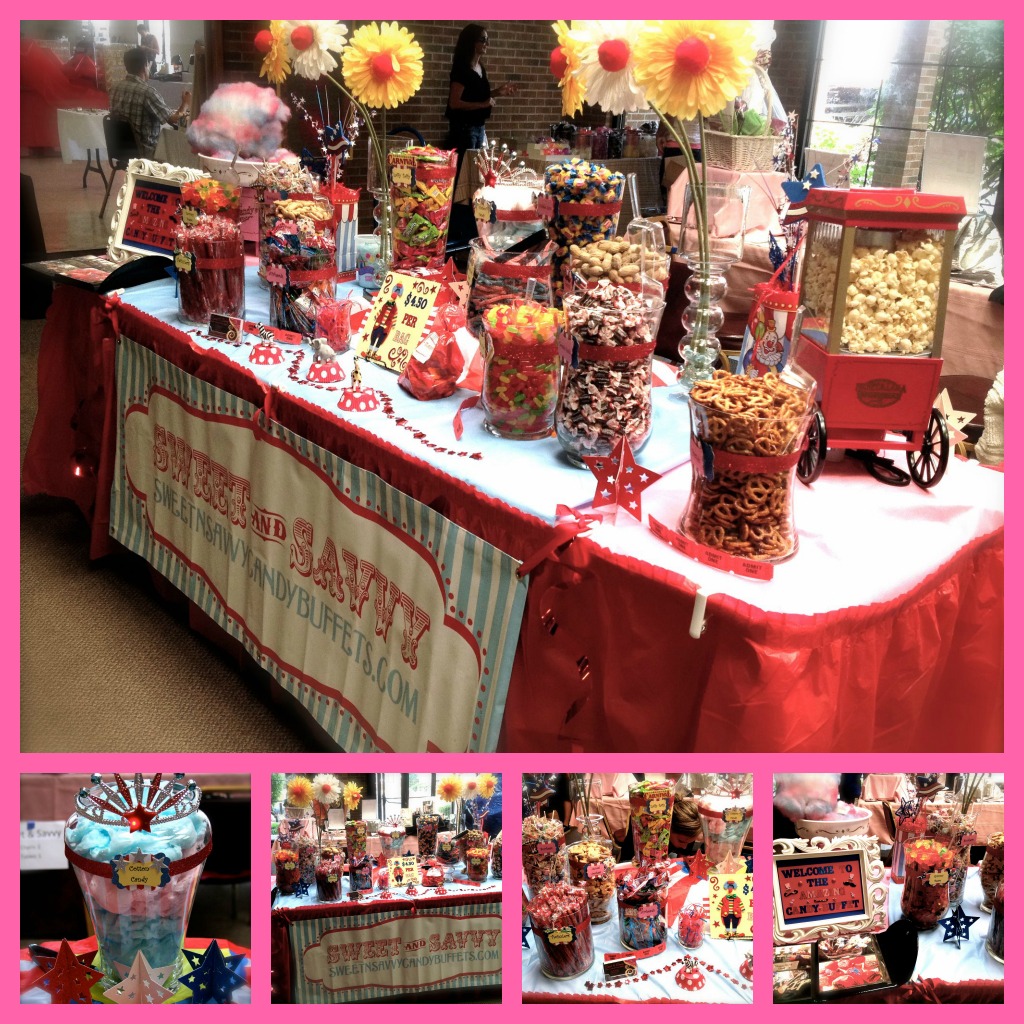 10. The Racing Car Party
Looking for a fun theme which would not only look good pictures but also look great in actual reality? This car racing themed party is the answer to all your partying needs. There is a lot you can do to decorate it like a racing car stadium.
You can make a playing area for kids and tag it as the pit crew. Meanwhile, the cake table can be decorated with several car miniatures.
A parking area tag for people who just want to lay back and enjoy the party and cars number plate on each food counter to tell exactly what's cooking can add to the beauty of the theme. As boys love to play with cars this theme is more suitable for 1st birthday party ideas for boys.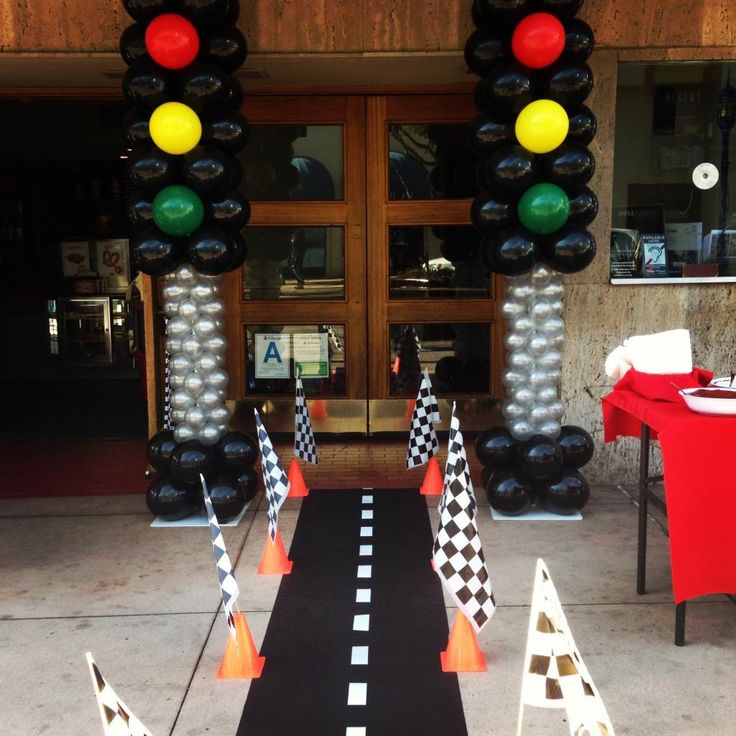 Relevant Articles
How to plan a birthday party
Fantastic toddlers birthday party ideas
11. A Starry Affair
Children no matter what are always fascinated with the mystical objects in the sky. Whether it is the sun, the moon, or the stars, they are genuinely fond of them.
Getting all these celestial objects on the ground for your child's birthday party is a good first birthday party idea, isn't it? Another theme which would look nice on your toddler's birthday party is decorating the room with celestial objects. The rest all follows.
It is needless to say now that you'd require a cake in shape of a star or moon. Make wands to gift to the children who enter the party. Also, headbands bearing stars and other planets would be much-loved by the children.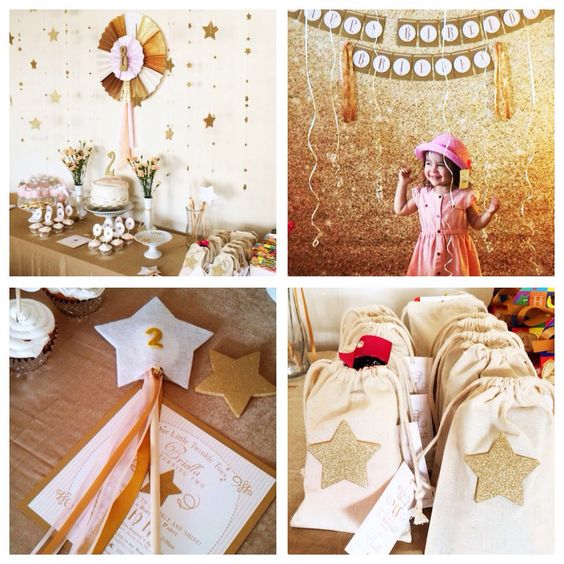 12. A Patriotic Touch
If you really want your party to turn out into a laughter riot, this idea is apt for you to try out. You can start with formal invitations which look like president calling for some meeting. And guess who will be the president? The birthday boy/girl of course.
The room can be decorated with national flags. You can ask the guests to get their children as American patriots. Small Lincoln's and Washington's loitering around in the party will be fun to watch. Either you can give the feel of an election period and decorate your house like there's some election campaign going in the room.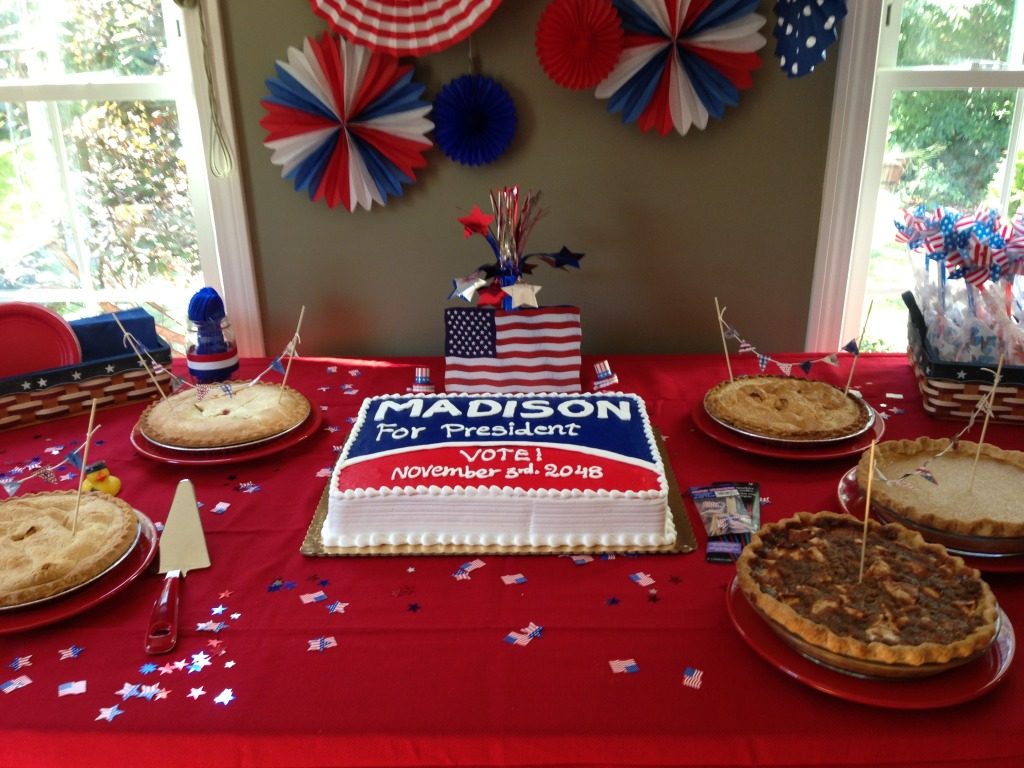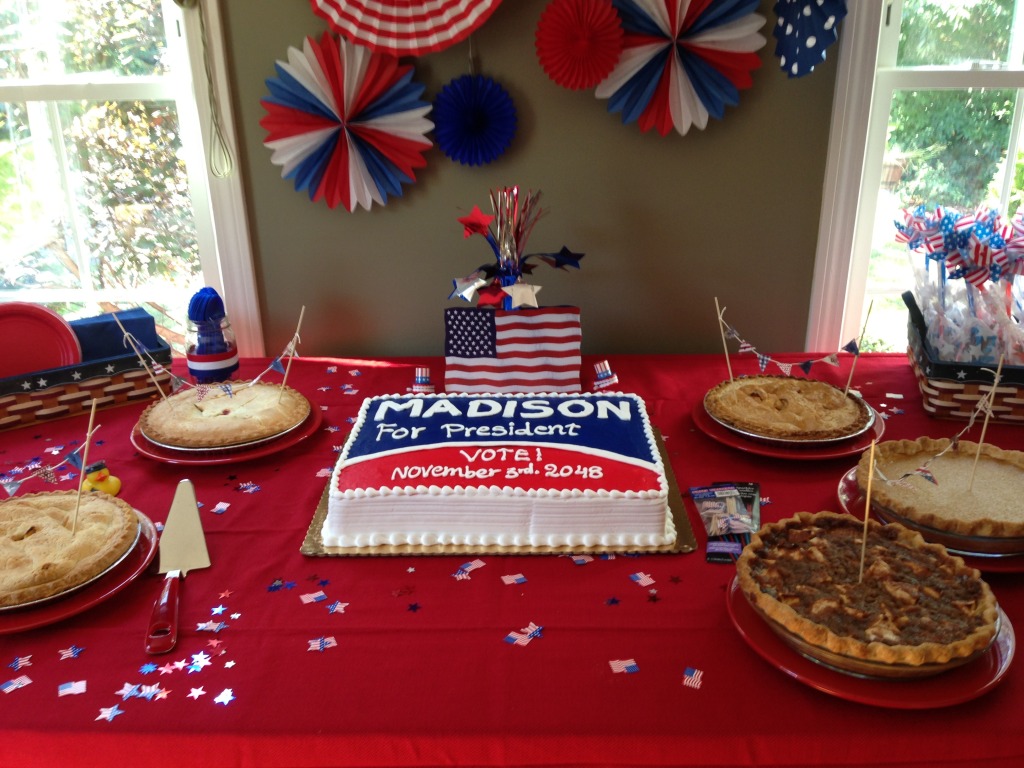 13. A birthday garden party
It leaves a lot to do while arranging a birthday party, but if you have a long list of guests coming in, it is necessary for you to choose a backyard that'd allow your guests and their children to move freely.
Arranging a few games for the kids can make their time better at the party. Also, the fact that is an outdoor party shouldn't run for more than two hours as there are many aspects that can affect the health of your young toddler.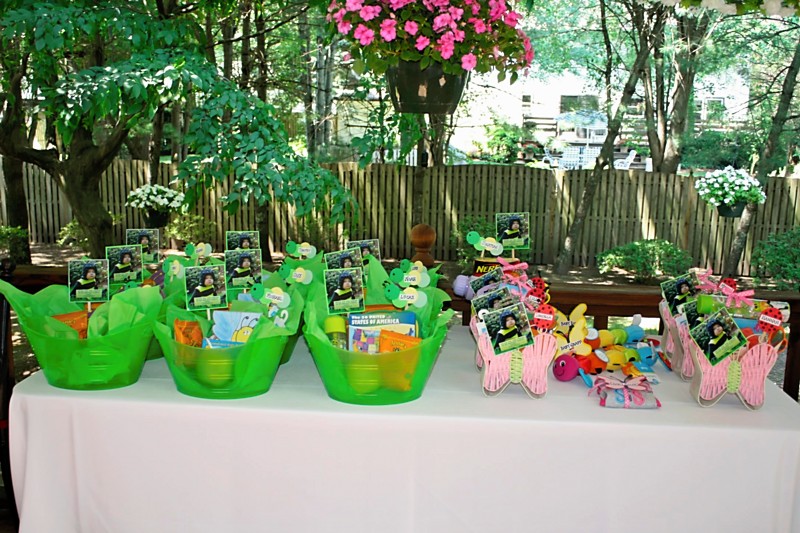 14. The Madness in Manhattan
For all the moms out there, a 1st birthday is an auspicious event. Therefore, it is absolutely normal for them to go beyond their imagination to host a grand party. Thus, this Manhattan city theme could be the exact theme how you'd like to set up your child's birthday party.
Well, it can certainly go beyond the budget to set up a city in a tiny room as it would require some artistic and carpentry work. But once pulled off to perfection, it can beautify the entire event. Manhattan is just an example and our favorite city, but you can set-up the city of your choice.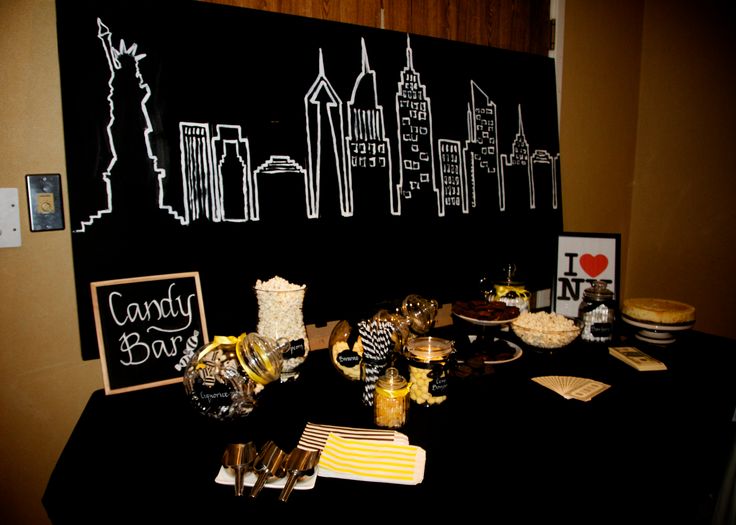 15. Bow-chica-wow-wow
We love dogs, and we loved this idea too. One of our colleagues went to one such party and couldn't be much happier than he was that day. The party comprised of everything that the four-legged cuties love. From bones to toys, everything was about dogs.
Even the children attending the party loved the theme and were seen enjoying to the core. Therefore, we thought of mentioning this 1st birthday idea. It is apt for someone who loves pets.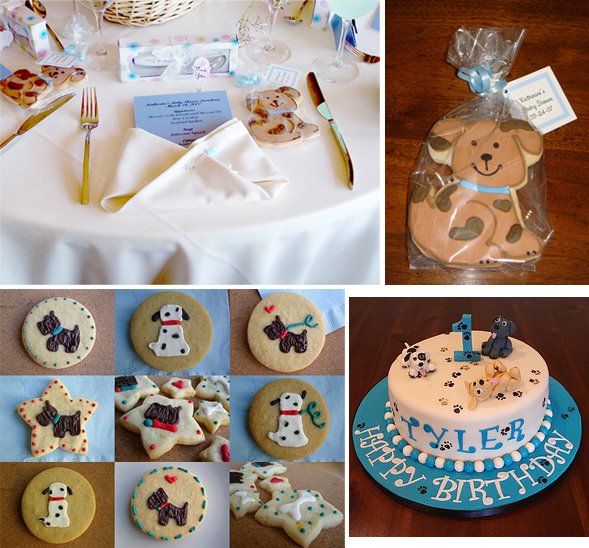 16. Honey Bee Themed Party
Honey Bee Themed Party is the cutest one of the lot. One can decorate the room in yellow and black, and make honeycombs and stuff on the table. Also, the cake can be designed in a particular way to look like a buzzing bee.
The guests can be requested to dress in a particular way. You can go that extra yard to dress the birthday boy/girl like a honey bee. The pictures of the party are going to be absolutely hilarious. Trust us, it would be a memorable one if you decide to pull it off in style.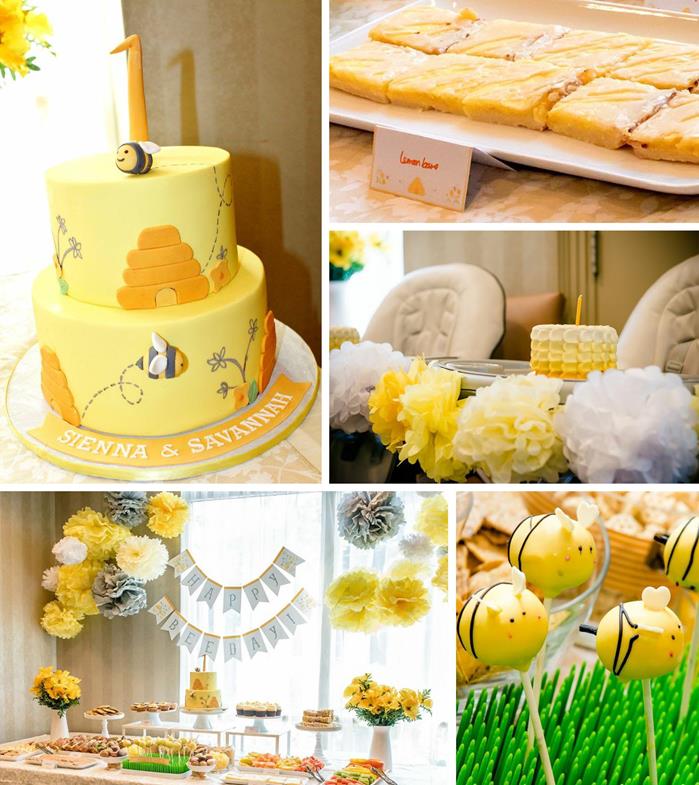 17. The Monkeys and the bananas
It is an easy-to-organize party for anyone hosting a party for the kids. All you require is a dash of yellow and black and few plush monkeys. And there you are. With the help of the minimal accessories, and easy decorations you can set up an extremely hostile party location for children.
It is quirky, simple, and yet bring the extra oomph in the pictures. You can also add a banana-shaped cake or distribute funny tails or organize games that require hopping and jumping to make it entertaining for children.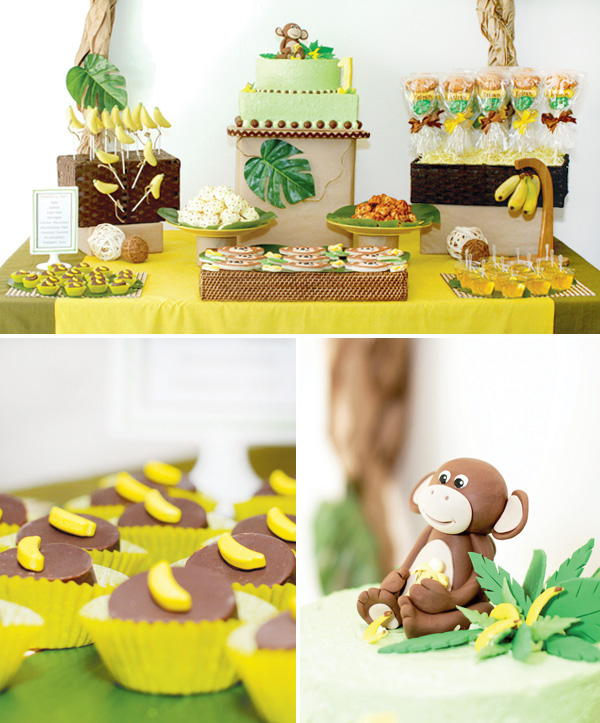 18. The Owl's Nest
Another theme which can make your party look good. Owls are easy to draw, and there are several plush toys and other stuff related to them available in the market. Designing cupcakes in the shape owl faces would be an easier task too.
Also, you can buy owl masks for children attending the party. A little bit green to top it with many owls would make an exciting birthday party location.
Make sure that your child doesn't get scared of the scary looking creatures. Otherwise, the entire party would become a huge mess in a matter of seconds.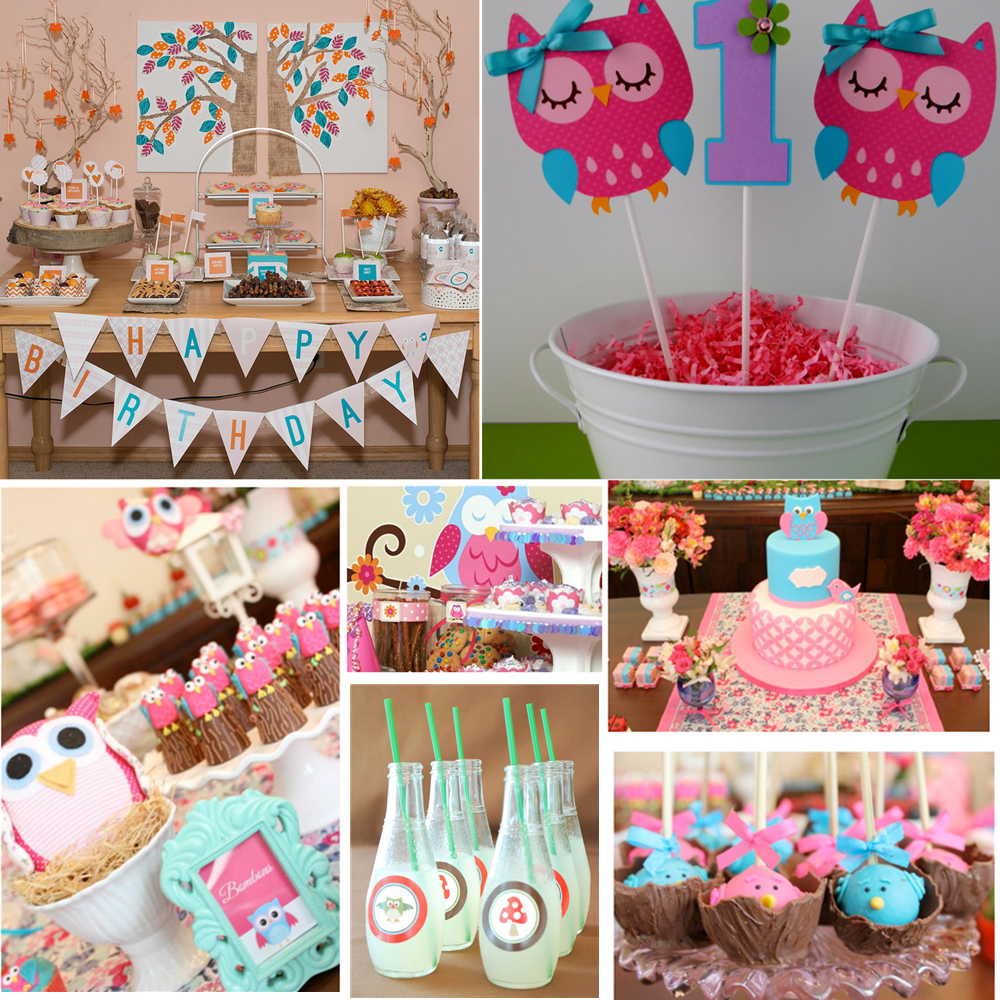 19. The Party of the Pirates
This one can get out of hand if your little one gets scared by the oddly dressed pirates. But if it is not so, it can be a fun-driven party to host. Ask your guests to dress their toddlers like pirates, and they are good to go.
One can distribute eye patches to the young pirates to add to the theme. Also, you can decorate the cake table with the shape of a ship.
The best thing you can organize is a ship full of toys and let the young toddlers loot the ship. It'd be a fun party for the young toddlers, and hopefully, your little kid will enjoy it too.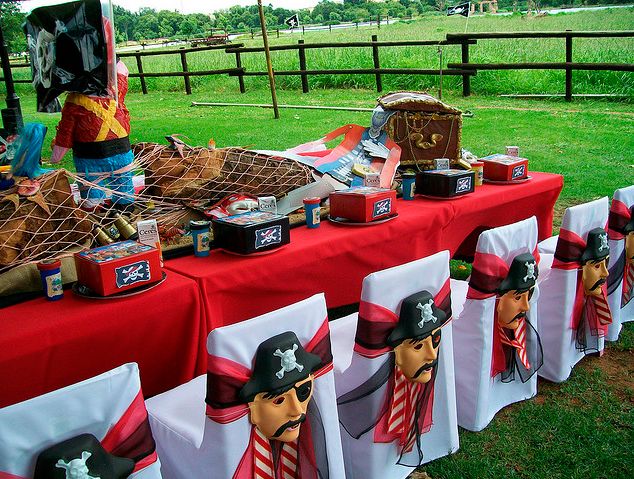 20. The journey of a year
It is a pretty simple decoration idea to pull off considering the facilities available to the man today. Technology has highly advanced. With the introduction of good camera mobile phones, there is a huge possibility that you might click your child's picture every second or third day.
Therefore, it very easy to create a flashback of 12 months with your child picture hung all over the room. It makes a great party ambiance and doesn't even burn a larger hole in your pocket.
You can even customize the invitations with a photo collage of your child's pictures and cupcakes topped with your child face cardboards. This kind of a theme can do wonders to your images. You can easily do this type of 1st birthday party decoration at home also with the help of your other family members.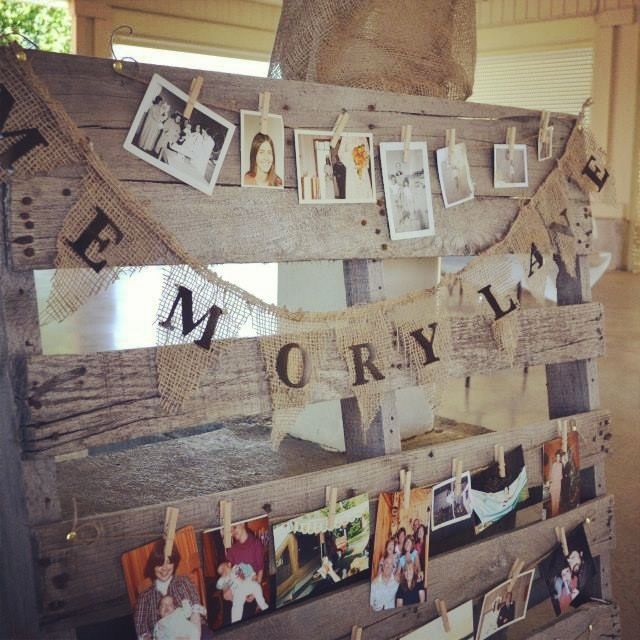 21. Pink Pink Everywhere!
Again, this idea has been stolen from my friend. It was such a beautifully organized party to attend. I fell in love with ambiance, and of course, his cute little daughter. So what he did was pretty simple.
He got the entire room dressed in pink. His daughter looked fantabulous in the entire set-up and guest couldn't stop appreciating the beauty of the location. It could be any girl's delight to be précised. A pink table dressed with pink sweets looks too cute.
Everything from the smallest utensils to the birthday cake, everything was pink. This will be the perfect 1st birthday party idea for girls.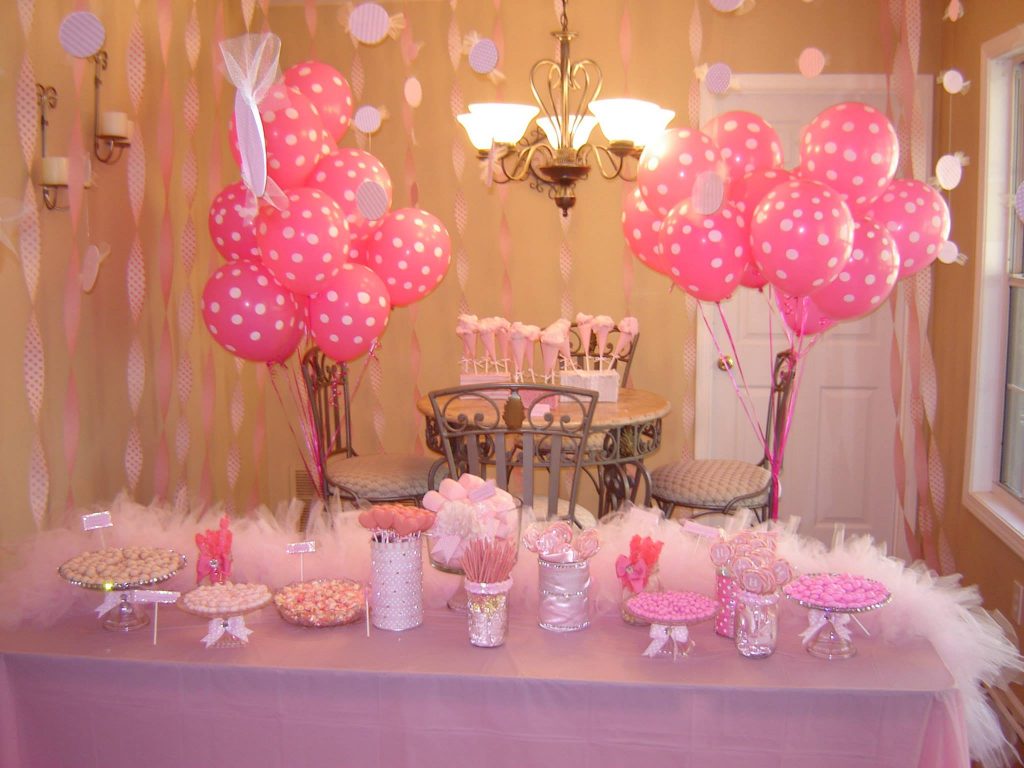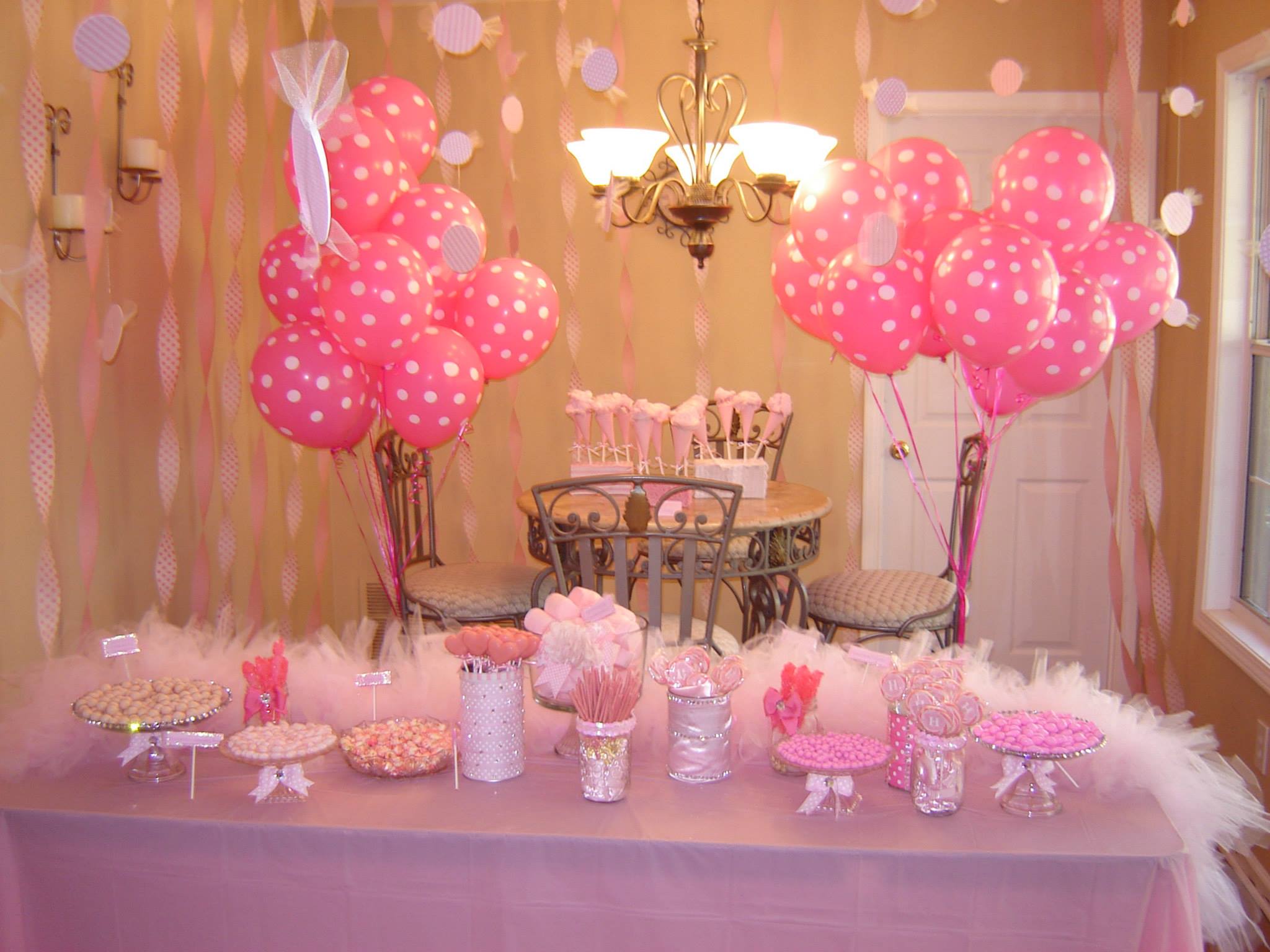 22. Fly High
A party with the theme of airplanes can be great for capturing mesmerizing images. The party can comprise of super fun aircraft, aircraft shaped snacks, super cool return gifts, and some papercraft accessories to enlighten the look of the room.
You can dress your child as pilots while requesting the guests attending to party to dress like passengers. You can ask your family lads to dress like cabin crew and other workers at the airport. This would be a lovely set up to host the part of your one-year-old child.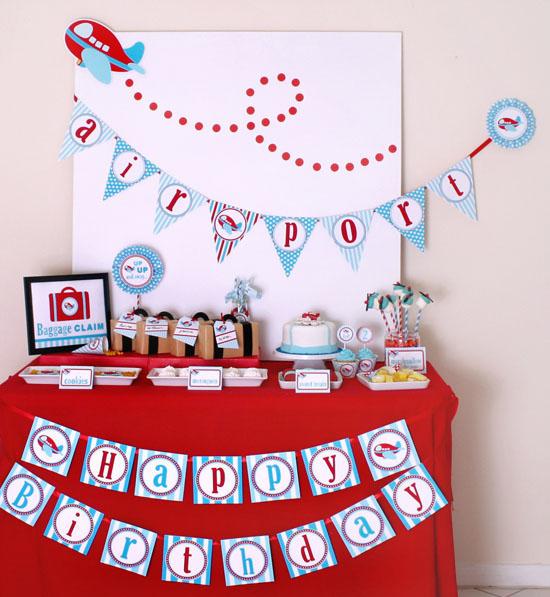 23. Get official!
These theme parties require you to get drop dead formal. Hang ties, create an office environment and send invites in an official manner to set up the mood. Also, get in mustaches for children to make them look good.
And that can be an adorable sight, trust us on that. You can create a table that exactly looks like a work desk. Cookies, drinks, and other stuff can be served like it is served in offices.
Kids look great in formals, and they'd love this unique theme party. The grownups can be absolutely comfortable as well in their routine formal dresses.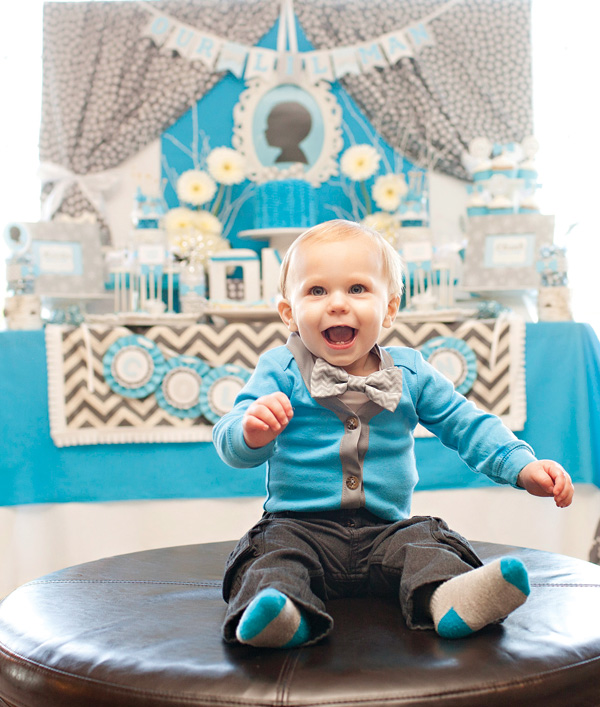 24. A Fairy Land
This one is exclusively tailor-made for your cute little princesses. It doesn't require any rocket science for you to create a fairyland. All you need is some magical wands, castle-like structures, unicorns, crowns, and caps.
Make sure you select the best of crowns for the birthday girl to become the center of attraction. Cakes can be customized too. You can dress your child in a fairy-like gown and ask your guests to dress their children like Prince and other highnesses. A real horse can add to the set-up.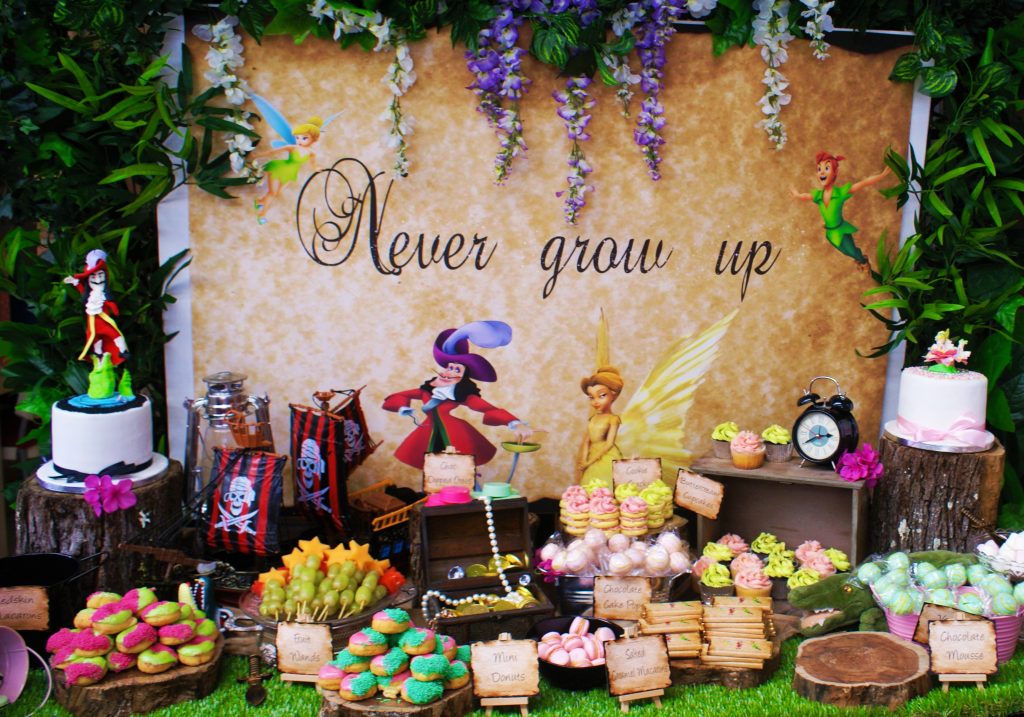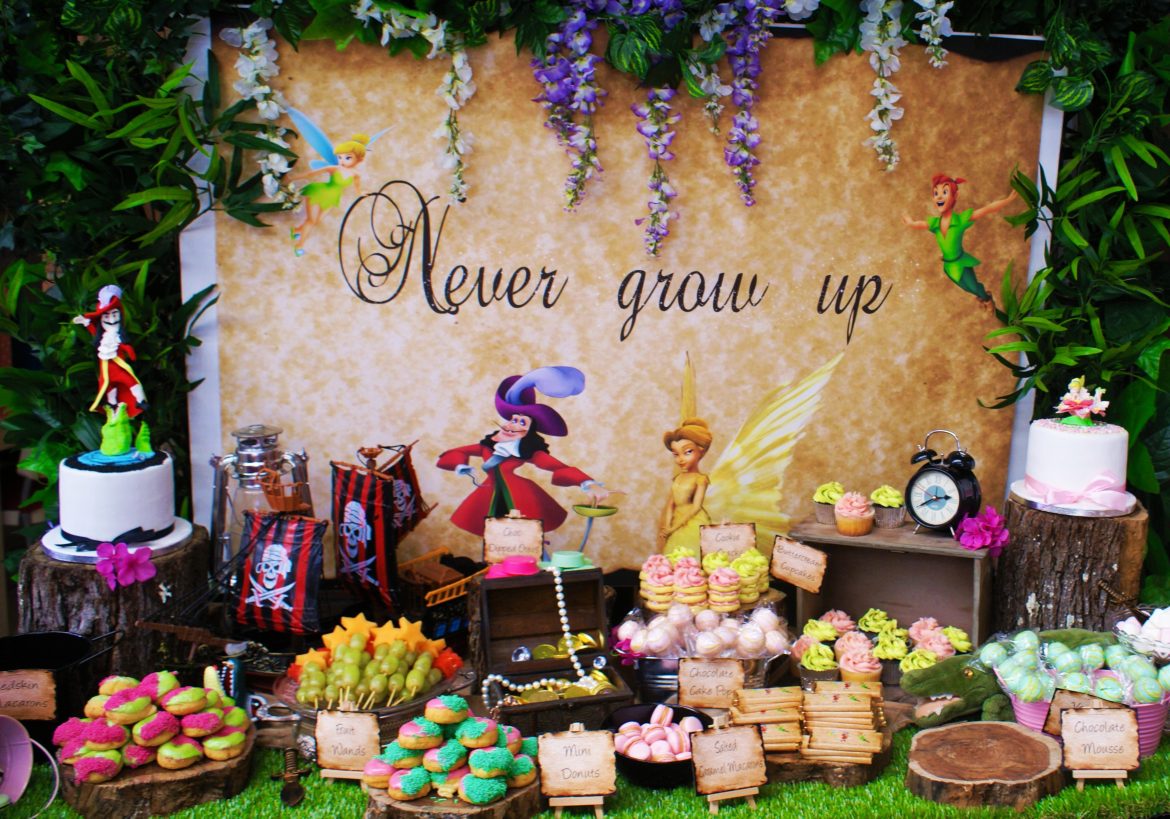 Things to keep in mind while arranging a party for the first birthday
The fact that it is the first birthday, make sure the party runs for a lesser amount of time. Otherwise, you run the risk of annoying your child. There are high chances that he may get irritated if he stays out in public for such a long time.
Try to organize the party in the broad daylight when your child is fresh and awake. Late night parties might disturb his sleep and affect his health post the party time.
Lesser the guests, better is for the young toddler. For the very fact that he wouldn't be able to recognize most of them, he might get uncomfortable and start cribbing. Thus, it is feasible to invite the close friends and family members to the party.
Whatever the theme is, make sure you give him the dress which is comfortable for him. If he is not comfortable, he might cry his heart out and you may not be able to find the exact reason in the hustle and bustle of the party.
Make it fun and enjoyable for everyone around. While adults can do the boring talking and stuff like that, kids cannot stay at one place. Therefore, you need to organize some 1st birthday party games for young children so that even they enjoy the party to the core.
Here are two more lists of 1st birthday ideas according to your preference:
1st birthday party ideas for girls
Now that you have so many 1st birthday party ideas to organize your birthday party, you can select one of above and once pull off, you can share your images in the comments section below.
Also, you can use these ideas as inspirations and create your own themes and customize your own cakes. Don't think twice before splurging on to create a wonderful 1st birthday party theme for your child. There will never be such an occasion ever again.
So use this auspicious day to let your friends and family know about your happiness for your child who has turned one.