For all the dog owners and lovers, here you go. Today i am sharing some of the best dog birthday ideas that will help you plan a perfect birthday party for your dog. This article is in response to the Mrs. Eva Daniel, who asked me about some ideas for her dog birthday party and for all who are looking for the same.
Even though your cutest little ball of fur does not actually understand the idea of a birthday yet it does not mean their birthday need not to be celebrated. Our pet dogs become as important to us as our other family members and hence to appreciate all the good that they bring to our lives they too deserve a celebration.
Every dog should have his day, so in case you are unaware of your dear dog's actual date of birth you can still plan a special day for him on the date you adopted him. A part from being a fun day for your furry friend it can also be a chance for you to socialize with your friends and neighbors.
In recent times the trend of having dog parties has picked up popularity among people. A lot of us wish to celebrate the birthday or just the adoption day of our dogs with zeal and enthusiasm. It is a way to commemorate our cherished bond with our best friend.
Now again, it is true that they may not understand the underlying reason for the occasion but dogs do love attention, so making the day all about them will definitely be enjoyed by them and that's what ultimately matters.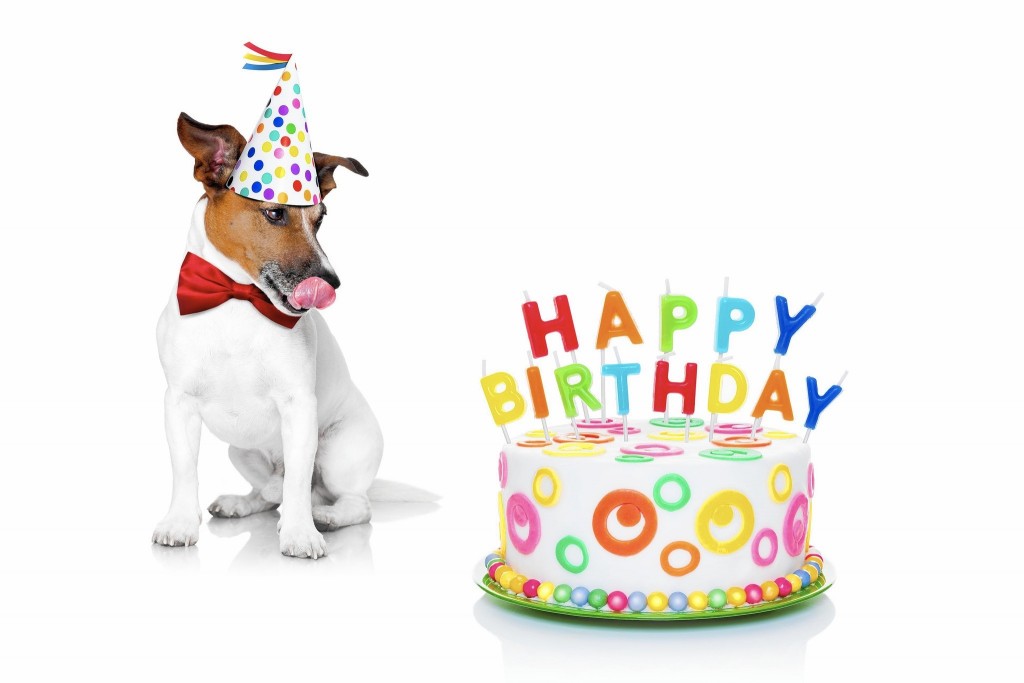 Dog birthday party themes, decorations, food, invitations, Venue, etc..
A party for a dog needs a little more planning than the normal ones. One has to be creative and the same time careful about certain things. Here are some fabulous ideas to help you throw an awesome 'pawty' for canine friend.
Themes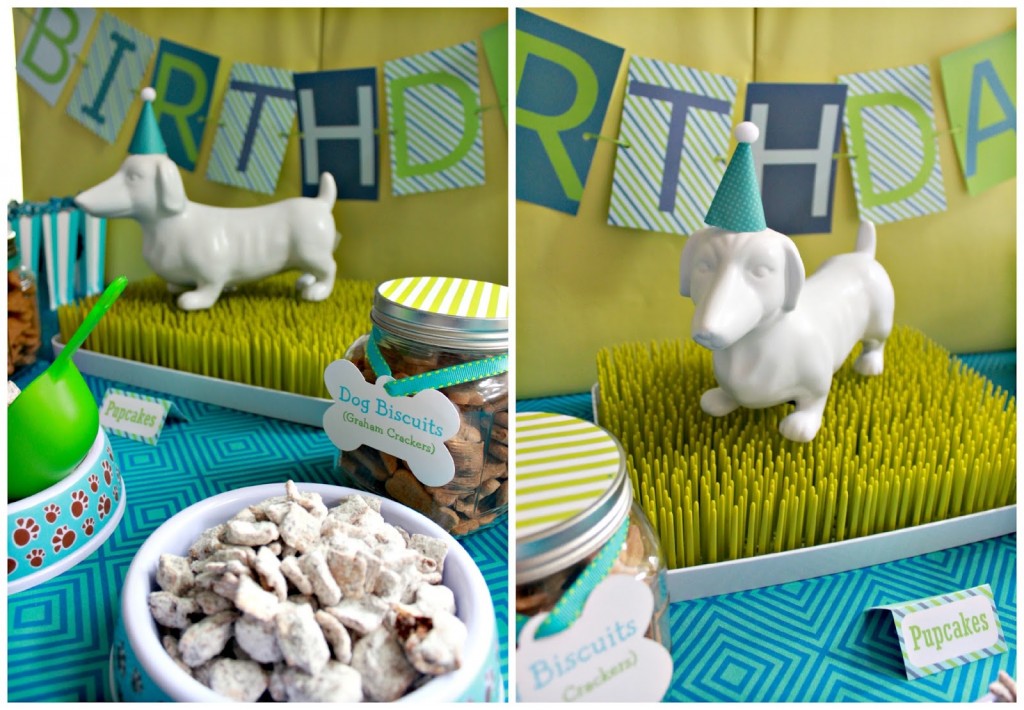 Well, frankly you can pick any theme as per your choice. Your dog can not have much of a say in it. So, use your imagination and creativity to come up with a perfectly fun theme. Having a theme makes planning a lot easier. You know what to have, how to design decorate and so on. To help you here are some simple but fun ideas.
Wild West: Who doesn't love the cow boy fun? You can get those cow boy hats and sheriff badges for your dog too. If hats do not work for your dog you can opt for a red bandana. Your cuddly little friend is going to look super cute.
Doggie luau: A vacation for your dog and his friends. Dress him up in beautifully printed Hawaiian shirt or a beach costume and let them have a fantastically playful day.
The royal princess: Plan a princess themed party for your friend by getting them dog sized tiara and dresses. Turn her from ordinary to absolute royalty on her special day.
Pirate's Party: Draw a scar and get an eye patch, of course the eye patch needs to be cut out in between so as not to actually block the vision of dog. You can also get a complete pirate costume for your dog which is easily available in the market.
Super heroes: You can also have a super hero themed party for your dog. Dress him up as per your favorite super hero; remember to make sure that the costume you have chosen for your pet is totally comfortable for him. You do not have to be too perfect about the costume. It's about him having fun.
Similar to these you can pick up any theme that you like and which is easier to execute. The theme you choose should be apt for both the guest dogs as well as their human friends.
Invitation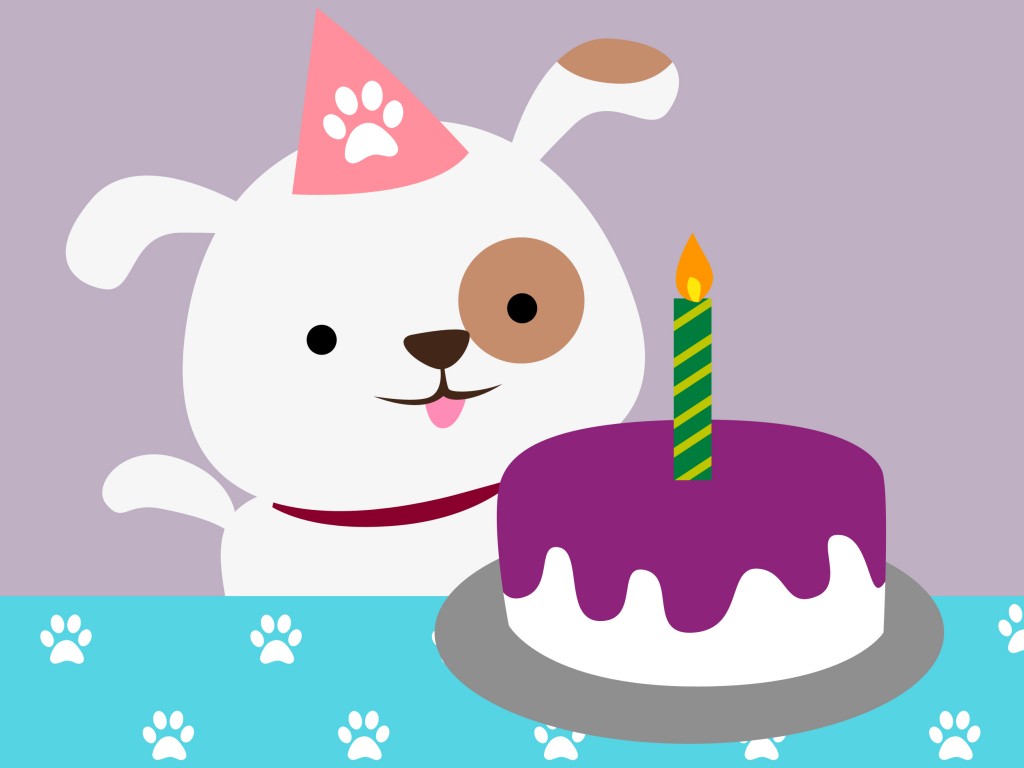 After you have decided the theme of your party the next step should be deciding the guest list. Now here you have two options. First you can invite your neighbors with their dogs, making sure that none of those dogs is an aggressive one and second, only invite the human friends with whom your dog is well acquainted to. Also, while inviting other doggies you need to find out all about their allergies and other dietary restrictions.
It is very important to keep in mind that your dog and the dog guests are not strangers. It is not such a good idea to invite dogs which are meeting your pet for the first time as there may develop a sense of competition among them. A tensed atmosphere is the last thing you would want for your dog's special day.
Also, arrange for sufficient human supervision just in case if the need arises, also it will not let you stress about the so many dogs running up and down uncontrollably. Small children can also be invited as they make a great happy addition to the party but be sure of how much you can handle.
Once you have planned out your guest list, the next step is sending out the invites. While planning out the invitation cards make sure that they go along with the theme of your party.
You can get ample idea through internet but keep in mind that a hand written note is more personal and much appreciated. If you want it to be an extravagant one you can again go online for some good ideas or get the cards designed and printed by professionals.
Venue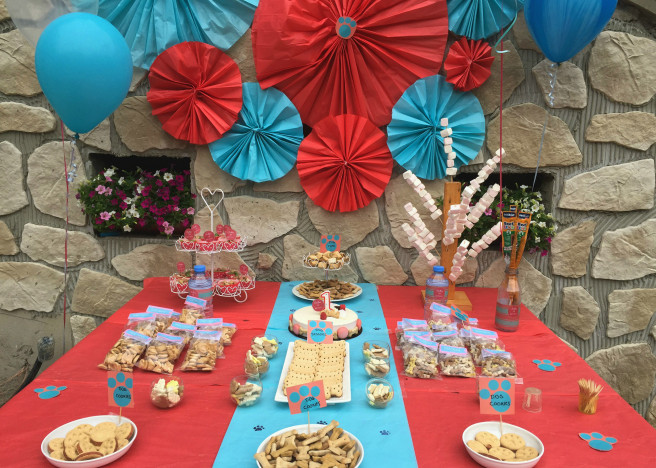 Once you are done planning the theme and guest list for your Dog party the next thing to be decided is the venue. Now coming up with an appropriate venue for a dog party is a very crucial factor.
Normally, if you are having a small party then your backyard will prove to be a good enough place provided you have fenced it up well. And just in case the number of guests is higher, then you will need to plan out something else.
Dogs need open space to run around and play thus, if your place is not big enough you can go for your local dog park, or you can let them have fun at a beach or any other such place which has ample space for them to play and at the same time is convenient for you and your friends to keep an eye on their activities.
Also, make sure that you can arrange for a lot of water bowls at the venue for your four legged friends, especially if the weather is hot.
Cakes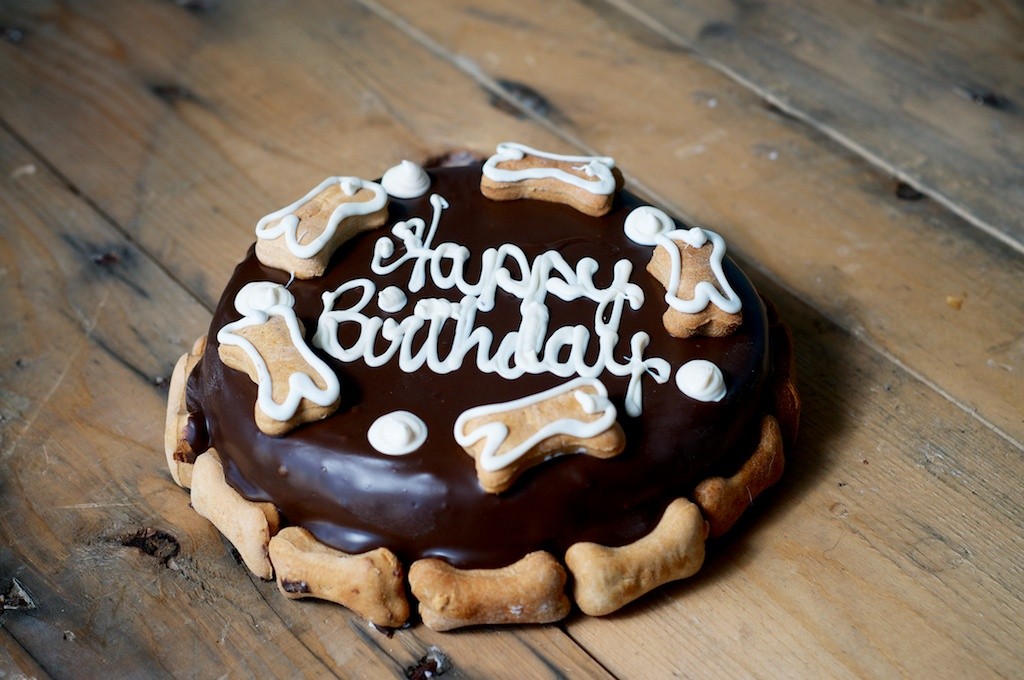 How can ever a birthday be without a cake? So, for your dog's birthday too there has to be a cake but not the ones that we have for ourselves. Cakes for humans are not fit for dogs to consume so you can contact a pet bakery to arrange for one.
You can have two separate cakes one pet cake for your dog and one for human consumption. If in case you do not have a pet bakery nearby your premises let me tell you cakes for dogs are very easy to bake. So you can do it yourself. To make a dog-friendly cake follow the keep the following points in mind.
Do not add any chocolate or sugar for that matter. These things are not very suitable for a dog's digestive tract. You can use substitutes like organic peanut butter, cream cheese, cottage cheese or yogurt for icing your dog's cake. These ingredients will keep your dog from getting sick.
It is important to mention that chocolate is poisonous for dogs so do not use it in any case. You can use carob as a substitute which is easily available in health food stores in both chip as well as powdered form.
Also, avoid using nuts in the cake; here again dog's digestive system may not be able to process it properly. However, you can crush the nuts into very fine pieces if you really do wish to add it in his cake.
Some layers of bacon or chicken in cake may gross you out but your dog will definitely cherish such a delicacy.
Candles too will not be such a good idea in your dog's cake. Instead you can use your dog's favorite treats to serve your purpose.
Let every dog have his own separate plate. A common serving of the cake can create a big mess.
At last remember that no matter how much your cake is pet-friendly, do not allow your dog to overeat. His system may not adjust to the not so familiar kind of food and cause him to get sick. Hence, make sure that he only consumes a few bites of the celebratory cake.
Food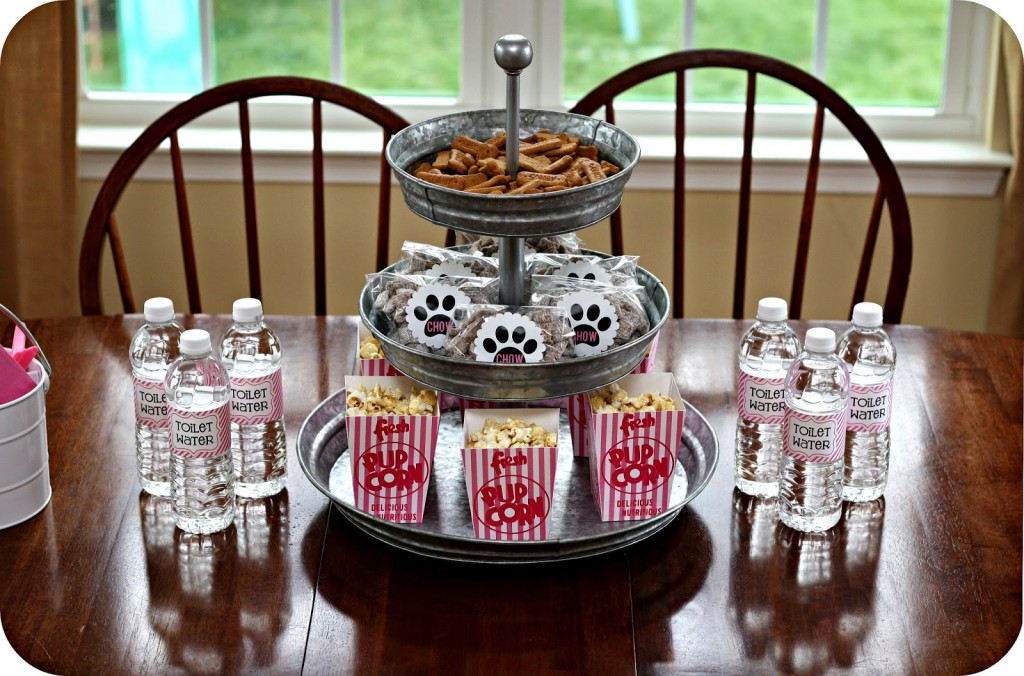 For any party food is the most important element of all and this implies a lot more to a dog's birthday party. We have already discussed about the cake above so here we will be discussing about the other edible items that can be added, however the food will focus more on the human guests as dogs do not have much options here.
What you can do for the dog is add some grilled or boiled steak or chicken in the regular dog food for the pets to enjoy. It may also happen that some of the guest dogs have already been fed by their owners so you do not have to over feed them. What is important here is to make sure that you have a good amount of dog treats available or some home-made dog snacks.
For the human friends you can plan some appetizers according to the chosen theme with a bit of doggie twist. Mini hot dogs, bone shaped sandwiches or other such appetizers which scream 'happy birthday' to your dog will make great party food.
Decorations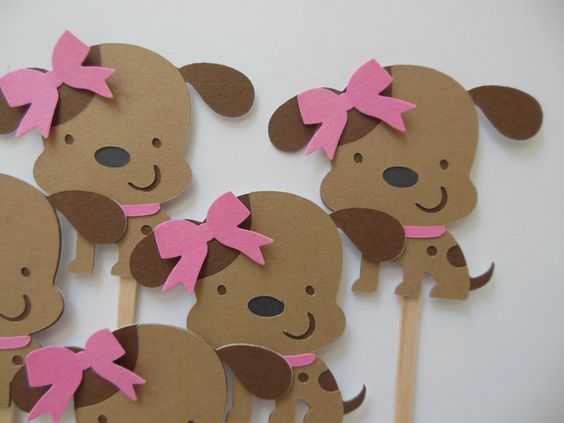 For decorations you again have to match with the theme you have picked up for your party but you also need to make it look different from a normal party, stating that it's a party for your dog. To help you make this clear follow these few tricks.
With the help of a large cardboard box you can make a dog house and keep it at the entrance of the venue in such a manner that your guests have to enter through it.
You can use some face paint to draw whiskers and a doggie nose on the faces of the human friends.
You can cut out signs like 'puppy love' 'Come. Sit. Run. Play.' 'It's Pawsome!' and whatever that comes in your head and put it at various places.
You can draw puppy faces on the balloons and stick paper ears to them.
Cut out colorful paws and use them to decorate.
Use dog shaped center pieces on the tables.
Make some DIY bandanas for the dogs as well as the human friends and request them to wear it for the party.
Games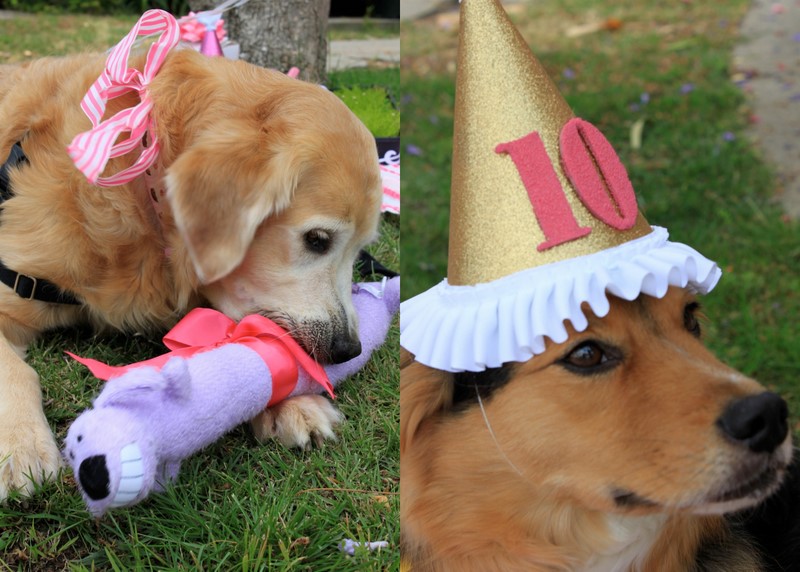 For a fun dog party you need to plan a lot of games for the dogs to enjoy. Here are some ideas that will help you throw an amazing dog party which is equally fun for the people accompanying them.
An agility contest: agility starter kits are very easily available in the market and aren't even very expensive. Set up the kit, the hurdles and the zig zags will be a lot of fun for the dogs. You can get them to compete by teaming them up with their owners to make it more interesting.
Fastest dog wins: It's simply a race but dogs do love running, so why not go for it.
Musical chairs: Yes, this is a game that can be enjoyed not only by humans but their dogs too. Play the music, the team has to keep moving and when the music stops the pair has to be seated. Keep eliminating unless and until the last pair is standing.
Important Things to remember
Keep sufficient cleaning supplies at hand.
Do not send your guests away without a goodie-bag of treats or toys, it will be appreciated.
Camera: You do not want to miss on capturing those precious moments.