Birthday Party Themes
Every birthday is one of its kind regardless of what the age is. Your first birthday is as monumental as you 7th or 18th birthday. The number hardly matters, what matters is how you celebrated your special day and for how long in your life you can remember it. With age ticking, we only tend to remember those birthdays that had that extra bit of oomph in them. For example, a birthday where you hosted a quirky costume theme party or a unique poolside party will be more remembered than a regular birthday party you threw in your backyard.
For that very reason, one needs to celebrate each of their birthdays with bash. Because these memories help you to age slower and create a wonderful boulevard of special moments when you sit idle on the rocking chair after your retirement. To make a birthday party hot and happening, one not only needs to have awesome people and great food around but also need to have a specific theme to add to the x-factor of the party.  This is the sole reason we decided to figure out several themes that can get your party to sizzle up its heat.
Themes for all ages
In this blog, we have tried to cover as many themes as possible that can be generally inherited into a party regardless of a person's age and gender. From a party of a 1-year-old kid to 60th birthday party of a granddad, these themes can brighten the mood of any birthday party. These themes are easy to host, doesn't require a lot of brainstorming, and can be inherited in the reality with some time, patience, and of course wit.
Limited Budget? No Problem
We also made sure that the themes we suggest you in this blog are budget friendly and easy to pull off even after having a limited budget. So no matter what you budget is, you can plan a full-fledged theme party using our tricks and tips on how to host them. However, some extraordinary themes can burn a huge hole in your pocket, but that completely depends on the willingness of your expenditure. We'd try to cut down on your costs with alternative or cheap options for a lavish theme.
Magnificent Birthday Party Themes
Emoji Themed Birthday Party
The use of mobiles and the invention of emoticons have made it easier for the people to express their thoughts just with the help of the smileys. Emojis have been an instant hit amongst the people, especially the youth in their teen ages. Also, this theme can be perfect to add humor to a party of an aged person or add to the excitement of young toddlers. It is an easy DIY theme which would require having a lot of emojis in the party room.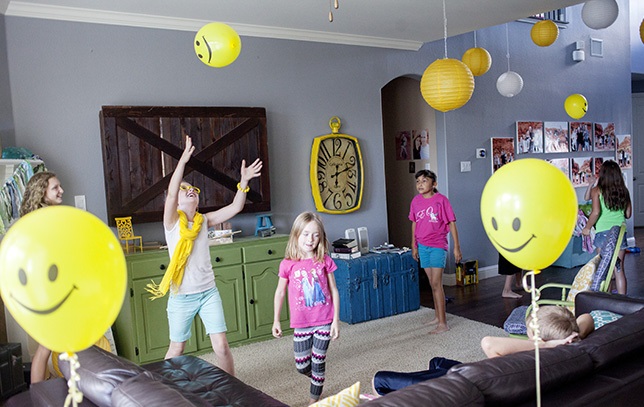 One can start with poop shaped cakes and cupcakes to add to the quirkiness of the theme. A photo booth with a variety of emojis will serve perfectly to the theme. Inheriting this theme to a toddler's party will give you the freedom to host some fun-driven games. DIY emojis can be hung in the room and everywhere around. The most extreme one can go with this theme is by asking the guests to dress like emoticons. Emojis dancing and drinking around will be a memorable sight to witness. You can have a look at our different blog where you will get a detailed idea about hosting an emoticon themed party.
Superhero Themed Party
Most of us love superheroes, don't we? They have been an integral part of our entertainment industry for past two decades. From children to young people, we find superhero fanatics in every corner of the United States. Therefore, a superhero themed party can offer you that extra zeal and thrill that will make it memorable for years to come. All you need is to know about the birthday person's favorite comic, superhero movie, or character, and you will be good to go.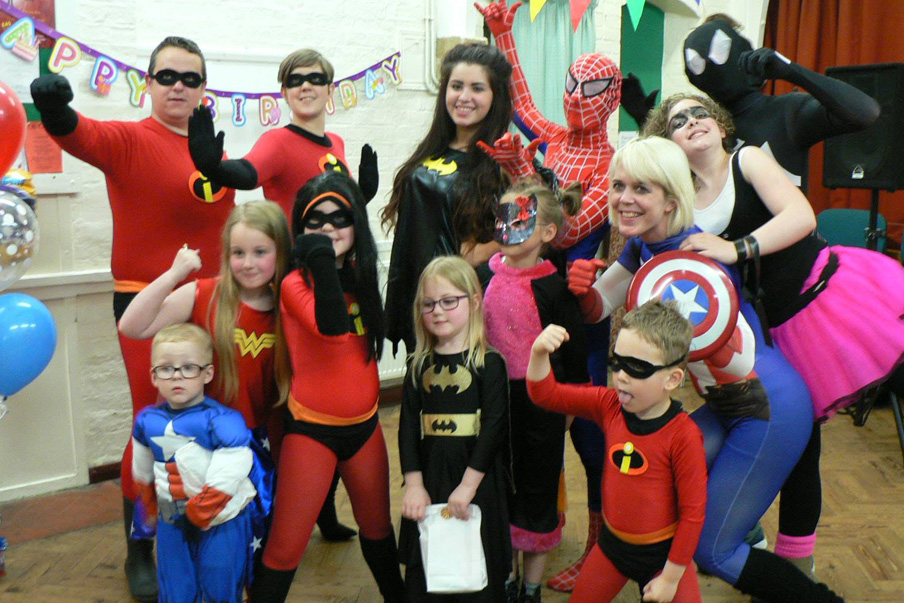 You can create a theme using a single character or make a theme out of a movie. For example, for a Batman fanatic, all you need is to get the bat shaped lanterns, cakes, and stickers all around the room. Also, you can ask the guests to dress like different characters from the Batman series. You can even take the inspiration from the fictional Arkham City. This theme can create a perfect fanboy moment for anyone who loves his comics and fictional series to the core. You can even use Game of Throne characters to set a theme. This is our separate blog to host Batman themed parties to perfection.
Masquerade Ball Party Theme
It is one of the easiest yet elegant and exciting themes to inculcate in a party. However, adults and grown up kids are going to have more fun with this theme than the small kids. That doesn't mean that this theme wouldn't suit the kids. I have seen a mask party for kids, and they had their own sort of fun, unlike adults. It is pretty simple and outright to know that all you need to arrange such party is masks. Masks have to beautiful which would complement the exquisite tuxedos and gowns to perfection.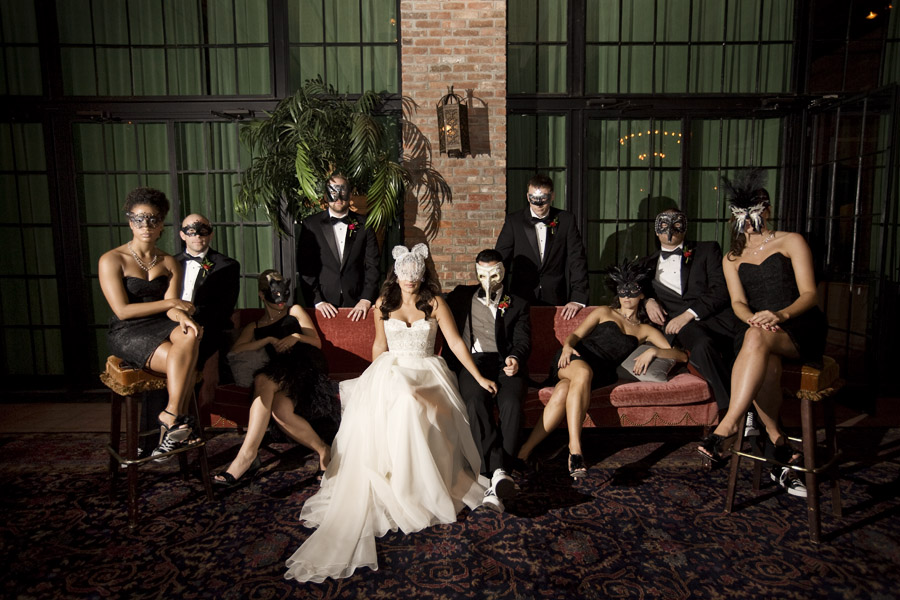 The other things to get this theme executed to perfection are a lit stage, beautifully crafted masks, good music, and a soothing ambiance. The music will play an important role when the couples will take the stage for their ball dances. Therefore, it is suggested that you hire a good DJ or you yourself arrange a wonderful collection of songs that will set the mood for the night. If you manage to get the right ticks on the music, masks, and the stage, you'd be nothing short of hosting a memorable party.
Poker Party
You don't have to take your friends and family out to casinos to host a poker party. One can host such a party at the expense of their house. All you need is lots and lots of Poker chips, a deck of cards, a roulette machine or two, and poker enthusiast friends. Also, you have to make sure that you serve food and wine right up to their poker table, as no one would like to get up for a snack or drink in the middle of the game.
One doesn't need professionals to host such a theme party, but a few assigned dealers can smoothen your process of the Poker fun. It can make a very good theme for kids too. It will keep a lot of people engaged and engrossed. Expect this theme party to run till the dawn, as people can be glued to the poker. Also, the fact that the competition is less and amongst the family and friends give that extra excitement to the Poker night.
A Hollywood Theme Party
This theme idea can be serve as perfectly surprise birthday party idea for someone who loves movies to the core. Also, kids can have a blast at a themed party like this. The main key of this theme is to get your fellow mates dress like Hollywood movie characters. You can decorate your party room to look like movie sets and hang a few DIY clapboards, cameras, and iconic Hollywood movie posters. One can either select a particular movie series and spread the word amongst the friends, or keep the theme general.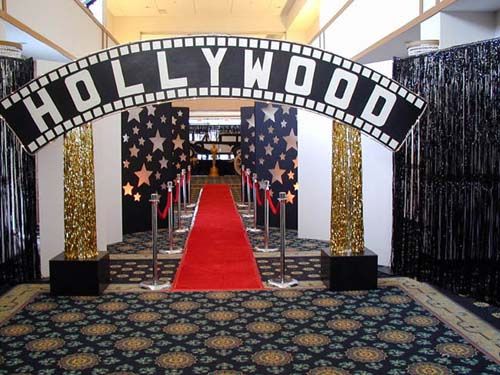 You can even customize a Hollywood-themed cake which can comprise of anything related to the movies. One needs to be very particular about what is to be served on the platter, as the theme suggests some classy people on the board. You have to emphasize on the music which has to be totally inspired by the soundtrack of the iconic movies.
Vampire theme birthday party
Vampires gained popularity in the early 90's, and have been favorite fictional characters of many people right since their inception. There is no specific age that wouldn't allow you to enjoy a party like this. Ask your friends do dress like vampires, create an ambiance that looks like a vampire villa, and get the horror trance do the talking at the party night. Also, kids like to scare the crap out of their mates by looking the vulnerable best.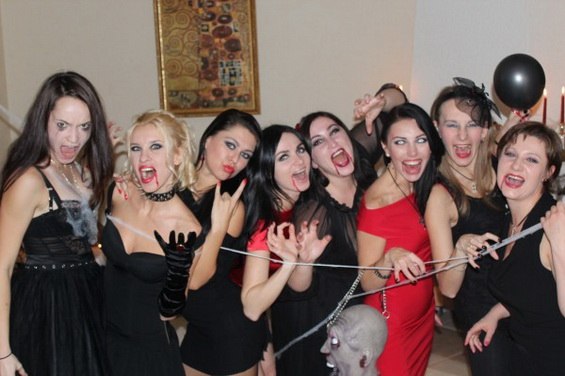 Makeup plays an important part in a theme party inspired by vampires. You can organize a few fake teeth sets, creepy masks, and capes for your guests to make themselves look like vampires. Also, you can customize your food according to your theme. You need to arrange a plenty of meet for the vampires that are going to visit the party. Make sure you click a load of picture alongside your vampire friends once you commence the party with style.
Luau Party
There are hardly any people in the world who can party like the Hawaiian people. Samoan parties look like there is a lot of fun. No wonder many people in the coming years are attempting to host a Luau party in their backyard. As some organizers suggest, not only the guests get a break from the regular routines and dresses, but they also get a lot of activities and games which keep the party alive for hours. The vibrant Luau colors add to the overall look of the party. But to pull it off with style, one needs to inform the guest about the forthcomings, and request them to dress like Hawaiian people.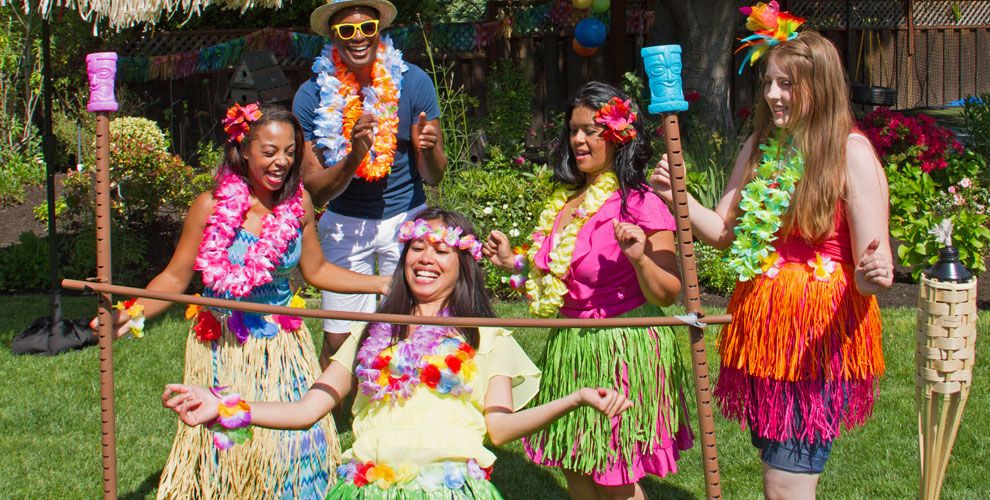 This is one of the most favorite summer birthday party idea.Enjoy the tropical settings right in your backyard for this party. You can arrange the drinks in coconut shells, get some grilled finger food, and arrange a few colorful scarves and skirts to adjust yourselves to the Hawaiian settings. The Caribbean music is going to add more flavor to your party. You can organize a plenty of tribal games that are indeed fun to carry out in such parties. Hawaiians all over the backyard, doing what they do best, would be a lovely site for the host and the guests alike.
Pokémon Theme Party
This is for all the youngsters out there. Pokémon came into resurgence after the release of its game which got several people of different age groups crazy behind the franchise. Ever since then, we have seen a plenty of people seeking ideas from the experts on how to successfully host a Pokémon themed party. We even a have separate blog that will give you the minute details about how to pull of the Pokémon theme in style. You can go through it here.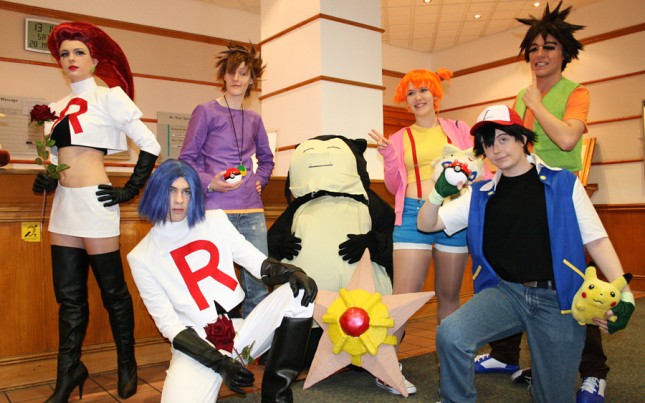 One has to request the guests to dress like the fictional characters shown in the series. Make sure the birthday boy or girl dresses like Ash Ketchum or Mystery considering their gender. There are a lot of DIY options that can make your cupcakes look like Pikachu's. This is a popular theme for the kids as well. When organizing the party with the kids, one can even have return gifts in form of official Pokémon. Merchandise. Poke balls can be easily made using spherical objects and paints. They can be handy in decorating the party hall to suit the theme. Team Rocket, Ash, Brock, Giant Pikachu's and Charmander's going wild on the cake will be a great sight to witness.
Wine and Cheese Tasting Party Theme
If you really want to spend a quieter birthday and spend some memorable me time along with your close family and friends, this theme would suit your needs to perfection. This party theme is for the ones who don't enjoy the raucous and the hard hitting parties and prefer calmer time. However, it is no brainer that this party would be a complete off for the kids. So make sure that there are only a handful of kids on the guest list or you are going to lose out on your desired tranquil ambiance.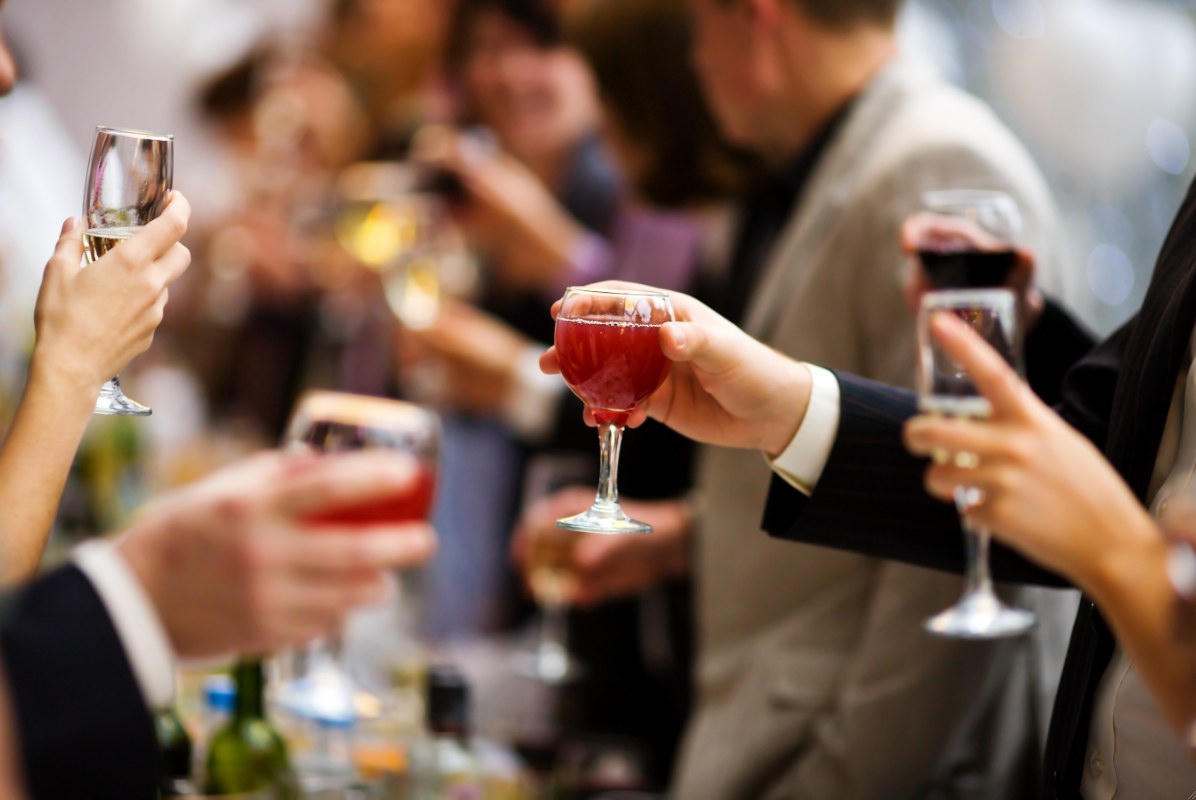 You can either take you clan to a winery or a cheese factory to have their tongues mingled with fine cheese and wine or either you can arrange the delectable right on your dining table. For one to host a party at the expense of their homes, you have to gather a handful of bottles of exquisite wines brewed in different countries. If not possible, one can at least arrange a wine for each type. Same goes with the cheese too. You have to arrange a wide range of cheese varieties to get the party going. This theme is perfectly suited for the ones who love to spend time talking to their families on a dining table and don't like music and rash partying.
Karaoke Theme Party
This party theme is highly recommended for the music enthusiasts and people in the medieval ages. People in their mid-40's and 50's develop a rich taste in music, and most of them don't like to party like animals. Therefore, a karaoke theme party can be a soothing experience for the people of that age. Things you need to arrange for hosting a party in this genre are a karaoke machine, a mic, and good quality speakers.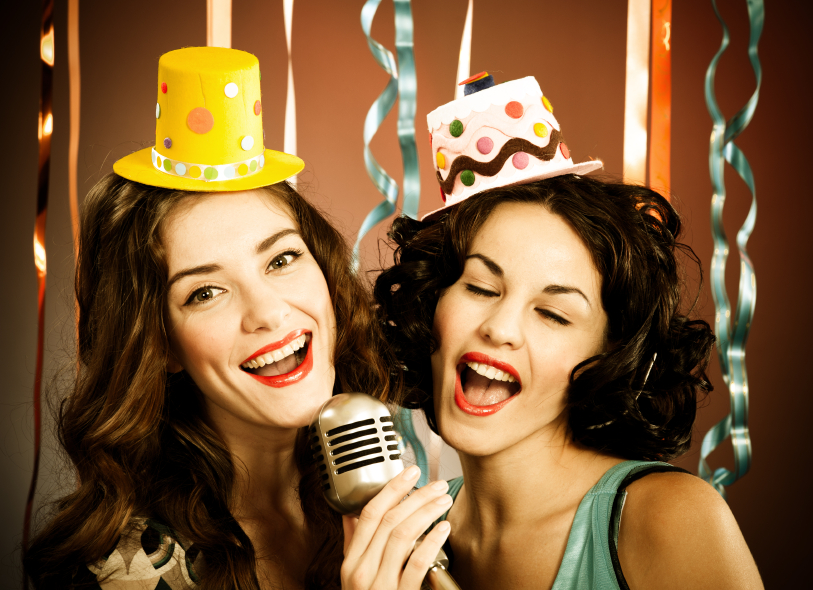 The entire party is designed around the Karaoke machine which is capable of entertaining the night throughout the night. You need an enthusiastic crowd for this theme to become an absolute success. Guests themselves can add the oomph to the party with their singing abilities. Good or bad, it hardly matters, but every guest's participation in the party will get the theme to play perfectly in full swing. Backyard or a dining room would be most suited to host a Karaoke themed party.
Back to School Theme
Well, again, not an idea that can be executed for a kids birthday party. But graduates and office goers are simply going to enjoy the theme which will take them back in the memory lane. If you have a group of friends from your school days, this party theme is a must try. To create the perfect ambiance for the party, you can rent some benches and tables and arrange them in the party hall. Blackboards, chalks, dusters, and other things will add to the ambiance as well.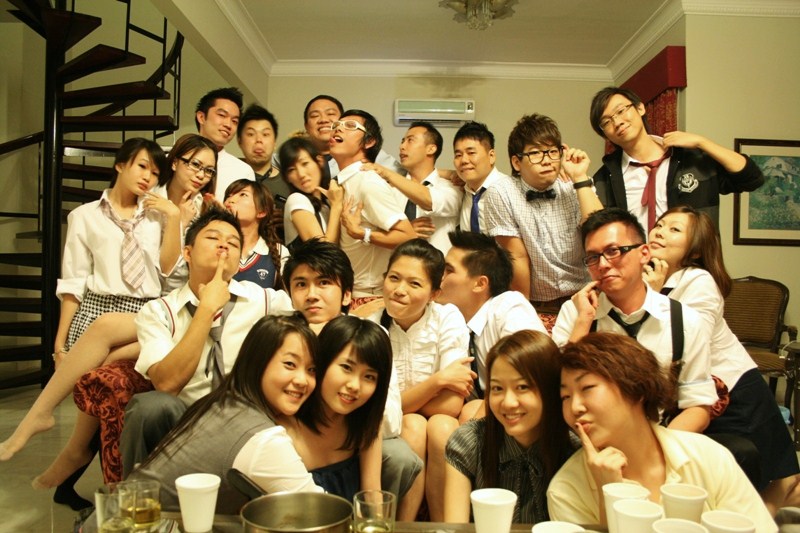 Request your guests to dress like school days, or like anyone they remember from the school days. It'd be fun to watch the grownups going back in time to celebrate a birthday. The food can comprise of school time snacks and can be served in tiffin boxes while the drinks can be served in water bottles.Its a construction theme birthday party idea,the minute detailing will help you make your theme shine brighter. It would be a fun night that all your friends would gather to talk about their golden memories from the school time.
Gangsters in the room
This is a fun party theme that will add a dash of quirkiness to the usual boring party. Parties can get boring at times, and dressing for them, in the same way, each time makes them more boring. Therefore, this theme will let your creative minds wander about how to attain the gangster look for the themed party. To set the ambiance to perfection, you need to arrange luxury coaches, hookahs, hats, and few drinks. Getting to see your friends dressed like gangsters is a visual delight, to say the least.
Also, this a fun idea for the kids as well. Kids dressed like gangsters and bad men are going to crack you up as adults. Make sure everyone in the house dresses up like the bad boy either from the movies or from the real life. It serves a great party idea for grown up adults and teens. If you feel kids might have a bad impression on them having organized such a theme for them, you can snub it for other friendlier options.
Rock N Roll Party
Remember the golden era of Presley's and Dylan's ruling the music charts for years? That for some is still the golden era of music. The way they sang, the way they danced, the way they carried their swag, all had its unique charm. People have been through that age know what it was to follow someone like Led Zeppelin or Elvis Presley. Therefore, this party theme will be most suited for the people who have grown up listening to these rock stars or have matured in that time.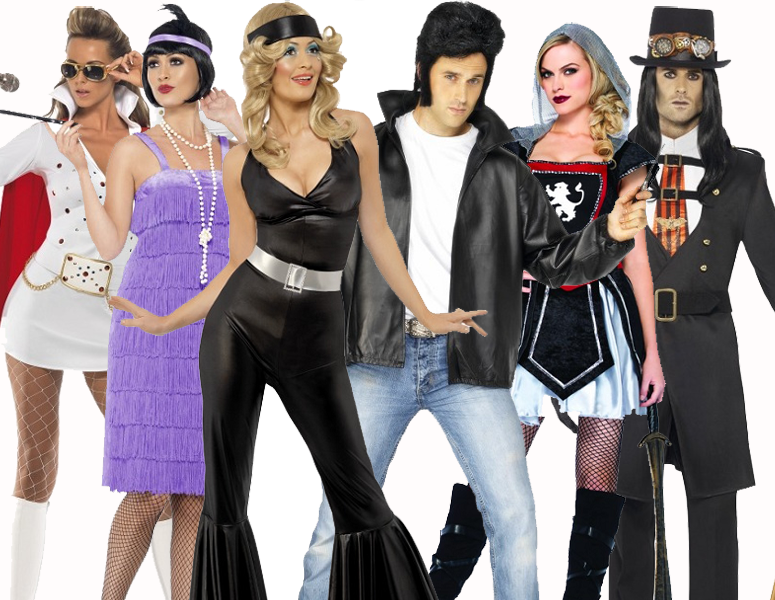 You can request the guests, family, and friends to dress like these glorious superstars who took rock and roll to a different level. Now that you have Presley's, Dylan's, and the Beatles in the house, you have to arrange an open mic for them to exhibit their singing skills. No matter how bad the singer is, each guest has to take the center age and perform a song from the golden era. Getting to see people dressed in the retro style of 1960's can be an enticing affair. You can even hire a guitarist who will guide the singers through their performances.
Star Wars Theme Party
Star Wars have made an industry of their own ever since their inception at the big screens. More than kids, it is adults that love the series more and have helped the franchise to scale new heights of greatness. Therefore, this a perfect theme for someone who has been a crazy fanatic of the Star Wars theme. So express your passion of star wars by hosting a party as unique as this. You can arrange the lightsabers for everyone attending the party. Also as a friend, you can customize the cake to the birthday person and the birthday wishes can be written in the Klingon language.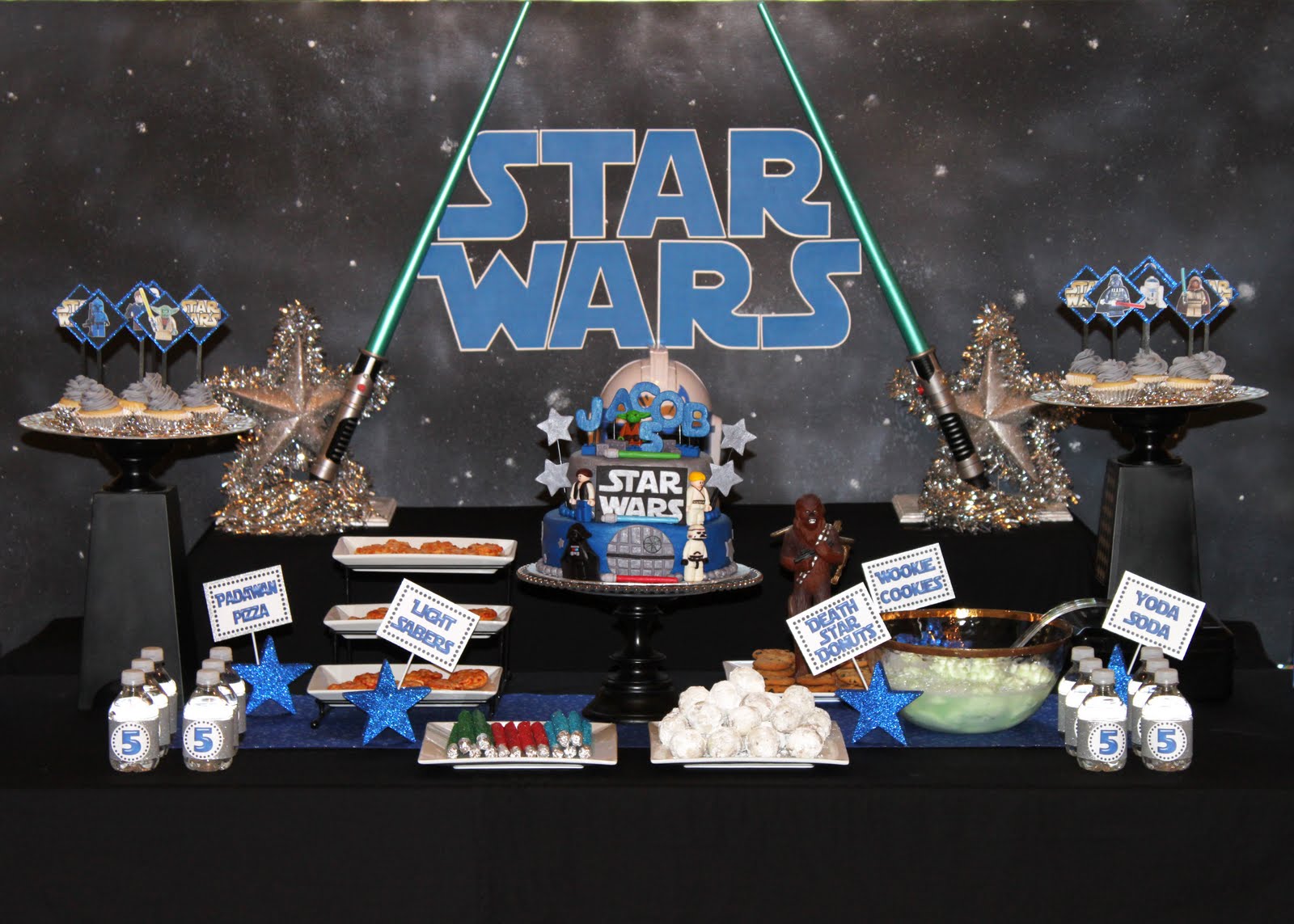 One can ask the guests to dress like Jedi's and other fictional characters from the series. It'd be great fun to see fictional characters doing rounds near the bar in a real life. There are a lot of games you can find on the internet which can be played to keep the party lively. Make sure the lights are dim and let the lightsabers alone do the talking. This is an awesome party theme for the kids as well. But for an adult star wars fan, it could be nothing less than a dream.
Princess Theme Party
As the name suggests, this is an princess party ideas to organize only for girls. That doesn't mean you cannot invite the guys for this party. Even they can be dressed like royal highnesses while all the women in the party dress like royal princesses. But it is more preferred to have a girl's only party to pull it off exceedingly well. For the ambiance, one needs to decorate the party hall like a castle with the center fitted with a huge masterpiece or chandelier. One can even distribute crowns to the every guest that walks in the party. Also, you can pay extra attention to the use of cutlery and glasses. If you are able to match the food and related items with the royal theme, you cannot achieve more to set up a perfect theme.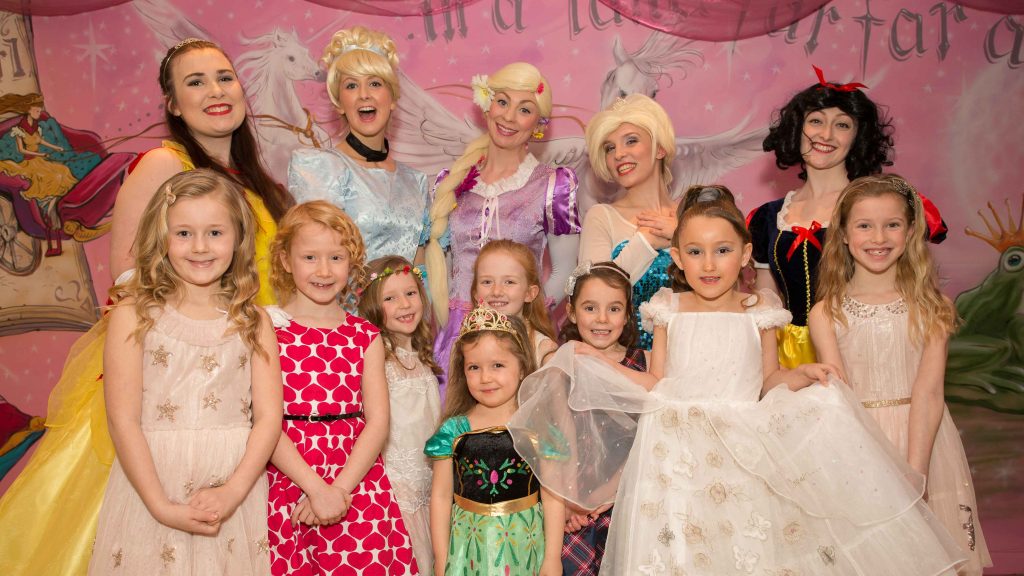 Invitations can be a hint of what is going to happen at the party. You can make them look royal enough. Now that your guests know about the night, even they'd want to dress like princesses and carry their best gown for the night. Music for the party has to be on the softer side. It would be a weird site to see royals going crazy on the beat drops. Try to decorate the room with white and pink. Use nets, curtains, showpieces to great effect. This a perfect theme for children and grown up women alike.
German Sparkle Party
Do you love glitters more than anything else? Does techno music excite you and your friends and you automatically start to groove when you hear the beats of it? Are you an out and out party animal and don't get tired till the dawn? Then German Sparkle Party is the exact them you need to set up for your next birthday party. All you need to do is create some space in your house or party hall for dancing, get in a DJ who can play fabulous music, throw in some booze, and le the guests have all the fun.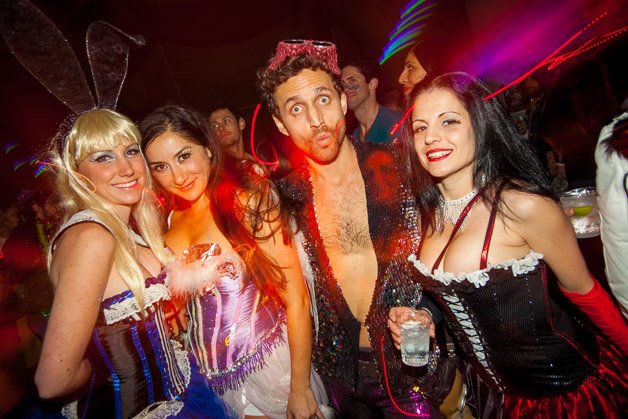 German Sparkle Party requires you and your guests to dress in glittery dresses. That means you have to be at your vibrant best to shine at the party. Also, make sure you look a little punk in your glittery dresses. This party s strictly advised for adults and kids should be kept far away from it. Young people can have the time of their life in such parties.
Movie Marathon Party
This one is for those people who love movies beyond anything. A movie marathon party might get boring towards the end for normal people like us. But there are people present on this face of the earth who can heat the seat by watching movies continuously for several hours. This theme is perfectly tailored for them. You can either set a projector screen in the backyard or watch the movie in the living room itself.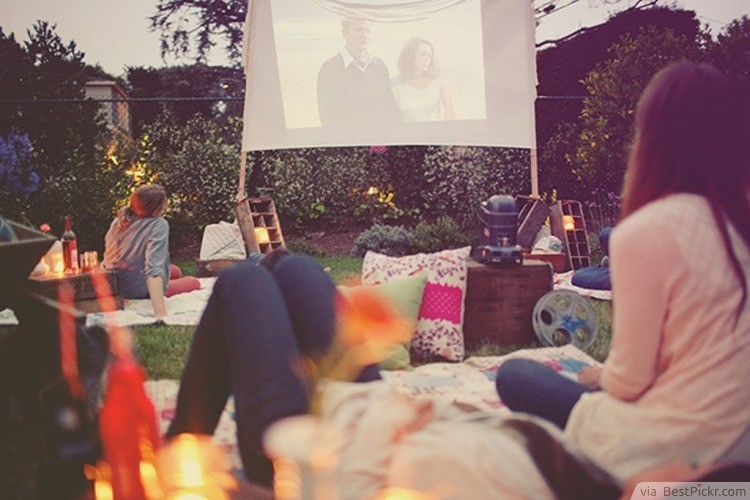 You can arrange a variety of finger foods for your friends Popcorns, beers, and cold drinks are a must. Also, you have to arrange a few amazing movies which won't bore you even after you watch a bunch of them. The movie marathon requires you to play back to back movies, so you need to arrange everything in its place and avoid situations that'd cause heating problems.
Pirates Theme Party
Getting to see your friends dress like pirates and come to your birthday party can be an intriguing sight to watch. You can decorate the room with pirate flags, broken ships, skeletons, and yachts.  If you don't know how the pirates dress, you can take inspiration from the movie, Pirates of the Caribbean. You, as a birthday boy, can dress like the captain of the ship. Jack Sparrow from the Hollywood movie can be your ultimate inspiration.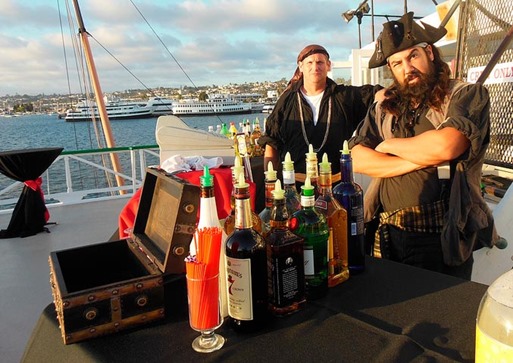 You can arrange a particular themed food that consists of fish, meat, and steaks. It can be served in rustic plates to add to the theme. Liquors and drinks can be served in broken glasses. Your cake can be customized to look like a big yacht or a ship. This is a wonderful party idea for kids as well. You can arrange return gifts in loot bags for the kids. Also, dressing kids like pirates will make them look cuter. The entire theme will be remembered for years to come if pulled off perfectly.
Harry Potter Theme
Ever since its inception, Harry Potter has gained tremendous popularity around the globe in the last decade or so. Many of the Potterheads are crazy about the franchise. Therefore, it would make a perfect theme for someone who was loved the magical experience. Harry Potter theme can be created by taking inspiration from the movie. You all can create a little Hogwarts of your own right in your house. Make sure you keep the light dim.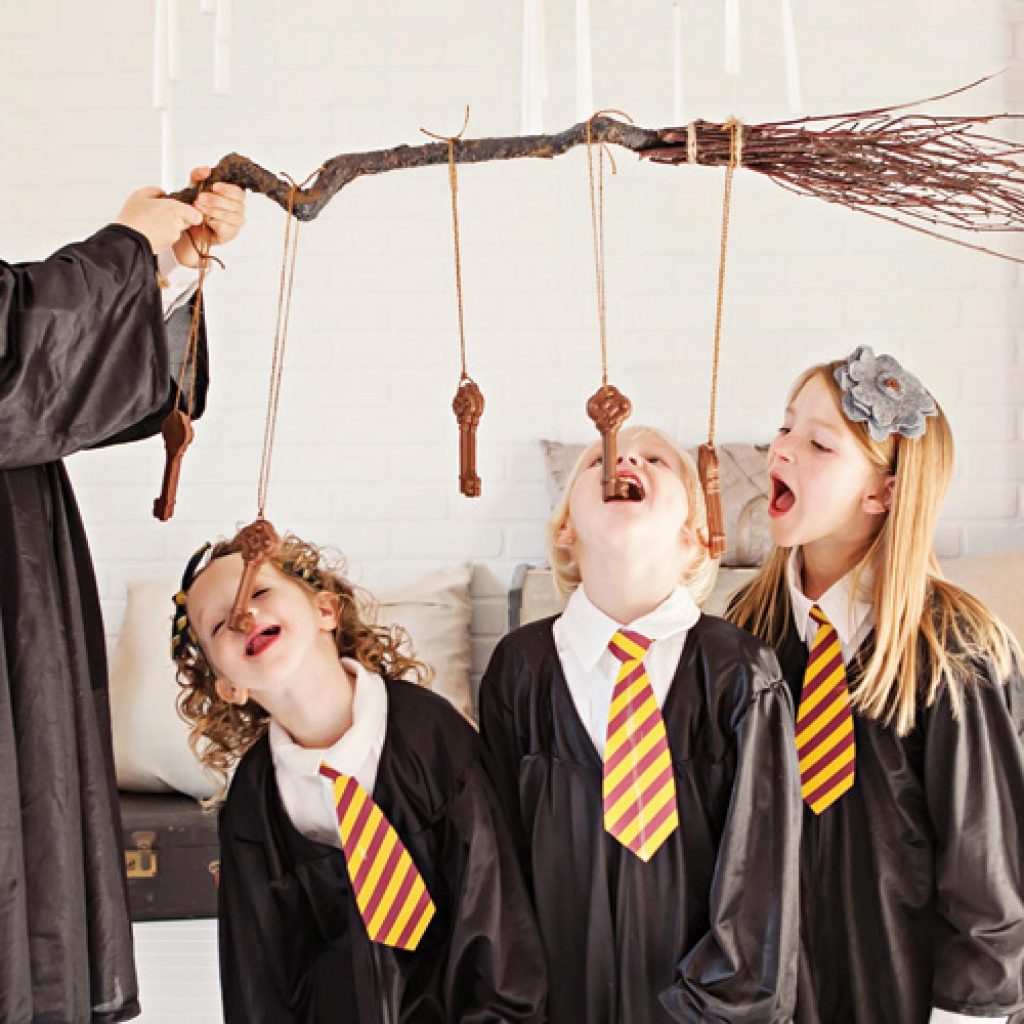 You can even ask your friends to dress like characters from the series. You can be the lead as you are the center attraction of the party. Needless to say, you have to carry a Harry Potter look if you decide to host a costume party. The magical props like wands, sticks, and other stuff can be recreated on the food table by using your creativity. It is a magnificent theme for adults who love Potter and for the kids as well. Lanterns made out of pumpkins are another add on to make the ambiance look like Hogwarts.
Now that you have several theme ideas to make a birthday party happening, what are you waiting for mates? Go ahead, plan, invite, and enjoy the process of making a beautiful theme party happen right at the expense of your home. Make sure you click a lot of pictures so that the memories of the parties stay with you for years to come.
There are even more party themes which could be planned to make a birthday special. If you think we should add some more ideas, give us a brief in the comments section below, and we'll be happy to describe your ideas to our readers in one of the upcoming blogs. Best of luck and try to pull a mere perfect theme for your loved one's birthday.