Last month i had wrote an article where i had shared some ideas for a girl's birthday party. Today in continuation of that article i will be sharing with you some of the best birthday party themes for girls.
A smashing birthday party is something every girl would always want. The one day when she gets the feeling of being the queen of the world. Most of them desire for an extremely lavish and luxurious birthday party without being aware of the cost that is involved. They expect to be treated like celebrities and want the same for their friends too and this makes planning a party for them an enormously difficult job.
For planning a perfect birthday for your little girl take hints from her passions and hobbies. Set up the theme accordingly; involve them in the preparations too. Keep ample time in hand to plan the super hit party; it will not be easy if you leave things for the last minute. If you need creative themes ideas for the coolest birthday party ever for your princess go ahead and read the article further. From invitations to cakes we have it all for the following twenty perfectly flawless themes for a wonderful, dreamlike birthday party.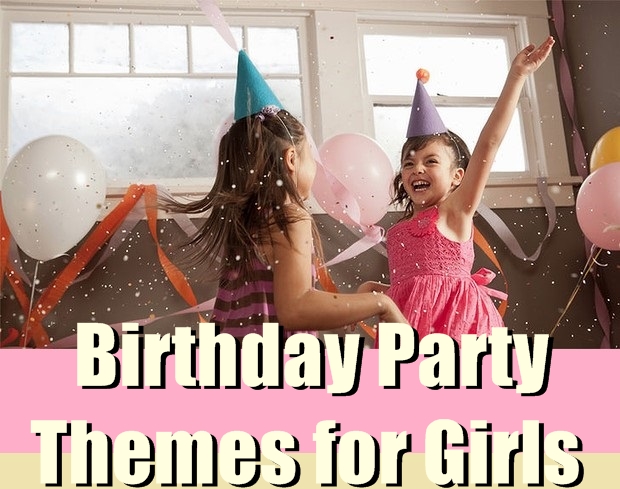 Birthday party theme ideas for Girls
I have tried to jot down all the themes that any girl would love to have for her birthday party. So you will find many ideas here to take away.
French country themed
Perfect for an entirely girlish party with pastel color schemes this theme is adored by one and all. Floral designs, lacy and delicate decorations, cupcakes and darling cookies all such elements when combined together sum up to an extraordinary party.
Set up charming center pieces on the tables; add some beautiful antiques jars with fresh flowers, decorated with beads, shiny silk and pretty satins to add to the grace in the room.
For food you can serve mini burgers with French fries, finger style foods that are not fussy to eat, wraps and rolls, cheese puffs, French tarts and so on. A beautiful elegant floral cake would go perfectly with everything.
Rockstar themed
Young teens would love to play the character of their favorite rock stars, be it Taylor Swift, Demi Lovato, Ed Sheeran, Tom Odell and so on. Get a bunch of CD's of these artists for some of their popular songs. The invitation cards can be in the shape of a record or of an award.
For decorations you can go for a red carpet, after all you are going to have a star studded party. Put a name plate for every star on the seating table, however for this you will have to confirm who is going to be whom from beforehand. Prepare a stage area for these rock stars to sing and dance. Cut out star shapes and hang them from the ceiling.
You can make star shaped sandwiches with the help of a cookie cutter, ice- creams on cones to resemble a microphone, pop corns etc. the cake can even be in the shape of a star, guitar or anything that your kid will love.
Spa party
Invite girls to a spa party by sending out cards cut out in shape of nail polish bottles and on their arrival serve them with some nice appetizers and then ask them to change to keep their pretty dresses safe and also their hairs pinned backwards. Now you can begin with their lavish spa treatment. You can even hire people for this and treat the young ladies with massages, manicures, pedicures, foot rubs and so on. They can watch their favorite movie or shows while they have facial mask put on.
Later they can be served with easily edible food like, pizzas and pastas which do not ruin their fresh nail paints.
Bonfire
You can turn your patio fire pit to a bonfire and get the kids to gather around. Soak two wood lengths of wooden dowels in water for at least two hours to prevent them from catching fire. You can get the kids to roast their hotdogs, marshmallows and vegetables. Do not forget to turn on their favorite music. Menu can include, hotdogs, hamburgers, cut up vegetables and dips.
Scavenger hunt
This is a very popular theme for a birthday party; however you will have to do a lot of pre planning for it. You will have to decide the rules, riddles, tasks and challenges for them to get through. If your house is not so big enough you may have to arrange for some other place. For decorations you can use candles and dry ice to give a mysterious feel to the room and have some glittery artificial jewels for treasures. Pizza, tacos, hamburgers with ice creams and mocktails will make a good menu.
Disco Dance party
Perfect theme if you wish to incorporate it with a 70' or 80's decade party where everything from decorations to the dresses is so glittery and shining. A back drop of polka dots, a rotating disco ball, and loads of shimmery lights is all you will need for the decoration. The food on the menu can be cookies, cup cakes, mocktails and many more with a cake in the shape of a music note.
Neon
Get all the kids to dress up in white and you will have to arrange for some black lights, glow sticks and some neon markers. You can also get some neon paints for face painting as well as some neon painting if you are willing to go an extra mile for the decorations. No teen party is ever complete without some smashing music.
Jewelry party
Girls would love this idea, won't they? It has to be all glittery and shimmery but yet in a sophisticated manner. The decoration can be done with laces and satins to give a royal look and small shiny pieces of trinkets can be hung from the ceiling. A pearl like fondue cake would go perfect with the theme.
Prom night
Prom night is something of which every girl dreams of so why not give your girl and her friends a time of their lives. Fancy dresses, ornate decorations, chandeliers, and music would be enough to create a magical night they have always wanted. Food can include, pizza, puch, chips and salsa, ice-creams, cup cakes, cotton candy, shakes and mocktails.
Hawaiian
Teen Luau parties are so much loved that it is a sure hit. If you have a pool you can throw it at your place otherwise you will have to rent one. Invitations can be sent out on pictures of Hawaii printed out from internet. Throw in some floating animals in the pool. You can get the kids grass skirts and flowery t-shirts to set the theme more. The menu can contain a bowl of punch, barb-b-qued chicken, pizza, fresh fruits and veggies with dips etc.
Karaoke party
If you have a music lover teenager this is the theme to go for. The party can be thrown at your home and decorations can be done with helium balloons, flowers and ribbons. You can arrange for spot lights and of course you will need a stage and a karaoke machine. There should be a lot of pizza, cadies, ice-cream, smoothies and soda on the menu.
Movie party
The invitations can be made to look like movie tickets which you can 'check' at the gate. You can welcome them with some appetizers. The decorations have to be in tune with the movie that you have planned for them to watch. The food has to be simple pop corns, soda, pizza, French fries, hot dogs etc.
Runway party
What girl will not love this theme? None! You need to do the decorations perfectly to set a perfect air, dolled up mannequins with beautiful dresses and accessories, set up a small stage and turn in to a runway for your young beautiful models. You can also use feathers for decorations. Food needs to be simple; sandwiches and finger foods will b perfect.
Mexican fiesta
A Mexican Fiesta will be much more enjoyable if you plan it outdoors with beautiful streamers, decorations and banners all tied to the trees. The decorations have to be all with blazing and bright colors. You can also arrange for flowers for each girl to wear in her hairs. You can also use shimmery lights for the decorations and do forget to hang a piñata.
The food obviously has to be Mexican and can include tacos, tortilla chips and salsa, churros, non-alcoholic sangria.
Princess Party
A princess party might sound cliché but the truth is a girl can never stop liking the world of princesses and fairies not matter what her age. Decorate with laces, satins, velvets, beads, silvers, golden and whatever glittery and royal looking you find. Get a tiara, it is a must!
The cake should look stupendous; the food should of course be exotic looking. Even if you serve the simplest of foods like rice crispies, pizzas, cup cakes, cookies, chocolates, oreos, a fruit platter or whatever you wish for it has to look exquisite.
Make this birthday super special for your princess and you will get the best return in the form of her smile and love for you in her eyes! I hope you enjoyed exploring these birthday party themes for your girl.