Yesterday I got a notification on my Quora account and found that one guy has left a question for me. I checked out his question where he was confused and asking me about some gift ideas for her sister's birthday. I mentioned few good suggestions to him but I didn't stopped their.
Then I thought why not to write all my ideas into a list because I know there are probably many guys or in fact girls who are confused for gift choices specially when it comes to their sister.
So today I am writing for all those, who are curious, confused and excited to find some good birthday gift ideas for their sisters.
I might not be specific for age bar as I really don't know what is your sister age, but still i would try my best so that you will find what you are looking for. After going through this list, if you still want some more ideas then feel free to ask.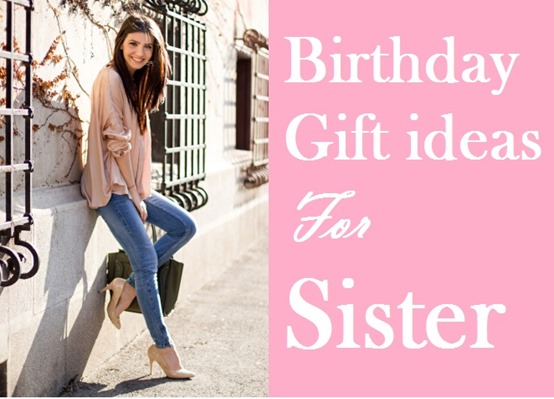 Brother/sister,  sister relation
Brothers are always shy to express their love for their sisters, if not all but then mostly I guess. They fight, tease and many times make them cry, but at the end they love and care for their sisters. I know you might be correlating the situations with your own experiences.
But on the other side sister-sister love is way more different then a brother-sister love. So anyways, you might be celebrating each others birthday from quit a long time, so I assume that you might have many memories and experiences with you. Likewise I have some memories and experience that I would like to share with you. May be you will get some ideas from my experiences.
Personal experience of gifting my sister
I have not met my sister from quite a long time as she lives in another state and we both are very busy in our daily life and work. But here I want to share my experience of few years back when we had celebrated her birthday. Don't mind me sharing my personal experience because it is just to broaden up your mind for gift ideas. May be my experience will help you find your ideas.
Things I gifted for her birthday
Personalized Coffee mug – She is a coffee lover and I knew that, so I went ahead and ordered for a personalized coffee mug as a gift for my sister. I printed some messages over it and some pictures. She really liked the gift, which she still have with her.
A greeting card – For a guy or girl who is a student and not earning, a greeting card is the best option for him/her as it can really come under budget. So this was my second gift, I hardly had money that time but a greeting card cost you next to nothing so I managed it. With the card i wrote a small note for her.
A hand bag – She use to like hand bag as it was girl's trend in high school to flaunt trendy hand bag. So I gifted her a nice hand bag in pink color, which I still remember. She still have that bag which reminds her of me.
As I already mentioned that I was a student and hardly had any money in my pocket. These were some gifts that I bought in very reasonable price and all things came under my budget. So if you also don't have good budget, then I would suggest you to look out for things that are cheap and impactful.
Best birthday ideas for sister: The memorable moments
I always put this section in my articles. In this section I share gifts that are priceless, these are some good moments, memories you can gift to your love one. So here I will share some of the things you can do for your sister's birthday and make it memorable for years. Its like gifting these memories that long last for years. So here are some ideas that I would like to share with you.
Write a wishing note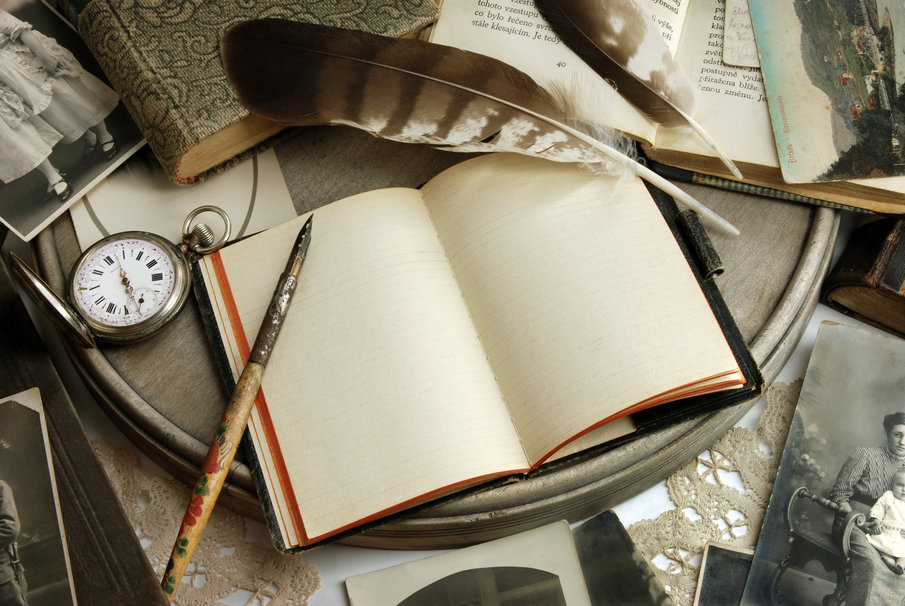 This is the best time to express love for sister. Write a wish note or any other personal note you want to. Make it funny, creative, and personal. When I wrote a note for my sister's birthday, I made it very attractive by using all my creative skills. I painted the not with full of colors, I used different color sketch pen, I used different things to make it beautiful. So you can also use your creative skills to make it done.
Gift her memories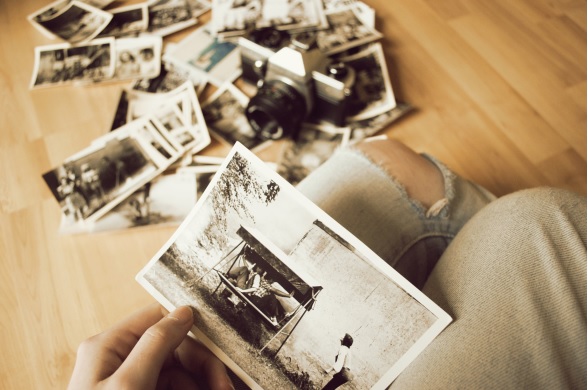 What do I mean by gift her memories, you must be thinking that. I meant that their must be many memories you both might have together, why not to put them into a big picture. By picture I mean that you can make a personalized video, slideshow or collage of all the pictures you have of your sister or you both. You can collect all pictures from her social account, from your phone, from her friends, etc.. Get them all together and select the best one and convert into a video, slide, or collage. Believe me she will love you for this.
Surprise her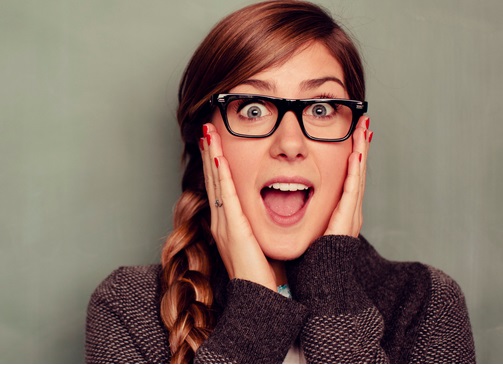 By word "surprise", everyone think of calling friends, family members, or relative to surprise the birthday boy or girl. But here I have no intention of giving all old rituals into my list. By "surprise her", I mean, do something that can surprise her. I.e she might be very irritated with some of your habits or she might have told you many things not to do. For example – don't mess up your room, or don't put up your things here and there.
So find out anything like this and do what she says. It will be like a surprise for her. For example you can keep things in the order, clean your and her room, etc.. She will surely get surprised to see this and when she will ask you why you did this, then you can tell her that it is a birthday surprise for her.
Put your efforts to make a gift 
If you have time then I would suggest you to make some gifts own your own for her birthday. Materialistic gifts can leave behind within few years but DIY gifts can last long in memories. So make something for her, she will get amazed to see your efforts in making something for her. She will get astonished. Down below I have suggested some of the very easy DIY that you can consider.
Gifts you can buy for your sister
Guys will be guys, they don't care much about of DIY or any other thing which need their efforts. I can say this because I am myself don't like to put my hands to make a gift, but sometimes. So I know you are more interested into gifts that you can buy directly from shop. But if you are girl and finding gifts for your sister, then I would still like to recommend this list to you.
So as I promised you, I will be sharing some gifts you can buy from online shops, I am sharing few gifts that I found perfect for your sister. So for all those guys who don't have time for DIY or are not interested, can follow this list of gifts. Allow me to share this amazing list of birthday gifts for your sister.
Tagged Coffee Mug
This is probably the cutest gift I found. If she is a coffee lover, then I would like to suggest that you must gift this cute coffee mug. It comes with a tag line which won my heart, that is "Who Needs a Therapist When I Have My Sister".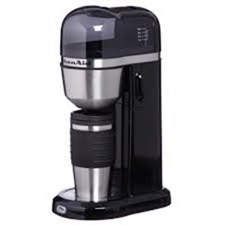 KitchenAid Coffee Maker
You can also gift coffee maker for her if she is a coffee lover. Any coffee lover will surely love this compact coffee maker. I am a coffee lover and my close friend gifted me a coffee maker last to last year, and it was the best gift I got for that birthday. So I know for a coffee lover this will surely be bingo gift.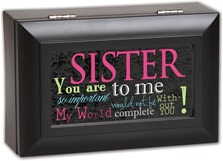 Cottage Garden Sister Matte Black Petite Music Box / Jewelry Box
If she don't have any music or jewelry box, then what you are waiting for. Buy this amazing box, It looks elegant and luxurious too. But it does not made me to suggest you this, instead the offer of getting it personalized with your own photo or personal message, did.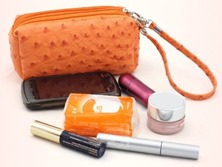 Clutch Three Layers Zipper Wallet
A girl or a woman generally carry a lot of things while going out. i.e key, cards, cosmetics, phone, etc.. So she need a carry bag, purse or something, but the most favorite is a clutch. As it is small in shape and size, so they can carry it anywhere very comfortably. This product is a good example for a clutch. I found that it is capable of containing many things and still small in size which great when one carry it. So I think it is worth a try.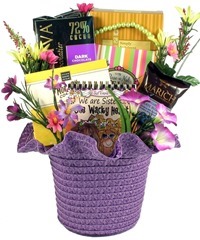 Gift Basket Village Gift Basket for Sister
This is the perfect match for your sister. I have already mentioned in the DIY list that you can consider of making a gift basket, but for those who don't have time can go for this ready made one. It is awesome basket, I checked the inside of the basket and really impress. So I would like you check it out it once.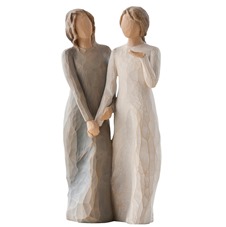 Willow Tree My Sister My Friend
If you are girl/women, then I would have no doubt suggesting you this heart touching gift. A sister-sister bond are made in heaven, they care, they be by each others side by tough time or easy. They share a special bond which cant be seen in any other relation. So for this beautiful relation I would like to recommend this gift.
Spinning Cosmetic Organizer
Everyone knows girl or women love to cosmetic products. My girlfriend talks all the time about her new cosmetic products so I know how women psychology works. This gift can win any women heart. I am sure this is going to be the best gift in your list. She can use it to arrange her cosmetics.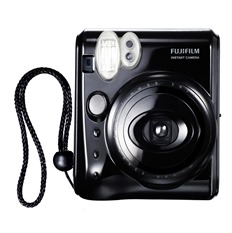 Fujifilm Instax Mini 50S Camera
I know this age of digital cameras on phone, but if you want to gift her something unique that other don't have, then this one is just waiting for you. This camera gives you pictures instantly what can be more cool than that. Mobile pictures get deleted sometimes but a printed picture have no chance of it. It happens with me all the time that I never save pictures on my laptop and then with formatting it just vanishes.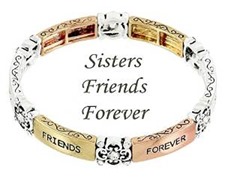 Sisters Stretch Bracelet

For sister to a sister, who is also her best friend, here is what I would like to suggest. This is a beautiful bracelet engraved with, "sister, friends forever". No matter what is your sister age is you can gift her.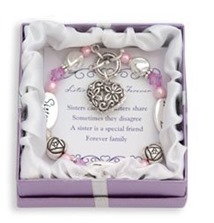 Sister Friend Forever Expressively Yours Bracelet
This one has also got some great response from the customers. It looks beautiful and attractive. I am confused between the above and this one, so suggested you both. Now make your choice after comparing both.You can also compare their customer reviews and make the decision.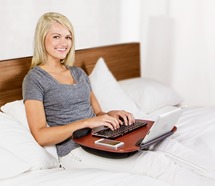 LapGear Smart Media Lapdesk
This smart desk really caught my eyes. It is really a piece of awesomeness which I surely would order for my sister too as she is working now. So if your sister is also a working or a student, then this is the perfect you can get her. She can use it on car, bed, sofa, beach, anywhere she want. It is specially designed for tabs.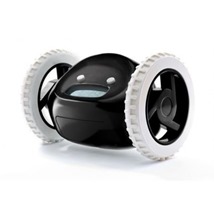 Clocky Alarm Clock on Wheels
In todays life, we generally wake up very late from bed and the biggest reason is that we try our best but not able to get up because of laziness. For all those people who are facing this problem, this is the one which can make the difference. This alarm comes with wheel, so no way you can snooze it. If an alarm like this you think will be helpful for her then you must consider this one as a gift for your sister.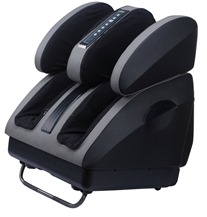 Massage King Multifunction Foot Massager
You can gift this to anyone and for any occasion as it is very useful for day to day life and anyone can use it. It works on knee and ankle with an heat therapy. I found it very useful so thought to share it with you, may be it can become your gift choice.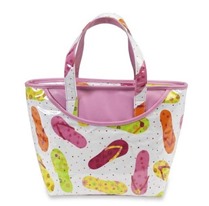 Picnic at Ascot Beach Day Small Insulated Tote
This is an awesome gift for tote bag lovers. This is fashionable, trendy, colorful that any girl or women would love to carry. Also it is very comfortable to carry that She can use it any where she want, i.e Beach, picnic or outing. In cheap price, it is a great deal that you must consider.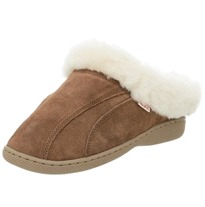 Sheepskin Clog Slipper
This slipper have got a great reviews from customers, so thought it is shareable. If she uses slipper, then why not replace it with this new one on her birthday. You can find it in different colors. She will feel very comfortable in it. It reminds me of my mom's last birthday, when I gifted her a similar kind of slipper, but I think this is the better one.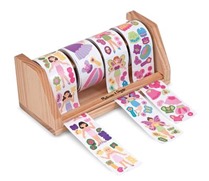 Melissa & Doug Dress-Up Princess and Fairy Sticker Rolls
If your sister is a kid who lives in dream of her favorite cartoons, then this is what you are looking for. It is the best gift for girls who love watching cartoons and characters. You will find more than 1900 stickers in the sticker paper roll.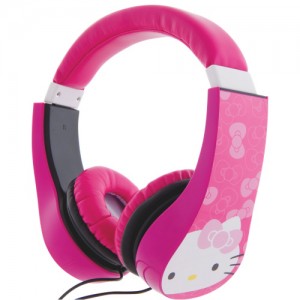 Hello Kitty Kid Headphone
Here is another kid thing I would like to share if your sister is a teenager or kid. Its very pretty headphone pink and color with cartoon character printed on with some beautiful design. If she is a kid then I am pretty sure she will love to have this gift for her coming birthday.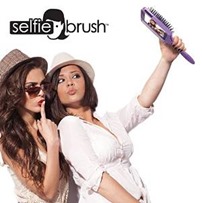 Selfie Brush
If she is young and love to try new trendy things, then this would go anyway. It is a new selfie brush which make you ease for selfies also works as hair brush. I am sure she love flaunting this new stuff in front of her friends. Selfies are in trend, so it's a best choice for the gift.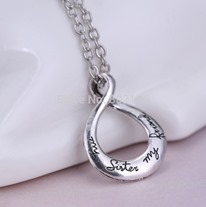 Sterling Silver "My Sister My Friend" Circle Pendant Necklace
If she is like your best friend, with whom you share everything. This one is the perfect match for her. This is a sterling silver necklace engraved with a tag line "My sister my friend".  This beautiful pendant necklace will always make her remember her birthday.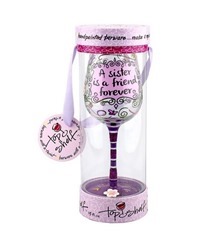 Top Shelf Wine Glass, "A Sister is a Friend Forever"
I couldn't resist myself sharing this beautiful, colorful and attractive wine glass printed with this cutest tag line. I think for sister to gift your sister this one is a good option. She can flaunt this glass in house party and feel proud that its been gifted by her cute sister.
Diy birthday gifts for your sister
There are probably many gifts you can make yourself, but here I am sharing only few gifts that you can very easily make at home. I know guys are least interested in DIY but if you are girl then surely you should try and don't worry I have also recommended some gifts that you can directly buy, I have mentioned this in last part of the article. But I would like you to read these ideas as well then switch on to that list.
Gift Basket – It is probably the best and the most easiest gift you can make, for this "make" is probably not a appropriate word because for this you have to just manage to arrange few things in the basket and decorate it, that's it. A gift basket is just a basket of small things. So make a list of things you want to gift, get it from gift shops. Wrap up each gift and put in the basket and then just little decorations and you are done. Here is the the video which explain how to make a gift basket in a easiest way.
Button bookmarks – If you guys are student, I am talking about your sister also, then this is probably the most appropriate and easiest gift you can make. With little efforts you can make it done. For this you only need some attractive buttons, some paper clips and glue.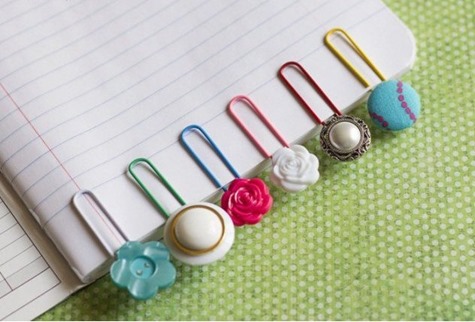 Key Holder –
This is one of the example of easy made. You can make it very easily. She might be using keys for anything may be her locker, car, bike, etc.. So this can be a very useful gift for your sister. With little efforts you can make it awesome and she will love get this gift for her birthday. Here you can watch the video:
A tote Bag – This one requires little efforts from you, but then that will make it the best gift. But still you can cheat the efforts and make it awesome. You can get it done from any tailor. All you have to do then is select the material, design, shape and color, then instruct the tailor for the way you want it. You can also stich a personal message a or a note on it.
I am done finally. I have shared probably everything I could, I hope my list of birthday gifts for sister, was helpful to you. I know here I am not very specific enough for your personal query but if you think you are done here and want to know more, then feel free to ask.