Yesterday I got a notification on my Quora account and found that one guy has left a question for me. I checked out his question where he was confused and asked me about some birthday gift ideas for her sister. I mentioned few good suggestions to him but I didn't stop there. Then I thought why not to write all my ideas into a list because I know there are probably many guys or in fact, girls who are confused about gift choices especially when it comes to their sister.
So today I am writing for all those, who are curious, confused and excited to find some good birthday gift ideas for their sisters.
I might not be specific for age bar as I really don't know what is your sister age, but still, i would try my best so that you will find what you are looking for. After going through this list, if you still want some more ideas then feel free to ask.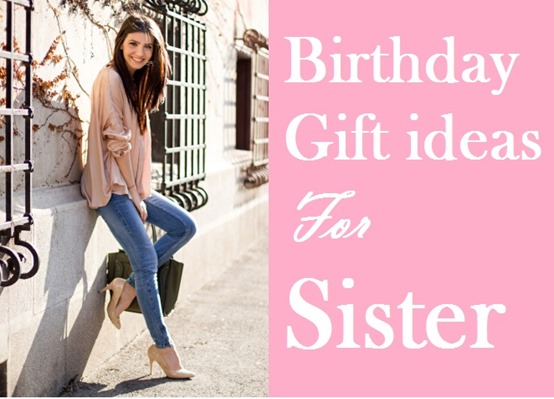 Recommended Gift List
Down below you will find all the gifts mentioned above. I have researched over many sources to find the best few for you. Now check out more about these gifts and decide which one is more appropriate for your sister.
Gifts you can buy for your sister
Guys will be guys, they don't care much about of DIY or any other thing which need their efforts. I can say this because I am myself don't like to put my hands to make a gift, but sometimes. So I know you are more interested in gifts that you can buy directly from the shop. But if you are a girl and finding gifts for your sister, then I would still like to recommend this list to you.
So as I promised you, I will be sharing some gifts you can buy from online shops, I am sharing few gifts that I found perfect for your sister. So for all those guys who don't have time for DIY or are not interested, can follow this list of gifts. Allow me to share this amazing list of birthday gifts for your sister.
This is probably the cutest gift I found. If she is a coffee lover, then I would like to suggest that you must gift this cute coffee mug. It comes with a tagline which won my heart, that is "Who Needs a Therapist When I Have My Sister".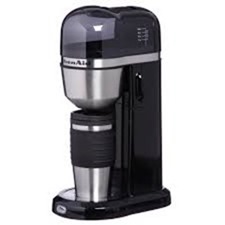 You can also gift coffee maker for her if she is a coffee lover. Any coffee lover will surely love this compact coffee maker. I am a coffee lover and my close friend gifted me a coffee maker last to last year, and it was the best gift I got for that birthday. So I know for a coffee lover this will surely be a bingo gift.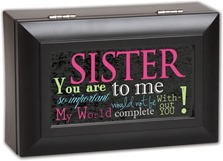 If she doesn't have any music or jewelry box, then what you are waiting for. Buy this amazing box, It looks elegant and luxurious too. But it does not make me suggest you this, instead of the offer of getting it personalized with your own photo or personal message, did.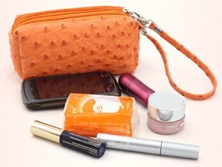 A girl or a woman generally carry a lot of things while going out. Things like the key, cards, cosmetics, phone, etc.. So she needs a carry bag, purse or something, but the most favorite is a clutch. As it is small in shape and size, so they can carry it anywhere very comfortably. This product is a good example for a clutch. I found that it is capable of containing many things and still small in size which great when one carry it. So I think it is worth a try.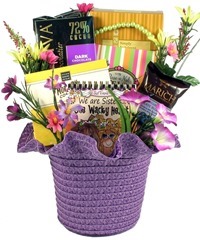 This is the perfect match for your sister. I have already mentioned in the DIY list that you can consider of making a gift basket, but for those who don't have time can go for this ready made one. It is an awesome basket, I checked the inside of the basket and really impress. So I would like you to check it out it once.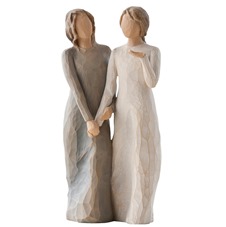 If you are girl/women, then I would have no doubt suggesting you this heart touching gift. A sister-sister bond is made in heaven, they care, they be by each other's side by tough time or easy. They share a special bond which can't be seen in any other relation. So for this beautiful relation, I would like to recommend this gift.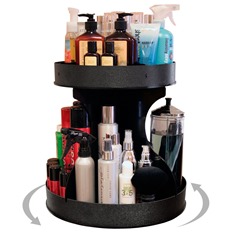 Everyone knows girl or women love to cosmetic products. My girlfriend talks all the time about her new cosmetic products so I know how women psychology works. This gift can win any women heart. I am sure this is going to be the best gift on your list. She can use it to arrange her cosmetics.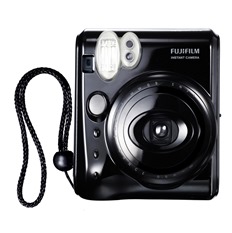 I know this age of digital cameras on phone, but if you want to gift her something unique that other don't have, then this one is just waiting for you. This camera gives you pictures instantly what can be cooler than that. Mobile pictures get deleted sometimes but a printed picture have no chance of it. It happens with me all the time that I never save pictures on my laptop and then with formatting it just vanishes.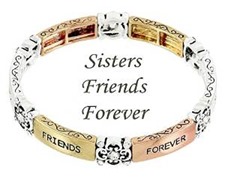 For a sister to a sister, who is also her best friend, here is what I would like to suggest. This is a beautiful bracelet engraved with, "sister, friends forever". No matter what is your sister age is you can gift her.

This one has also got some great response from the customers. It looks beautiful and attractive. I am confused between the above and this one, so suggested you both. Now make your choice after comparing both.You can also compare their customer reviews and make the decision.

This smart desk really caught my eyes. It is really a piece of awesomeness which I surely would order for my sister too as she is working now. So if your sister is also a working or a student, then this is the perfect you can get her. She can use it on car, bed, sofa, beach, anywhere she want. It is specially designed for tabs.

In today's life, we generally wake up very late from the bed and the biggest reason is that we try our best but not able to get up because of laziness. For all those people who are facing this problem, this is the one which can make the difference. This alarm comes with wheel, so no way you can snooze it. If an alarm like this you think will be helpful for her then you must consider this one as a gift for your sister.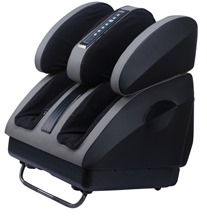 You can gift this to anyone and for any occasion as it is very useful for day to day life and anyone can use it. It works on knee and ankle with a heat therapy. I found it very useful so thought to share it with you, maybe it can become your gift choice.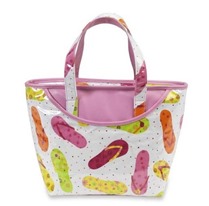 This is an awesome gift for tote bag lovers. This is fashionable, trendy, colorful that any girl or women would love to carry. Also, it is very comfortable to carry that She can use it anywhere she want, i.e Beach, picnic or outing. In cheap price, it is a great deal that you must consider.

This slipper has got great reviews from customers, so thought it is shareable. If she uses slipper, then why not replace it with this new one on her birthday. You can find it in different colors. She will feel very comfortable in it. It reminds me of my mom's last birthday when I gifted her a similar kind of slipper, but I think this is the better one.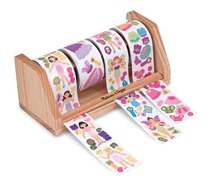 If your sister is a kid who lives in a dream of her favorite cartoons, then this is what you are looking for. It is the best gift for girls who love watching cartoons and characters. You will find more than 1900 stickers in the sticker paper roll.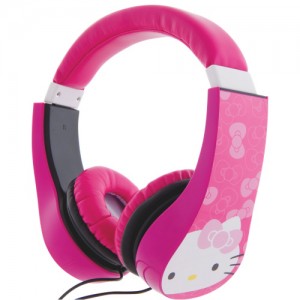 Here is another kid thing I would like to share if your sister is a teenager or kid. It's very pretty headphone pink in color with a cartoon character printed on with some beautiful design. If she is a kid then I am pretty sure she will love to have this gift for her coming birthday.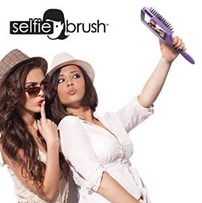 If she is young and loves to try new trendy things, then this would go anyway. It is a new selfie brush which makes you ease for selfies also works as a hair brush. I am sure she love flaunting this new stuff in front of her friends. Selfies are in trend, so it's the best choice for the gift.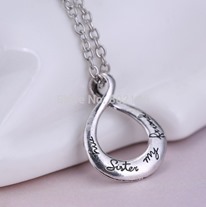 If she is like your best friend, with whom you share everything. This one is the perfect match for her. This is a sterling silver necklace engraved with a tag line "My sister my friend".  This beautiful pendant necklace will always make her remember her birthday.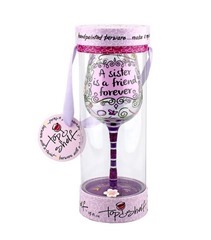 I couldn't resist myself sharing this beautiful, colorful and attractive wine glass printed with this cutest tag line. I think for a sister to gift your sister this one is a good option. She can flaunt this glass in the house party and feel proud that it's been gifted by her cute sister.

11 More Birthday gifts for sister – Updated
The Babeyond Art Deco Long Pearl Necklace is a 100% handmade pearl necklace. It is made up of high-quality imitation pearls. It will be an ideal gift for your sister as this gift will be an expression of love to her. This gift is endowed with special significance as it is attractive and is made up of pearls.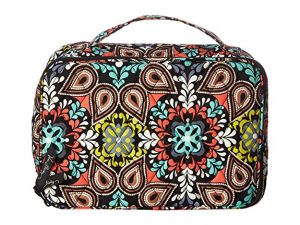 Vera Bradley Luggage is a cosmetic bag made up of cotton. They are all colorful and are made up of various designs. They are of roomy design with a grab and go side loop. All cosmetic bags have a fine finishing with wide trim and durable plastic liner. All the bags have vibrant colors which are attractive and pleasing to the eyes. It's a nice possession that any girl can cherish to have with her.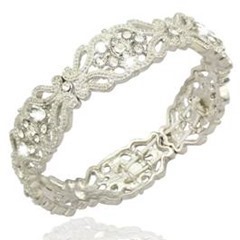 This is a beautiful bracelet bangle which is Nickel free and can be stretched and wore in style. It's a unique gift for your sister which she can wear to any festive occasion or any other occasion or party. It is quick to wear and handy. She can keep it anywhere at her convenience and is also attractive and eye-catching.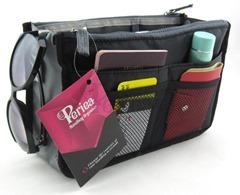 This is one of a gift to choose for your sister which she will love to carry with her. Here's the product which will help her to keep her things intact while on the move and the product is Periea Handbag Organizer which is available in all the sizes which will suit all her needs. Since it is having 13 inner and outer compartments and 2 large zipped compartments you can gift this handbag to her as it is machine washable and durable. The material used for the bag is polyester and nylon with cotton lining for retaining its shape.  It has strong, reinforced handles and is of good quality. Since the handbag is having multiple compartments you can keep many things in it and take it out with you when you are away from home.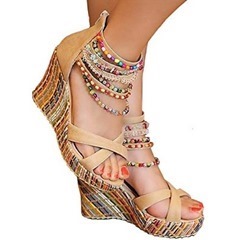 Getmorebeauty Women's Wedge Sandals which is across the top platform in Heels as it is made up of synthetic material. Its heels measure approximately 4 inches. It has a decorative lace flower over it and its platform measures approximately 1.5 inches. You will find comfortable to walk when you wear these High-heel Sandals as they are easy to wear and are easy to keep after use.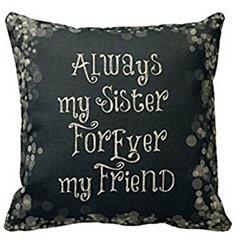 "Always my  Sister Forever my Friend" is a Cotton Linen Pillowcase Cushion which you can give as the best gift to your sister who is your forever friend and companion. This pillow has a cushion cover with an invisible zipper and is safe for machine wash. It is durable and made up of environmental friendly cotton linen materials. Your sister will love this cushion because of the beautiful message it conveys and this cushion is available in many colors that you choose from which are all attractive. Your sister will love this cushion to have in her prized possession and will remember your friendly, brotherly affection that you have for her.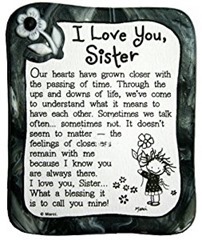 Ever wondered of gifting an artifact to your sister which is wonderful and has a theme to it. Then we have the Blue Mountain Sculpted Resin Magnet for you to gift her. It is a sculpted magnet which is made up of durable resin with vibrant beautiful colors in it. Poems of American authors are written with themes relating to family, love, faith, friendship and encouragement which is meant for every occasion. When combined with a gift or card these sculpted magnets look amazing, awesome and beautiful which will brighten up her day. Since 1971, Blue mountain Arts has been producing memorabilia and artifacts that connect with people.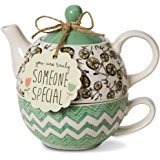 Pavilion Gift Bloom Sister Ceramic Tea for one comes attached with hang tag card which reads –  there is no friend like a sister. The ceramic teapot is 15 ounces with an 8-ounce cup in it. It is microwave safe and for the teapot, hand wash is recommended. It comes attractively packaged in a  Gift-to-Go box. Your sister will love this teapot as a gift as it is made up of ceramic and beautifully painted.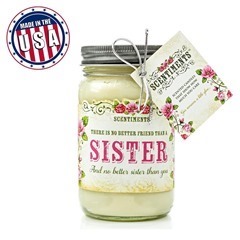 Do you search for some gift of which you are not getting an idea? Then your search will end with this unique product which you can gift to your sister? You can delight her with the thoughtful message and aroma of this unique present which she will love and you will say –  "My sister just loved it!" So go on and give someone a little glow in their life with handmade and poured here in the USA only having  100% Soy wax and we ensure that they will be the cleanest and safest burning candle possible. Don't forget our Mason Jars which are fully recyclable and many have used them as tea light holders and for button storage, Holiday baskets or simply filled them with their favorite drink. The good thing about this product is that you will get a personalized gift card.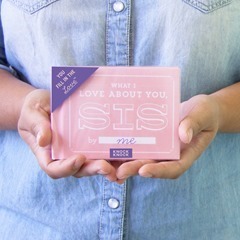 Have you ever expressed your feelings to your sister? If not then would you like to tell her how much you love her on her birthday? If yes then this is something which will really help you to express your love to your sister. This is a journal which is specially made for the sisters. It is like a journal which you can fill with your own words to express your love. I am sure this journal with your words will make her day special and memorable.

Brother/sister,  sister relation
Brothers are always shy to express their love for their sisters if not all but then mostly I guess. They fight, tease and many times make them cry, but at the end, they love and care for their sisters. I know you might be correlating the situations with your own experiences.
But on the other side sister to sister love is way more different than a brother-sister love. So anyways, you might be celebrating each others birthday from quite a long time, so I assume that you might have many memories and experiences with you. Likewise, I have some memories and experience that I would like to share with you. Maybe you will get some ideas from my experiences.
Personal experience of gifting my sister
I have not met my sister from quite a long time as she lives in another state and we both are very busy in our daily life and work. But here I want to share my experience of a few years back when we had celebrated her birthday. Don't mind me sharing my personal experience because it is just to broaden up your mind for gift ideas. Maybe my experience will help you find your ideas.
Things I gifted for her birthday
Personalized Coffee mug – She is a coffee lover and I knew that, so I went ahead and ordered for a personalized coffee mug as a gift for my sister. I printed some messages over it and some pictures. She really liked the gift, which she still have with her.
A greeting card – For a guy or girl who is a student and not earning, a greeting card is the best option for him/her as it can really come under budget. So this was my second gift, I hardly had money that time but a greeting card cost you next to nothing so I managed it. With the card, I wrote a small note for her.
A handbag – She uses to like handbag as it was girl's trend in high school to flaunt trendy handbag. So I gifted her a nice handbag in pink color, which I still remember. She still has that bag which reminds her of me.
As I already mentioned that I was a student and hardly had any money in my pocket. These were some gifts that I bought at very reasonable price and all things came under my budget. So if you also don't have a good budget, then I would suggest you look out for things that are cheap and impactful.
Best birthday ideas for sister: The memorable moments
I always put this section in my articles. In this section I share gifts that are priceless, these are some good moments, memories you can gift to your loved one. So here I will share some of the things you can do for your sister's birthday and make it memorable for years. It's like gifting these memories that long last for years. So here are some ideas that I would like to share with you.
Write a wishing note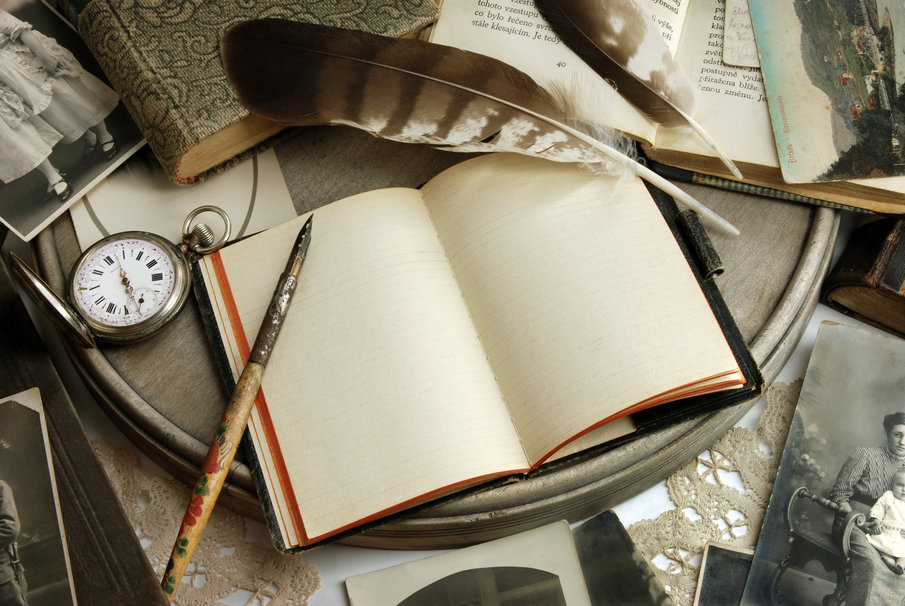 This is the best time to express love for the sister. Write a wish note or any other personal note you want to. Make it funny, creative, and personal. When I wrote a note for my sister's birthday, I made it very attractive by using all my creative skills. I painted the not with full of colors, I used different color sketch pen, I used different things to make it beautiful. So you can also use your creative skills to make it done.
Gift her memories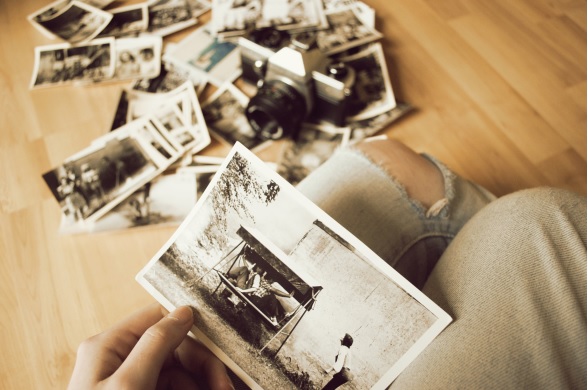 What do I mean by gift her memories, you must be thinking that. I meant that there must be many memories you both might have together, why not to put them into a big picture. By the picture, I mean that you can make a personalized video, slideshow or collage of all the pictures you have of your sister or you both. You can collect all pictures from her social account, from your phone, from her friends, etc.. Get them all together and select the best one and convert into a video, slide, or collage. Believe me, she will love you for this.
Surprise her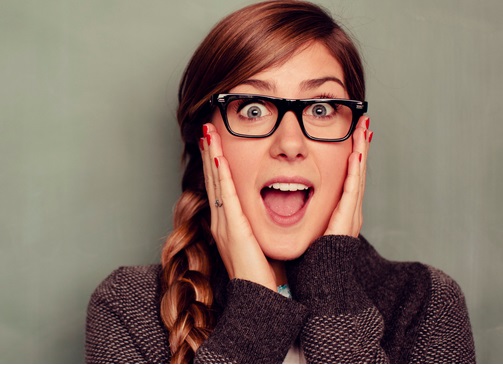 By word "surprise", everyone thinks of calling friends, family members, or relative to surprise the birthday boy or girl. But here I have no intention of giving all old rituals into my list. By "surprise her", I mean, do something that can surprise her. I.e she might be very irritated with some of your habits or she might have told you many things not to do. For example – don't mess up your room, or don't put up your things here and there.
So find out anything like this and do what she says. It will be a surprise for her. For example, you can keep things in the order, clean your and her room, etc.. She will surely get surprised to see this and when she will ask you why you did this, then you can tell her that it is a birthday surprise for her.
Put your efforts to make a gift 
If you have time then I would suggest you make some gifts own your own for her birthday. Materialistic gifts can leave behind within few years but DIY gifts can last long in memories. So make something for her, she will get amazed to see your efforts in making something for her. She will get astonished. Down below I have suggested some of the very easy DIY that you can consider.
Diy birthday gifts for your sister
There are probably many gifts you can make yourself, but here I am sharing only a few gifts that you can very easily make at home. I know guys are least interested in DIY but if you are a girl then surely you should try and don't worry I have also recommended some gifts that you can directly buy, I have mentioned this in last part of the article. But I would like you to read these ideas as well then switch on to that list.
Gift Basket – It is probably the best and the easiest gift you can make, for this "make" is probably not an appropriate word because for this you have to just manage to arrange few things in the basket and decorate it, that's it. A gift basket is just a basket of small things. So make a list of things you want to gift, get it from gift shops. Wrap up each gift and put in the basket and then just little decorations and you are done. Here is the video which explains how to make a gift basket in the easiest way.
Button bookmarks – If you guys are the student, I am talking about your sister also, then this is probably the most appropriate and easiest gift you can make. With little efforts, you can make it done. For this, you only need some attractive buttons, some paperclips, and glue.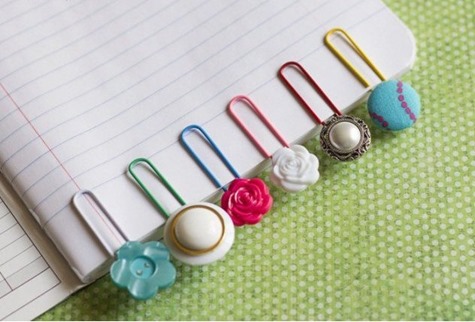 Key Holder –
This is one of the examples of easy made. You can make it very easily. She might be using keys for anything may be her locker, car, bike, etc.. So this can be a very useful gift for your sister. With little efforts, you can make it awesome and she will love to get this gift for her birthday. Here you can watch the video:
A tote Bag – This one requires little efforts from you, but then that will make it the best gift. But still, you can cheat the efforts and make it awesome. You can get it done from any tailor. All you have to do then is select the material, design, shape and color, then instruct the tailor for the way you want it. You can also stitch a personal message or a note on it.
I am done finally. I have shared probably everything I could, I hope my list of birthday gifts for sister, was helpful to you. I know here I am not very specific enough for your personal query but if you think you are done here and want to know more, then feel free to ask.