Today i will be sharing with you some of the fun cowgirl birthday party ideas with you. So stay tuned and explore the list to make a perfect birthday party.
Birthday parties are so much fun. Aren't they? They become all the more enthusiastic when they are carried out with special themes. Cowgirl or cowboy themes are such themes which makes any party interesting and full of fun. It has been ages since people have gotten into the idea of organizing such themes.
When it comes to planning out a cowgirl themed birthday party, things seem to be all the more lively. After all, it is a big day for the cowgirl, right? From decorations to food and from costumes to games, everything has to be set in such a way that it matches the purpose of the theme.
Down below, we have listed few of the best ideas that you can use for your cowgirl birthday party. While keeping everything in mind, we have sorted out all that you would need to make your party successful. You do not have to worry about anything. Just go through the list, collect the best ideas that you like, and party! Do not let the cowgirl feel down. It is her day.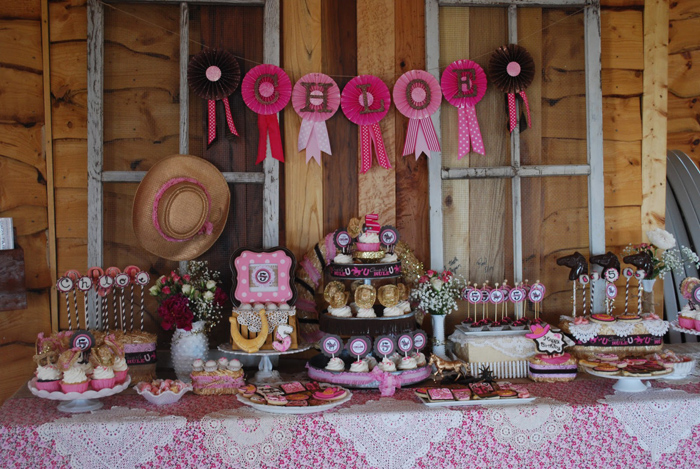 Cowgirl Birthday Party Ideas
We have got to make it ultra special for her. Keeping in mind the age groups, we have made it easier for you. Do not panic because we have even provided you with links to make it easier for you. Here you go
1. Bandana
Bandanas always rock. You can get different coloured bandanas for your cowgirl birthday party. It will go very well with the costume of the birthday girl as well as the costume of the guests. You can buy different designs and the colours and wear them accordingly. You can choose the size as per your choice. Pink bandanas will go best with the party for a girl. Your girl and other guests at the party can wear these bandanas easily as they come in good fabric.
2. Metal Bucket
Metal buckets are cool for any cowgirl birthday party. Here are various metal buckets available on online sites. The material is good and strong enough to hold any thing you would like. You can carry it around easily and use it for keeping beverages too. They come in different colours and sizes. You can even place these buckets corners of the room and use them as decorators for your party.
3. Western Boot Cup
Now this is a really cool stuff. These boot cups are a great way to catch your guests' attention on the table. You can pour drinks in these boot cups and let the farm feel come during the party. The guests will enjoy sipping drinks from these plastic cups. The material is good enough to hold any drink.
4. Sheriff Badges
How can a cowgirl party go without these cool sheriff badges? No way! There are many cool designed sheriff badges available in the market. The birthday girl will love wearing it and so will the guests. These come in hard metals and different designs and colours.
5. Plastic Table Cover
In order to let the decorations look farm- way, you can decorate your tables with plastic table cover which will have cowgirl designs on them. You can even get it customized with the pictures of your own. Now that it is a girl's birthday party, you can get a pink plastic cover to give a girly feel to the birthday theme.
6. Cowgirl Notepads
Cowgirl notepads come in hard bound covers. You can use them either as a gift or favour gifts for the guests. Or you can even use them to let the guests write down birthday messages for the birthday girl. These notepads have the cowgirl pictures on them and come in different designs and sizes.
7. Cowgirl Tiara Hat
Every girl needs a tiara to make her feel special. So, in order to get one for the cowgirl theme, there are hats available with the tiara on them. Two shots with one arrow, right? You can buy a pink tiara hat that will look really cool and beautiful on your birthday cowgirl. These hats will go perfectly with her cowgirl costume.
8. Horse Jumbo Balloon
To increase the level of decorations, you can get a huge balloon in the figure of a horse. We all know that horses are the key note of a farm themed party. So, your cowgirl party cannot go on without this big horse shaped balloon. The material is good and safe to be at your party.
9. Cowgirl Centrepiece
There are cowgirl centrepieces available in the market. These come in different sizes and shapes. You can choose the one that you think will go perfectly well with your room. You can get this centrepiece customized with cowgirl pictures in a pink background.
10. Money Bag
Money bags will add a cool aura to your birthday theme. You can get these bags made or even order them online. There is a dollar sign made on every bag. These bags can be placed in your room where the party will be held and let the guests know how much efforts you have put in to make the party successful.
11. Personalized Cowgirl Favour Boxes
To make the guests feel loved; you can give them return gifts in a personalized cowgirl favour box. You can buy several of them in pink colour and get them customized with the birthday girl's picture and other cowgirl themed ones. The guests will absolutely love it and will add more funkiness to your party.
12. Cowgirl T-shirt
Let the birthday girl wear a cowgirl T-shirt. There are several such t-shorts available in the market or online stores which have a cowgirl picture on them. You can choose a pink t-shirt as it will be your girl's birthday. How smartly she will sport that t-shirt on her with other cowgirl accessories.
13. Cowgirl Piñata Kit
A piñata kit includes a pink cowgirl piñata, piñata fillers (toys and candies), an elastic band as the blindfold, and a piñata buster. You can get this kit online at good rates.
14. Horseshoe Confetti
A pack of confetti is adorable. You can get horseshoe shaped confetti for the cowgirl birthday theme. You can either get them made or buy them online. You can buy different coloured ones and preferable shapes. The guests and kids will love it. There are several other shapes available as per the theme of your party.
15. Bandana Party Lanterns
These bandana party lanterns are very creative. You can hang them on the wall and these will look very beautiful in your party. You can choose different coloured ones to give your party a cool look. These come in different shapes and sizes. If you want something different, you can Google the sites that sell different designed bandana lanterns. You can get a vast variety and choose as per your choice. You can try going with pink bandana lanterns as they will match your other decorations at the party too.
16. Large Cowgirl Cut outs
To enhance your room's creativity and to give it more cowgirl party themed look; you can get cut-outs of the cow girl and place them in the corner of your room. These are easily available anywhere. You can get a medium sized one so that your cowgirl can easily fit her face on one of the cut-outs. These cowgirl cut-outs will be fun no doubt.
17. Latex Balloons
Balloons complete the party. In order to complete your cowgirl birthday party, you can decorate the room with latex balloons. There are several balloons available for such party themes which have farm designs on them. You can choose any colour you like. Seeing the theme of your birthday party, you should preferable go for pink latex balloons.
18. Paper Cups
Paper cups are easy to use. And keeping in mind the age group of your guests (majority of which will be kids), you have paper cups for them. It will also be one of the decorators. You can have farm images on the cups and can even use them to decorate your birthday room.
19. Candies
Candies are sweet and candies make kids happy. So, why leave them behind. You can get different flavoured candies for the kids and guests. But the twist is that you have to go with the different designed ones. There are several shaped candies available as cowgirl hats, farm animals, boots, etc. This will add more feel to your birthday party. The guests and kids will love having them.
20. Hay Bale Stand Ups
Hay bales make up the most of the farm themed birthday decorator. These come in good materials and can be sued as one of the best decorators for your cowgirl birthday party. You can order then ones that you think will fit in your room the best. These come in different colours. But yellow hay bales are preferable.